Serve up this summery caprese salad stacked high with fresh ingredients and an easy olive oil-balsamic dressing!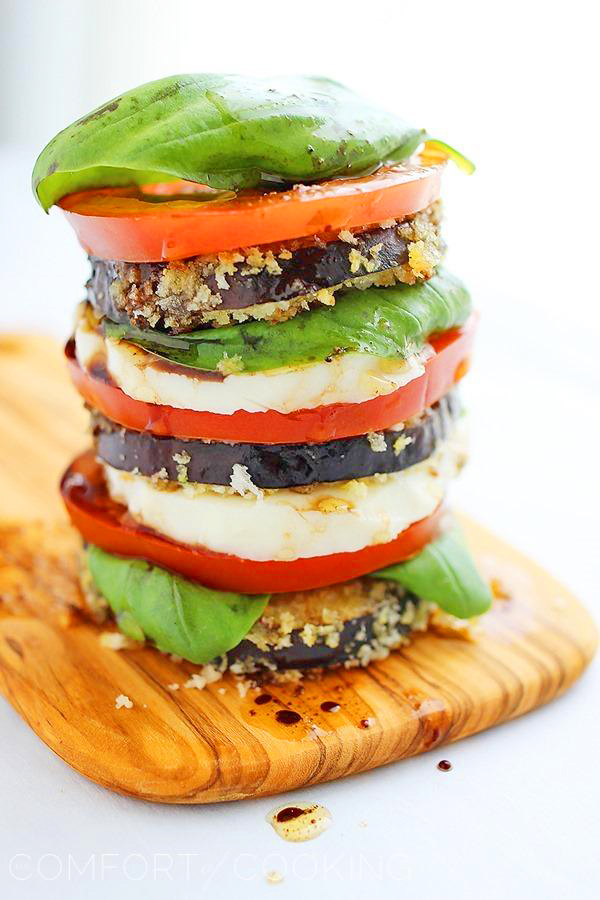 This is one of those recipes that, to me, is just inexplicably good. Simple, quality ingredients combine to make something that is so tasty it elicits an eye roll… at least in this house that's the measure of deliciousness!
Caprese salad has always been a big favorite around here, but I've been eating mine this way as long as I can remember.
Well… maybe not every time with a naughty little piece of fried eggplant slipped in between. But that's how it's best – and you heard it here first!
Fresh basil, melt-in-your-mouth mozzarella and a juicy tomato combine with the crispy eggplant to make for an amazing flavor experience. Drizzled with a delicious mixture of good quality olive oil and balsamic vinegar, you'd think you were transported to the Mediterranean with one mouthful!
And, for the moment that I eat this in my pajamas, leaning over the counter in my kitchen because I have no time to eat a table all civilized-like, I am totally transported. You will be too, once you try it!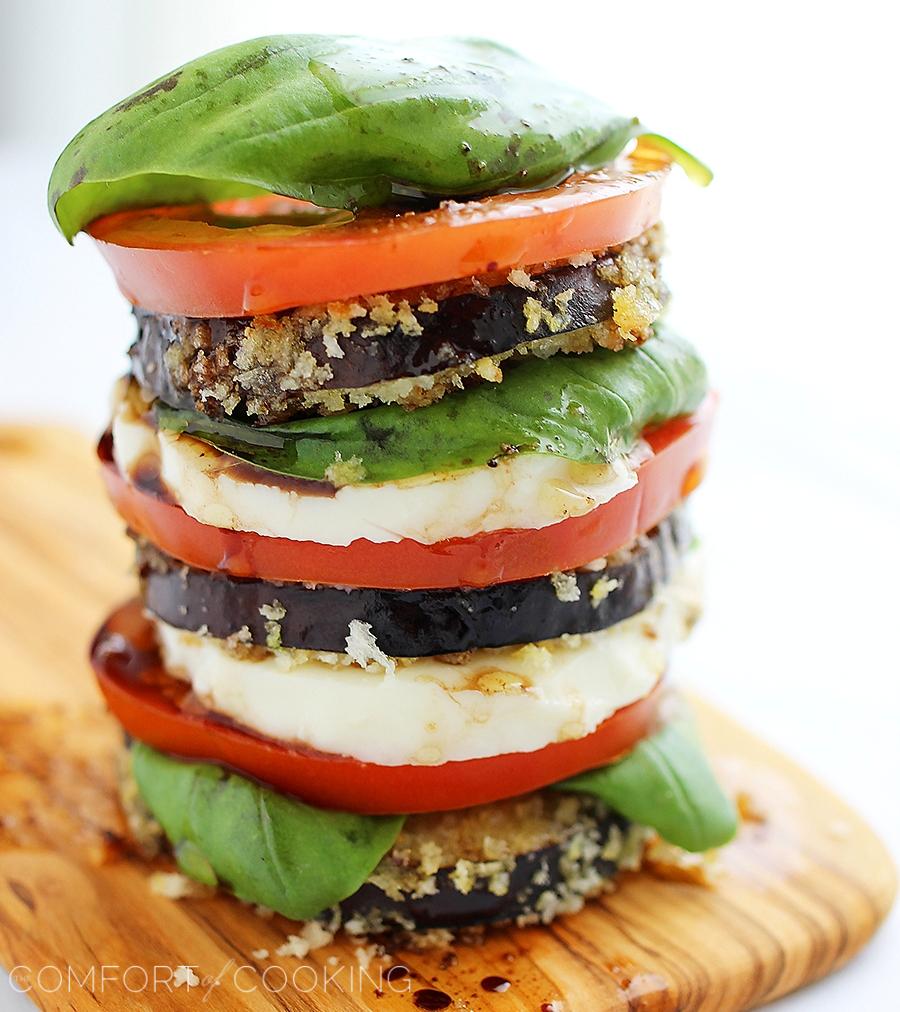 Crispy Eggplant Caprese Stacks
Ingredients
2 ripe tomatoes
1 8 oz. ball fresh mozzarella*
6-8 leaves fresh basil
1 Tablespoon olive oil, for skillet
6 1/4-inch-thick slices eggplant
1/4 cup flour
1 egg, lightly beaten
1/2 cup panko breadcrumbs
For dressing*:
2 Tablespoons good-quality olive oil
1 Tablespoon good-quality balsamic vinegar
Salt and freshly ground pepper, to taste
Instructions
Slice tomatoes and mozzarella about 1/4-inch thick. Rinse and pat basil dry (you can keep it whole or tear into smaller pieces). Set aside.
Preheat a large skillet to medium heat and add 1 Tbsp. olive oil. Prepare eggplant slices by coating lightly in flour, then egg (shaking off excess), and then panko, all in separate dishes. Once skillet is hot, add eggplant slices and fry, in batches, about 3 minutes per side until golden brown. Remove to a paper-towel lined plate.
Combine dressing ingredients in a small bowl and whisk until well-combined. Taste and adjust seasonings as needed.
On serving plates, build stacks by alternating tomato, mozzarella, eggplant, and basil. Repeat until you have 2 equal-sized stacks. Drizzle with dressing.
Enjoy!