Stuff hollowed-out zucchini with crumbly cooked sausage and marinara sauce, then sprinkle with mozzarella! This low-carb dinner is a simple, delicious and healthy way to fill any pizza craving!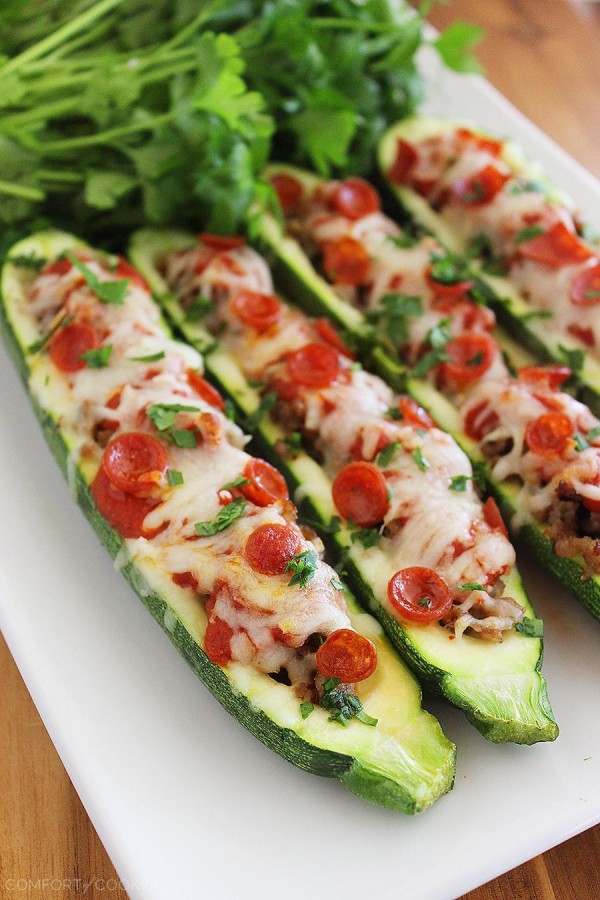 For many of us, comfort is usually found in the form of naughty carbs – donuts, potato chips, candy, pizza. Sigh. Pizza. Cheesy, melted, gooey goodness on a canvas of crisp, bubbly dough. I could sing a sonnet of all the great pizzas hubby and I sampled during our college days in Boston. But, since I don't quite have my college figure, it's time to cook up something a little smarter – but just as delicious as those classic pizza pies!
Okay, well, a very close second. Let's not kid ourselves.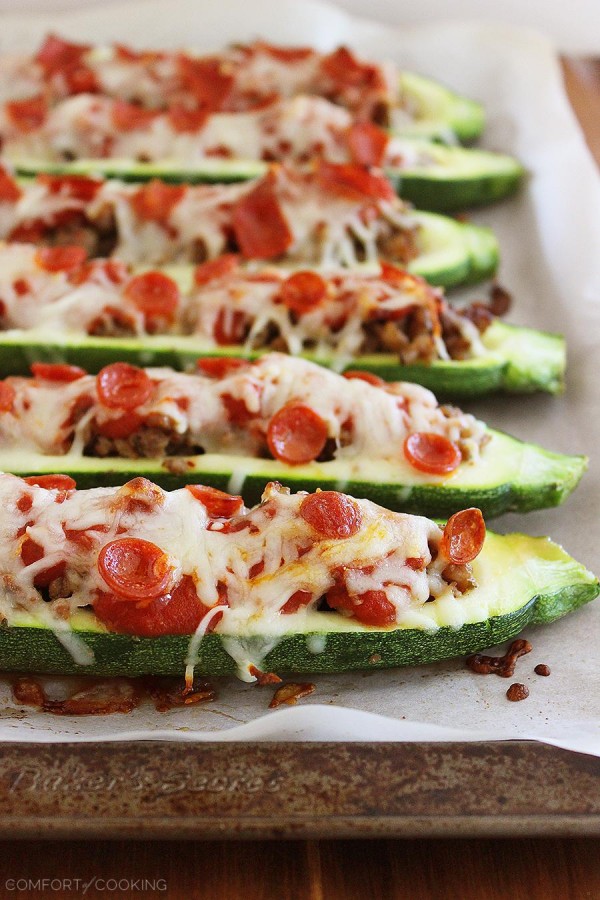 I believe when you have a craving and nothing else will do, you just need to indulge it. A slice of real pizza – the one with all the toppings you really want – never hurt anyone. Enjoy it with a glass of red wine, too. Just don't go gorging on the whole pie in one sitting. For all the other days when you just want something fun for dinner, these incredibly scrumptious and simple Pizza Zucchini Boats are your answer.
Just halve and hollow out a few zucchini, and fill 'em up with crumbled cooked Italian sausage. Spoon over your favorite marinara and sprinkle on some mozz and mini pepperoni. You can also use your favorite pizza toppings. Bake until you have bubbly, melted cheese and tender zucchini, just 10 minutes. Your luscious, low-carb and kid-friendly pizza dinner is done! And it's so good.
Buon appetito!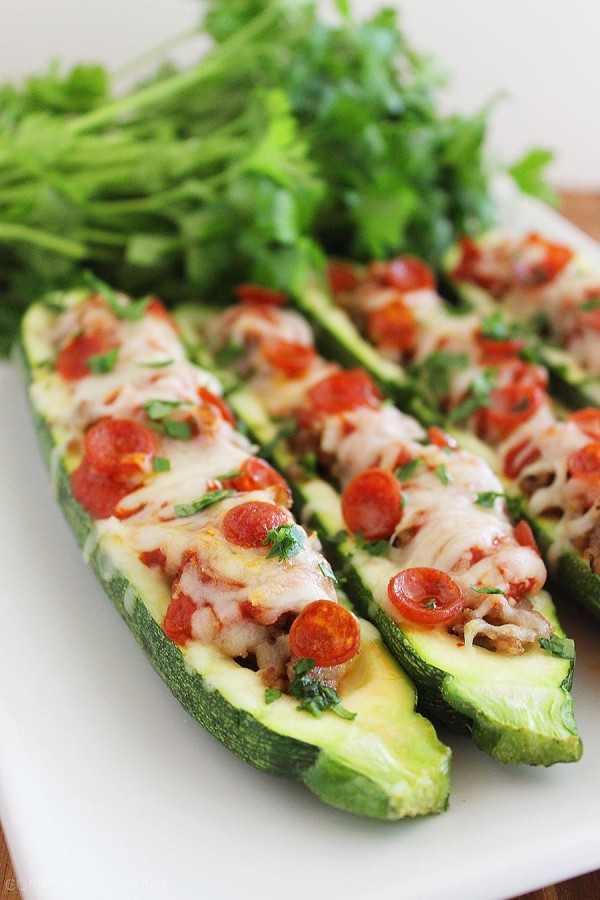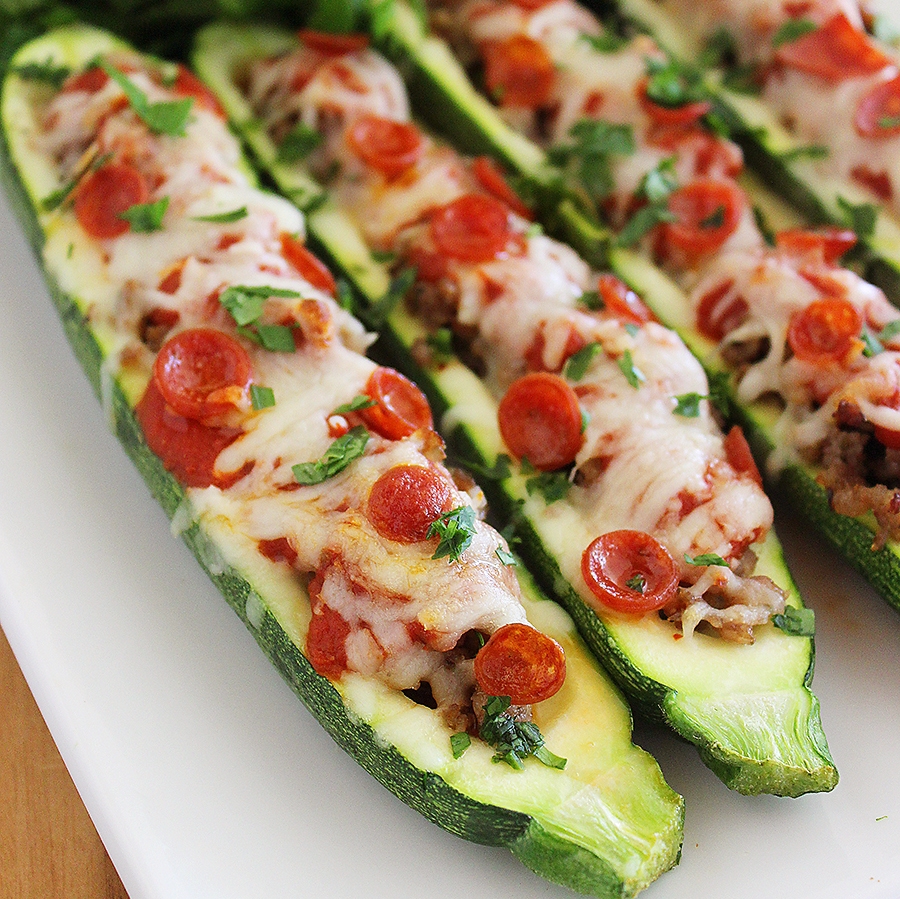 Pizza Zucchini Boats
Ingredients
3 medium zucchini
12 oz. cooked Italian sausage
1 cup marinara sauce
1 1/2 cups 6 oz. shredded mozzarella cheese
1/3 cup mini pepperoni
2 Tablespoons chopped fresh parsley or basil
Instructions
Preheat oven to 400 degrees F. Line a large baking sheet with parchment paper.
Halve each zucchini lengthwise and pat dry. Arrange on baking sheet and fill with cooked sausage. Spoon marinara sauce over top. Sprinkle with mozzarella then top with pepperoni.
Bake for 10 to 12 minutes, or until cheese is melted and bubbly. Sprinkle with fresh parsley or basil. Serve warm.
Enjoy!