Sweet, salty and tangy pizzas with applewood smoked bacon, barbecue sauce and fresh pineapple hit the spot! These crispy mini pizzas make the perfect party appetizer, easy lunch or weeknight dinner.
Let's face it. None of us like to cook much in the summer. And I'm a guilty one.
I'd much rather be lazily soaking up the sun in a sparkling pool, sipping a cold cocktail, and forgetting about my list of to-do's. But, when I do peel myself off the hammock and cook myself a summer meal, I like it to be quick and easy!
During the warmer months, in my kitchen, food is as simple and healthy as possible. And full of belly-filling goodness. Heaping, fresh sweet corn and tomato salads. Charred steak and bell pepper fajitas. Flaky, buttery white fish with a splash of lime. That is how I cook from May to September (our summers run a BIT long here in Austin).
Another scrumptious, fast dinner solution? Homemade mini pizzas, using my favorite quick-and-easy pizza canvas – Thomas' Bagel Thins. I use these for EVERYTHING – hot and cold sandwiches, breakfast sides, and toasted with a bit of peanut butter for a midday pick-me-up snack. They crisp up perfectly for a delicious 10-minute pizza in your oven, too!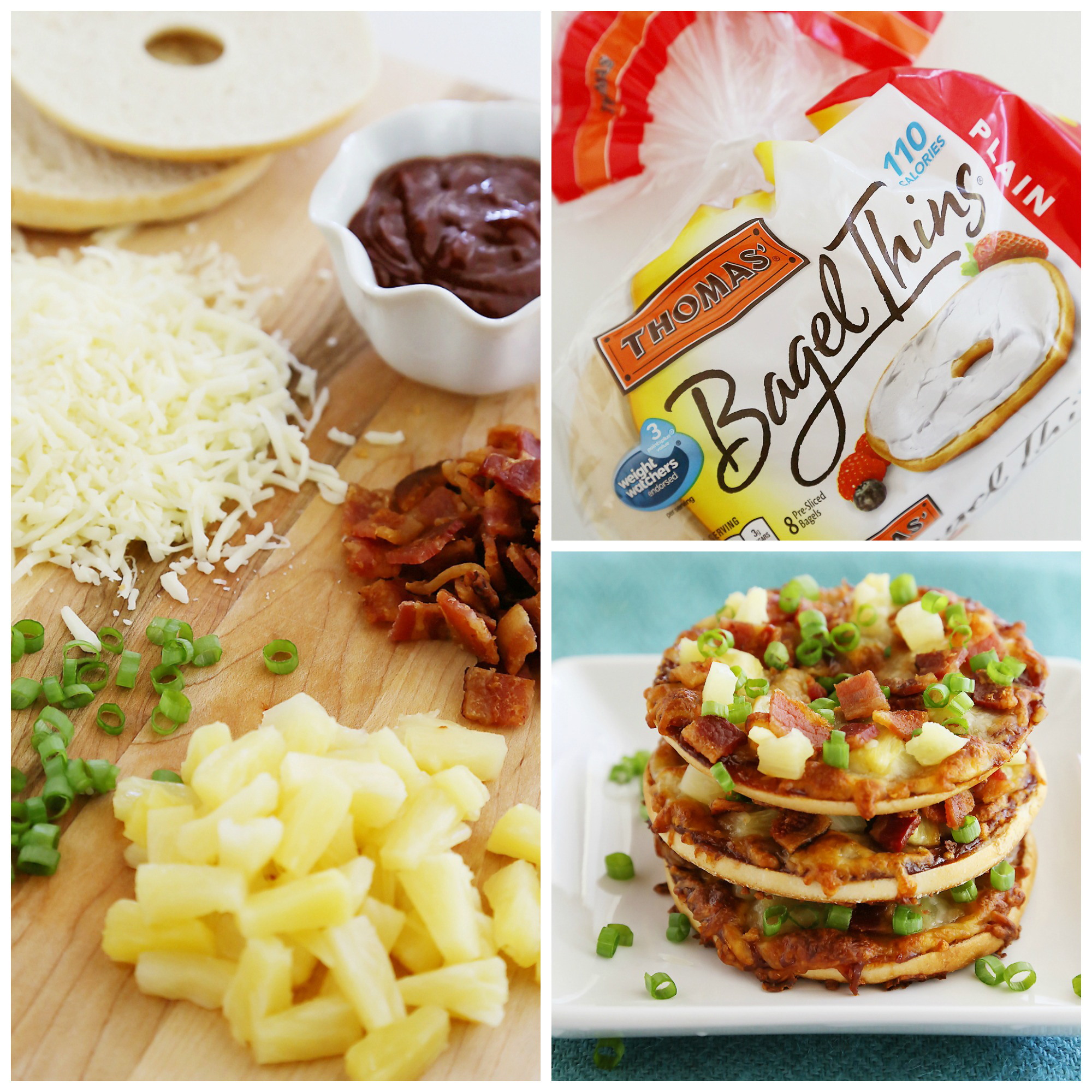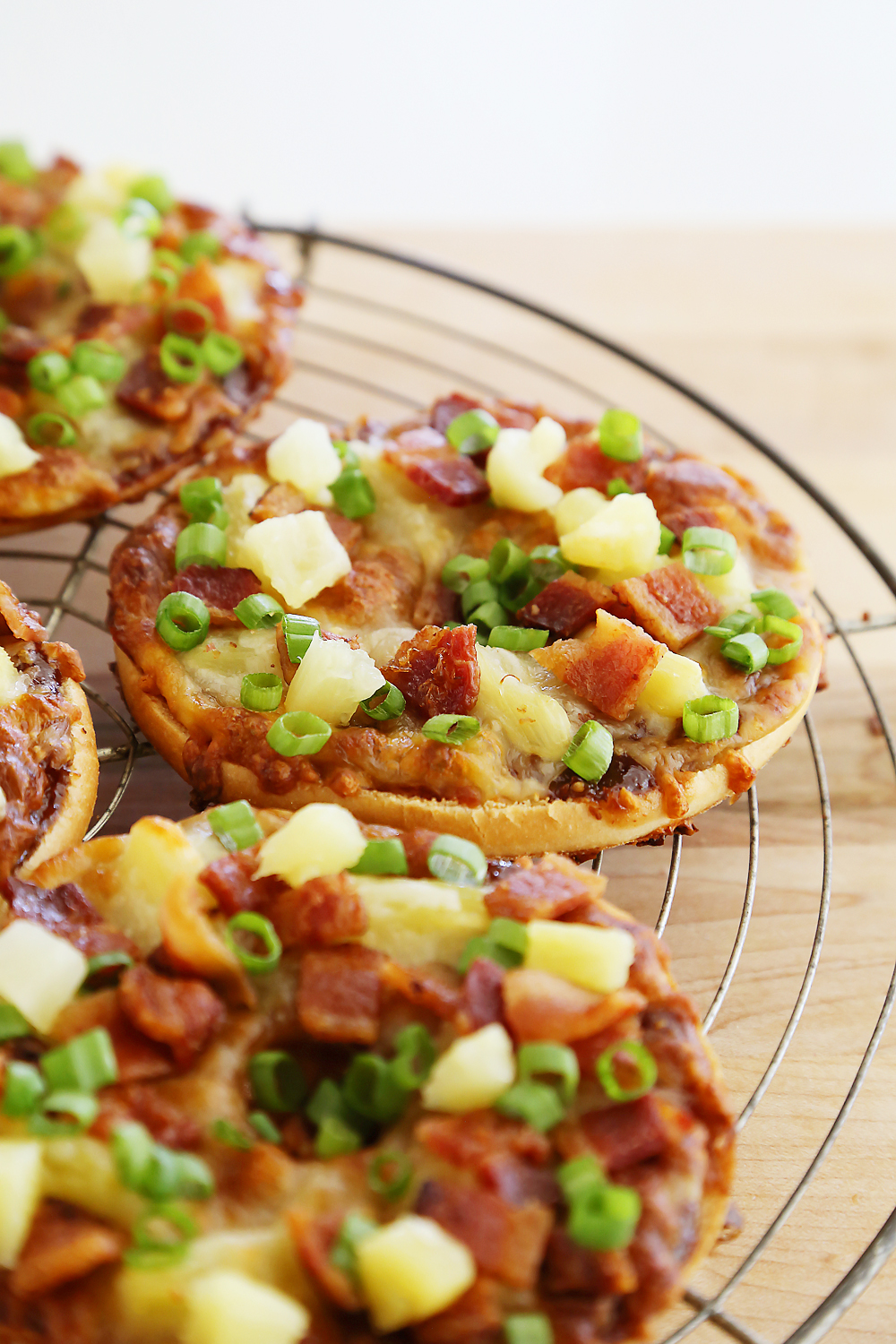 For these pizzas, I'm throwing it back to a classic kid favorite – the Hawaiian! So simple a kid could make them for dinner.
All you need are 6 simple ingredients, including pineapple bits, barbecue sauce, mozzarella and your favorite bacon (I prefer a thicker cut applewood smoked variety). To keep my prep mostly mess-free, I baked my bacon strips and chopped them up ahead of assembling the pizzas.
The flavors in these individual Hawaiian pizzas are nothing short of fabulous, for how simple they are! A little sweetness from the barbecue sauce and pineapple, and saltiness from your mozzarella and bacon, on top of a crispy thin crust bagel bed? SO. GOOD.
These pizzas are perfect for party bites, weeknight meals, and anytime in between. Try them tonight, and tell me how they turn out for you!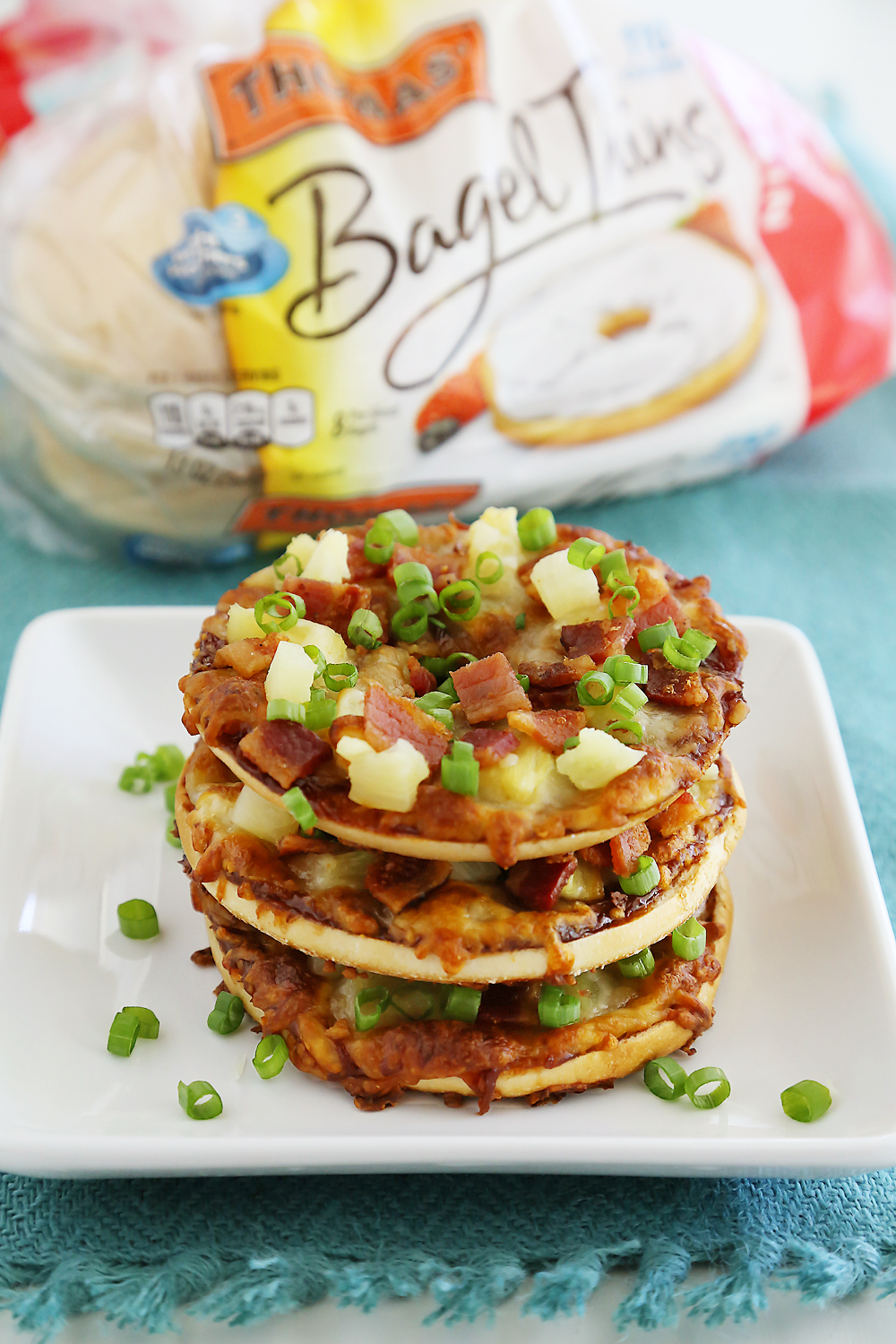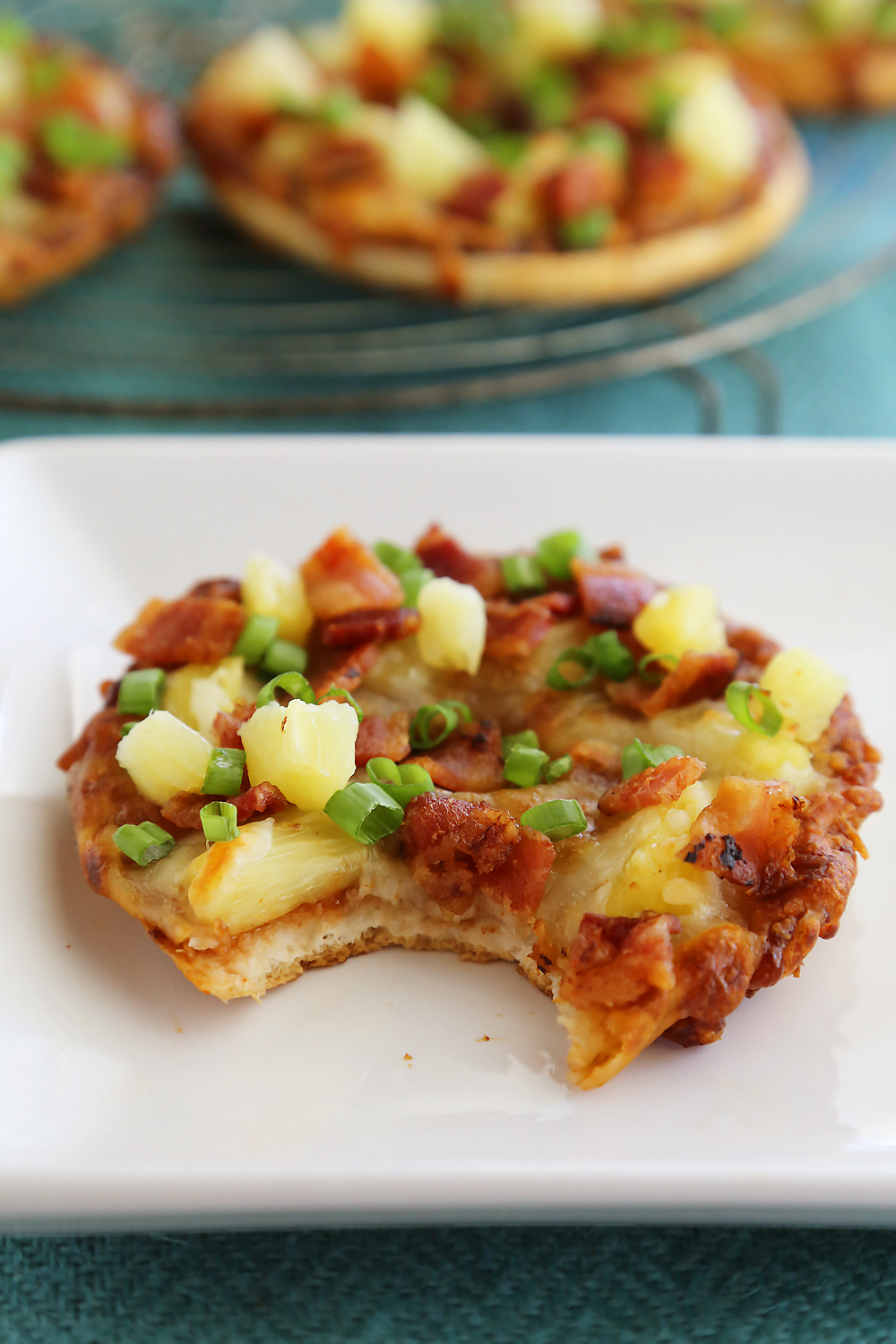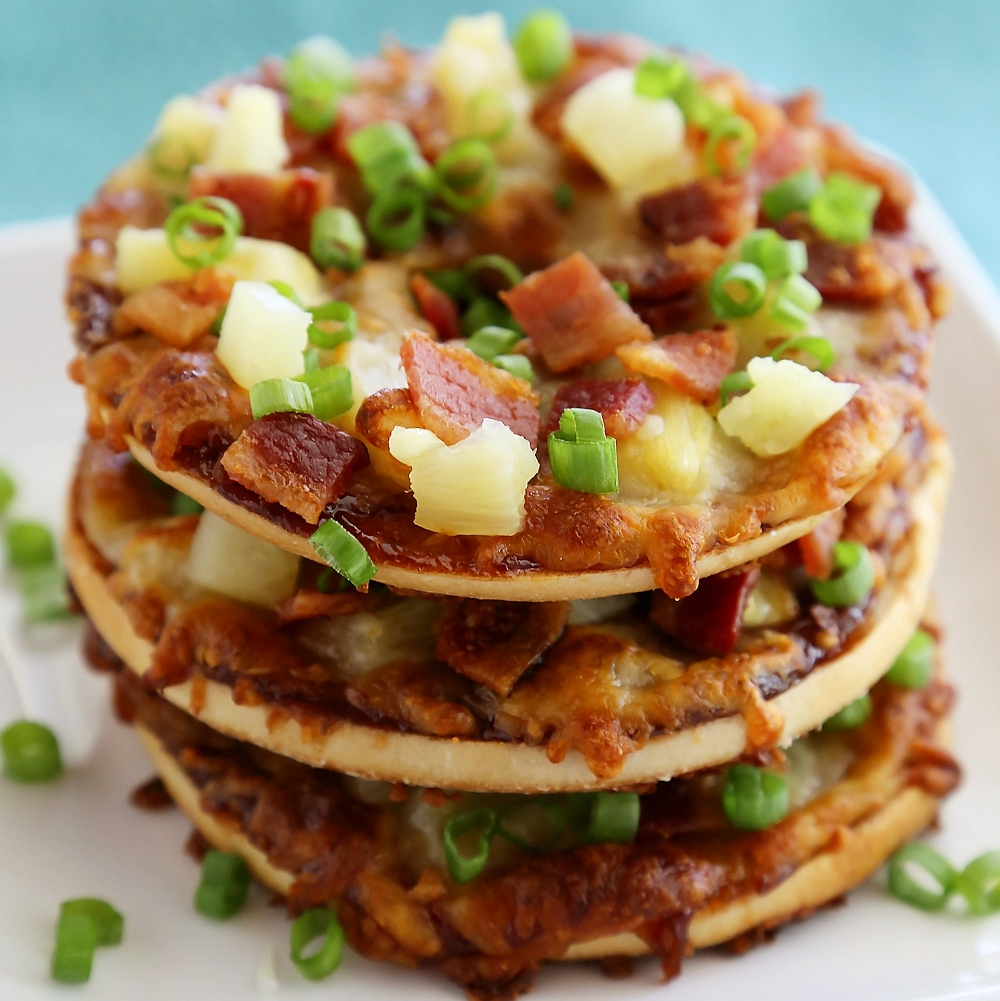 BBQ Bacon Hawaiian Bagel Thin Pizzas
Ingredients
3 slices thick-cut applewood smoked bacon*
1/4 cup BBQ sauce
1/2 cup shredded mozzarella cheese
1/2 cup pineapple bits
1/4 cup chopped green onions
Instructions
Preheat oven to 400 degrees F.
Line a large baking sheet with foil. Lay bacon strips on pan. Bake in preheated oven for 10-15 minutes. Remove strips to a paper towel lined plate. Chop bacon into bits; set aside.
Separate bagel thins into two halves each. Line baking sheet with new foil and place halves on sheet. Spread each halve with about 1 Tablespoon of BBQ sauce. Sprinkle with mozzarella. Top with pineapple bits.
Bake for 10 minutes. Remove from oven and top with chopped bacon and green onions. Serve warm.
Enjoy!