Gooey, golden pizza (plus dough recipe) topped with pulled pork, pineapple, bacon, jalapeños, and fresh cilantro. The perfect summer meal with a big salad on the side!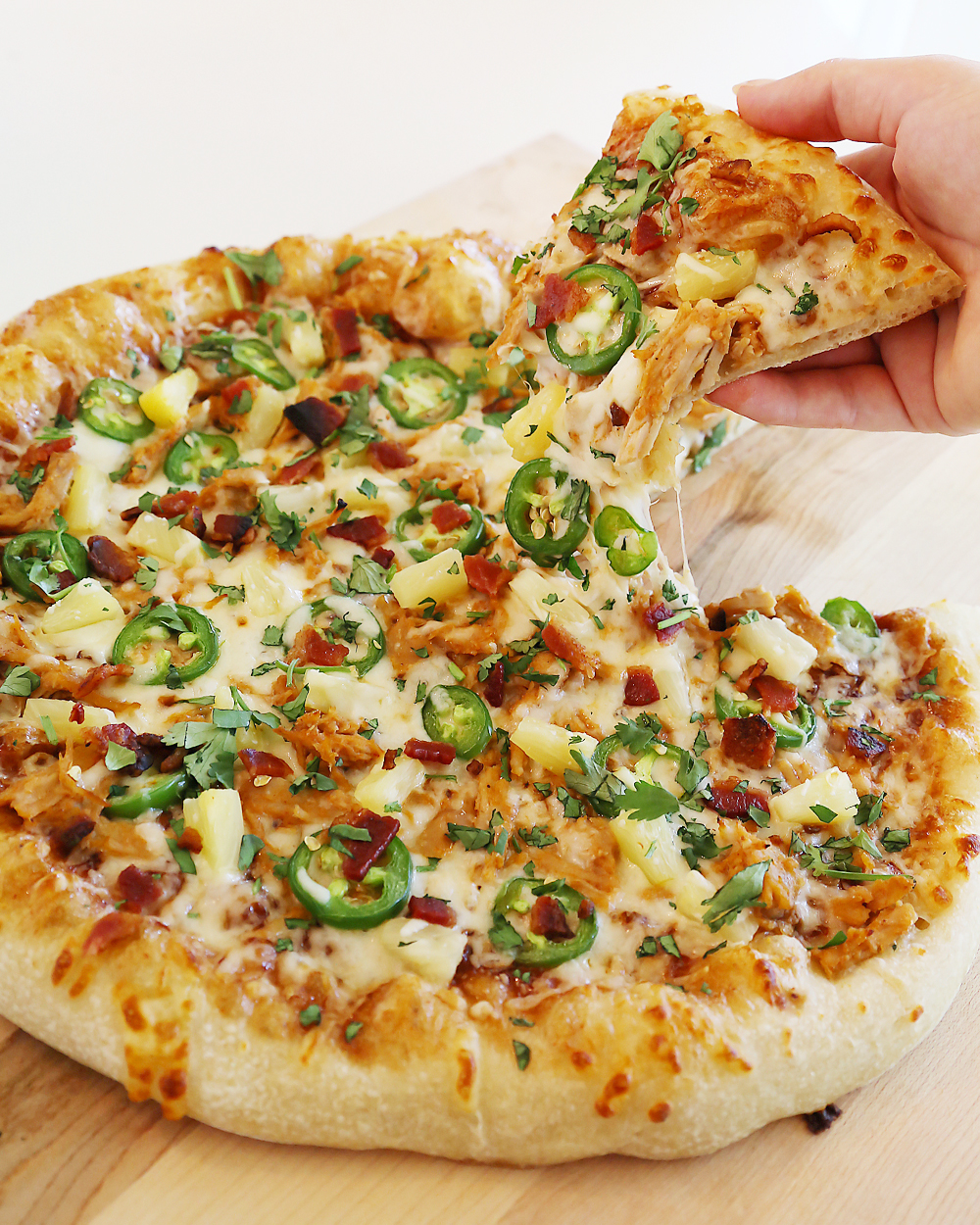 I absolutely love making pizzas at home, especially when I have a freezer full of homemade dough. Have you ever made your own pizza dough? If you haven't, you are in for a treat. When I first learned to cook, I would use those bland, prebaked crusts that had been sitting on the shelf for months. However, since learning to make pizza dough from scratch, my world has been turned around. I always keep some on hand now. Homemade pizza dough is a great canvas for clean-out-the-fridge meals, too!
All you need for your very own pizza dough is 6 simple ingredients, starting with good quality yeast. My longtime favorite for always-fluffy, never-flat baked goods is Fleischmann's® Yeast. I have been using it for years, and it has always produced gorgeously puffy, airy and delicious pizza dough. And cinnamon rolls. And artisan loaves. And any baked treat that calls for the best yeast. Fleischmann's is my go-to, and it should be yours, too! It is easily found in the baking aisle of most grocery stores.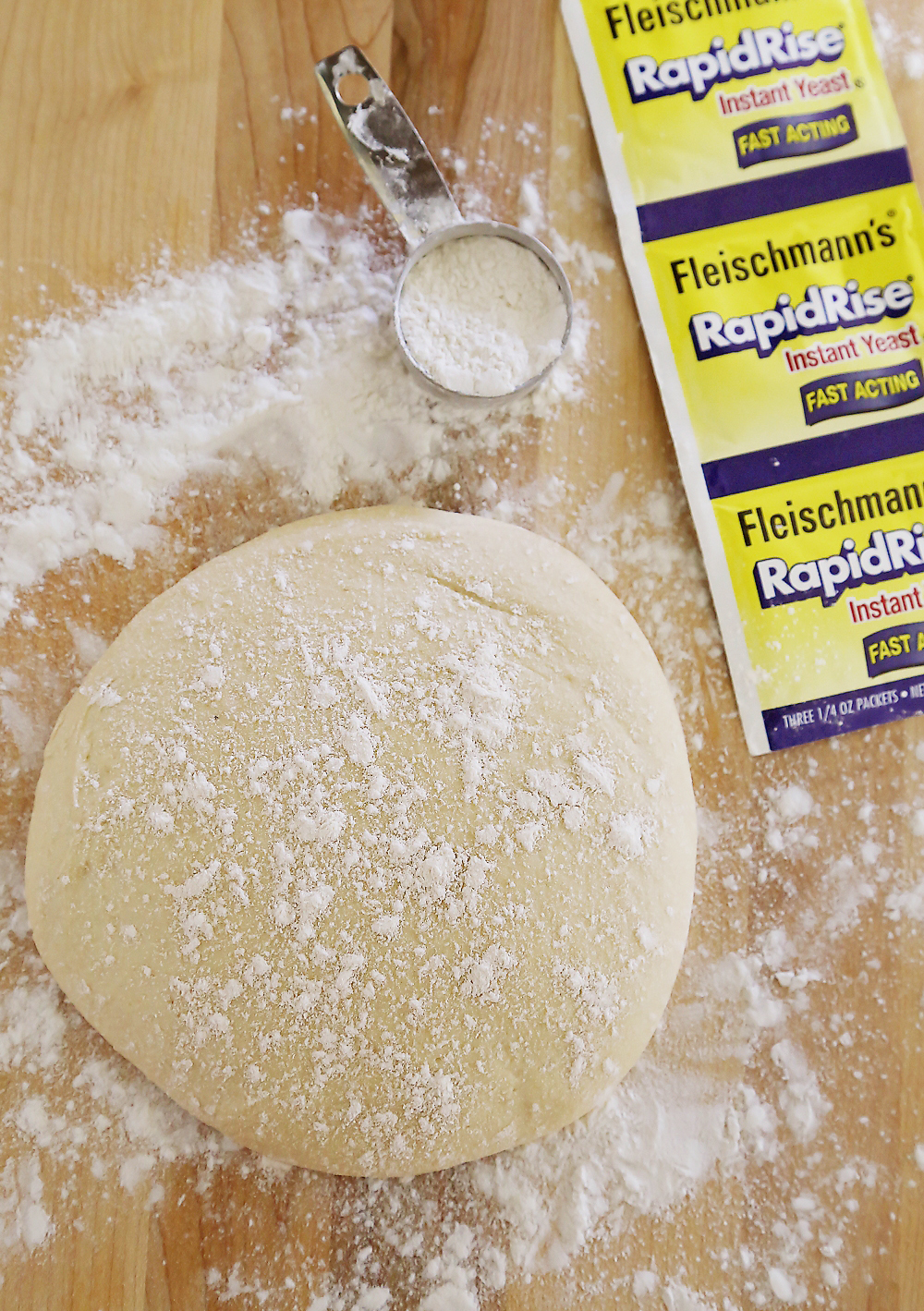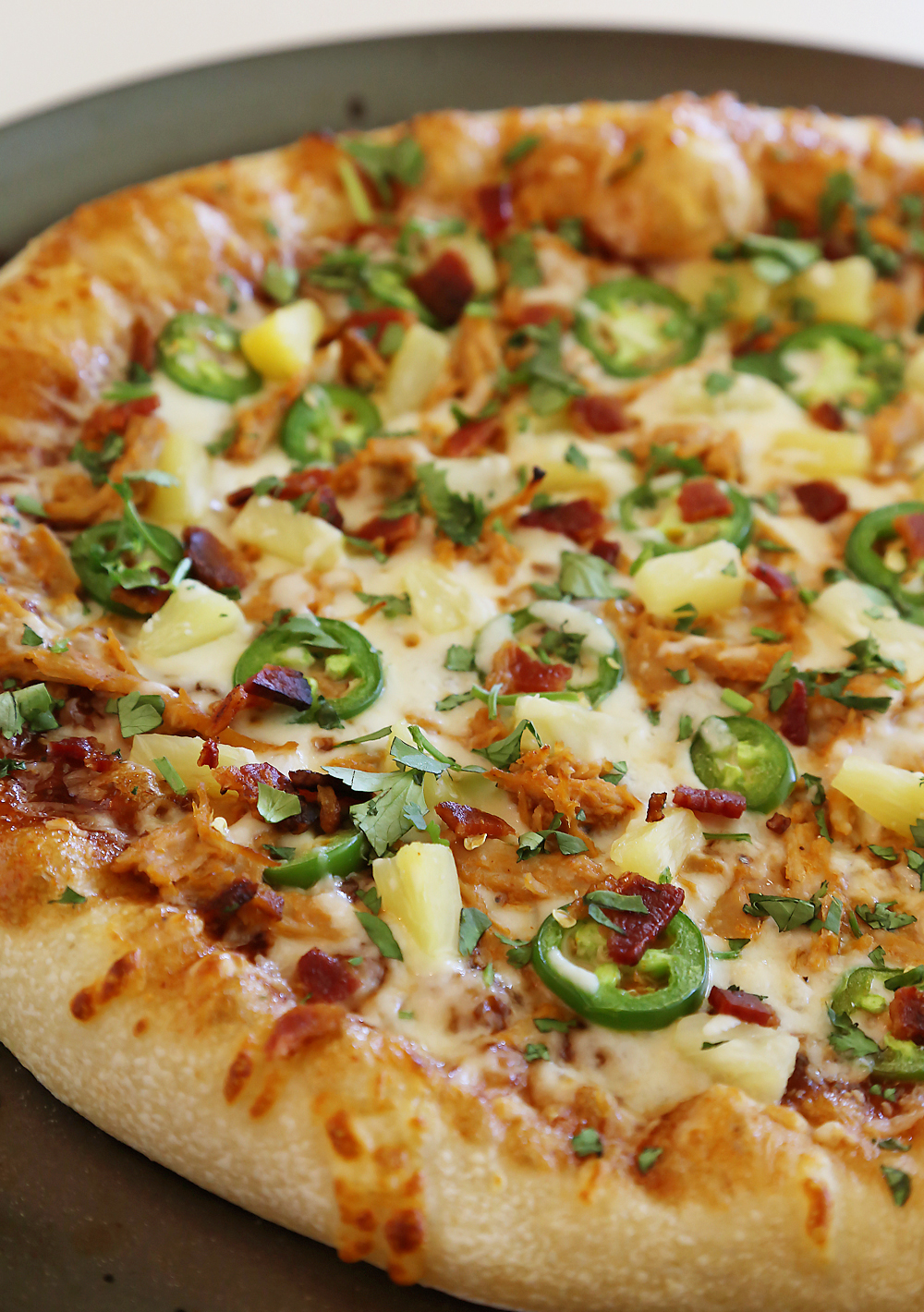 Now, onto this scrumptious pulled pork pizza! This bubbly beauty is loaded with all the best flavors that summer brings to the table, in my opinion. It all starts with a golden crust topped with barbecue sauce, then tangy sweet pineapple, spicy jalapenos, and fresh earthy cilantro – not to mention, bits of crispy apple wood smoked bacon and cheesy, gooey mozzarella. Can you just imagine enjoying a slice of this pizza with a margarita? Add a porch swing and a sunset, and you've just made my day.
This spicy, sweet and tangy pizza would make a perfect weeknight meal, or something fun to try for the weekend, or your Fourth of July celebration. You will love the vibrant flavors – and especially my best-ever homemade crust recipe, included below.
I hope you enjoy this recipe, and let me know how it turns out if you try it!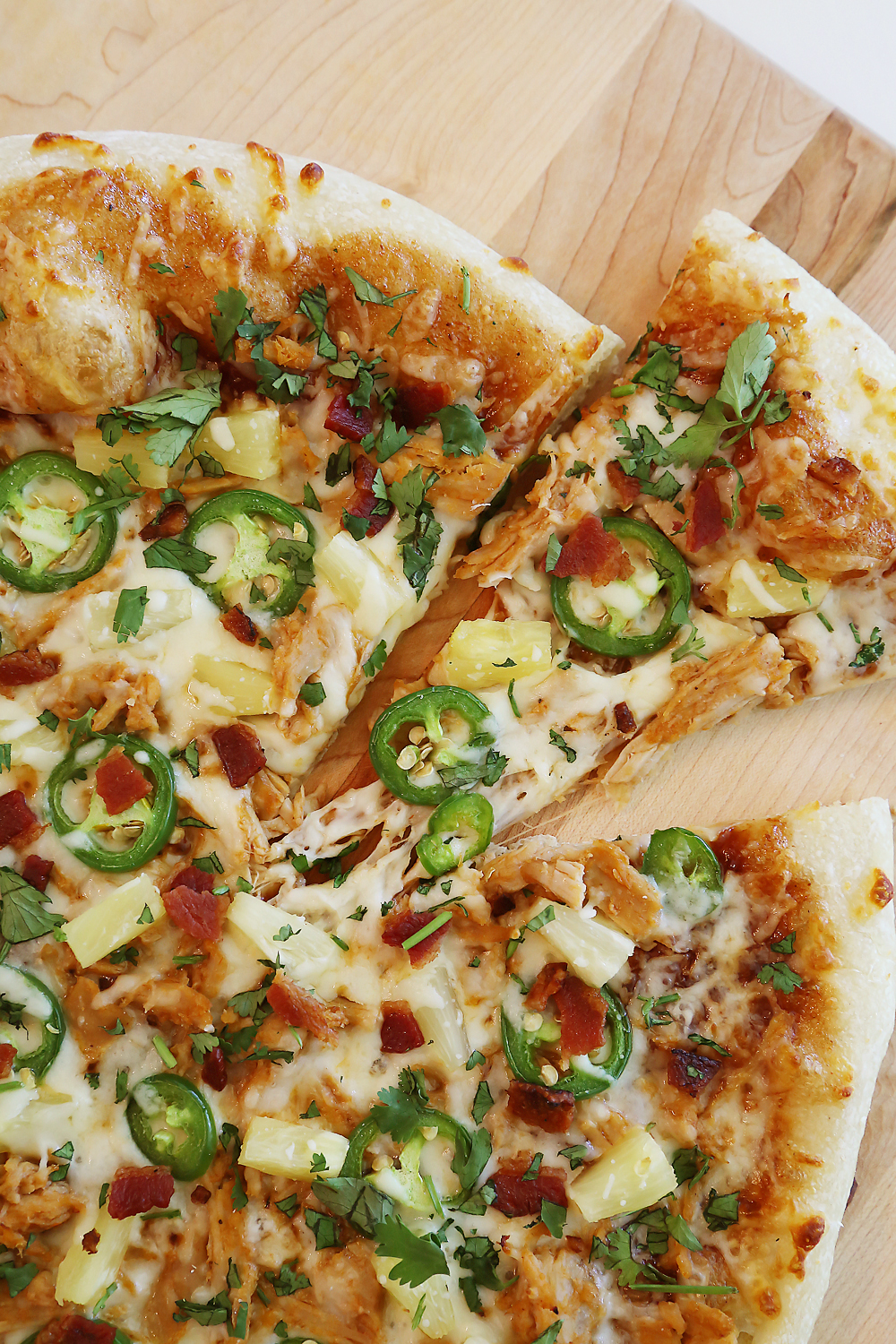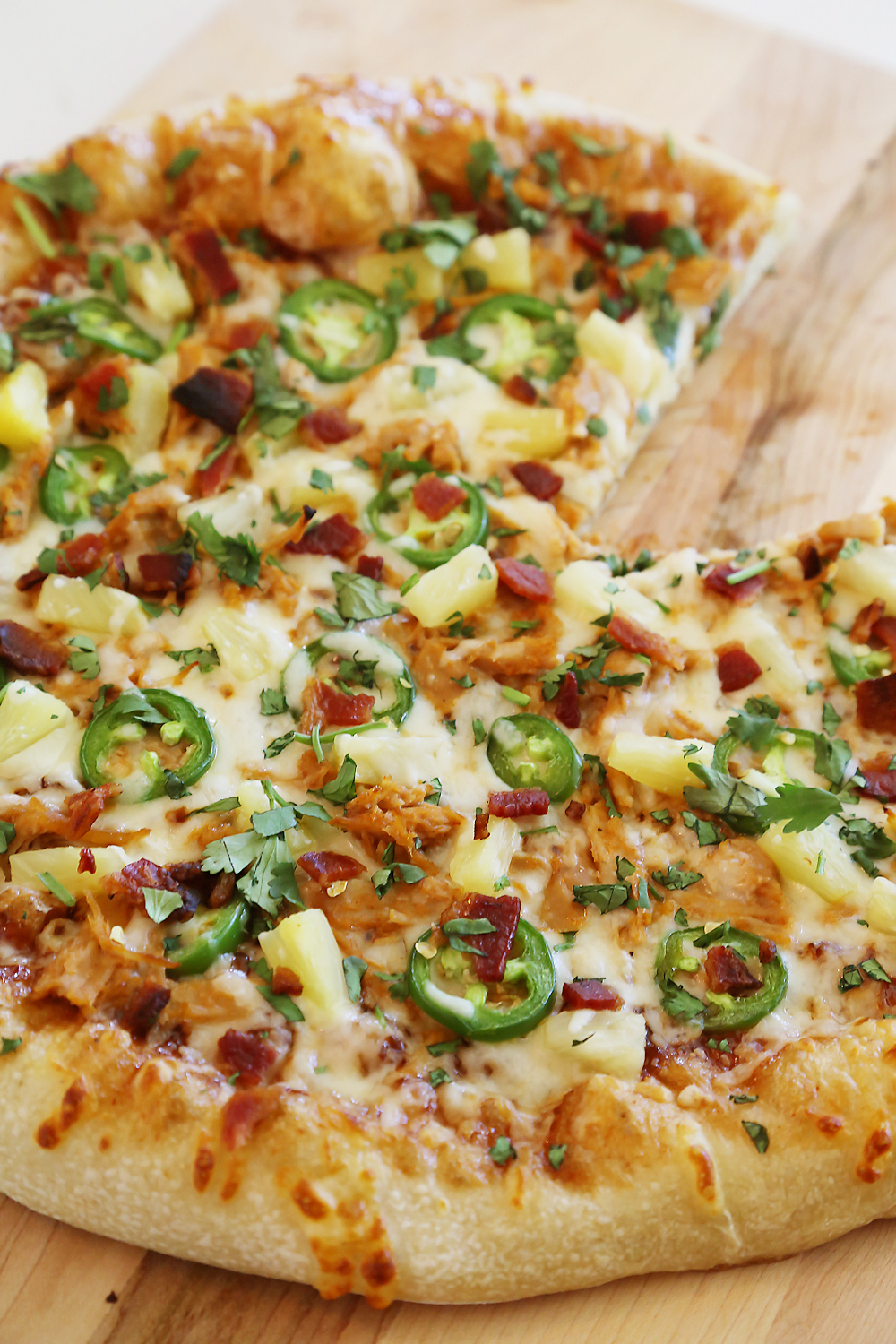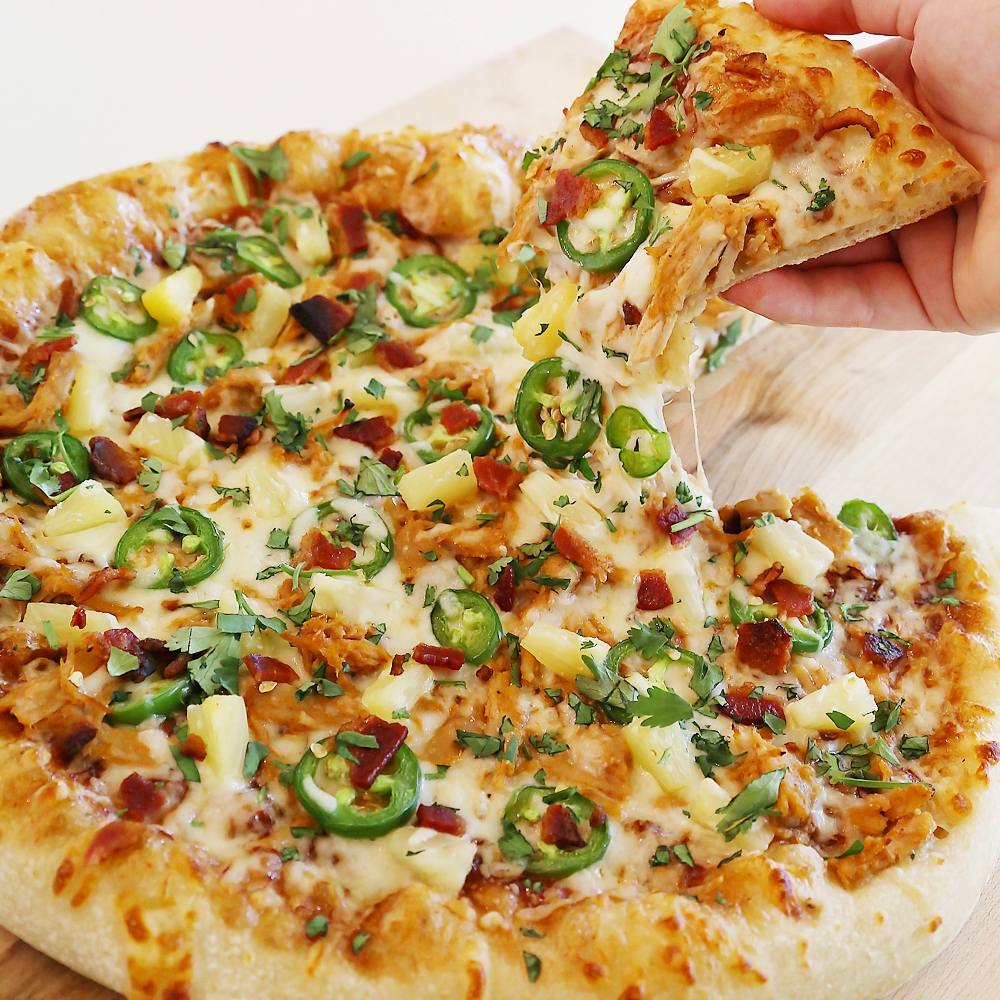 Pulled Pork Jalapeño Pineapple Pizza with Bacon and Cilantro
Ingredients
For pizza dough:
0.75 ounce packet Fleischmann's Rapid Rise Yeast
3 1/2 cups all purpose flour
2 teaspoons kosher salt
1 teaspoon granulated sugar
2 Tablespoons extra virgin olive oil
For pizza:
Instructions
For pizza dough:
Stir together yeast and warm water in a small bowl; set aside for 5 minutes.
Mix together the flour, salt, sugar and olive oil in a large bowl, or the bowl of a stand mixer fitted with the dough hook. Stir in the yeast water. Knead with the dough hook or by hand on a well floured surface for about 5 minutes. If using the stand mixer, once finished kneading, remove dough from bowl and shape into a large ball by hand.
Oil two bowls lightly with olive oil and set aside. Divide the dough into two pieces and roll into balls. Place each ball into the oiled bowls, seam side down, and coat the tops with a little olive oil. Top each bowl with plastic wrap or a clean, dry towel and place the dough in a warm place (I use an oven preheated to 250 degrees F, then turned off). Let rise 2 hours.
Once risen, either use immediately by turning dough out onto a floured surface and shaping. Or, wrap dough in plastic wrap, then a plastic bag, and freeze or refrigerate to use later.
For pizza:
Preheat to 450 degrees F.
Spread barbecue sauce on rolled out pizza dough. Top with half of mozzarella, then pulled pork, bacon, pineapple and jalapeno. Top with remaining mozzarella. Bake for 10-12 minutes, or until dough is cooked and cheese is bubbly. Remove from oven and sprinkle with fresh cilantro. Slice and serve.
Enjoy!