Try this fun twist on Philly cheesesteaks with bell peppers and a homemade provolone cheese sauce! These sandwiches make a super simple, finger-lickin' good weeknight meal!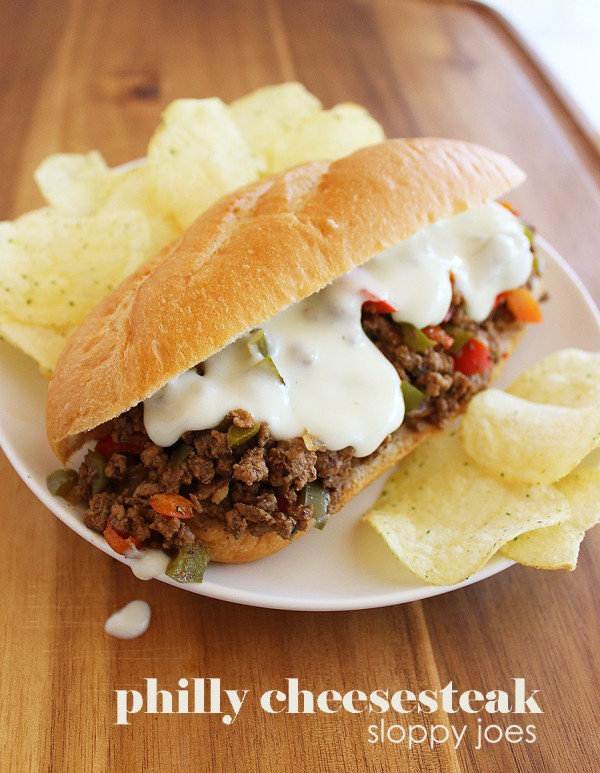 When I was pregnant and couldn't indulge in deli meat (but still occasionally did), my go-to from our local sub shop was a Philly cheesesteak. Especially on chilly winter weekends spent playing house (a.k.a., stressing about nursery furniture/house readiness/general baby maintenance), it totally hit the spot. Comforting and hearty, there was nothing that warmed me and my perpetually chilly bones better than a cheesesteak. Baby's kicks seemed to indicate she agreed. And also that I was maybe crowding her up in there with all that sandwich. A lot of sandwich + a lot of baby = waddling preggo hilariousness.
This seems to be one of those cravings that just hasn't gone away, though. So! I've found an easy alternative that also leaves you with heaps of leftovers. Or, in my case, feeds approximately two. They're THAT good.
Instead of steak, I used lean ground beef and bubbled up an easy beef broth-based sauce. Tossed in peppers and onions, and piled it on toasty, buttery hoagie rolls. Poured a creamy homemade provolone cheese sauce over top, and officially made my husband fall in love all over again. With cheesesteaks.
These sandwiches are full of finger-lickin' goodness, and so simple to make. Kids will love 'em, preggos will ask for seconds, and the men won't even come up for air. True story. I guarantee they'll fulfill all comfort food cravings!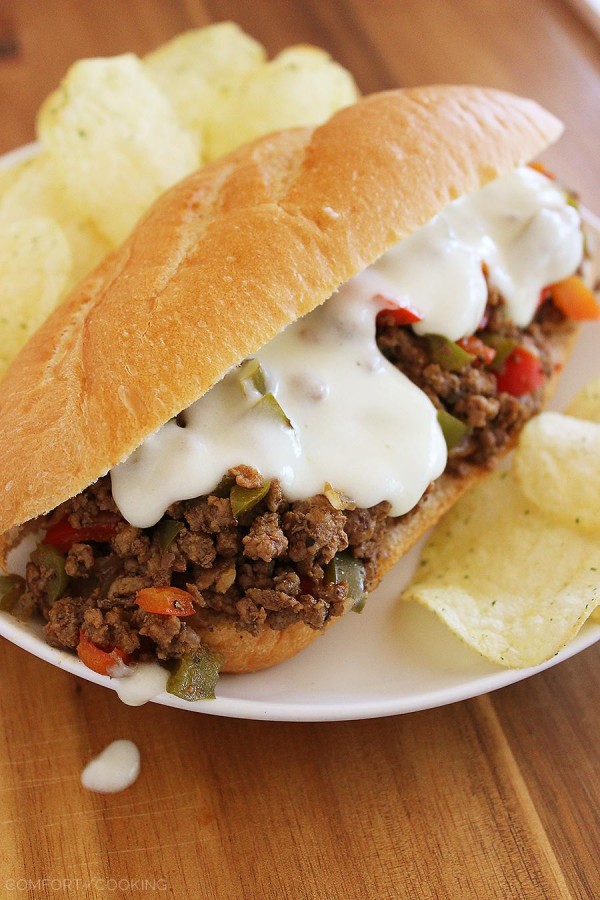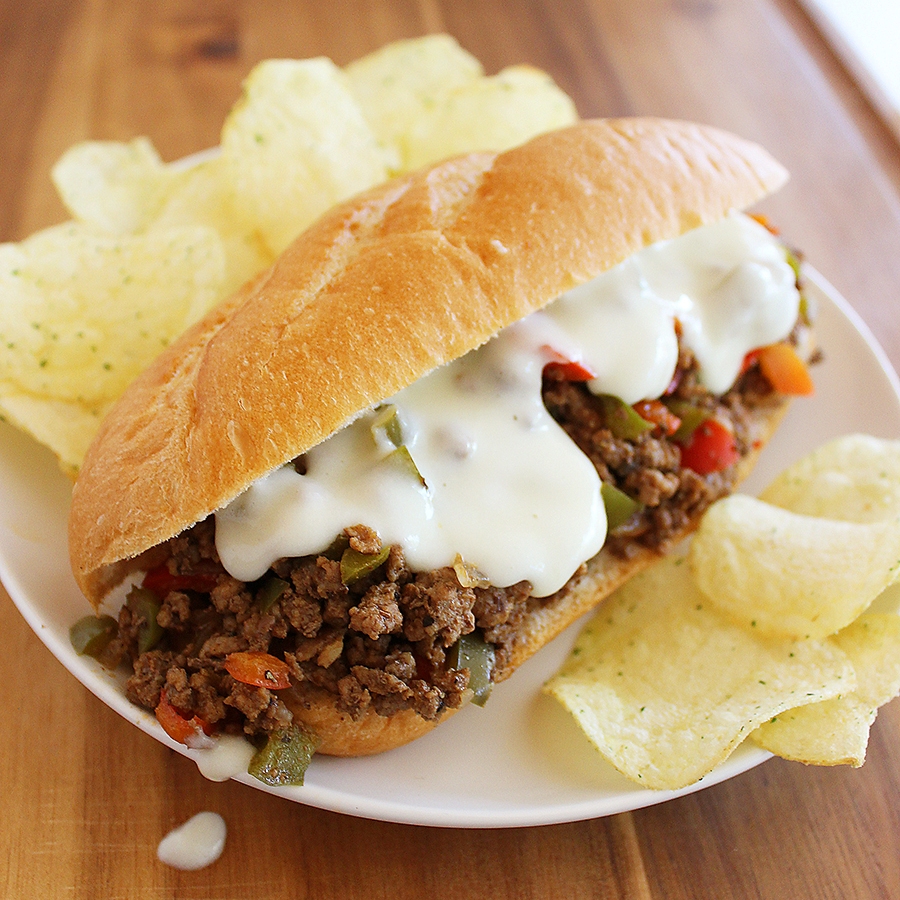 Philly Cheesesteak Sloppy Joes
Ingredients
1 teaspoon olive oil
1 pound 16 oz. lean ground beef
1 medium onion, chopped
1 green bell pepper, chopped (I used half green, half red)
2 Tablespoon steak sauce, I used A1
1 Tablespoon Worcestershire sauce
1 cup low-sodium beef broth
Kosher salt and freshly ground black pepper, to taste
4 hoagie rolls
For the Cheese Sauce:
1 Tablespoon unsalted butter
1 Tablespoon flour
1 cup milk
1 cup shredded provolone cheese
Instructions
Add oil to a large skillet set to medium-high heat. Add beef and cook 5-6 minutes, or until browned. Add onion and bell pepper and cook another 3-4 minutes, until vegetables soften. Stir in steak sauce, Worcestershire sauce and beef broth. Bring to a simmer and cook about 2 minutes. Season with salt and pepper.
Split open hoagie rolls and remove some of the soft insides, leaving a bed to hold the meat mixture. Toast rolls and set aside.
For the Cheese Sauce:
Melt butter in a medium saucepan over medium-high heat. Whisk in flour and cook 1 minute. Whisk in milk, bring to a simmer and let thicken, about 2 minutes. Turn off heat and stir in cheese until melted.
To serve, place scoopfuls of meat mixture into rolls and top with cheese sauce.
Enjoy!