You'll love this healthy, zesty chicken chili that just needs 6 ingredients (so easy!). Cook it on your stovetop or in your slow cooker, then pile on your favorite toppings!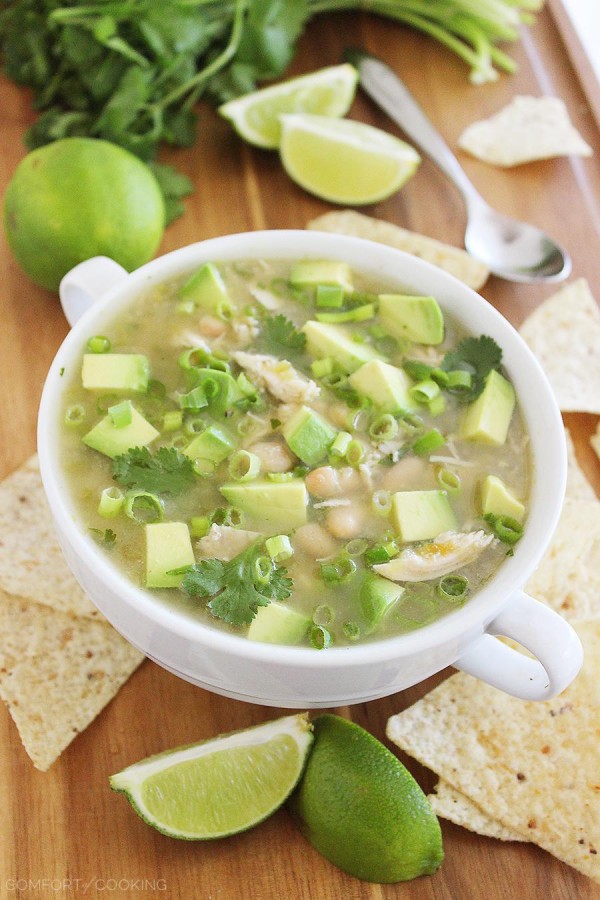 I've been having "one of those days" every day lately. I won't bore you with the details, but simply put: parenthood is no cake walk. It's gross and tiring and patience testing, and some days I just want to run away to the Caribbean to sip cocktails with umbrellas like it's my job.
Okay, I want to do that every single day. At least for a few hours, until I start missing my baby.
So, I may be still in my pajamas. I may be sipping on a glass of red wine. It may be 12 o'clock in the afternoon. But, baby is finally napping and dinner is simmering in the slow cooker as I type. All is well. The house is peaceful. And for a moment, I'm not needed. I'm sitting at my desk, soaking up the aroma and simply thinking about how delicious this chicken chili is.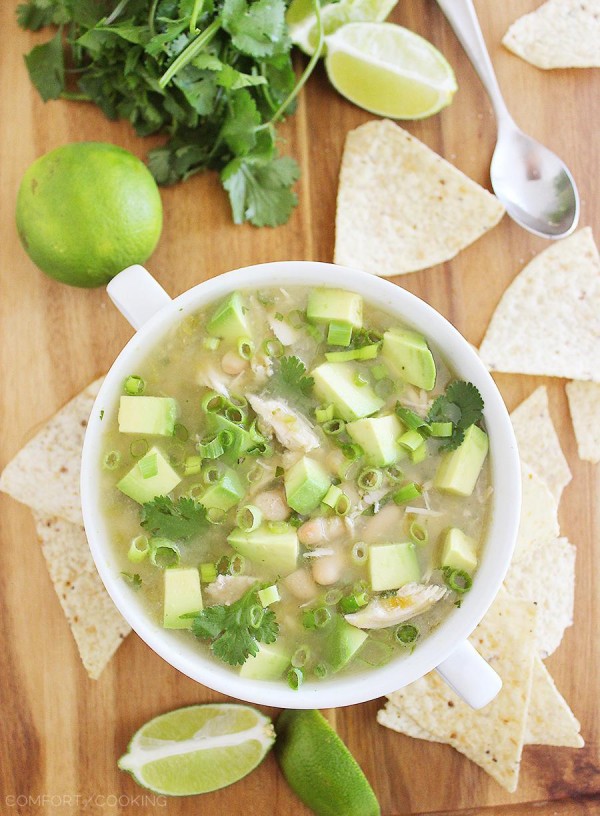 My slow cooker is my workhorse on stressful weekdays, and this chili is the most mouthwatering meal it has turned out lately. Want the secret to your own super easy chicken chili? Just toss in chicken broth, a jar of salsa verde and two uncooked chicken breasts. Add pinches of cumin and garlic powder for a little spice, stir, and let that puppy work its magic. If you're pressed for time, you can also cook this chili on your stovetop in under 15 minutes!
I love to lay out lots of fun fixin's for everyone to grab what they like. The toppings are what make this chili truly fantastic! My must-haves are cilantro, green onions and avocado. Plus a little fresh lime for a citrusy punch, and tortilla chips for crunch. A bowl of this can warm up anyone's chilly fall/winter bones!
Grab your ingredients and cook up this healthy, colorful and chip-dippin'-scrumptious chili today!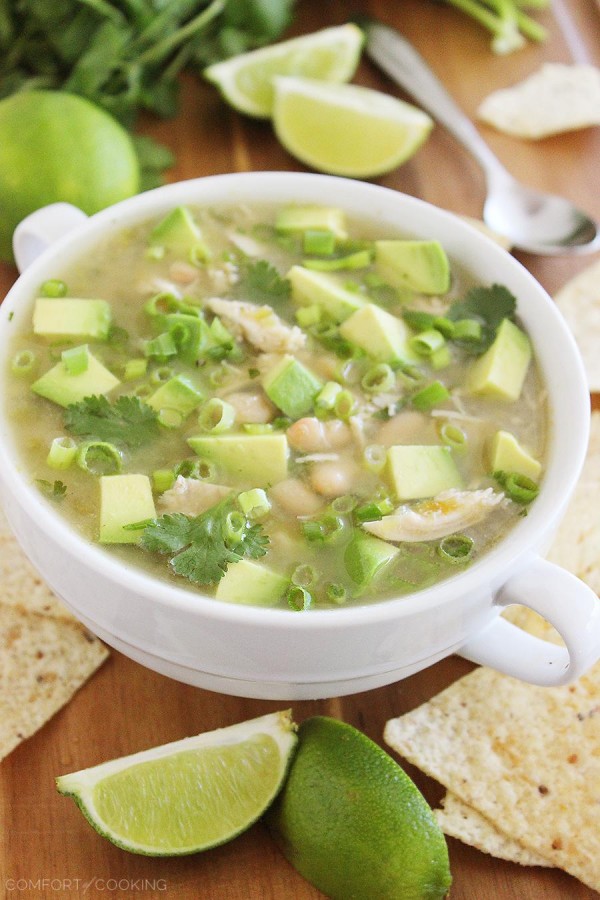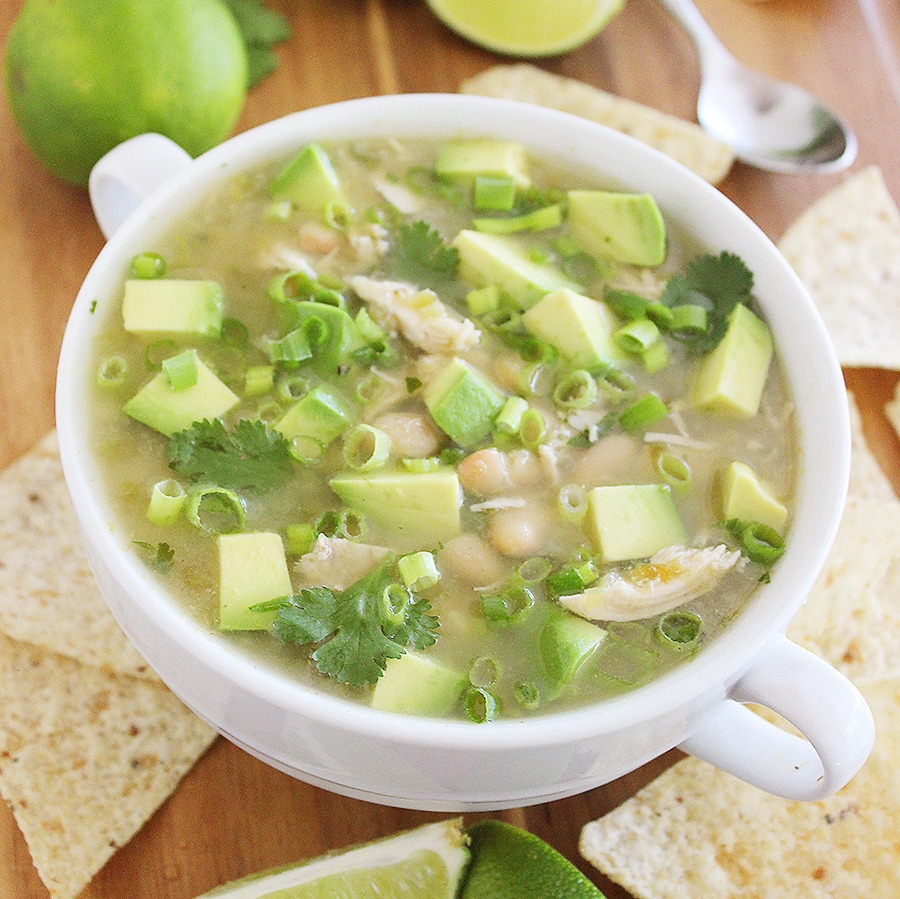 Easy Salsa Verde White Chicken Chili
Ingredients
4 cups cooked shredded chicken or 1 lb. raw chicken breasts, depending on cooking method, below
4 cups one 32-oz. container low-sodium chicken broth
2 15 oz. cans Great Northern beans, drained
2 cups one 16-oz. jar salsa verde
2 teaspoons ground cumin
1/2 teaspoon garlic powder
Optional toppings:
Diced avocado
Chopped fresh cilantro
Shredded cheese
Chopped green onions
Sour cream
Crumbled tortilla chips
Lime wedges
Hot sauce
Instructions
Stovetop Method:
Add shredded chicken, chicken broth, beans, salsa, cumin and garlic powder to a medium saucepan. Stir to combine. Bring to a boil over medium-high heat. Cover and reduce heat to medium-low. Simmer for at least 10 minutes. Serve warm with desired toppings.
Slow Cooker Method:
Add 2 raw boneless skinless chicken breasts, chicken broth, beans, salsa, cumin and garlic powder to a slow cooker. Stir to combine. Cook on low for 6-8 hours, or high for 3-4 hours until the chicken is cooked through and shreds easily with a fork. Shred chicken and return to slow cooker. Serve warm with desired toppings.