Your table is calling for a healthy, fresh and colorful salad like this one! Shaved Brussels sprouts, chopped kale and pecans, juicy oranges and pomegranate seeds make up this festive winter salad. With a lemon-champagne vinaigrette, it's the perfect simple salad for holidays and weeknights!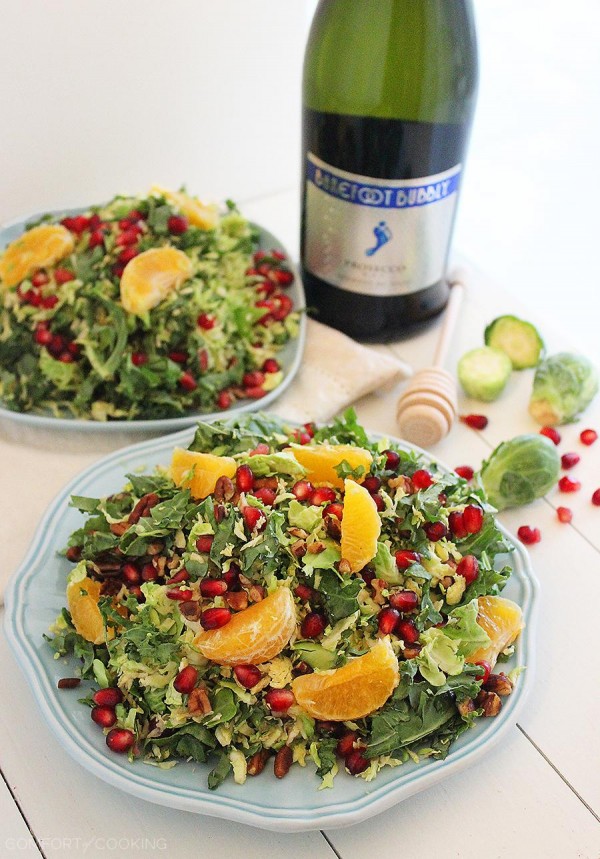 No one loves a holiday feast more than I do. All those bountiful, belly-filling dishes mixed with warm aromas and the company of good friends and family. It truly is the most wonderful time of year. However, what I've often found missing from the table is a good dose of green. I'm not talking creamed spinach or green bean casserole, either! What better than a crisp, crunchy salad to balance out the hearty roasts and casseroles?
A gorgeous winter salad is so easy to pull together, too. This one with freshly shaved Brussels sprouts, chopped kale and pecans, pomegranate seeds and juicy orange slices is no exception! Pour over a tangy homemade lemon-honey vinaigrette made with Barefoot Bubbly, and your salad will be the talk of the table!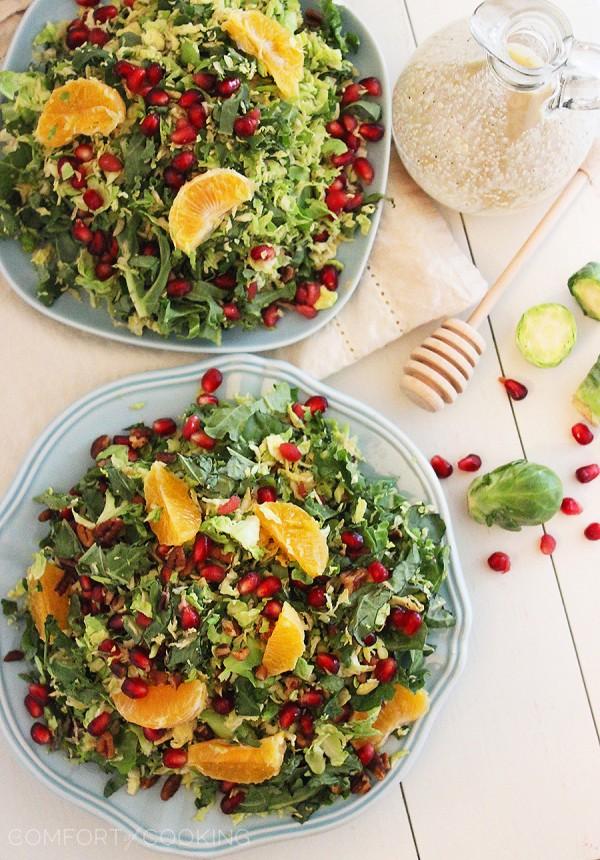 This salad is not only perfect for toasting at the table, it also makes a deliciously light, meatless meal for weeknights! Simply prepare your ingredients, toss them in a large bowl, and scoot a loaf of garlic bread alongside. Got leftover chicken or fish in your refrigerator? Chop and serve it on top! For a protein packed vegetarian option, add cooked quinoa or beans, or sprinkle on some chia seeds.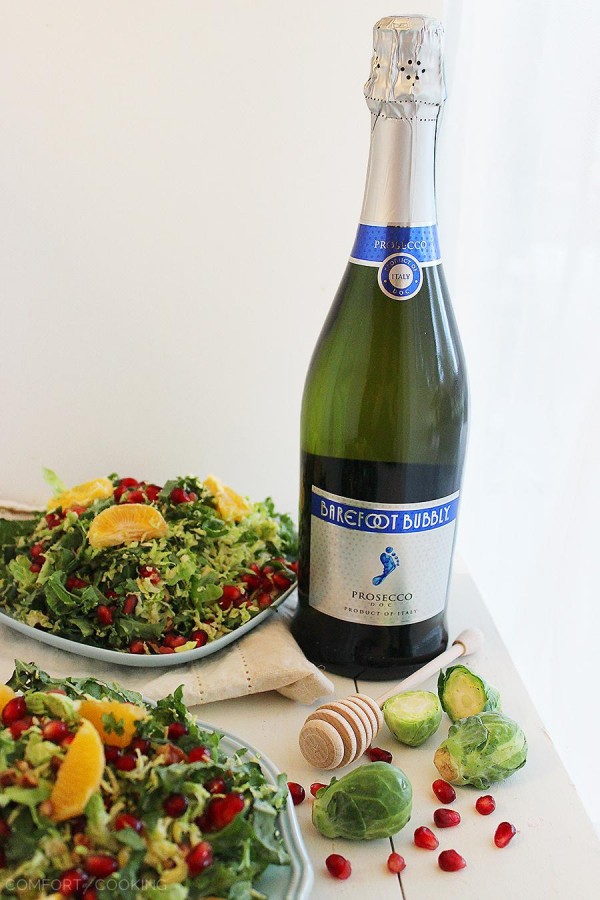 The salad alone is worth celebrating, but with the addition of a sweet and tangy champagne vinaigrette, those colors and flavors truly come alive! I have been kicking back with a glass of Barefoot Wine for years, however, I never considered cooking with the wines until now. Their new Prosecco is an unbeatably smooth sparkling wine with soft citrus notes that blend perfectly into this vinaigrette. Not to mention, the bottle is a beauty!
Try this scrumptious winter salad and vinaigrette for your next holiday event or weeknight dinner. I know you will enjoy it so much!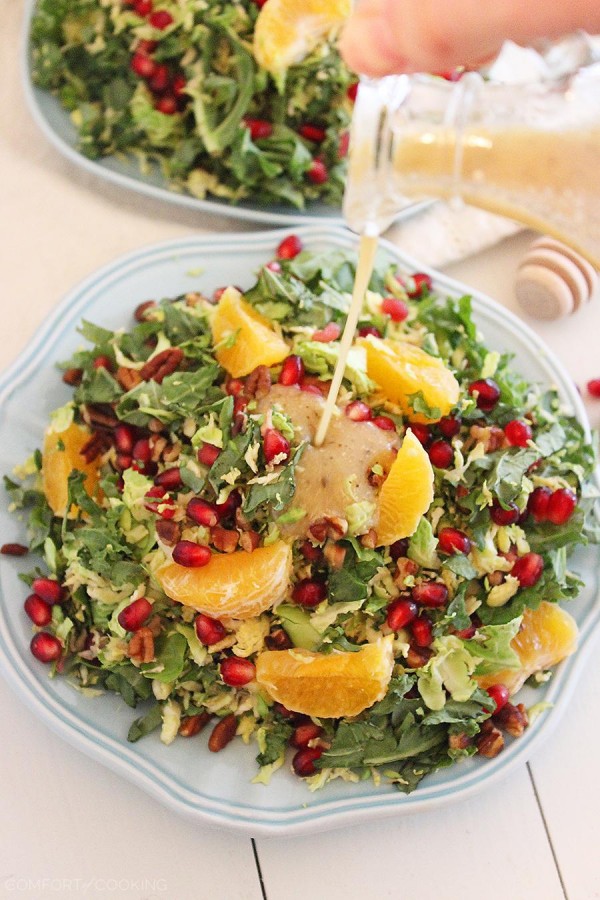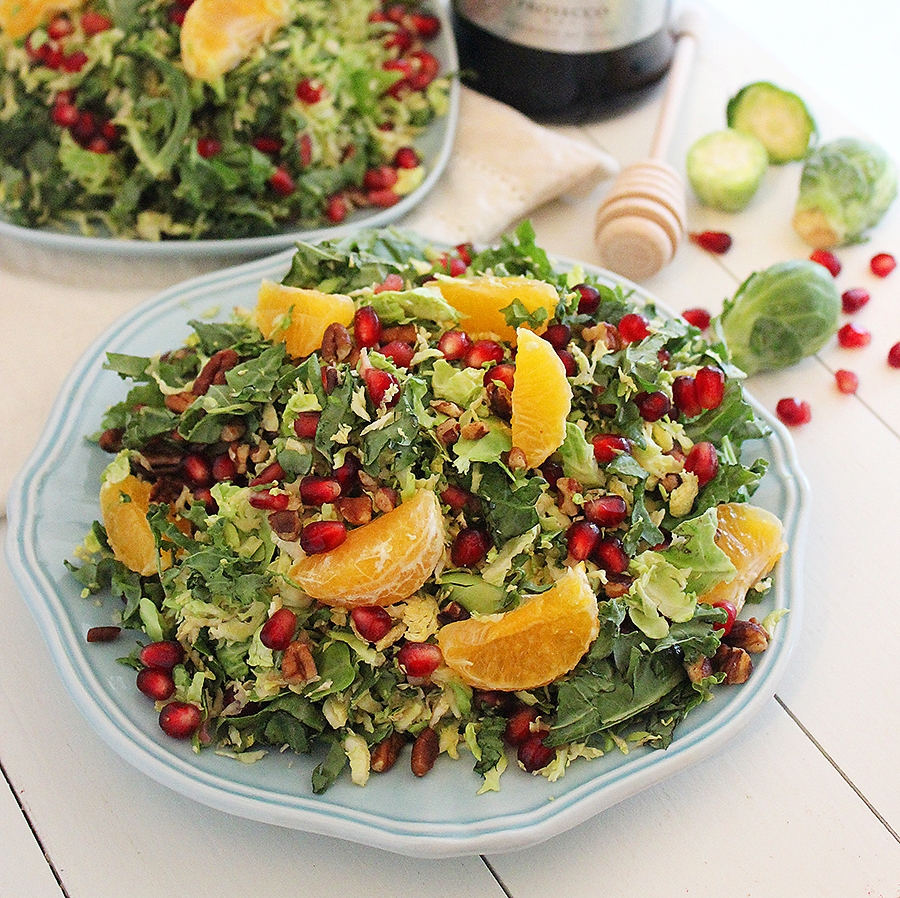 Brussels Sprout Winter Salad with Lemon Champagne Vinaigrette
Yield:
6 servings as a side dish / 3-4 servings as a main dish
Ingredients
For the Brussels Sprout Winter Salad:
4 cups brussels sprouts, rinsed and trimmed
2 cups chopped kale leaves
2 navel oranges, segmented and sliced
1/2 cup pomegranate seeds
1/2 cup chopped pecans, walnuts or almonds
For the Lemon Champagne Vinaigrette:
1/4 cup Barefoot Prosecco or Champagne
1 clove garlic, minced
2 Tablespoons Dijon mustard
2 Tablespoons fresh lemon juice
2 Tablespoons honey
Kosher salt and freshly cracked pepper, to taste
1/2 cup extra virgin olive oil
Instructions
For the Brussels Sprout Winter Salad:
Shave Brussels sprouts on the largest holes of a box grater. Toss in a large bowl with kale, orange slices, pomegranate seeds and chopped nuts. Portion salad onto individual serving plates. Garnish with additional pomegranate seeds and chopped nuts, if desired. Drizzle with dressing just before serving.
For the Lemon Champagne Vinaigrette:
In a medium bowl, whisk together champagne, garlic, mustard, lemon juice, honey, salt and pepper. Gradually whisk in olive oil until well combined. You can also combine all ingredients in a blender or food processor and purée until smooth.