Fluffy marshmallows made from scratch, with a peppermint swirl. Easy to make for homemade gifts, and incredible in a cup of warm hot cocoa!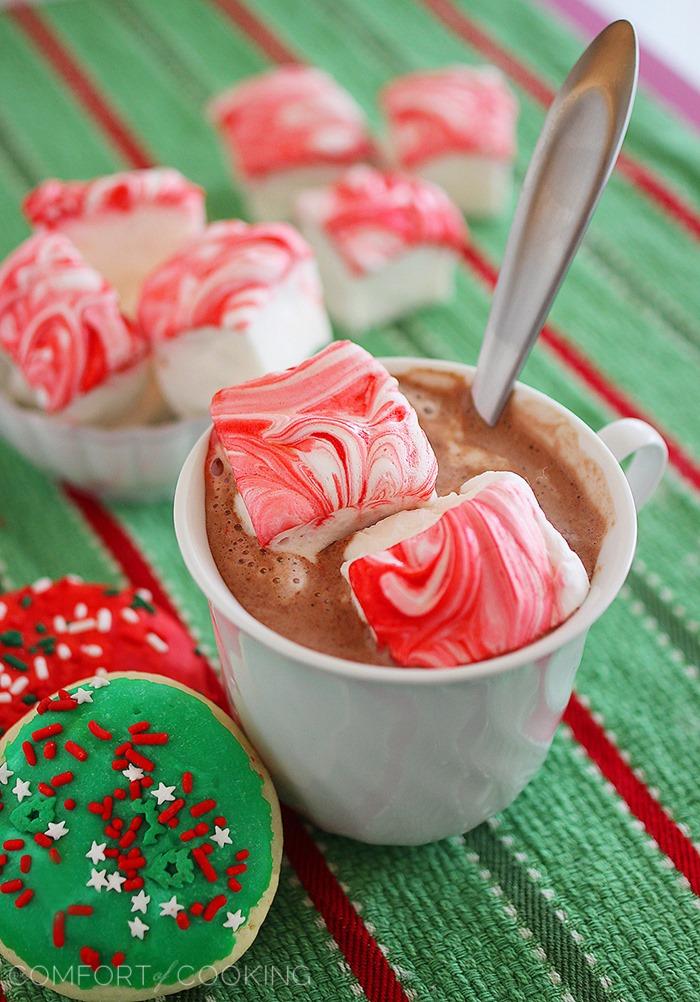 'Tis the season of Christmas cookies galore, but there's another sweet treat on my mind this holiday season! Soft, fluffy marshmallows swirled with peppermint and stuffed into mounding mugs of hot cocoa. Give me a fluffy blanket, a roaring fire, and a warm cup to cuddle up to. That's my kind of holiday celebration right there!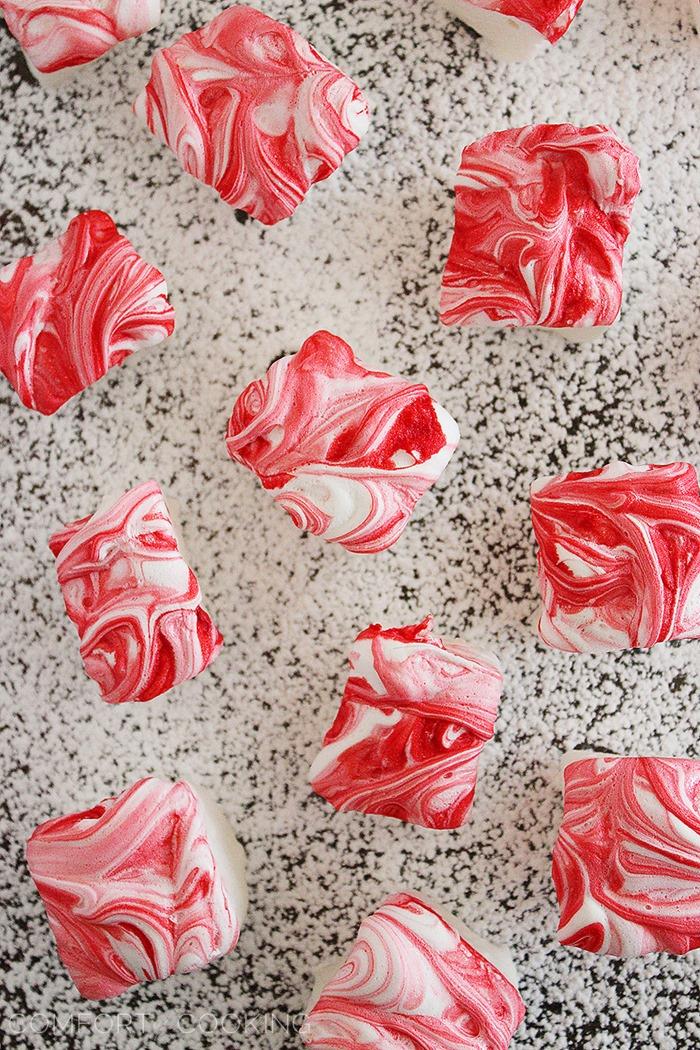 Being no master candy-maker or Martha Stewart clone, I was appropriately terrified to try homemade marshmallows. And the fact that my mom called for a "quick chat" while I was boiling sugar didn't help matters. But! These puffy, peppermint-flavored beauties went off without a hitch and I'm proud to say I have no sticky scars or destroyed cookware. A personal achievement!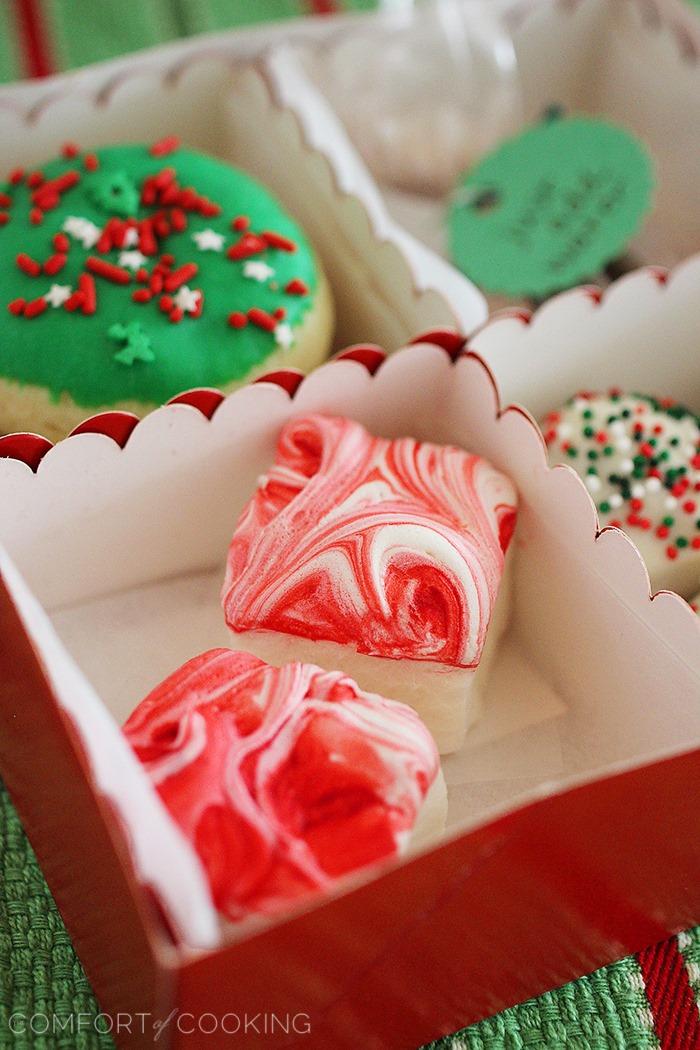 Sittin' pretty in a holiday package with Christmas cookies, truffles and hot cocoa mix, these minty 'mallows would make a wonderful gift for anyone on your list!
You only need six ingredients to be successful, and a bit of patience during the process. You start out by boiling sugar, water and corn syrup. Combine it with a mixture of gelatin, water, fluffy egg whites and peppermint extract. Whip the lovin' heck out of it. Sounds scary, right? It isn't really. The whole shabang goes by surprisingly fast, and before you know it you're dumping a big heap of marshmallow fluff into your pan to set! I swirled dots of McCormick red food color into the marshmallows' surface for a candy cane-like effect. Ain't it cute?
Melted into a steaming hot cup of cocoa, these peppermint marshmallows are pure bliss! Slide a couple Christmas cookies alongside two full mugs, pop these marshmallows on top, and clink 'em together with someone special. You won't believe the amazing flavor they add to your favorite cozy cocoa, and even recipes using them.
Helloooo, peppermint Rice Krispie treats!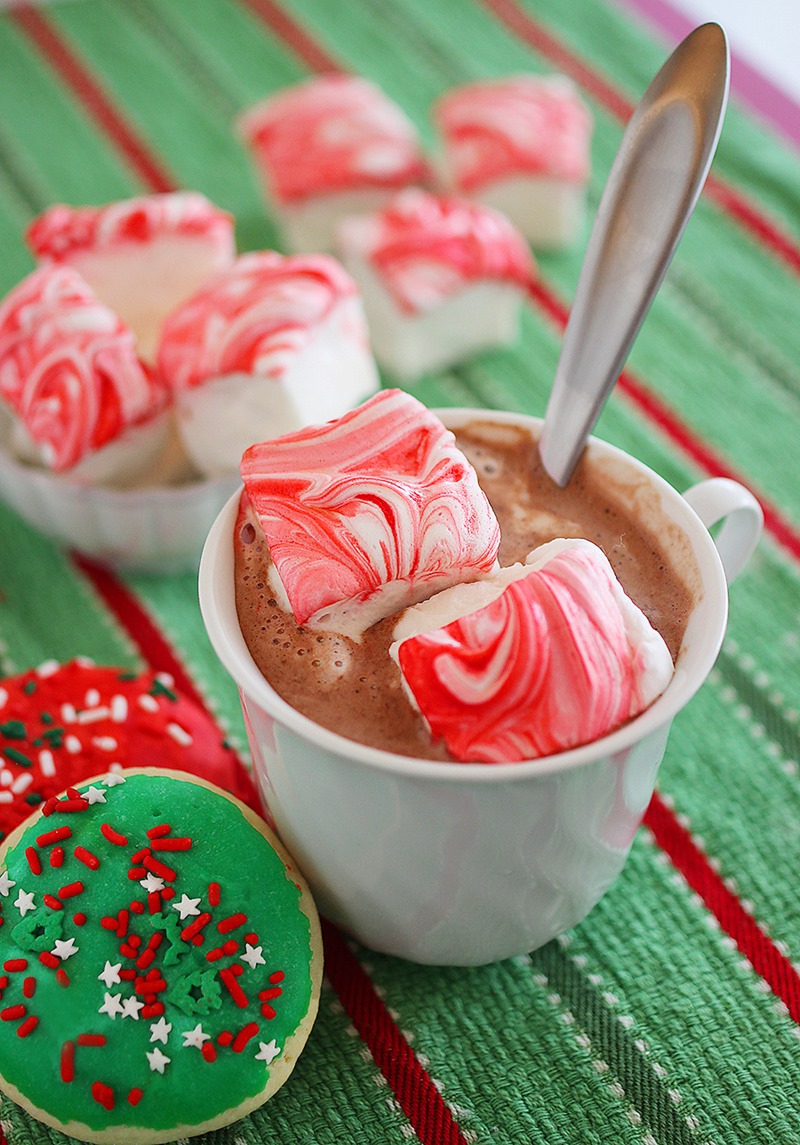 Peppermint Candy Cane Marshmallows
Yield:
16 (2-inch) marshmallow squares
Ingredients
Special equipment needed:
Candy thermometer
Electric mixer with whisk attachment
Wooden skewer
Instructions
Coat a 9-inch square pan with cooking spray. Line bottom of pan with parchment paper and coat with cooking spray; set aside.
In a small saucepan, combine sugar, corn syrup, and 3/4 cups water. Set to medium heat and cook, stirring until sugar is dissolved. Stop stirring and increase heat to medium-high. Bring mixture to a boil and cook until it registers 260 degrees on a candy thermometer.
Meanwhile, pour an additional 3/4 cups water into a heatproof bowl. Stir in gelatin and let stand 5 minutes. Set bowl over a small pan of simmering water; whisk constantly with a fork until gelatin is dissolved into mixture (it may be lumpy at first – just keep whisking). Remove from heat. Stir in peppermint extract and set aside.
Beat egg whites in the bowl of an electric mixer fitted with the whisk attachment until stiff, glossy peaks form.
Meanwhile, whisk gelatin mixture into sugar mixture. With the mixer running, gradually add gelatin-sugar mixture to egg whites. Mix on highest speed until very thick, 10 to 12 minutes.
Pour marshmallow mixture into prepared pan (you may end up with excess). Working quickly (marshmallow will begin to set), drop dots of red food coloring across surface. Using a wooden skewer, swirl food coloring into marshmallow to create a marbleized effect. Let marshmallow stand, uncovered, at room temperature until firm, at least 3 hours or overnight. Cut into squares.
Package marshmallows as gifts with hot cocoa mix, or keep for yourself to enjoy!
Store in an airtight container at room temperature for up to 1 week.
Enjoy!