Ready for some spidery magic? 🕷 These not-so-tricky 4 ingredient treats are made in 15 minutes! Oreos, pretzel sticks, chocolate + candy eyes give that scary spider look! So deliciously sweet, salty and a bit spooky. 🔮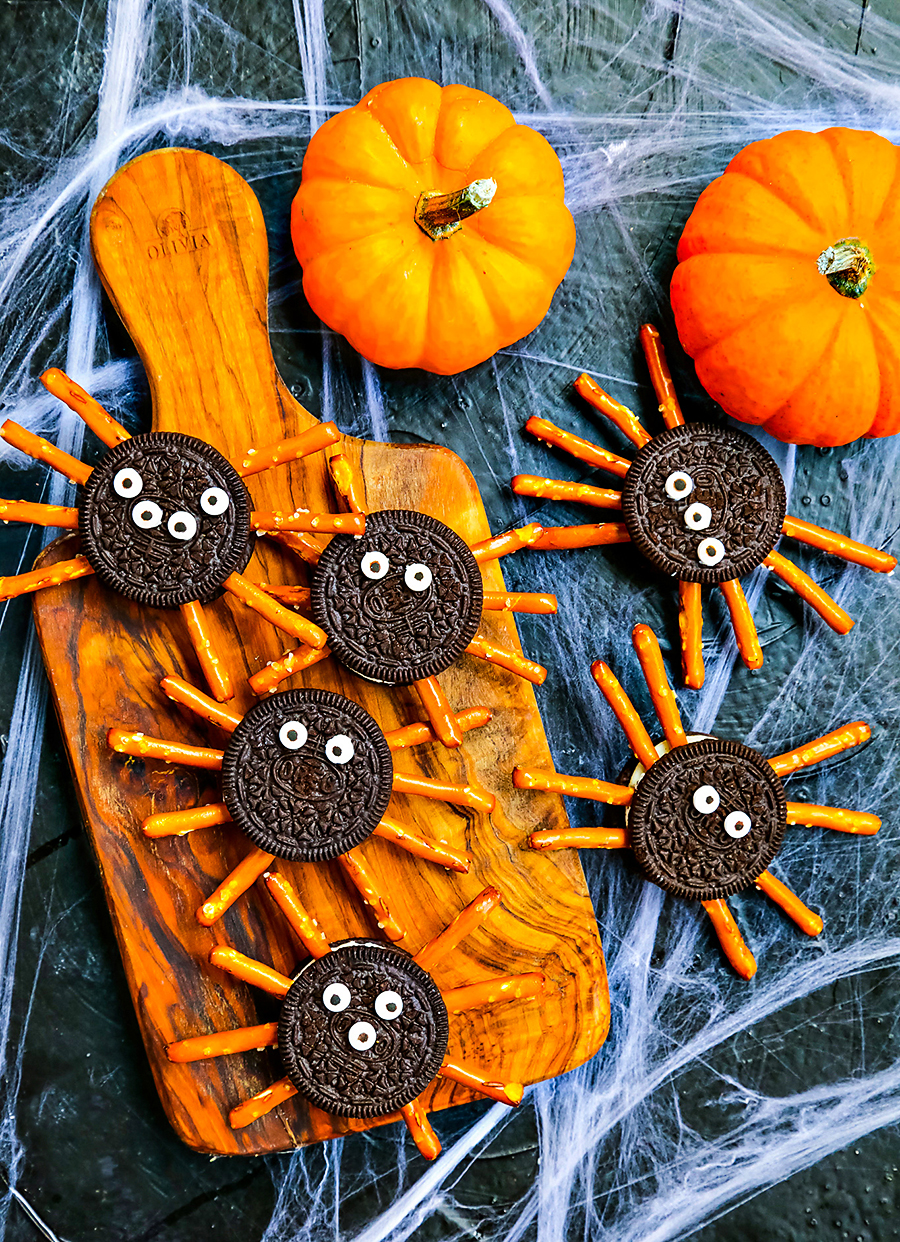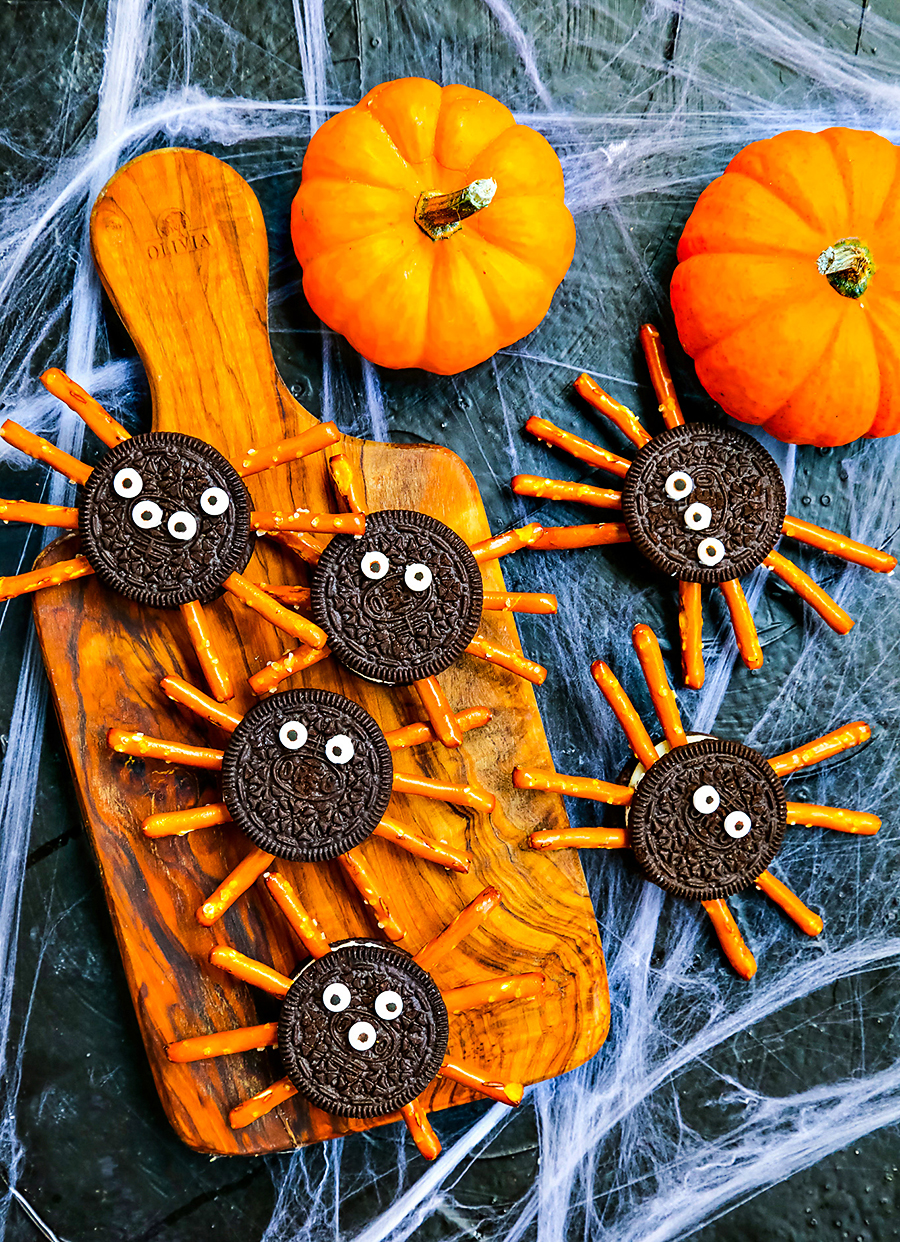 Oreo Pretzel Spider Cookies
Though I'll do pretty much ANYTHING to avoid spiders, I can hardly resist these creepy crawler Oreo spiders! They're sweet, salty, crunchy and creamy – oh my stars, talk about a perfect little snack that's right on theme for Halloween! 🎃 Bring these to your parties, your neighbor, your kids, that fellow spider "lover" friend of yours. Or, hide them in the way-back of your fridge like I did for a sneaky midnight snack. 😈
When it comes to playing with my food, I like to keep it easy and cute. These two-bite Oreo Pretzel Spider Cookies couldn't be easier. You only need four ingredients and 10 minutes to put these together. No baking, no fuss, no sweat for your spooky festivities.
Pretzel cookie pro tip: I like to get the Double Stuf or Mega Stuf Oreos for these cookies, since there is not enough cream filling in the regular Oreos to hold the pretzel sticks in place. I cut my pretzel sticks a little smaller with a sharp knife. Those eight long legs would have stuck out very far with the full pretzel stick!
If you can't find candy eyeballs, try candy dots, Skittles or mini M&Ms instead. The more eyes, the merrier on these little guys!
We went loony for these long-legged Oreo spiders, and the kids totally loved them! Such a tasty treat for Halloween gatherings or chill nights at home. 🕷 I hope these encourage you to love spiders a little more, too.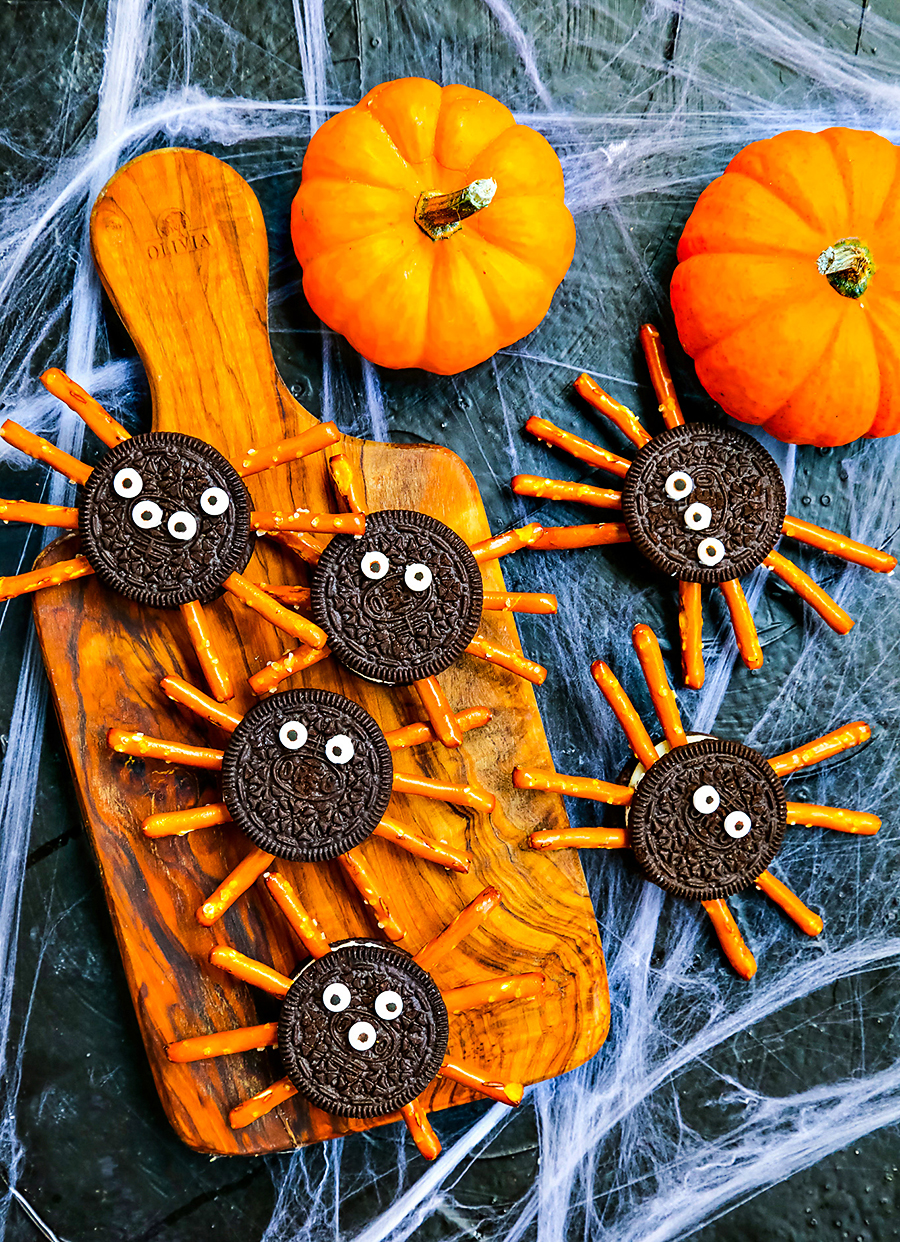 Oreo Pretzel Spider Cookies
Ingredients
20 Oreo chocolate sandwich cookies*
1 bag (about 16 oz.) small pretzel sticks
1/2 cup chocolate chips, melted
40-50 candy eyeballs
Instructions
Remove Oreo cookies from the packaging and place on a large platter.
Stick the crème filling sides of Oreo cookies with 4 pretzels sticks on each side. You may need to trim the sticks shorter with a sharp knife. Repeat with all 20 cookies.
Melt chocolate chips in a microwave-safe bowl. Stir until smooth.
Dot the underside of each candy eyeball with melted chocolate (a toothpick is helpful with this). One at a time, stick eyeballs on top of the cookies. Repeat with remaining cookies.
If possible, refrigerate until ready to serve.
Enjoy!
Want to receive our latest recipes straight to your email inbox? Click here to subscribe!