This 5-minute, 5-ingredient Halloween veggie tray is the perfect healthy snack! 🎃 Full of color, flavor and a delicious homemade Ranch dip. So easy to make for your spooky festivities and a nutritious break from all the naughty sweets! 🥕 Our family and friends love this cute, quick appetizer!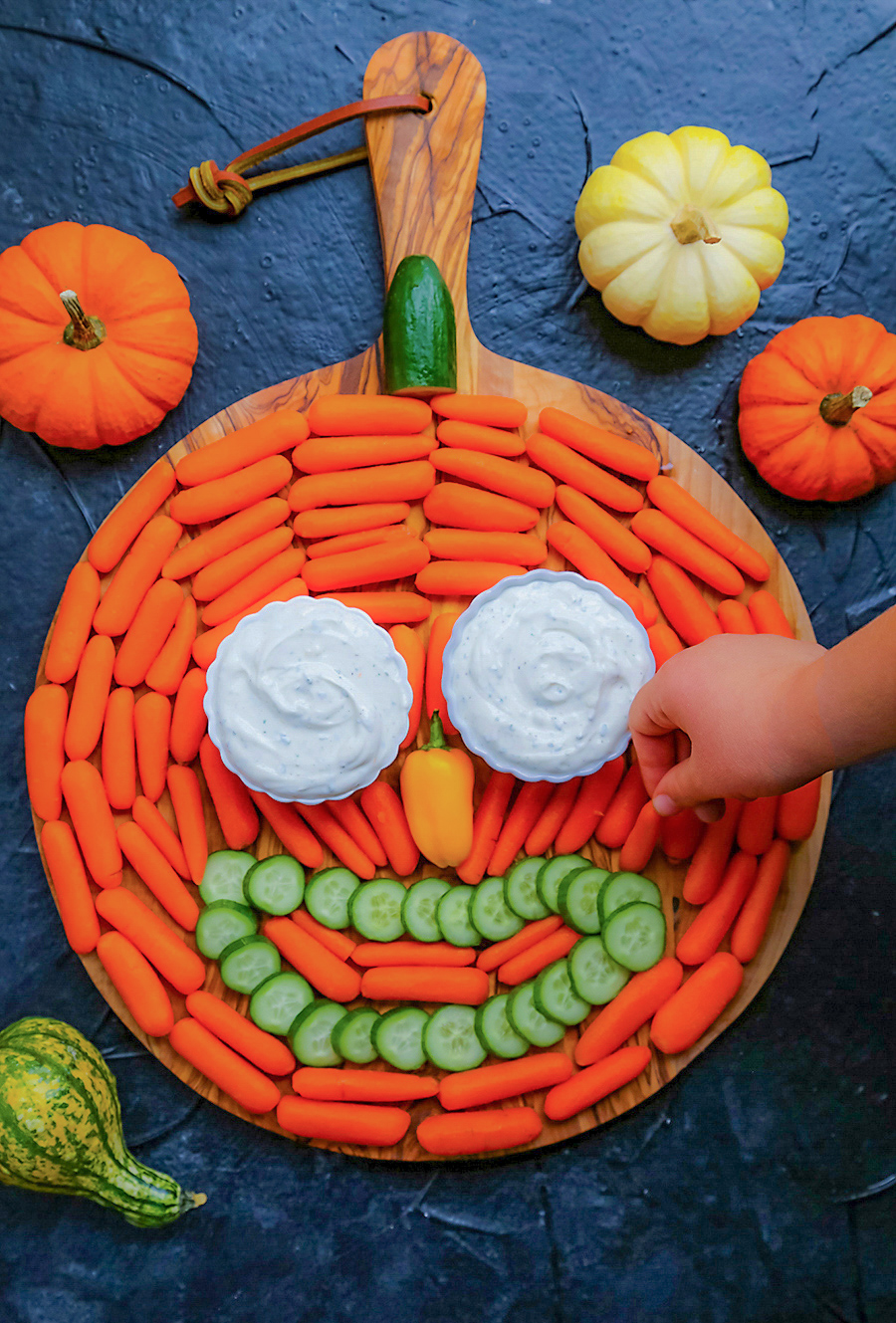 5-Minute Pumpkin Veggie Tray
Let's lighten up our Halloween a little, shall we? ✨
I love all the indulgent, sweet treats as much as anyone, but how refreshing to dive into a delicious Halloween-themed veggie platter! If only so you can have another handful of candies, he-he.
There is nothing more fun, quick and easy for your Halloween table – not to mention, healthy! I didn't expect the kids in the house to devour this as quickly as they did – but boy, was it a hit! They loved the colorful combo of carrots, sweet peppers, cucumbers and a cool, creamy Ranch dip (made with just two ingredients). The dip is so addictive that it makes munching on veggies EASY.
Be a pumpkin and serve this handsome, healthy and FAST veggie jack-o-lantern veggie tray. It makes for an easy snack or party appetizer that everyone will love!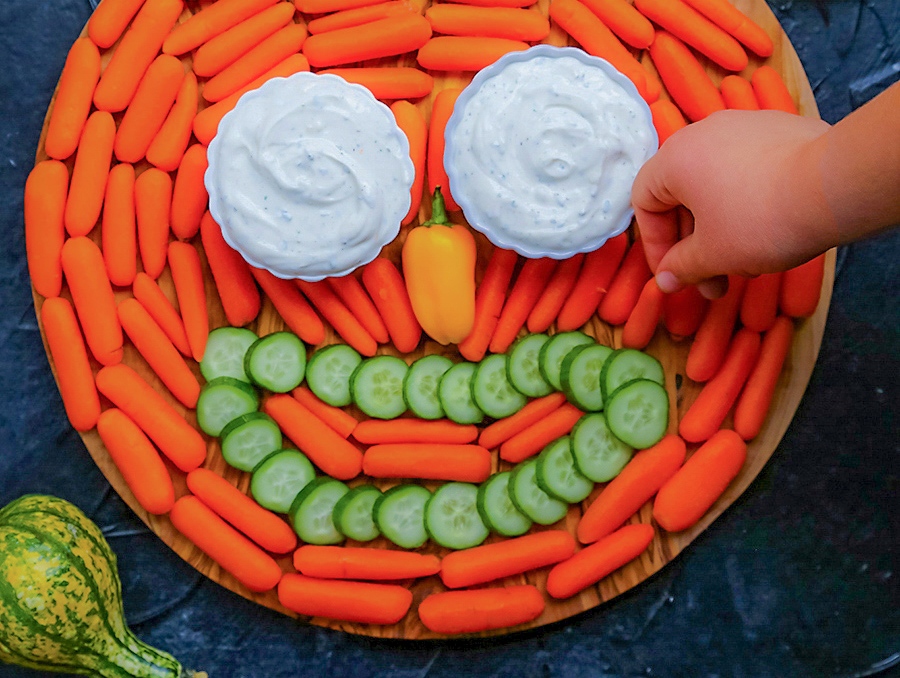 5-Minute Pumpkin Veggie Tray
Ingredients
2 lb. bag baby carrots
4-5 mini cucumbers
1 bag sweet mini peppers, usually in a pack of red, orange, yellow
1 (16 oz.) container sour cream
1 (1 oz.) packet dry Ranch seasoning
Instructions
On a circular platter, arrange baby carrots in a circle shape. Leave empty spots for cucumber mouth and two small containers of the dip.
Chop one end of one cucumber for the stem. Slice remaining cucumbers and arrange as the pumpkin "mouth."
Place one mini pepper for the pumpkin "nose."
In a medium bowl, mix sour cream and dry Ranch seasoning. Pour into two small bowls. Place side-by-side in the carrots for pumpkin "eyes."
Cover and refrigerate until ready to serve.
Enjoy!
Notes
If you don't have dry Ranch seasoning, mix together:
½ cup buttermilk powder
2 tablespoons parsley
1 teaspoon dill
1 tablespoon onion powder
2 teaspoons onion flakes
1 ½ teaspoons garlic powder
¾ teaspoon salt
½ teaspoon pepper
2 teaspoons chives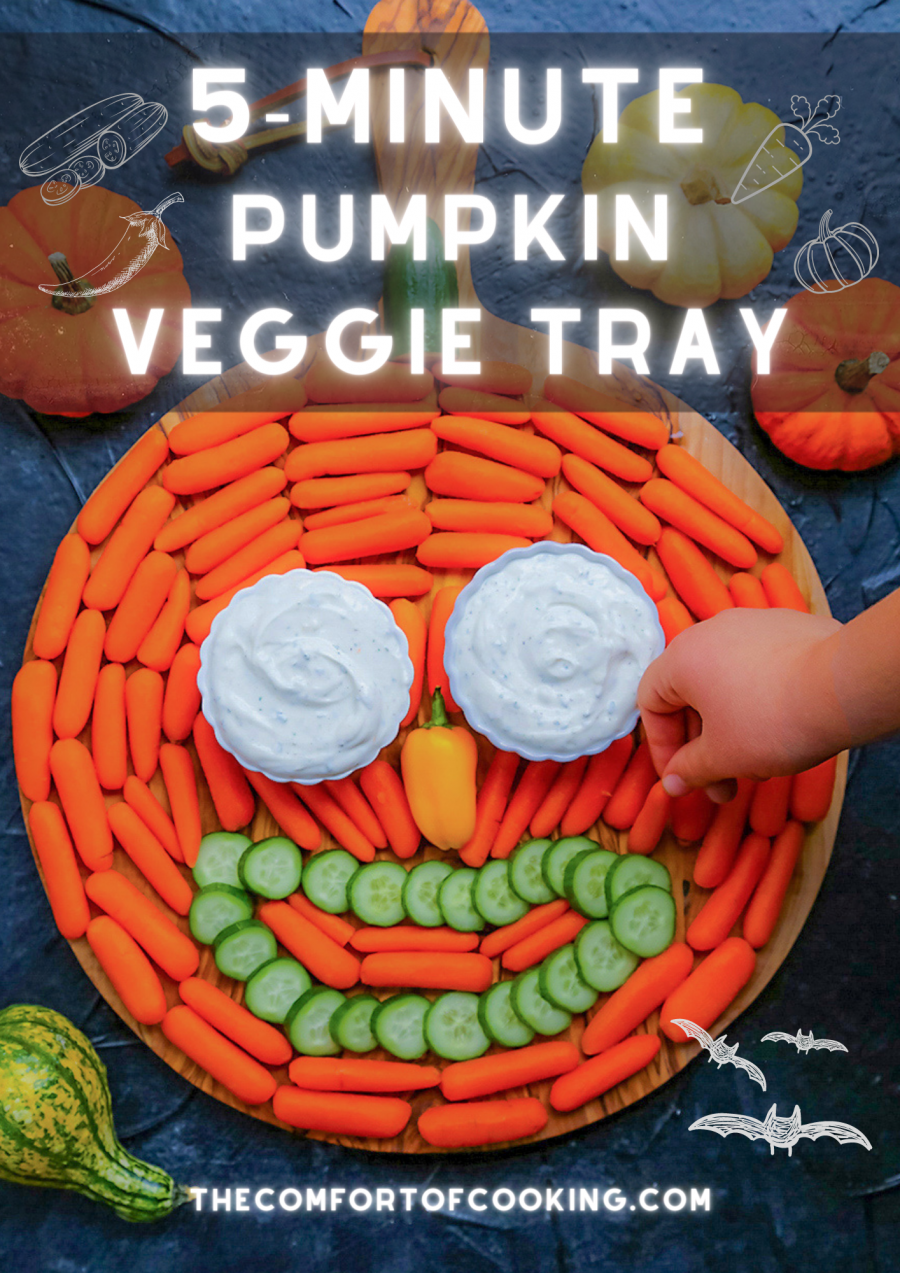 Want to receive our latest recipes straight to your email inbox? Click here to subscribe!