Super soft, buttery garlic breadsticks made from scratch. This recipe is so simple and perfect for serving alongside your favorite soups, salads, roasts and any other meal!
I love to cook. This is clear. I like to bake. Do not love. That's why, for weeknight meals, I'm an occasional plop-it-out-of-the-tube breadstick maker and biscuit baker. This is just the way I roll!
… Get it?
However, these buttery soft breadsticks have been on my must-try list for ages, so I found it high time to ditch the can and go homemade. Just to see what all the fuss was about.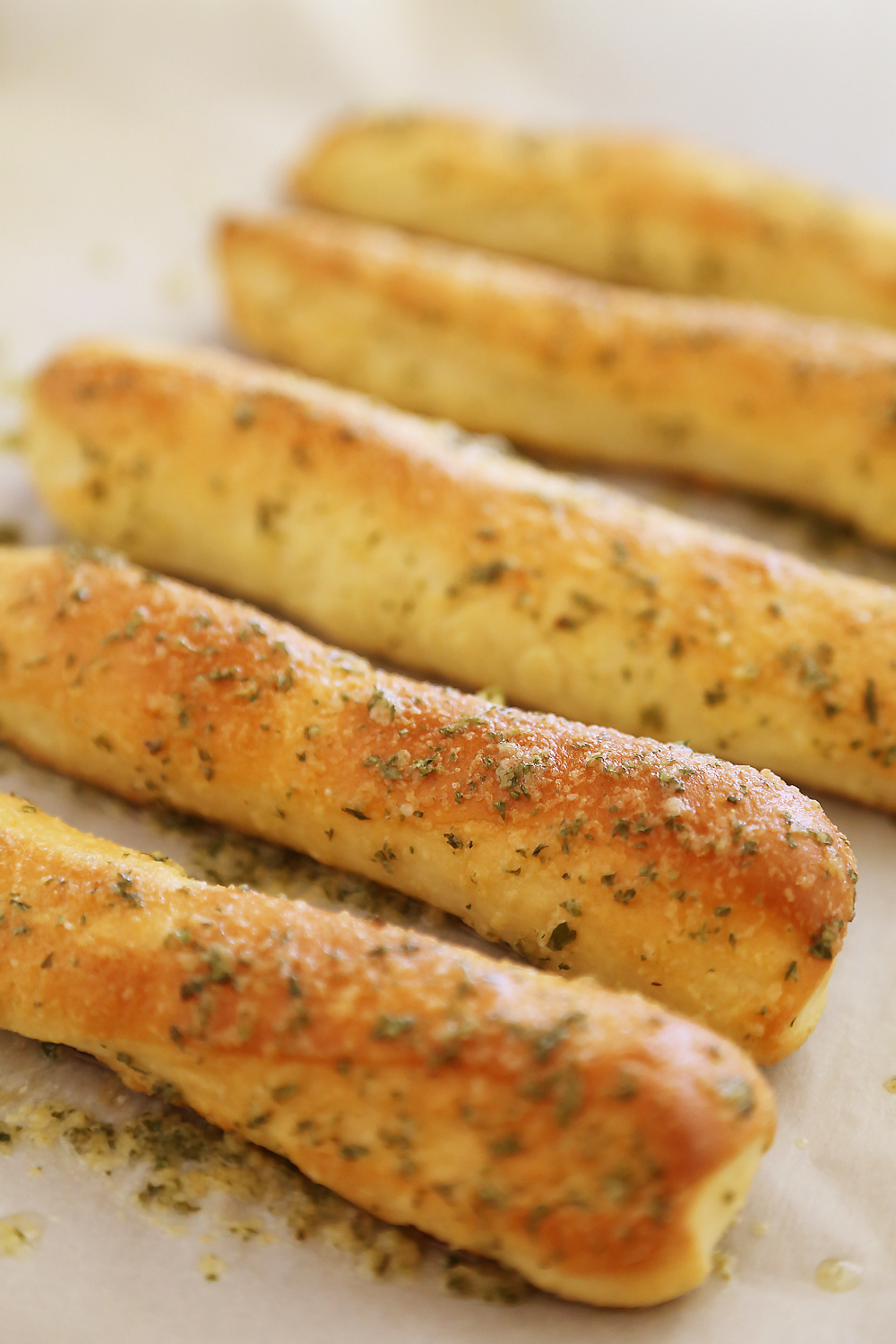 Well, HOLY MOLY, y'all. I am lucky to have enough of these breadsticks to last quite a few meals, because they are absolutely addictive. And super fluffy. And full of garlicky goodness. And you should listen up, because I'm kinda picky about my bread. They are also so easy to make, I'll be baking another batch when these are all devoured!
In other words: It will not be long.
I'm not so much addicted to the bread as the scent of dough rising in a warm oven. It just permeates the house, and makes it feel cozy and warm. And, fools me for a moment into thinking that it is not, in fact, 102-stinking-degrees outside. Haaalp!
The scent and satisfying chew of these soft, buttery breadsticks definitely doesn't disappoint. They are so very delicious and perfect served on the side of soups, stews, salads and any meal that calls for something a little hearty on the side. Or something to mop up some extra sauce!
Bake a batch of these irresistible breadsticks to serve alongside your next meal. You will LOVE them, I guarantee it!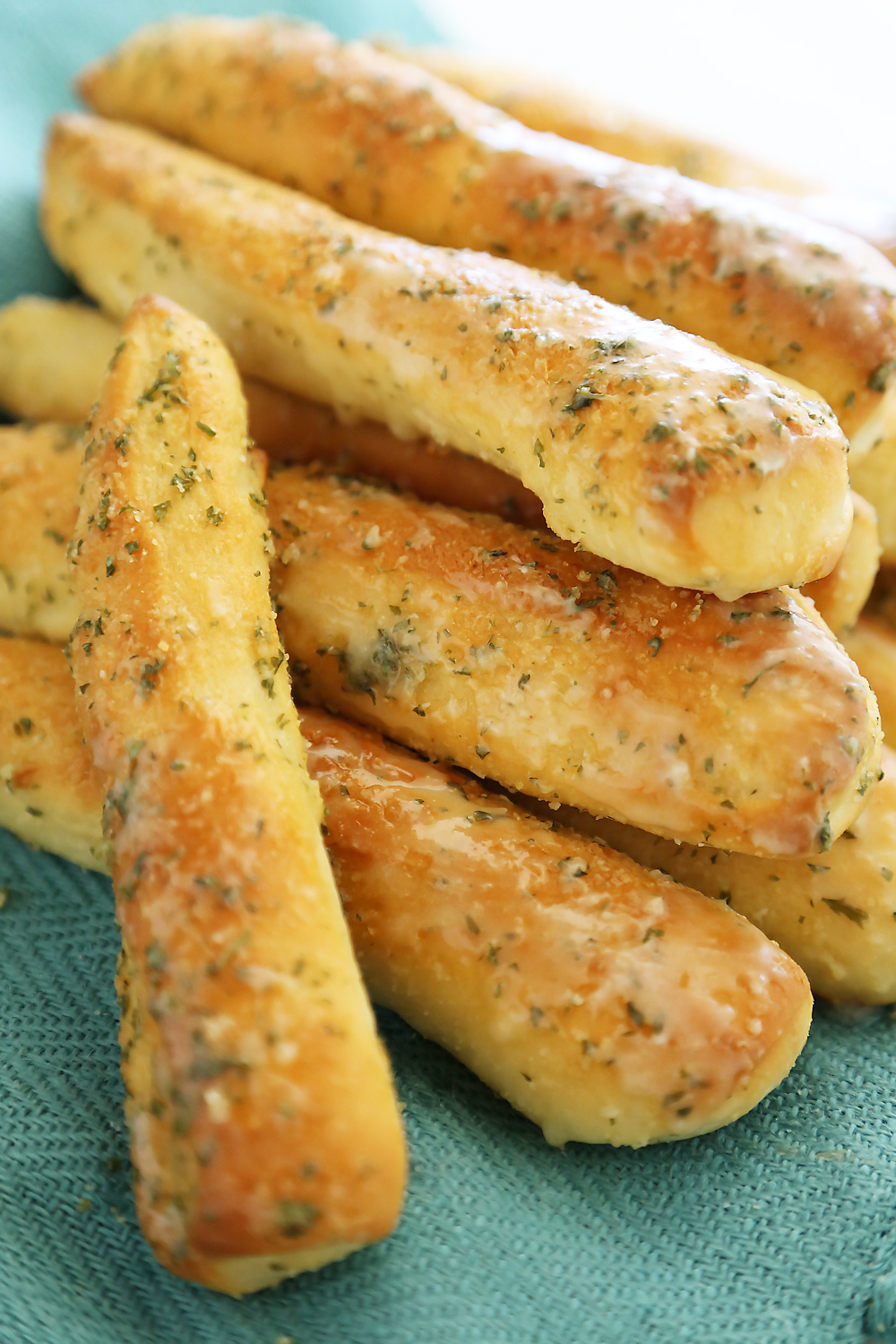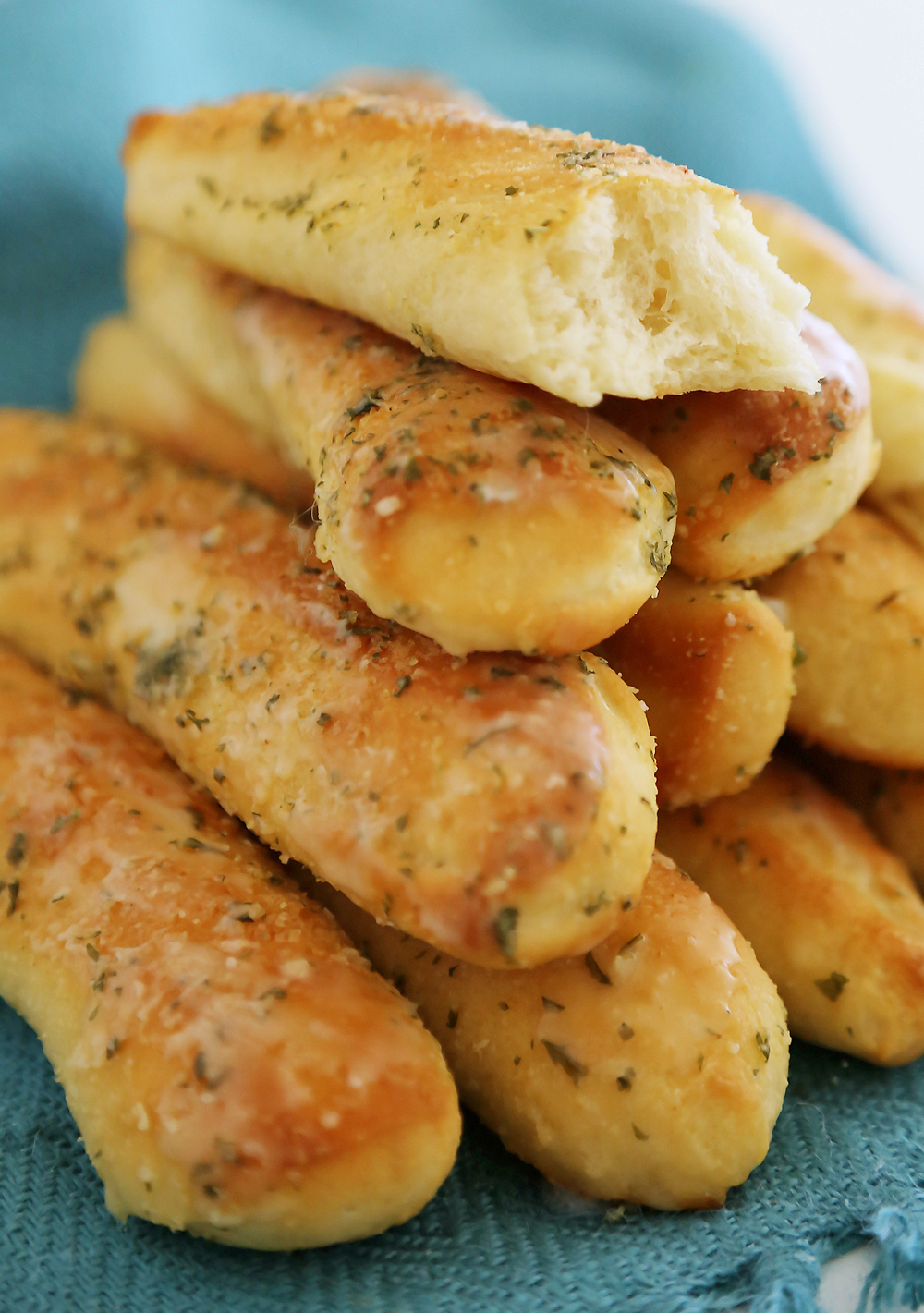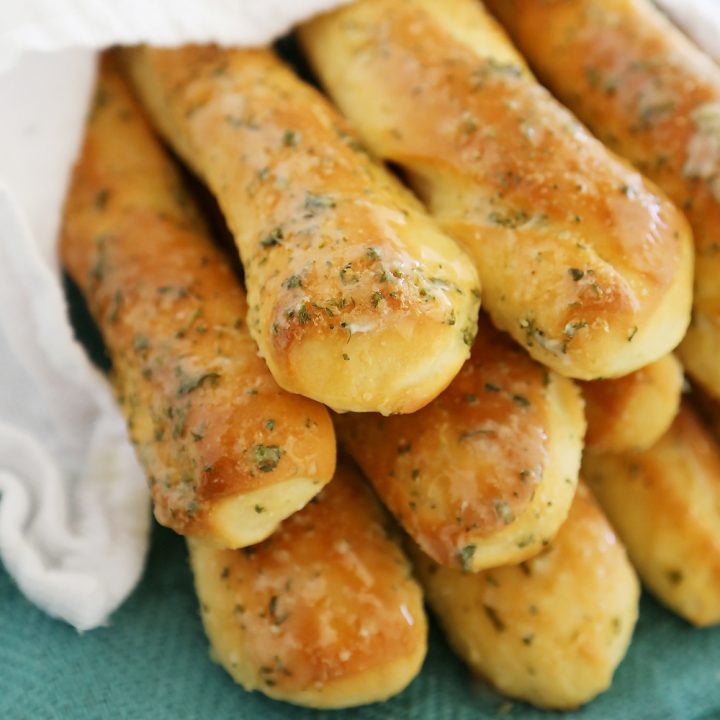 Fluffy Garlic Butter Breadsticks
Ingredients
For the dough:
1 cup + 2 Tablespoons warm water
1 1/2 teaspoons instant yeast
2 Tablespoons granulated sugar
3 Tablespoons unsalted butter, melted
1 3/4 teaspoons kosher salt
3 cups bread flour or all-purpose flour
For brushing:
3 Tablespoons unsalted butter, melted
1/2 teaspoon kosher salt
1/4 teaspoon garlic powder
1/4 teaspoon Italian seasoning
Instructions
In the bowl of an electric stand mixer fitted with the dough hook, combine all ingredients for dough except flour. On low speed, gradually add flour. Increase speed to medium and knead dough for 7 minutes, or until smooth and elastic.
Remove dough to a lightly oiled bowl and cover with a dry towel. Let rise in a warm place until doubled in size, about 1 1/2 hours.
Divide dough into 12 portions. Roll each piece of dough into a 7-inch log. Place dough logs on nonstick baking mat or parchment-lined baking sheets, cover, and let rise until doubled in size, about 1 hour.
Preheat oven to 400 degrees F. Bake for about 12 minutes, or until golden brown. Meanwhile, combine butter, salt and garlic powder in a small bowl. Remove breadsticks from oven and immediately brush with butter mixture. Serve warm.
Enjoy!