Try this sweet, tart homemade cranberry sauce for your holiday table. Always a most-requested favorite in my family and takes less than 5 minutes! Check out the four ingredients and creative uses for leftovers, too!
Gone are the days of grabbing a slice of cran-in-a-can (even though I loved that stuff as a kid). There's a new holiday tradition in my life, and it's called homemade cranberry sauce! Super easy, lightning quick, and beautiful enough for any Thanksgiving, Christmas or other festive dinner table.
'scuse the bad kitchen lighting, y'all. :)
Your essentials are only water, sugar, an orange, and a bag of fresh cranberries (find them in the fruit section of most groceries). That's it! Plop it all in a pan together, boil, and let that beautiful mixture simmer until you've got a smooth, sticky homemade cranberry sauce… and all it took was 10 minutes.
Homemade cranberry sauce is great to give as a gift, too! Friends and family love getting a little treasure that's homemade and from the heart.
Tart 'n sweet cranberry sauce doesn't stop at the spoonful, though – Why not toss a tiny bit into a glass of champagne, or spoon it over a succulent roast pork? Jazz up a plain quickbread recipe by subbing sauce for bananas/blueberries/etc., or make a cranberry cobbler for a delish dessert! Also, cranberry barbecue sauce, anyone?
Try my tasty, easy recipe, and if you're lucky to have any leftovers, maybe some of the above ideas, too!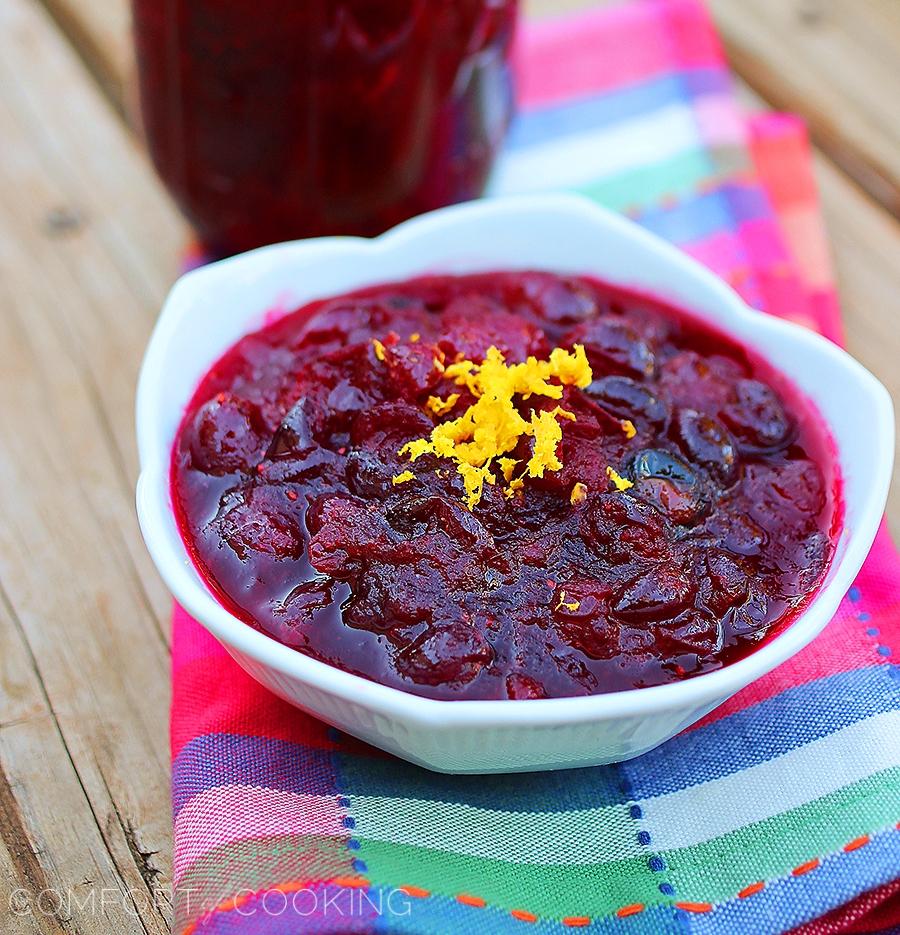 Cranberry Sauce
Yield:
2 cups (4-6 servings)
Ingredients
1 cup granulated sugar
1 cup water
4 cups (one 12-oz. package) fresh or frozen cranberries, chopped
2 Tbsp. orange zest, from 1 orange
Instructions
In a medium saucepan, combine all ingredients and bring to a boil. Reduce heat and simmer for 10 minutes. Cranberries should be softened and the mixture should coat the back of a wooden spoon.
Remove from heat and allow to cool completely. Place in a serving bowl or jar(s), cover and chill in refrigerator for at least 1 hour. Cranberry sauce will continue to thicken as it cools.
Enjoy!