As a gift or festive holiday breakfast (or dessert!), you'll love this sweet & tart cranberry bread with a fresh orange juice glaze!
Just a week 'til Christmas Eve, folks! Can you believe it? Even for those of you who don't celebrate Christmas, I think we can all agree this is a wonderful time of year to be thankful for family, friends, and good food.
This tart 'n sweet, crumbly cranberry bread is my absolute favorite holiday breakfast. It's lots of fun to bake up, too! Dotted with juicy cranberries and orange zest, this bread is scrumptious topped with a fresh orange juice glaze.
All you need is one bowl and a loaf pan, or a set of two mini ones… and the patience to endure the amazing aroma while it bakes! Especially with all the good food happening in this kitchen lately, patience is definitely lacking…
Freeze a loaf for later, give it as a gift, or enjoy it warm out of the oven with a hot coffee and the Sunday paper. Topped with a dollop of whipped cream, it makes a delicious dessert, too!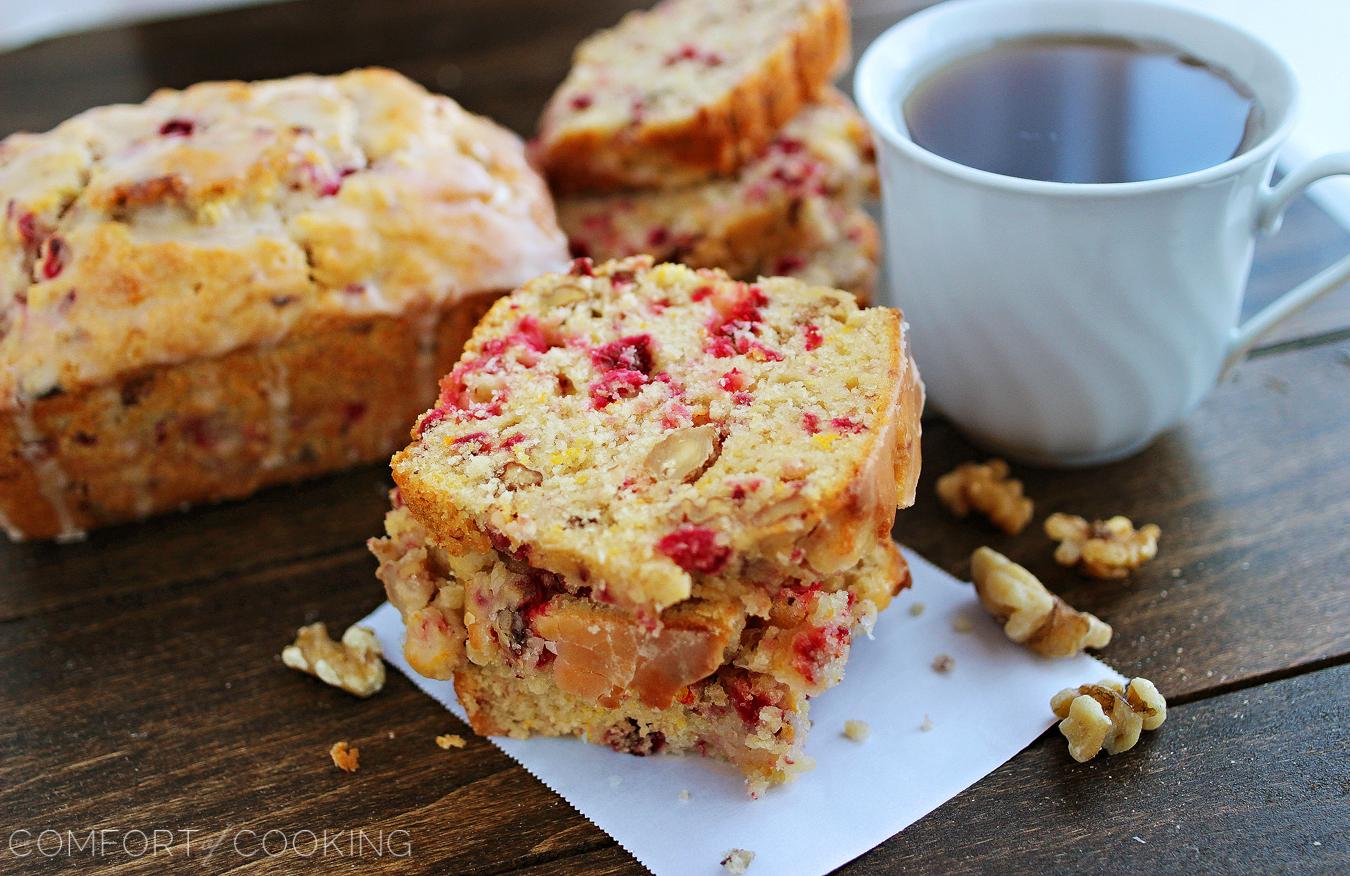 Cranberry Bread with Orange Glaze
Yield:
1 loaf or 2 mini loaves
Ingredients
Nonstick cooking spray, or 1 tsp. butter
1/3 cup vegetable oil
3/4 cup granulated sugar
1/4 cup milk
2 large eggs
1 teaspoon vanilla extract
1 teaspoon orange zest, from 1 orange
1 cup fresh or frozen cranberries, chopped
1 1/2 cups all-purpose flour
2 teaspoons baking powder
1/2 teaspoon salt
1/4 cup pecans or walnuts, chopped
For Orange Glaze:
1 cup powdered confectioners' sugar
2 Tbsp. fresh orange juice, from 1 orange
Instructions
Heat oven to 350 degrees F.
Using nonstick cooking spray or butter, grease 1 whole loaf pan or 2 mini loaf pans. Put a thin strip of parchment paper in the bottom of the pan, and lightly grease over the parchment paper.
In a large bowl, combine oil, sugar, milk, eggs, vanilla, orange zest and cranberries. Mix well. Stir in flour, baking powder, and salt. Fold in chopped nuts. Pour into prepared pan(s).
Bake 1 whole loaf for 50-60 minutes, or 2 mini loaves for 30-40 minutes. Meanwhile, whisk together ingredients for orange glaze and set aside.
Remove loaf from oven. A toothpick inserted in the loaf's center should come out clean. Let cool 10 minutes.
With a blunt knife, loosen sides of loaf from pan(s) and remove by lifting strip of parchment paper. Immediately brush glaze over each loaf. Cool completely on wire rack before slicing. Store tightly wrapped in refrigerator up to 1 week.
Enjoy!