This creamy pumpkin soup is delicious as an easy weeknight meal or an elegant starter soup for your holiday dinners!
I'll just be right out with it – this pumpkin soup is the best soup I've ever made! It's creamy, velvety smooth and delicious with a pile of tasty toppings like chopped bacon, sour cream, herbs and a few fresh shavings of Parmesan cheese. Or, heck, leave out the toppings and enjoy it as-is. You'll love it!
I've made it as an easy weeknight dinner with a salad and garlic bread (great for dipping!), and also as a fancy schmancy Thanksgiving starter. This scrumptious soup would be right at home on any Christmas dinner table, too. It's a great make-ahead meal on its own, or something delicious to start holiday guests' meal off on the right foot… just remind them to save their appetites!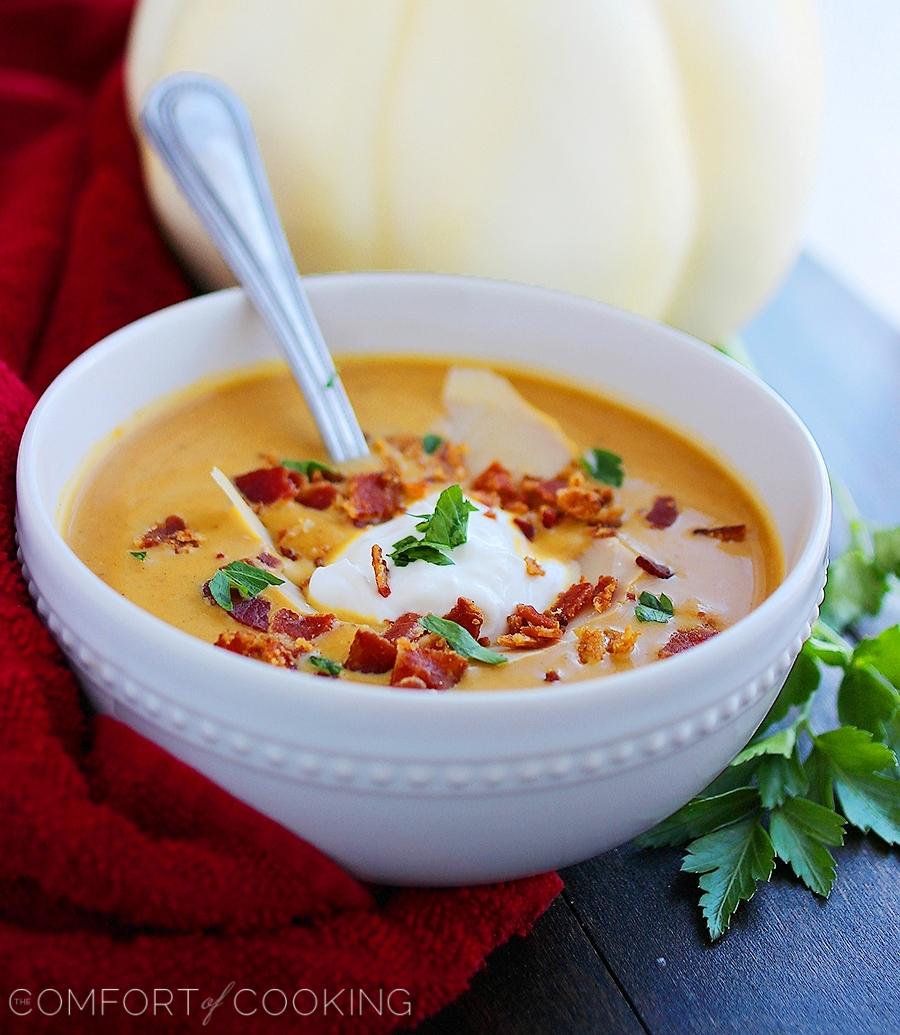 Creamy Pumpkin Soup
Ingredients
3 cups low-sodium chicken broth
1/2 tsp. salt
2 cups pumpkin puree
1/2 cup chopped onion
1/2 tsp. chopped fresh thyme
1 clove garlic, minced
6 whole black peppercorns
1/2 tsp. freshly ground ginger
1/4 tsp. ground cinnamon
1/8 tsp. ground nutmeg
1/2 cup heavy whipping cream
Optional:
4-5 pieces cooked bacon, chopped
Freshly grated Parmesan
Sour cream
Instructions
In a large pot, combine ingredients 1-10 and bring to a boil. Reduce heat to low and simmer for 30 minutes, uncovered.
Using a food processor or blender, puree soup in small batches (1 cup at a time). Or, use an immersion blender to blend right in the pot. Return soup to pot and bring to a boil. Reduce heat to low and simmer for another 30 minutes, uncovered. Remove from heat and stir in heavy cream.
Pour into serving bowls. If desired, top with chopped cooked bacon, Parmesan and/or sour cream.
Enjoy!