Sip away on this scrumptious peppermint white hot chocolate to warm up some chilly winter night. Add crushed peppermint and whipped cream for an extra delicious, festive touch!
During days spent exploring blistering cold Boston in the winter, my favorite indulgence was a Peet's peppermint hot chocolate. From a set of little stools you could watch the snow fall, sip away, and recharge for a bit before heading back out into the tundra. You may have been frozen to the bone, but for a moment you were wrapped in the cocoon of a warm, cozy coffeehouse.
While my hubby and I may live far from our first shared city now, peppermint hot chocolate remains my favorite antidote to bone-chilling weather. I'll be sure to make plenty of it while spending Christmas in Chicago this year!
Thanks to this great recipe from McCormick, I could recreate this happy memory with a cup of white hot chocolate using their Pure Peppermint Extract. Topped with a puffy cloud of whipped cream, little candy cane bits and a bit of marshmallows, it was heaven!
Whip up a batch to warm up some chilly winter night, and you'll love it, too! It's quick 'n easy, and all you need are four basic ingredients – milk, chocolate, half-and-half, and a bit of peppermint extract. Oh, and of course, a cute candy cane garnish!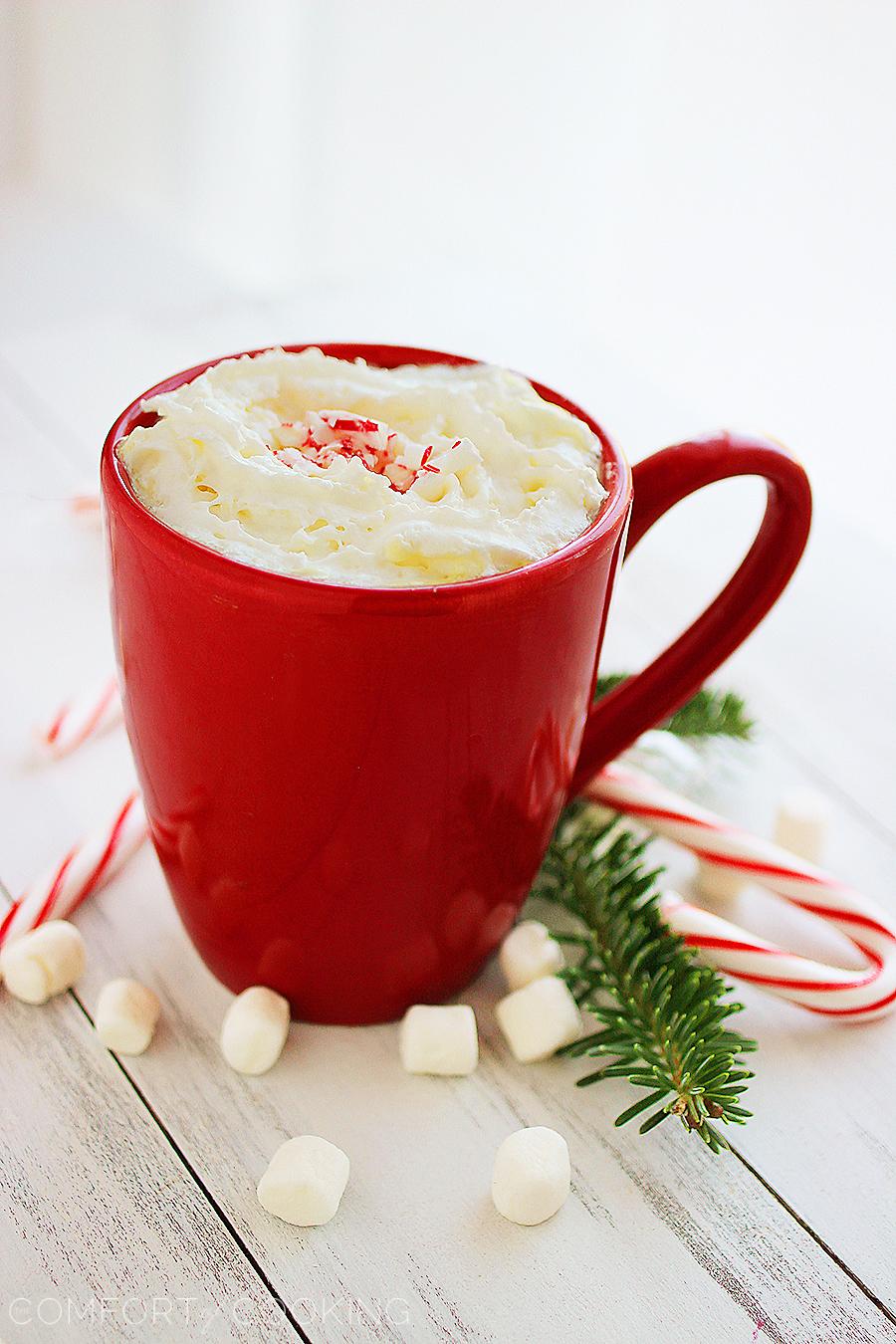 Peppermint White Hot Chocolate
Yield:
3 (1-cup) servings
Ingredients
1 cup skim milk
4 ounces white baking chocolate, coarsely chopped
2 cups half-and-half, or, use whole milk + heavy whipping cream
1/2 teaspoon McCormick® Pure Peppermint Extract
Whipped cream and/or marshmallows, optional
Instructions
In medium saucepan over medium-high heat, add milk and chopped chocolate. Stir until chocolate is melted and mixture is smooth.
Stir in half-and-half and peppermint extract. Cook and stir until heated through.
Pour into serving cups. Serve with a dollop of whipped cream and/or marshmallows, if desired.
Enjoy!