Yesterday was our last day in Austin, Texas, where it is hot hot HOT, so in saying goodbye to the sizzling weather I've dedicated this luscious limoncello recipe to my favorite Southern city. We have had an absolute blast enjoying good friends, music and food, and can't wait to come back soon.
Limoncello is one of my favorite drinks during the holidays and hot summer months. So, before it gets scorching in Southern California and I start craving limoncello's bright, citrusy sweetness in a champagne cocktail, I peeled a few lemons, plunked the peels into a bottle of good-quality vodka, and made it myself. And, really, that's all there is to it!
To start, just grab a full bottle of good-quality vodka and 6 lemons. Peel the lemons, scraping off any bitter white pith as you go, and add them to the vodka. Place the bottle in a dark cabinet, and one week later, combine the lemon-vodka mixture with a homemade sugar syrup.
Then…. presto, chango, alakazam! You have refreshing, citrusy sweet limoncello. Amazing in a champagne cocktail, as an ingredient in homemade ice cream and as I'll show you soon, limoncello-cream cheese cupcakes with fresh lemon curd!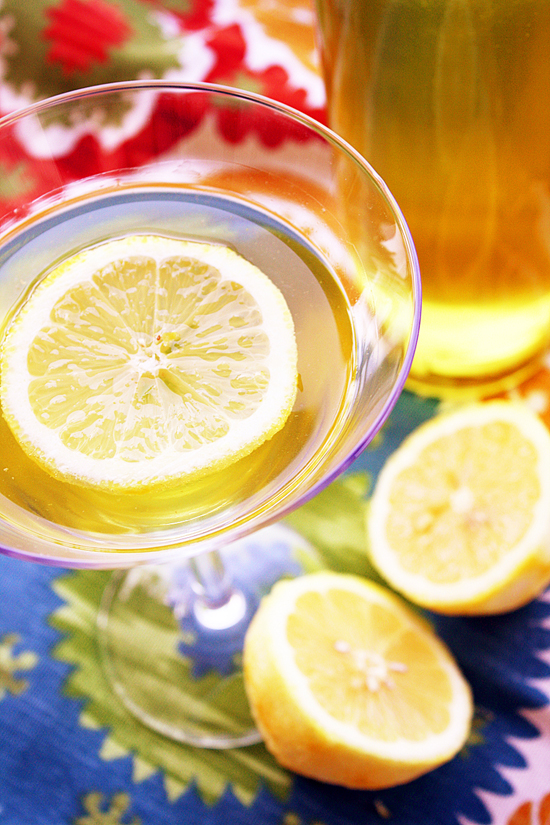 Homemade Limoncello
Ingredients
6 lemons
1 bottle (750 ml) 100-proof vodka , I used Svedka
1 ½ cups sugar
2 ½ cups water
Also needed:
1 large glass bottle with tight-fitting cap, a bit larger than 750 ml
Instructions
Wash the lemons with a vegetable brush and hot water to remove any residue of pesticides or wax; pat the lemons dry.
Carefully peel the lemons with a vegetable peeler so there is no white pith on the peel. NOTE: Use only the outer part of the rind. The pith, the white part underneath the rind, is too bitter and would spoil your limoncello.
In a large glass jar (1-gallon jar), add the bottle of vodka; add the lemon peels. Cover the jar and let sit at room temperature for at least one week and up to forty days in a cool, dark place. The longer it rests, the better the taste will be. (There is no need to stir - all you have to do is wait.) As the limoncello sits, the vodka will slowly take on the flavor and rich yellow color of the lemon peels.
In a large saucepan, combine the sugar and water; cook until thickened, approximately 5 to 7 minutes. Let the syrup cool. Strain and discard peels from limoncello mixture. Add syrup to the limoncello mixture.
Store in a bottle with a tight-fitting cap and keep in the freezer until ready to serve.
Cheers!