Toast to life's little (and big) occasions with this tasty, slightly sweet sparkling cocktail with Prosecco, cranberry and orange!
Cheers, foodie friends! Today, I'm sharing a lovely, luscious drink with you that I hope you'll make for toasting the New Year and any of life's little (or big) occasions. This beautiful glass of bubbly is fun to make, slightly sweet and dry, and serves six of your fabulous friends. However, if you've got a crowd on your hands, the recipe easily doubles or triples.
Ain't it just the prettiest thing?
Prosecco is a dry Italian sparkling white wine, and my personal favorite, since it packs just the right amount of bubbly fizz without giving you the champagne bloat. You can find inexpensive bottles in most liquor stores, usually right by the champagne. Top off your fresh cranberry-orange mixture with a generous splash and sip away into the evening… Just make sure you like the taste of your prosecco or champagne first!
I hope you enjoy a fun and festive New Year's celebration, and enjoy a happy, healthy 2013! I'll have lots of delish recipes and giveaways to share in the coming months, as well as a totally new design to debut in February!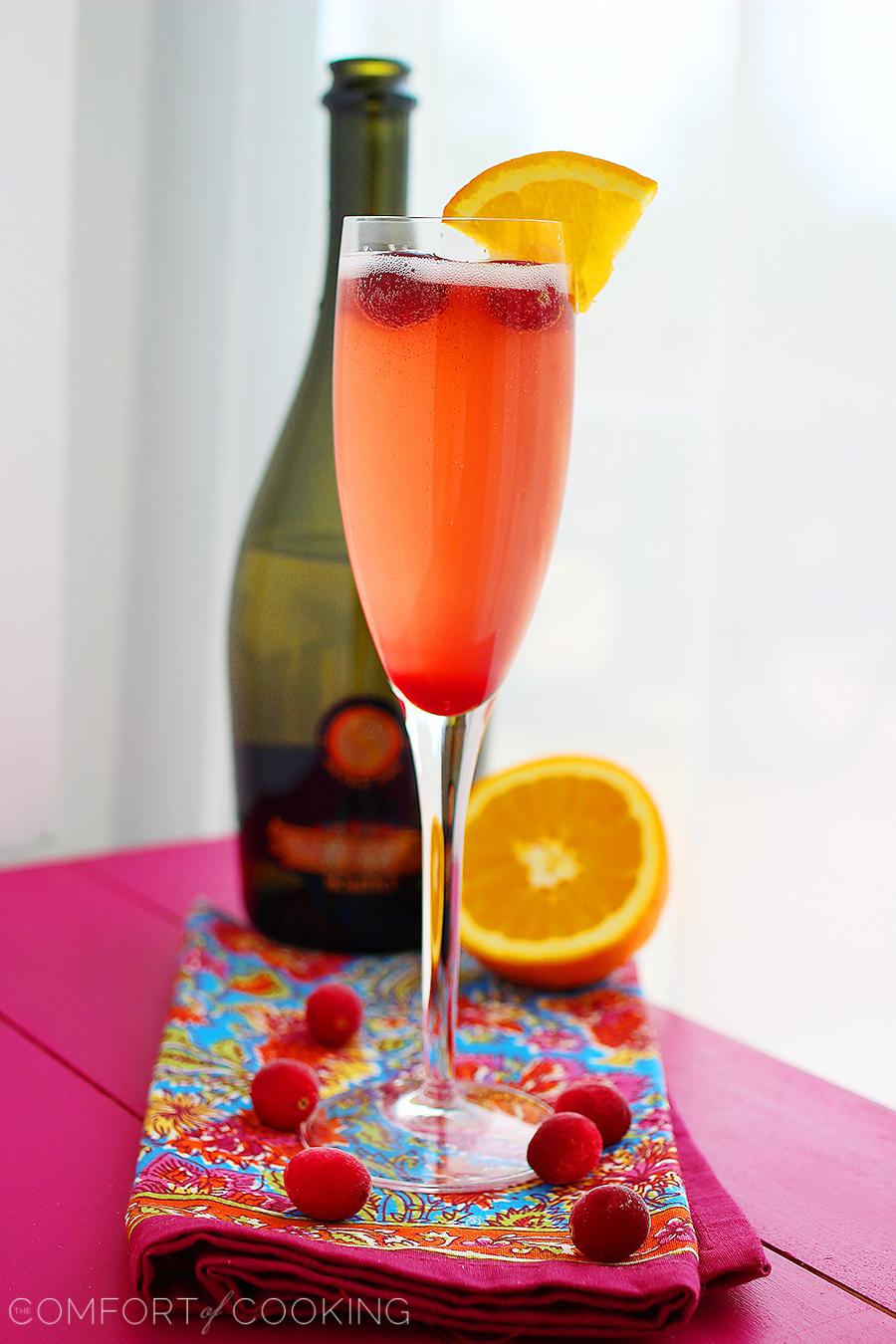 Cranberry-Orange Prosecco Cocktail
Ingredients
1 1/2 cups fresh or frozen cranberries
1 cup cranberry juice cocktail
2/3 cup granulated sugar or sugar substitute
Juice and zest of 1 orange
1 750 ml bottle Prosecco, champagne, or sparking white wine
Instructions
Combine cranberries and cranberry juice in a food processor or blender. Blend until berries are roughly chopped.
In a small saucepan, combine the berry mixture, sugar, and orange juice and zest. Bring to a boil then reduce heat to low. Simmer for 10 minutes, or until syrupy. Using a fine mesh strainer, strain syrup into a small bowl; let cool to room temperature. Do not refrigerate.
Just before serving, add 1 Tablespoon of cranberry syrup to each glass. Top with sparkling wine and serve.
Enjoy!