Bake these soft, buttery mini banana bread donut holes for breakfast! These little bites are SO easy to bake and perfectly delish with your morning coffee, or any time of day.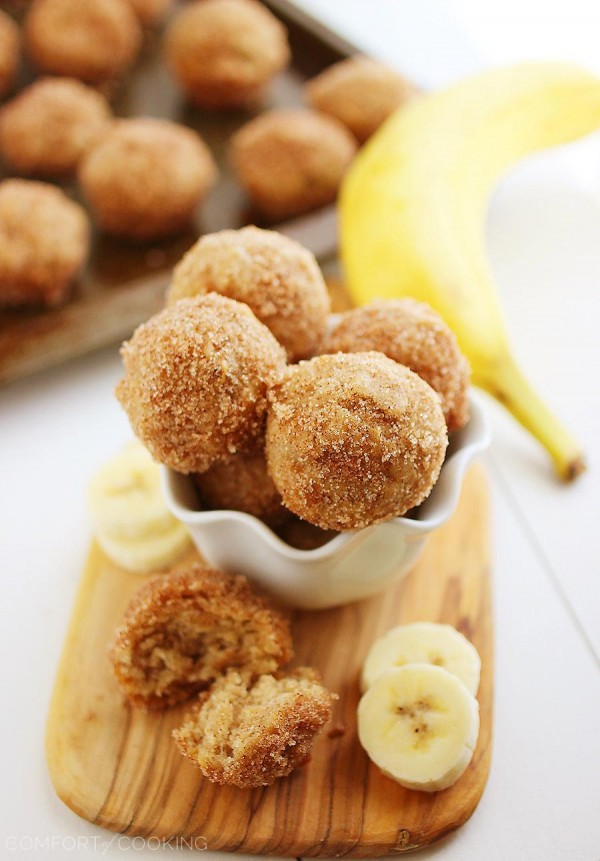 Creatively cooking and baking while pregnant has been a bit more a challenge than I realized! Add a stomach bug to the mix, and suddenly nothing appeals to my appetite. Hence the extended absence. For which I gave myself a little wrist slap.
Fortunately, the bug was a short-lived little visitor, but as soon as it left me, it latched onto my hubby, who was just home from a 10-day business trip. So, from pitiful patient to diligent doctor I went, and the weekend was spent nursing him back to health. This involved unreasonable amounts of Saltines, bananas, sports drinks, and Walking Dead marathons… and naps. Lots and lots of naps.
The last thing on our minds was real food!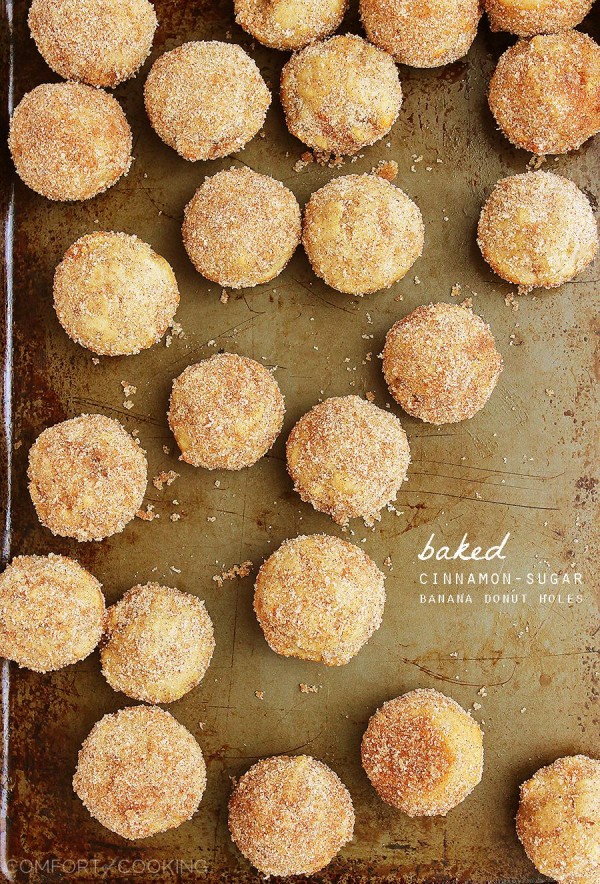 Once our appetites finally did return, though, they called for BREAKFAST. And a big one. We had piles of scrambled eggs, buttery toast and sausage, fresh orange slices and hot coffee. Delicious and filling, and just what the doctor ordered.
Breakfast just makes it better, y'all.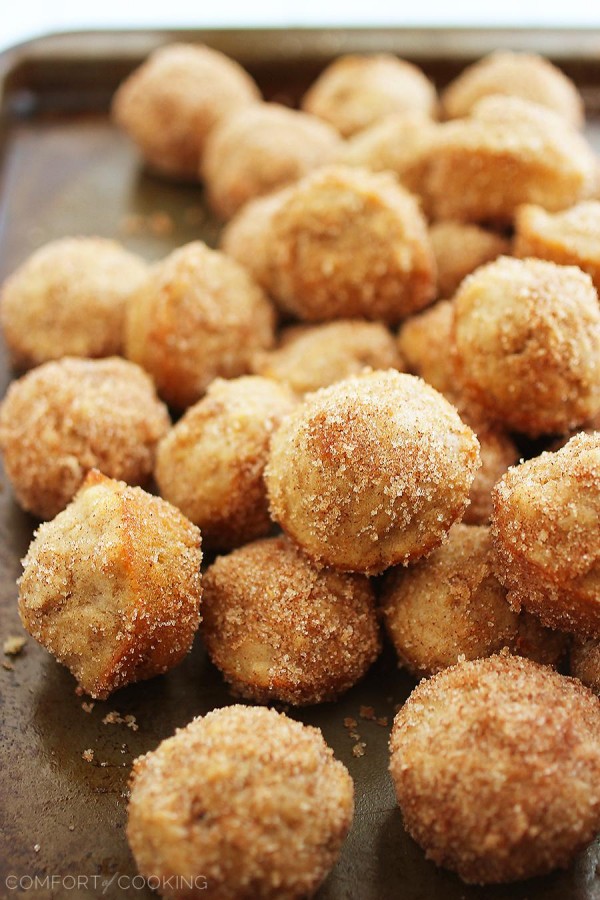 These baked banana donut holes are no exception! They're so soft and fluffy, sweet and vanilla-y (that's a word in my vocabulary), and perfect for morning brunchin' and anytime munchin'. You wouldn't believe how easy they are to make, too!
If I was feeling a little more "domestic goddess" and a little less "Loch Ness" over the weekend, you bet your biscuit I would have whipped up a big batch. Sometimes, I good ole' diner-style breakfast is your best bet for feeling better, though. Every other time calls for these little bites of banana love.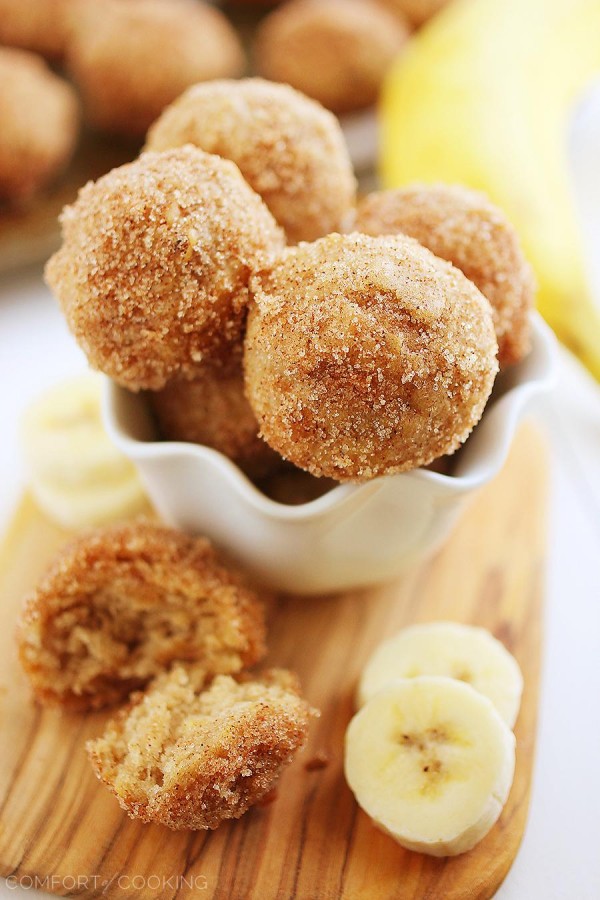 To make any morning more special, these super soft and scrumptious baked donut holes fit the bill. If you like banana bread, you'll love these. You can even add some chopped nuts to the batter, or smother them in chocolate ganache instead of cinnamon sugar. But, if banana isn't your thing, maybe my Pumpkin Donut Holes or Apple Cider Donut Holes will do?
No fancy equipment or fussy ingredients needed here, folks. Just your mini muffin pan and about 30 minutes, start to finish.
Bake these for your Valentine's morning treat and watch their heart skip a beat! (I had to.)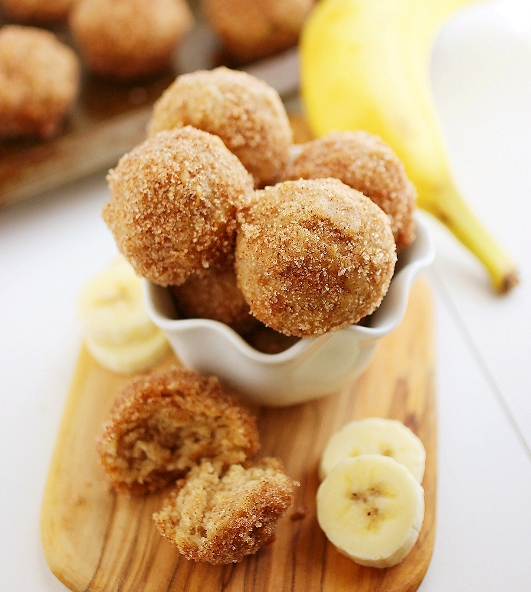 Baked Cinnamon-Sugar Banana Donut Holes
Ingredients
For the Donut Holes:
1 3/4 cups all-purpose flour
2 teaspoons baking powder
1/2 teaspoon salt
1/2 teaspoon cinnamon
1/2 teaspoon nutmeg
1/3 cup vegetable or canola oil
1/2 cup light brown sugar
1 large egg
1 teaspoon vanilla extract
1 ripe banana, mashed
1/2 cup milk
For the Cinnamon-Sugar Coating:
4 tablespoons unsalted butter, melted
2/3 cup granulated sugar
1 1/2 tablespoons cinnamon
Instructions
Preheat oven 350 degrees F. Spray one 24-cup or two 12-cup mini muffin tins with baking spray and set aside.
In a medium bowl, whisk together flour, baking powder, salt, cinnamon and nutmeg. In a separate large bowl, whisk together oil, brown sugar, egg, vanilla, banana and milk until smooth. Add dry ingredients to wet ingredients and mix until just combined.
Using a tablespoon or cookie scoop, fill muffin cups 3/4 full. Bake for 10-12 minutes, or until a toothpick comes out clean.
While the muffins bake, melt butter in one bowl and combine granulated sugar and cinnamon in another bowl. Remove muffins from oven and cool for 2 minutes. Dip each muffin in melted butter, then roll in cinnamon sugar to coat.
Serve donut holes warm or at room temperature.
Enjoy!