This delicious, lighter twist on classic chicken piccata is full of zesty flavor and pairs perfectly with your favorite pasta and salad!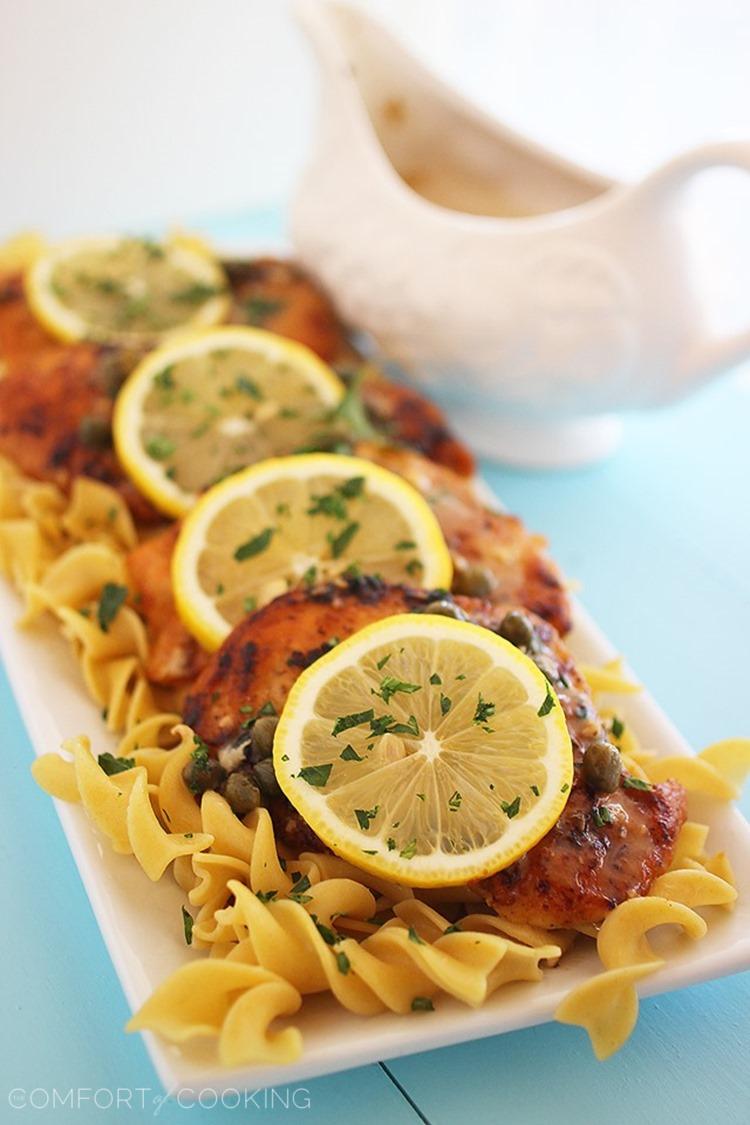 When I cook for just myself, the emphasis is on food that's fast, filling and delicious. Sadly, that usually means cereal and PB&J's… neither of which fall anywhere smart on the food chain. And, as far as delicious goes, well… they'll do in a pinch!
Food like this light, lemony chicken piccata is what's truly delicious, but still fills your belly and comes together pretty quickly. After a week of Cheerios, it's what I look forward to cooking again when hubby comes home from traveling!
Crispy chicken cutlets placed on a bed of pasta, drizzled with sauce, and served with a big green salad…. now that's dinner! The bright aromas and zesty flavors in this chicken piccata are so reminiscent of summer – just the hit of freshness we need during this cold February.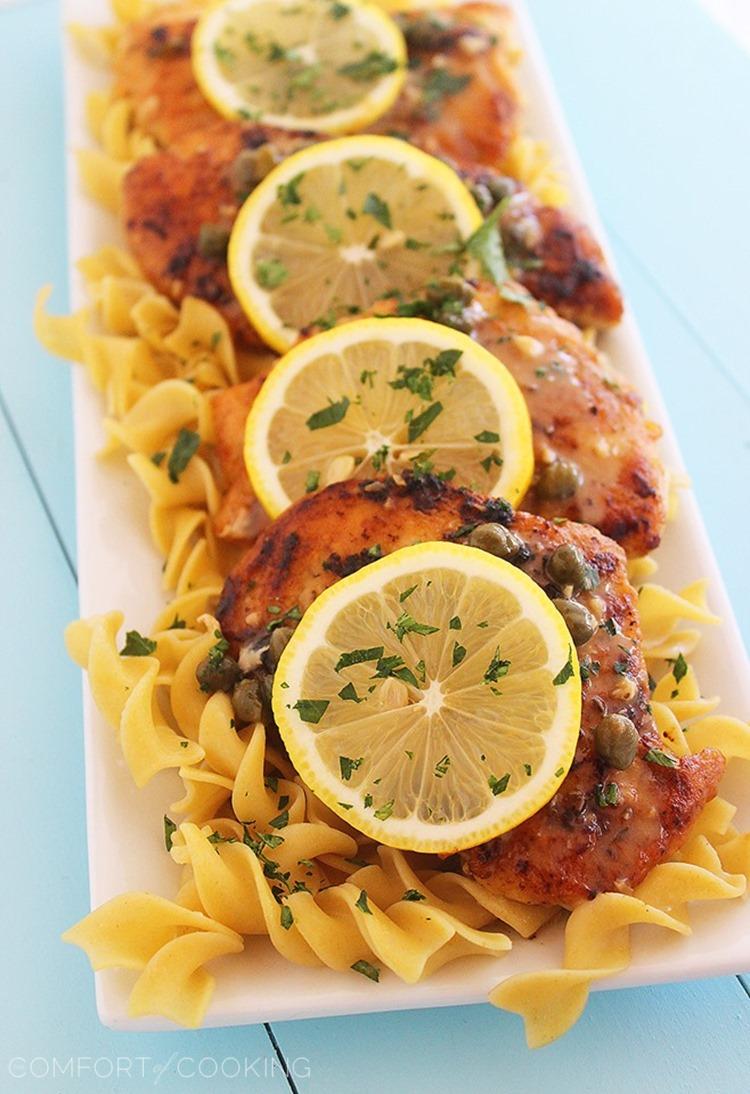 The chicken is super tender and moist, and topped with a tangy lemon-garlic sauce with white wine, you can cook your meal and really enjoy it, too. No need to worry about your waistline with this one, folks!
The classic chicken piccata is a calorie-packed plate, with a typical serving clocking in at over 400 calories. For THIS one, you only need 1 Tbsp. of butter and a bunch of pantry staples! That's right, we're keeping the buttery-rich flavor in and the full-of-butter fat out.
For a special night in, or a fun twist on a traditional Italian meal, try this chicken piccata. You and whoever is lucky enough to enjoy it with you will just love it. It's one of my (and hubby's) longtime favorite meals!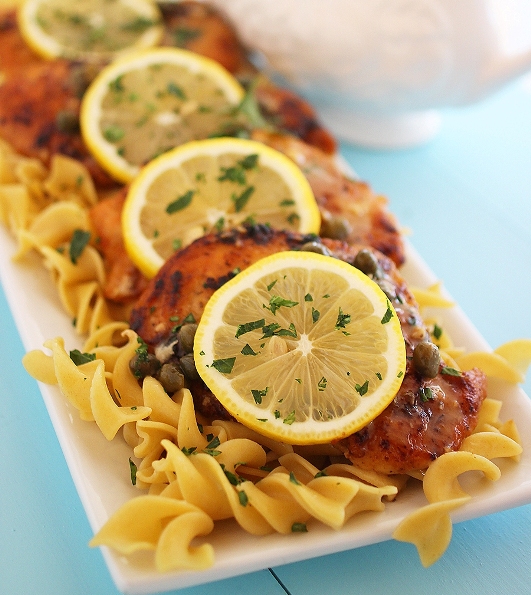 Skinny Lemon Chicken Piccata
Ingredients
1/4 cup + 1 teaspoon all-purpose flour, divided
2 boneless, skinless chicken breasts, halved
1/4 teaspoon each salt and pepper
2 Tablespoons vegetable or canola oil
2 Tablespoons capers, rinsed
2 cloves garlic, minced
1 cup low-sodium chicken broth
1/2 cup dry white wine
4 (2-inch) strips lemon zest
4 teaspoons fresh lemon juice
1 Tablespoon unsalted butter
Instructions
Spread 1/4 cup flour in a shallow dish. Pound each chicken breast half into thin cutlets (for 4 cutlets total). Dry cutlets with paper towels and season with salt and pepper. Dredge one side of each cutlet in flour, shaking off excess.
Heat 1 Tablespoon oil in a large skillet over medium-high heat. Once hot, lay 2 cutlets, floured side down, in the skillet. Cook for 3-4 minutes, or until golden brown. Flip cutlets over and continue to cook until no longer pink, about 1 more minute. Transfer cutlets to a plate and tent loosely with foil. Repeat with remaining 1 Tablespoon oil and 2 cutlets.
Add capers and garlic to the skillet. Return to medium heat and cook for about 30 seconds, until fragrant. Stir in remaining 1 teaspoon flour until incorporated. Whisk in broth, wine and lemon zest strips, scraping any browned bits for additional flavor. Bring to a simmer and cook until thickened slightly and reduced to about 1/2 cup, about 10 to 15 minutes.
Return cutlets into the sauce, simmering until heated through and spooning sauce over chicken, about 30 seconds. Transfer chicken to serving plates. Off heat, remove lemon zest and whisk lemon juice and butter into sauce.
Serve to individual plates and spoon sauce over the chicken.
Enjoy!