Baked Apple Cider Donut Holes
I have few fall memories better than the ones I made this year. On a brisk, damp morning in New England, hubby and I bundled up warm, set off on an adventure with no direction, and stumbled across the best apple cider donuts ever! They were deep-fried, delicious and friggin' horrible for us, but who's counting calories on vacation? :)
Nom nom nom…
With days of apple picking and lots of long walks behind us, we earned our donuts, darnit! But I was determined to make an easy, anti-fried spin on them once returning home.
To say the least, they sure were a scrumptious success!
Just like my Baked Pumpkin Donut Holes, these delicious cuties are made using a mini muffin pan and not much else. Roll them in a little butter (or leave it out if you wish), then cinnamon sugar. Serve 'em warm and just TRY to eat only one!
Want to be the most adored hostess to holiday guests this year? Make these! Next thing you know it, they'll be serving you breakfast in bed and pitching in around the house!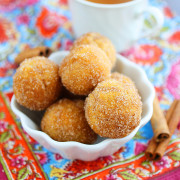 Baked Apple Cider Donut Holes
Yield: Makes 35-45 donut holes
Ingredients:
2 cups all-purpose flour
1 1/2 tsp. baking powder
1 1/2 tsp. baking soda
1/2 tsp. salt
2 teaspoons cinnamon
1 large egg
2/3 cup light brown sugar
1/2 cup apple butter
1 tsp. vanilla extract
1/3 cup honey
1/3 cup apple cider
1/3 cup plain yogurt
2 Tbsp. vegetable or canola oil
Nonstick cooking spray
For the coating:
2 Tbsp. unsalted butter*
1/4 cup granulated sugar
1 Tbsp. cinnamon
Directions:
Preheat oven to 400 degrees F. Lightly coat 12-24 cups of a mini muffin pan with cooking spray.
In a large mixing bowl, combine flour, baking powder, baking soda, salt, and cinnamon. In another large bowl, whisk together egg, brown sugar, apple butter, vanilla extract, honey, apple cider, yogurt, and oil. Whisk wet ingredients into dry ingredients until just mixed; do not overmix.
Using a tablespoon or cookie scoop, fill muffin cups 3/4 full. Bake for approximately 10-12 minutes.
While baking, melt butter in a microwave safe dish. Combine cinnamon and sugar in another dish. Roll warm donut holes in melted butter, gently shake off excess, and roll in cinnamon-sugar mixture.
Enjoy!