Mini cinnamon rolls with only 3 ingredients! So cute and deliciously spiced. You'll love these super soft, quick and easy crescent cinnamon rolls with vanilla glaze! No rise (or fuss) required.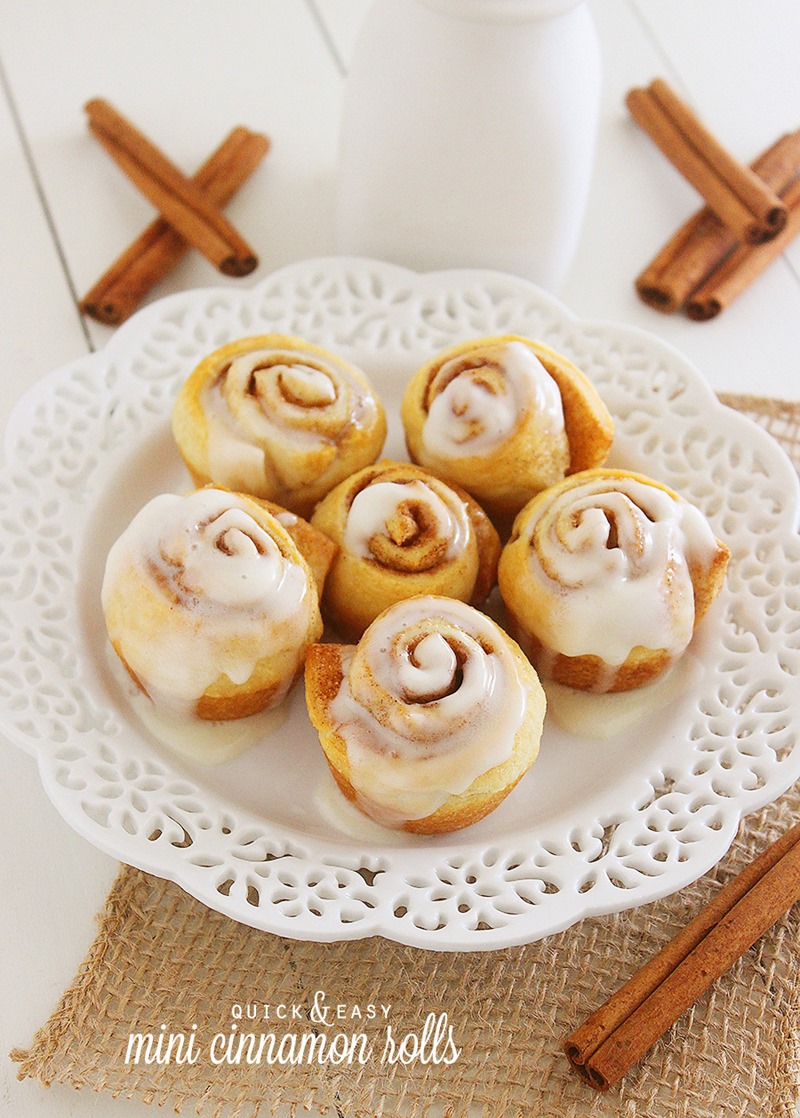 Never have I wanted you to make something SO badly, but warned you SO strongly about them! These gooey, soft little cinnamon roll bites are baaadddd news, people.
Everyone always says full sized cinnamon rolls are addictive, but I'd have to disagree. When your cinnamon roll is the size of a silver dollar and you have a dozen of them, THAT is when they become addictive! And that's when the hot coffee is poured, Sunday breakfast is sitting on your plate, and suddenly you're wondering where the heck all your cinnamon rolls went.
They have magical disappearing powers, and I don't like it. I don't like it one bit.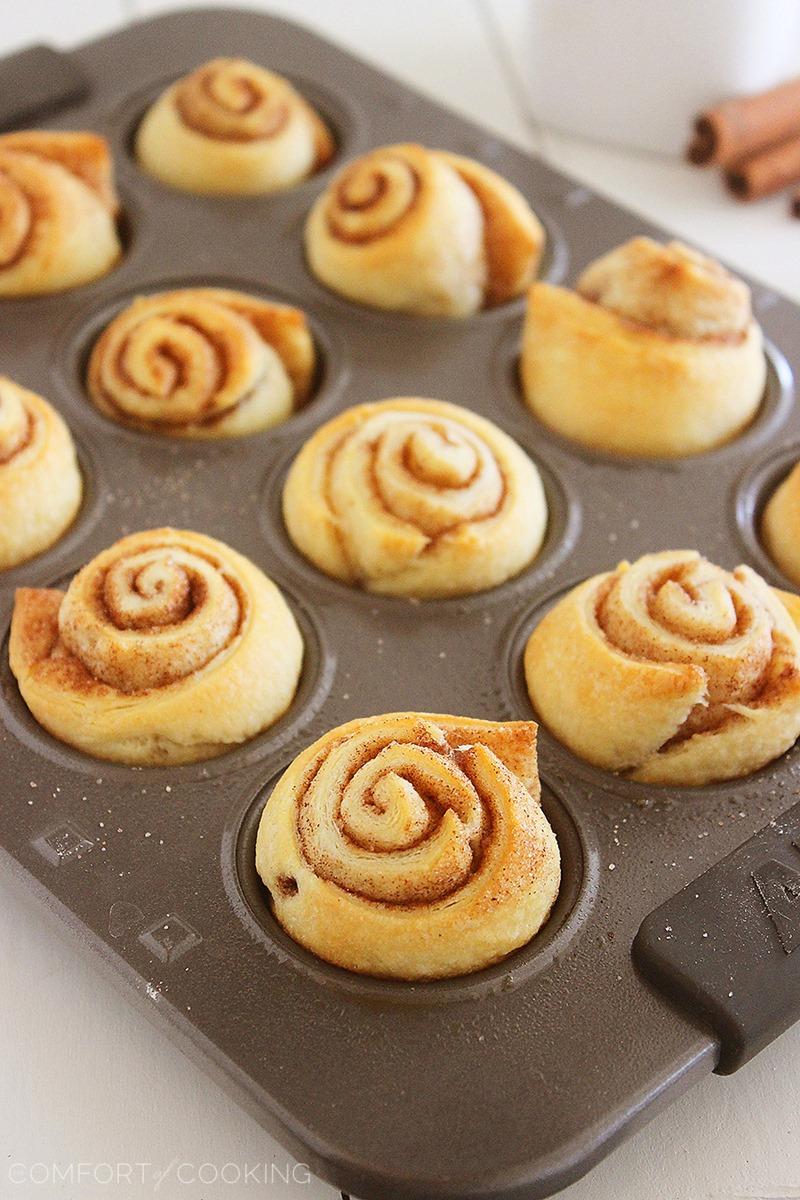 The only thing quicker than the disappearing act these rolls pull off once baked? How quickly they come together! Just roll out two sheets of crescent roll dough, sprinkle on some cinnamon-sugar, and roll 'em up into logs. Slice each log into 1-inch pieces, place the pieces in your mini muffin tin, and watch them bubble and bake away!
They taste just like a Cinnabon [or insert any other cinnamon roll of your dreams]. Except a thousand times smaller, and a million times more addictive.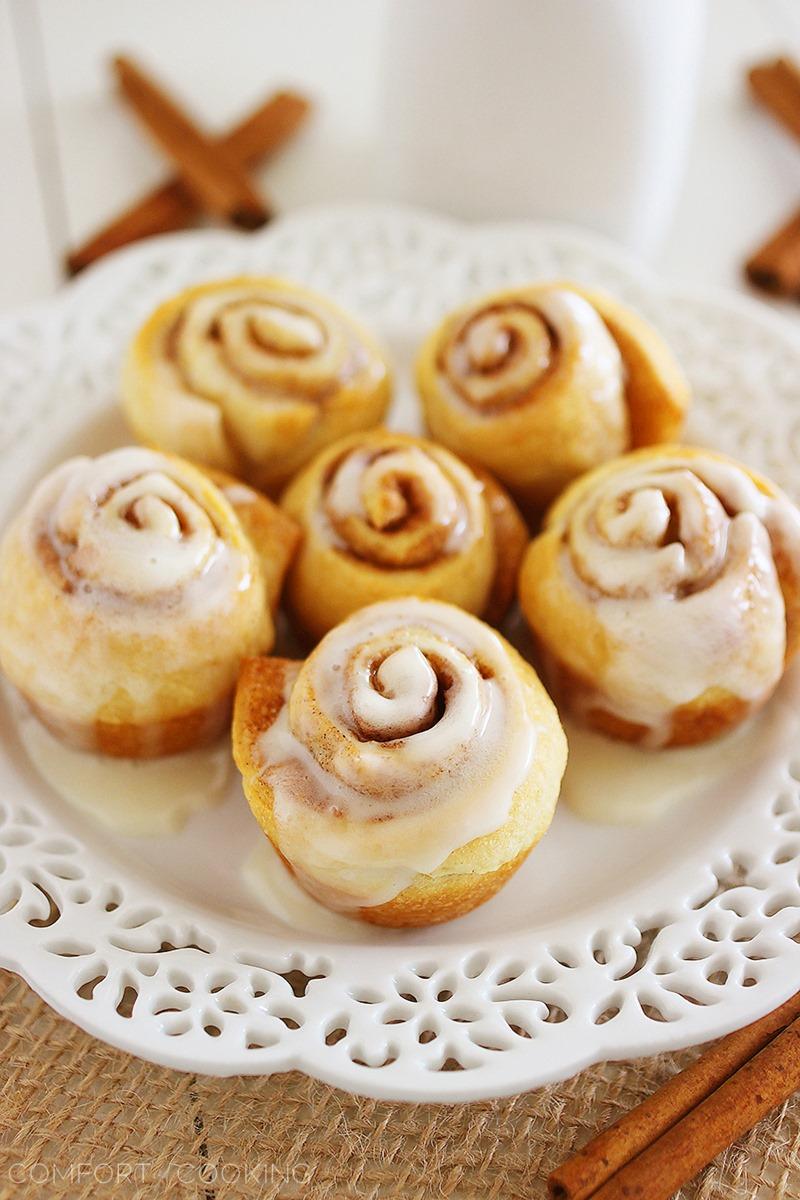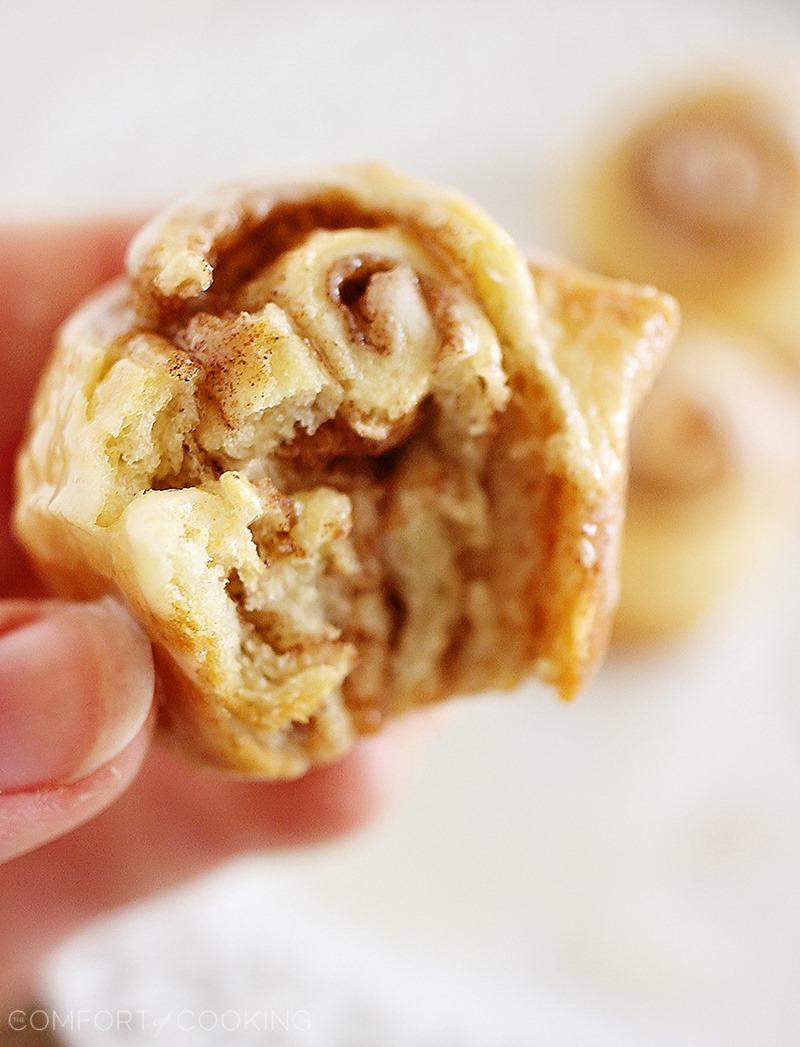 Once you slather a smooth vanilla glaze on these warm rolls… you guys, it's alllll over from there. Kiss your self control g'bye, and accept that resistance is futile. Have a handful, enjoy your Sunday, and go take a walk. Or do something that makes you feel good… and helps you forget how many you just ate.
No judgement here!
For lazy weekends or festive brunches, these super-soft, simple cinnamon rolls are little bites of heaven. All you need are 3 ingredients for the rolls, another 3 for the vanilla glaze, and you're on the road to breakfast bliss.
No fuss, no mess, and absolutely no dough-rising… just rise and shine!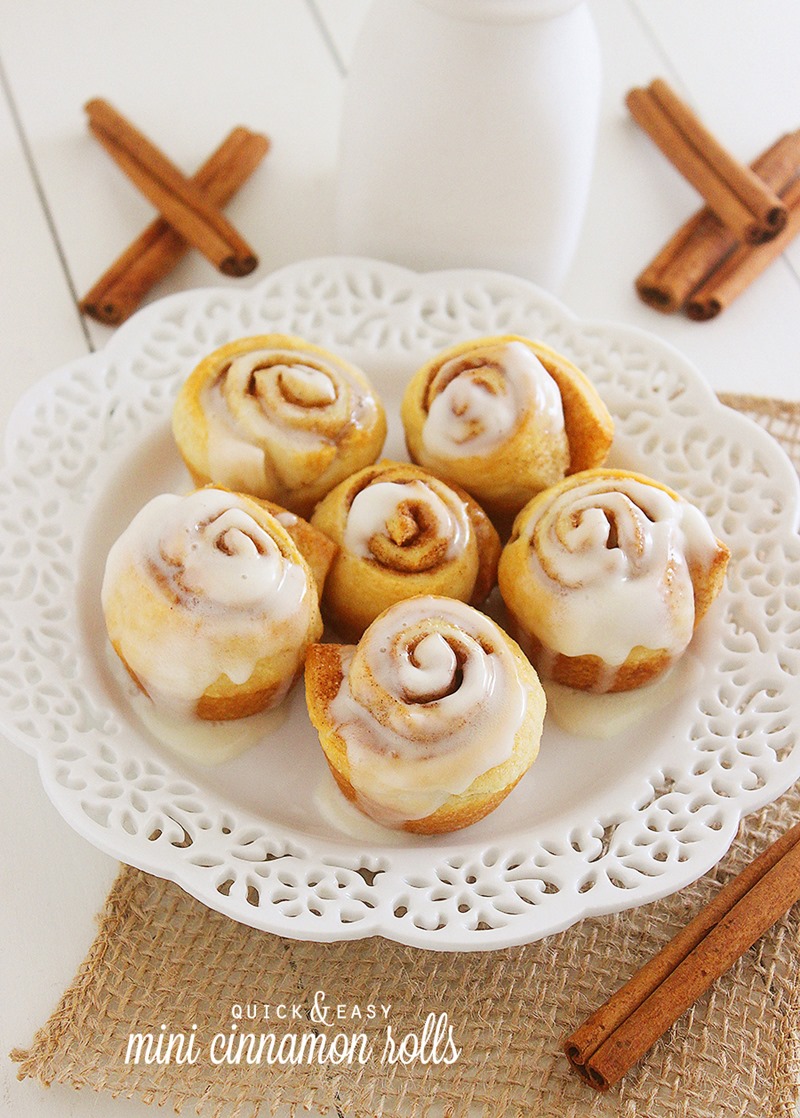 Quick & Easy Mini Cinnamon Rolls
Ingredients
For the Mini Cinnamon Rolls:
1 8 oz. package refrigerated crescent rolls
2 teaspoons granulated sugar
1 teaspoon ground cinnamon
For the Vanilla Glaze:
1/3 cup powdered sugar
1 teaspoon milk
1/8 teaspoon vanilla extract
Instructions
Preheat oven to 350 degrees F. Spray cups of a 12-cup mini muffin pan with nonstick cooking spray.
On a lightly floured surface, unroll dough and separate into 2 rectangles. Gently pinch any open seams together with your fingers.
Stir together sugar and cinnamon in a small bowl; sprinkle evenly over rectangles. Roll up jellyroll style into 2 logs. Cut each log into 6 slices and place slices into muffin pan cups.
Bake for 10-12 minutes, or until rolls are risen and lightly golden.
Stir together powdered sugar, milk and vanilla in a small bowl until smooth. Drizzle glaze over warm rolls.
Enjoy!