Delicious, toasty hot dogs wrapped in crescent dough make mouthwatering mummies! 💀 A spooky, scrumptious and EASY treat for dinner or lunch. These are not only cute, but so fun for kids to help create. Dunk in ketchup and mustard, or your favorite dip. 🌭 No need to get all wrapped up in a fussy recipe for Halloween dinner – just make these mummies!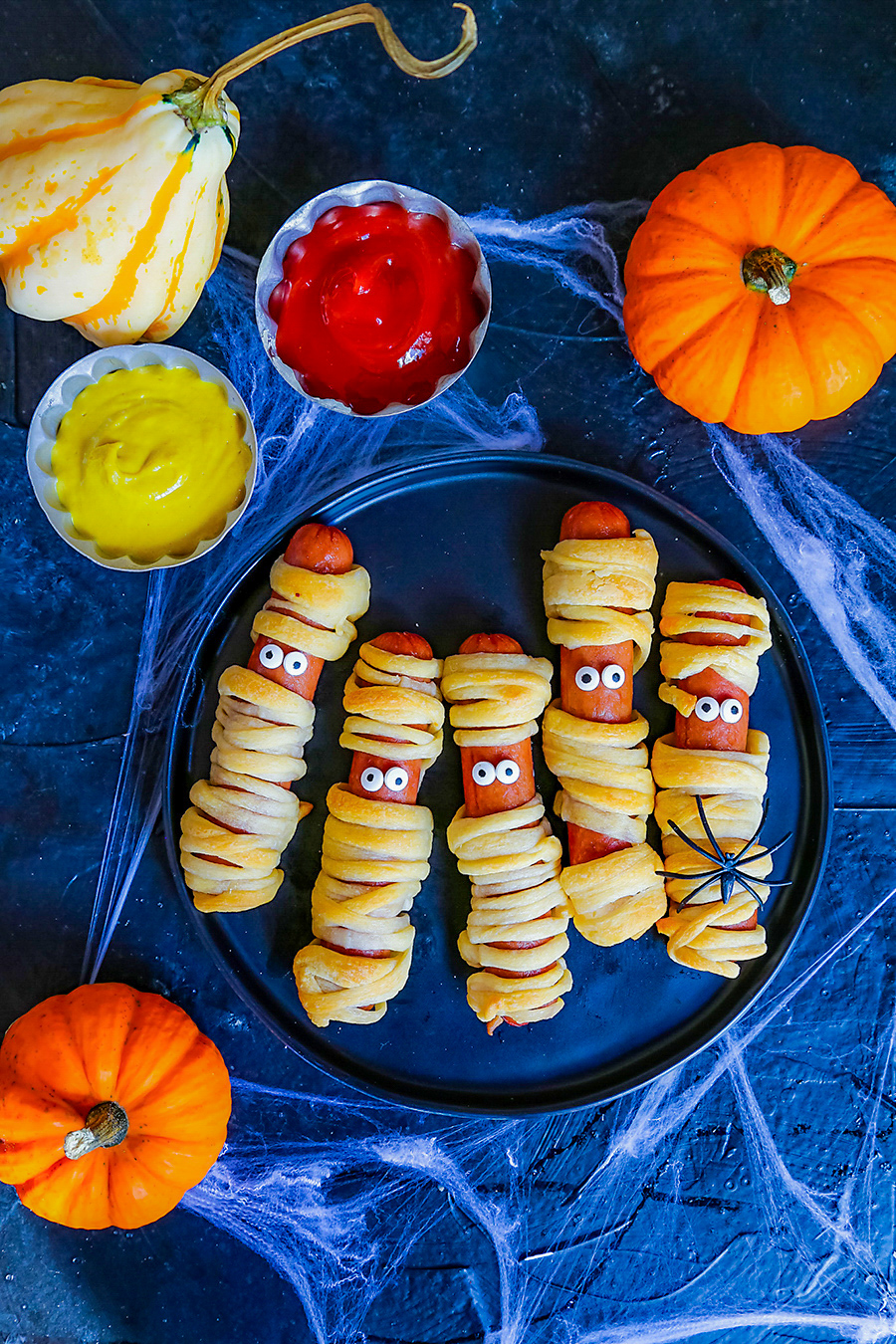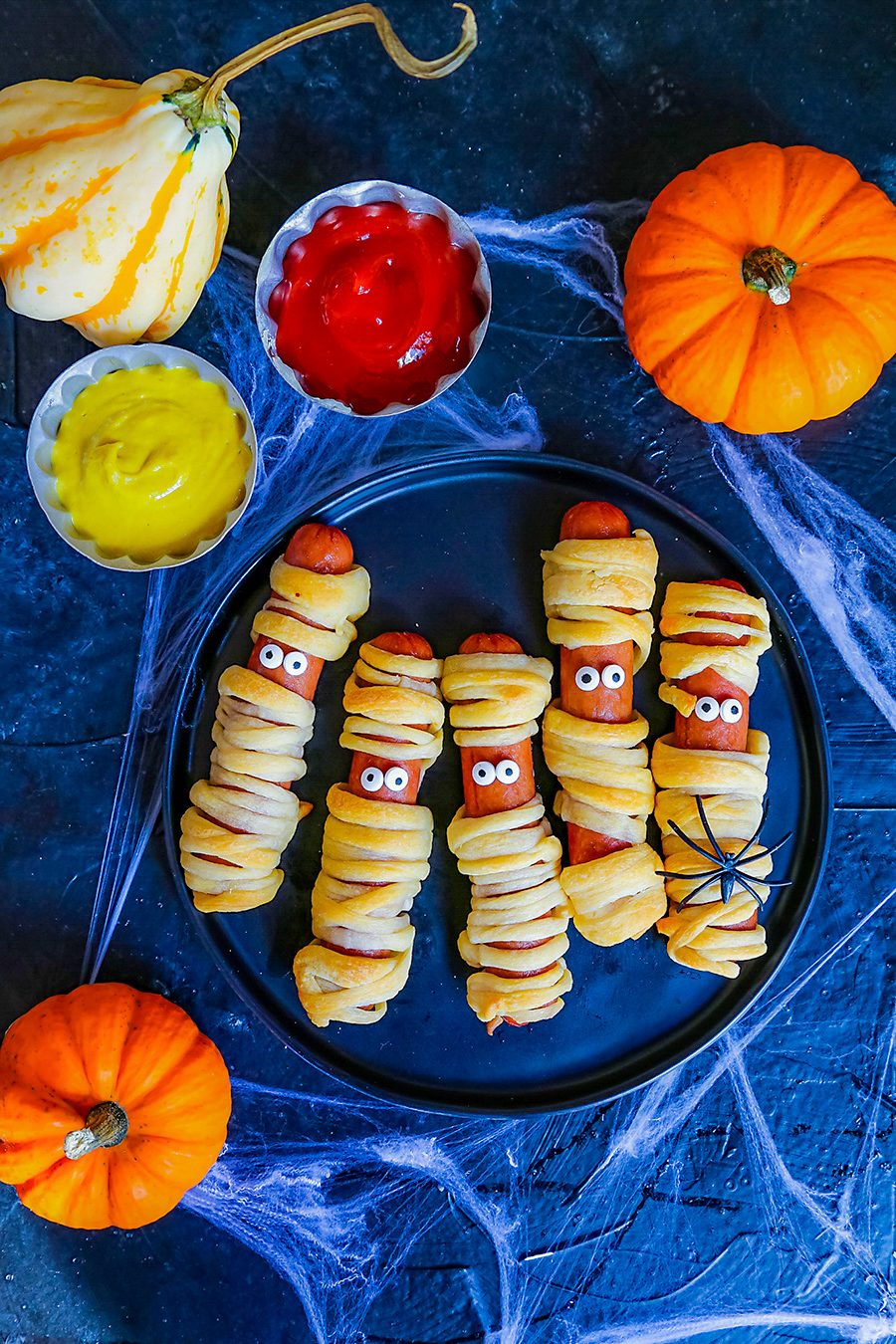 Crescent Mummy Hot Dogs
More than sweets and candies, I have been searching for a fun, Halloween-theme dinner for the family! I have had a longtime love for mummy hot dogs, ever since I served them at a Halloween bash years ago. Way before kids and getting to sneak into their sacks of candy. Hardly as fun!
Talk about the MOST popular goodie on our table! These golden, flaky wrapped hot dogs went so fast, I ended up apologizing to half the party guests who didn't snag any. They are just that good. Besides, what's better than a savory, salty, belly-filling finger food when you've had a little too much Halloween cheer? 🥴
For kids and grown-up kids alike, these Mummy Hot Dogs are such a scrumptious, easy Halloween dinner . . . or anytime of year treat, if you don't give them eyeballs!
They really couldn't be more simple. My daughter loved getting in on the action, too! Just pat your hot dogs dry and wrap in strips of crescent dough (or pizza dough will do, too!). Widen the gaps between the strips – really make them look like bandages. Criss-cross 'em as much as you can. The messier the better with this one!
Only about 10 minutes 'til you're enjoying your own delicious Mummy Dogs. 🌭 You will love this one, I guarantee it!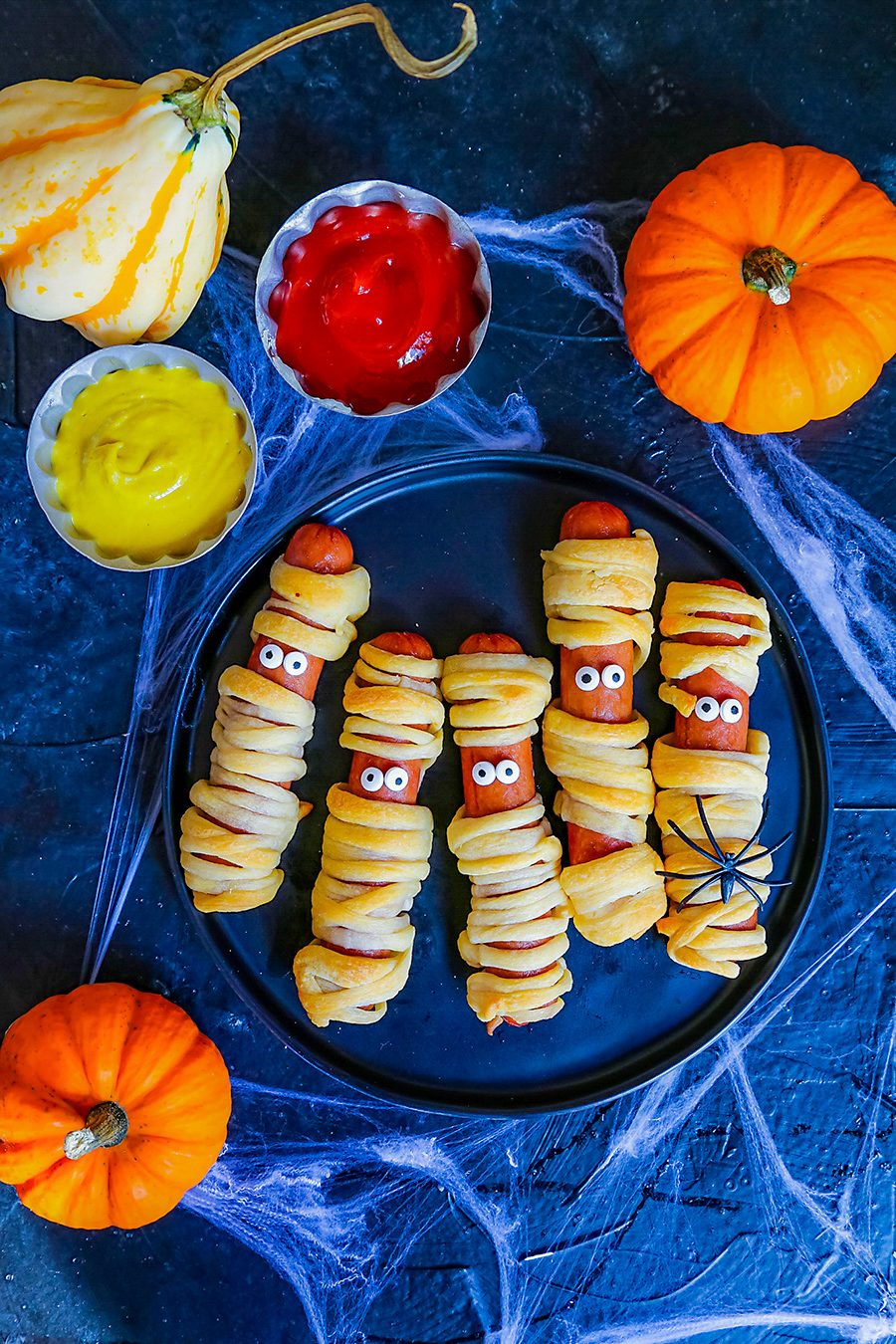 Crescent Mummy Hot Dogs
Ingredients
8 hot dogs
2 (6 oz.) cans crescent roll dough
ketchup and mustard, plus additional for dipping
16 candy eyeballs, optional
Instructions
Preheat the oven to 375 degrees F. Line a large baking sheet with foil.
Unroll crescent dough onto a work surface. Press on the perforations to seal them together.
Cut dough into 1/4 inch strips.
Pat hot dogs dry with paper towels. Wrap 3-4 dough pieces around each hot dog, stretching the dough slightly and overlapping to create "bandages."
Place wrapped hot dogs on the prepared pan. Bake for 10-12 minutes, or until golden brown.
Remove from the oven. Make small dots of ketchup or mustard on the back of your candy eyeballs. Add two to each baked mummy dog.
Serve warm with ketchup and mustard, if desired.
Enjoy!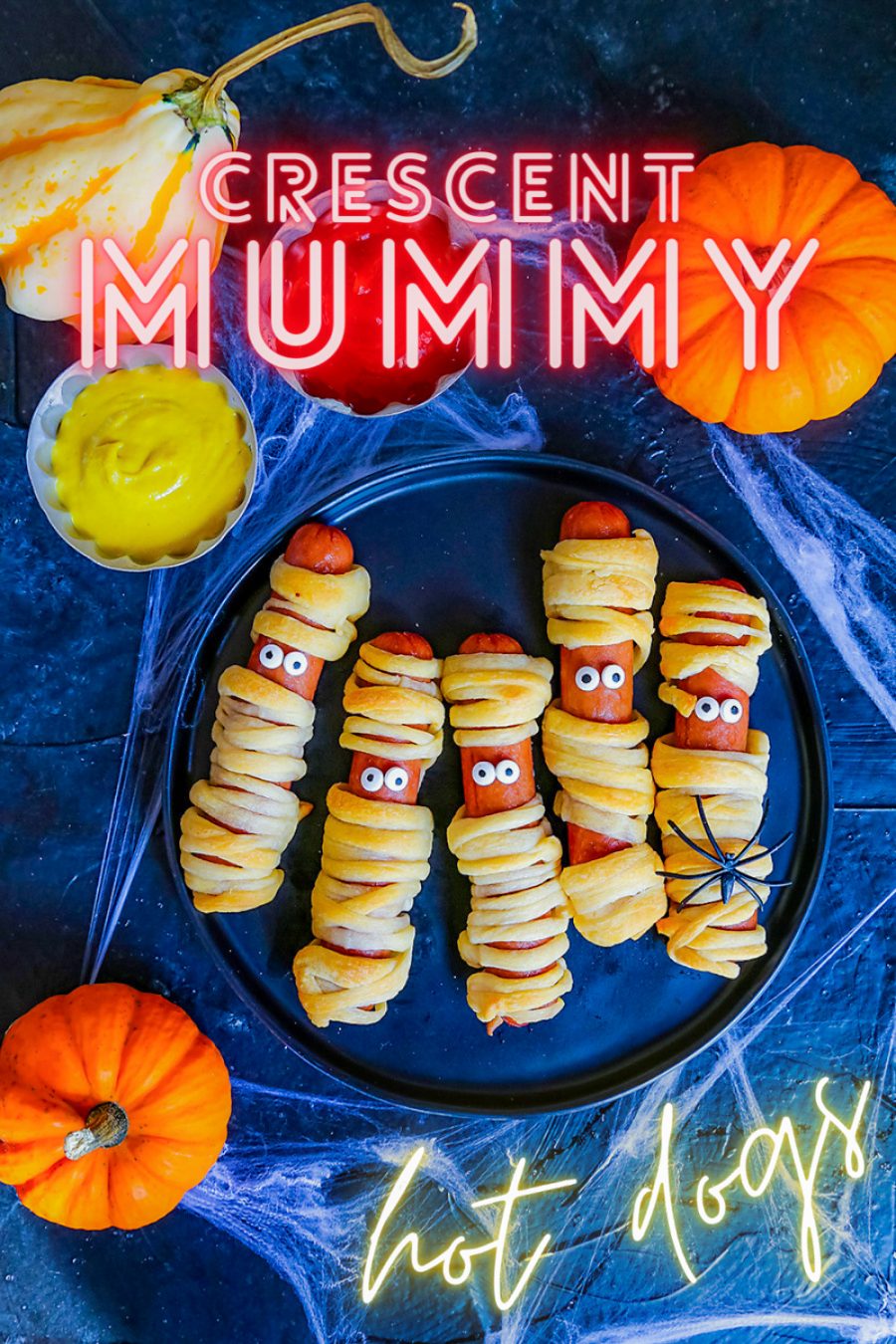 Want to receive our latest recipes straight to your email inbox? Click here to subscribe!