These soft, chewy s'mores brownie bars are made with a boxed mix, a few basic ingredients, and a whole lotta love. No bonfire required!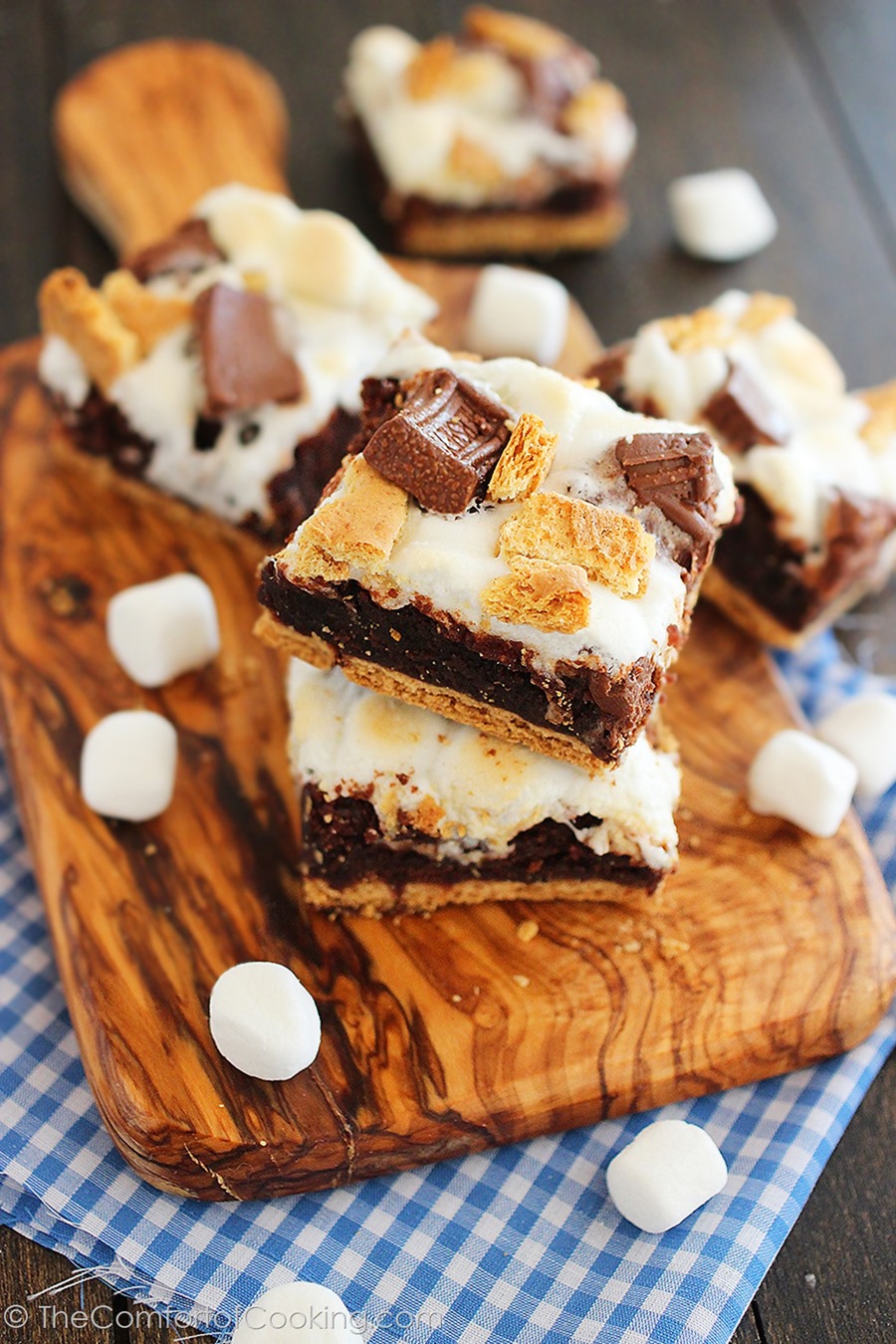 As a kid, I loved camping… even if it was just in my front yard 'til my friends and I grew fearful of the dark, cold and bugs wanting a warm sleeping bag to invade! It was a fun little adventure to share a small space with big bags of junk food and people you didn't mind being really close to. Sleeping under fleecy blankets on top of the soft earth seemed so wild and adventurous! I didn't even mind the midnight treks to toilets and awful aching back in the morning. Nothing a long, lazy afternoon nap can't fix…
Since my hubby (the hand model below) doesn't DO camping, though, I've found other ways to get those fuzzy, feet-in-the-grass summer feelings! There's no better way to do it than with a batch of toasty, fire-roasted s'mores. But, the second best way? These incredible, easy S'more Brownie Bars.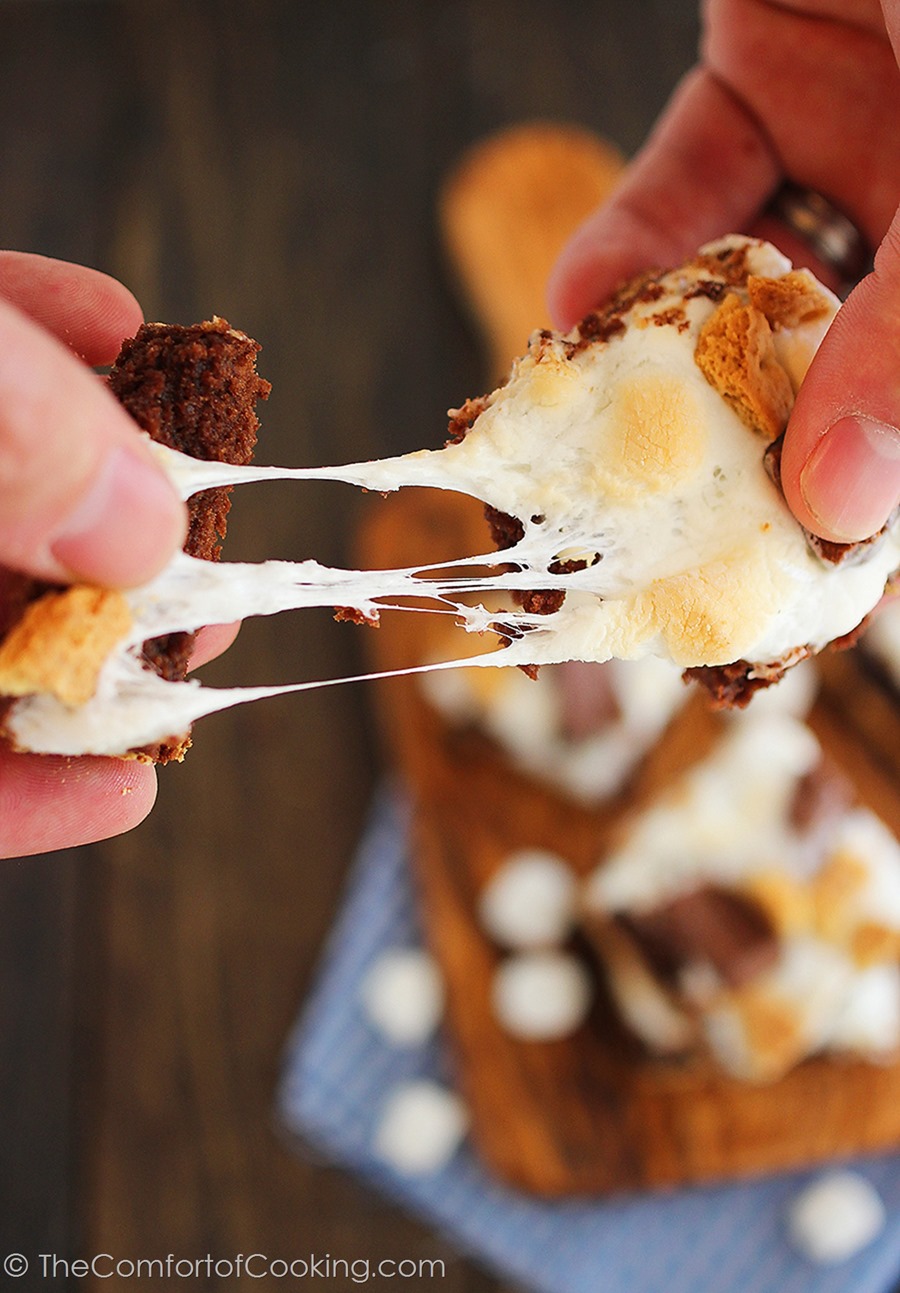 A crisp bottom layer of graham crackers rests under a chocolaty, chewy layer of brownies topped with soft marshmallows. Nestle in chopped up Hershey's bars and crumbled graham crackers, bake 'em for just a few more minutes, and you've got yourself a camp-style treat worthy of indulging in for any summer occasion!
These taste exactly like a real s'more, but BETTER, if you can imagine. They definitely didn't last long at the July 4th party I brought them to!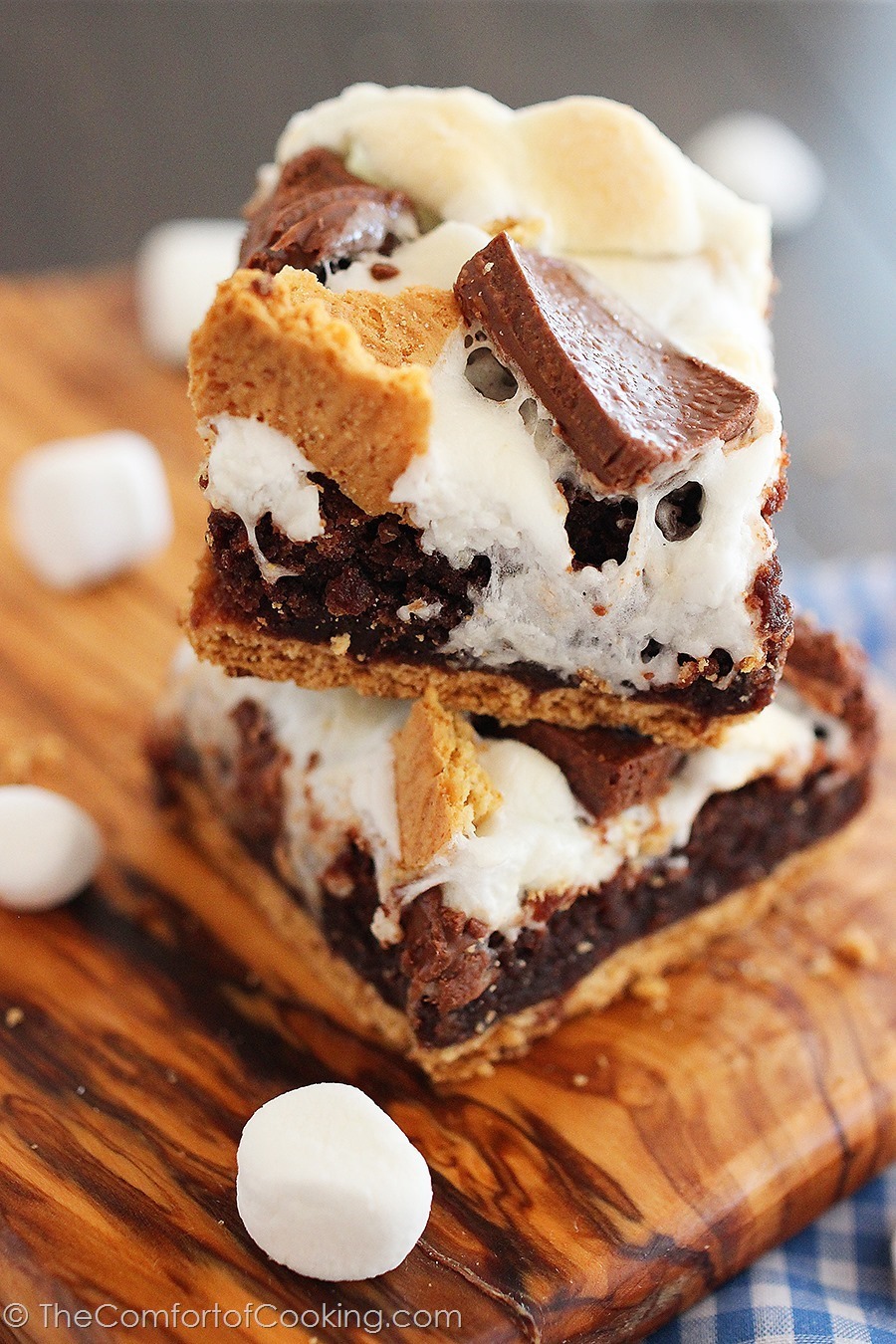 Trust me, these S'mores Brownie Bars really live up to their name! Ooey, gooey and absolutely delicious. Whether you're trying to get your campfire fix or just baking up these bars to share with friends, you're gonna love them! No bonfire required. Only one bowl, one pan and a little bit of patience while they bake and cool!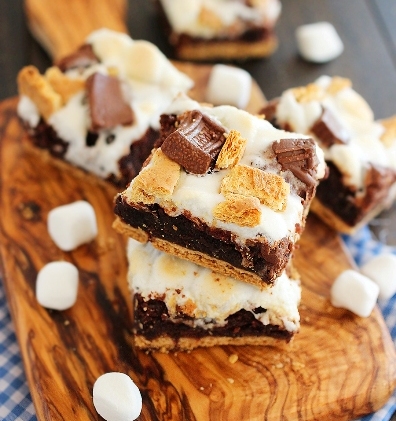 Ooey Gooey S'mores Brownie Bars
Ingredients
Nonstick cooking spray
1 18 oz. package fudge brownie mix (13-inch x 9-inch pan size)
Eggs, oil and water, as called for on brownie mix package
6-10 whole graham crackers, depending on size*
3 cups mini marshmallows
1-2 Hershey's chocolate bars, cut into small pieces
2-3 graham crackers, crushed into small pieces
Instructions
Preheat oven to 350 degrees F. Line a 13 x 9 inch pan with aluminum foil and spray with nonstick cooking spray.
Prepare the brownie batter according to package directions. Set aside. Arrange graham crackers in a single layer in the pan. Spread brownie mix evenly over crackers.
Bake for 25-28 minutes, or until a toothpick inserted in the center comes out clean. Sprinkle with marshmallows, chocolate bar pieces, and crushed graham crackers. Bake 5-7 minutes longer, or until marshmallows are slightly puffed and golden brown. Cool completely before cutting (refrigerating for 1-2 hours speeds up the process).
Enjoy!