All you need are a handful of basic ingredients for these incredible DIY protein bars! Perfect for snacking at school, work or anywhere you need a pick-me-up. No baking required. They're so easy and addictively delicious!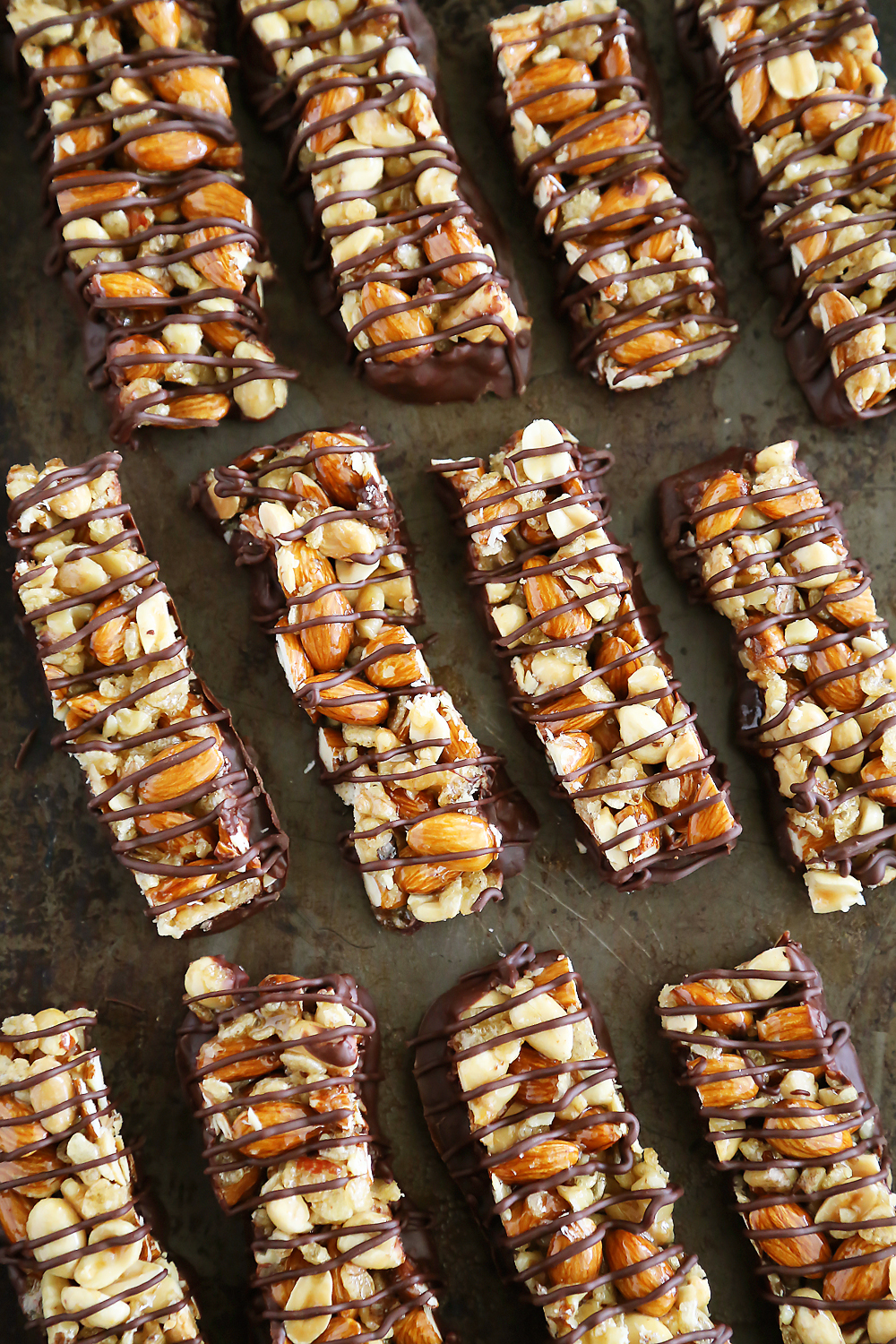 I have a few protein bar favorites, including the ever-popular Kind bar. I especially love their irresistibly sweet-salty nut bar with three different varieties of nuts, dark chocolate and a sprinkle of sea salt. But, the only thing that stops me from buying them on a regular basis is the price. At under $2 per bar, they're not outrageously expensive, but they could easily become a daily must-have that I'd rather not finance.
Instead, why not make a batch of these no-bake bars at home? This recipe is 10x more flavorful than the store-bought snack, only uses basic ingredients, and is cheap and easy to make!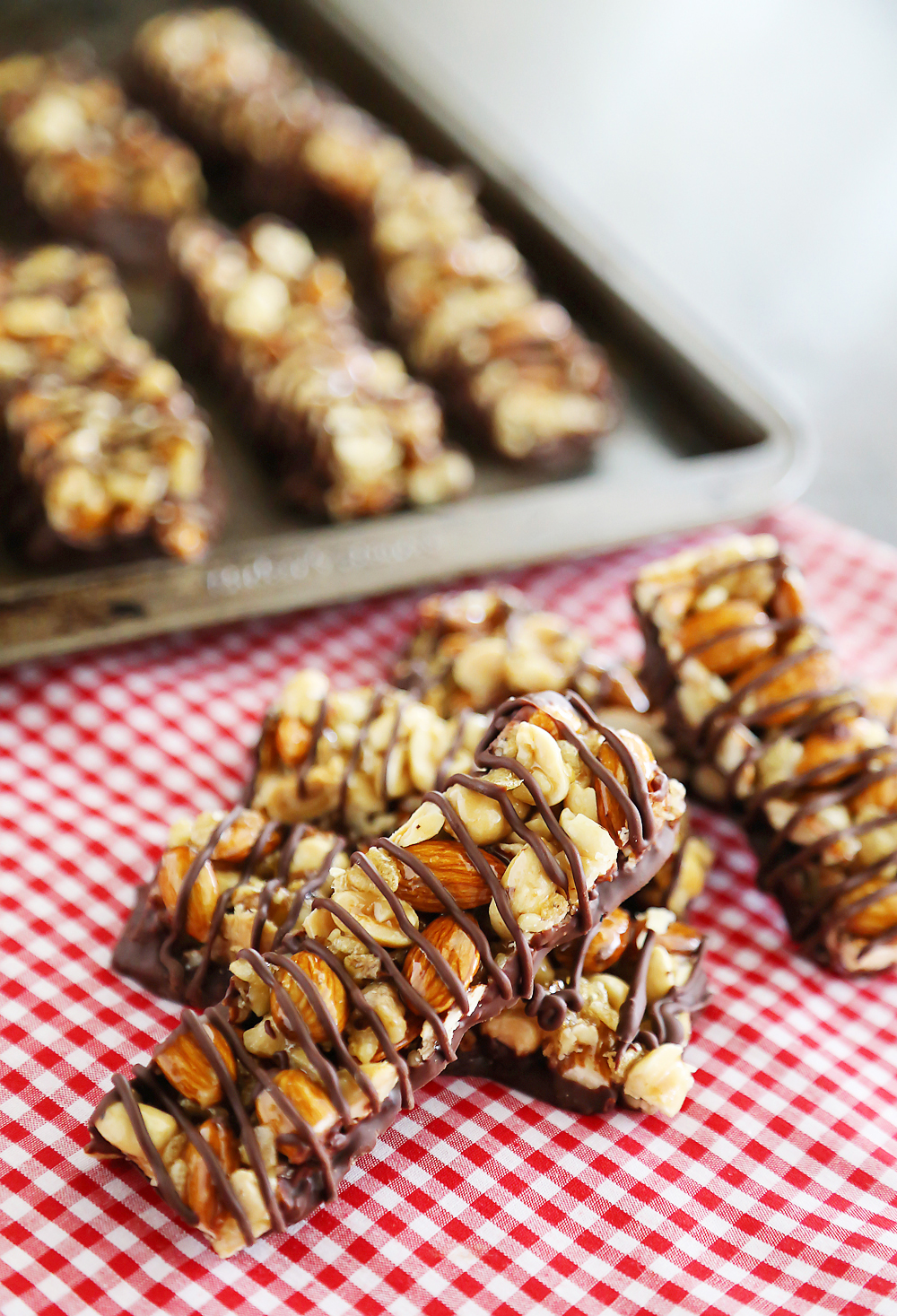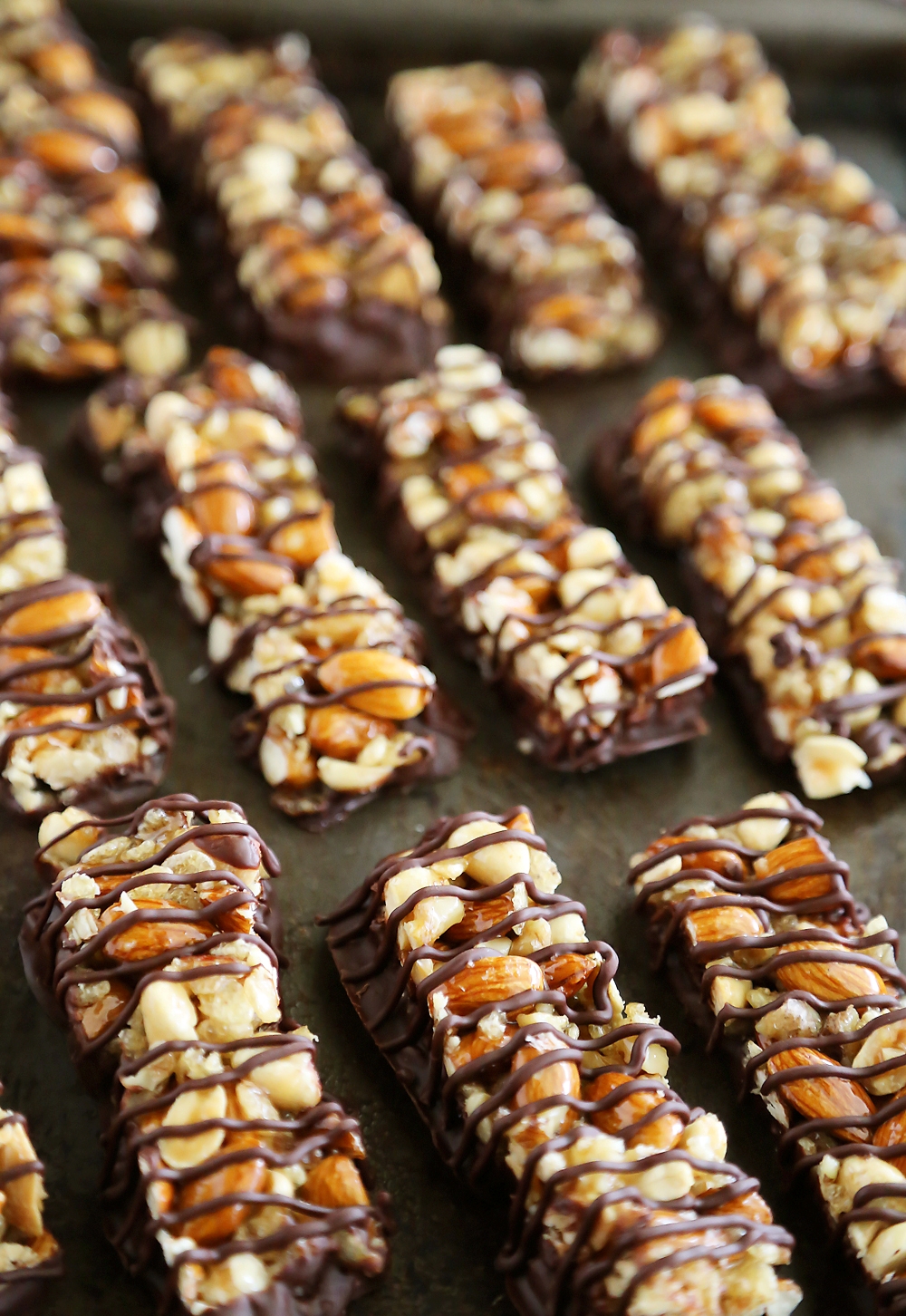 My all-time favorite combination with chocolate is any kind of crunch, and these bars certainly deliver! Crispy rice cereal, three kinds of nuts (peanuts, almonds and walnuts), and a gooey caramel mixture poured over top make these bars an irresistible treat. Every bite is packed with the perfect balance of sweet, salty, nutty and creamy.
Once they're set, just slice and wrap them up individually to store. Toss them in your bag, your locker, or your desk, and indulge in this protein-rich treat whenever you feel a snack attack coming on. You can even cut these bars into tiny bites for a dessert party!
Want the simple instructions for making your own batch of Kind bars? Scroll below!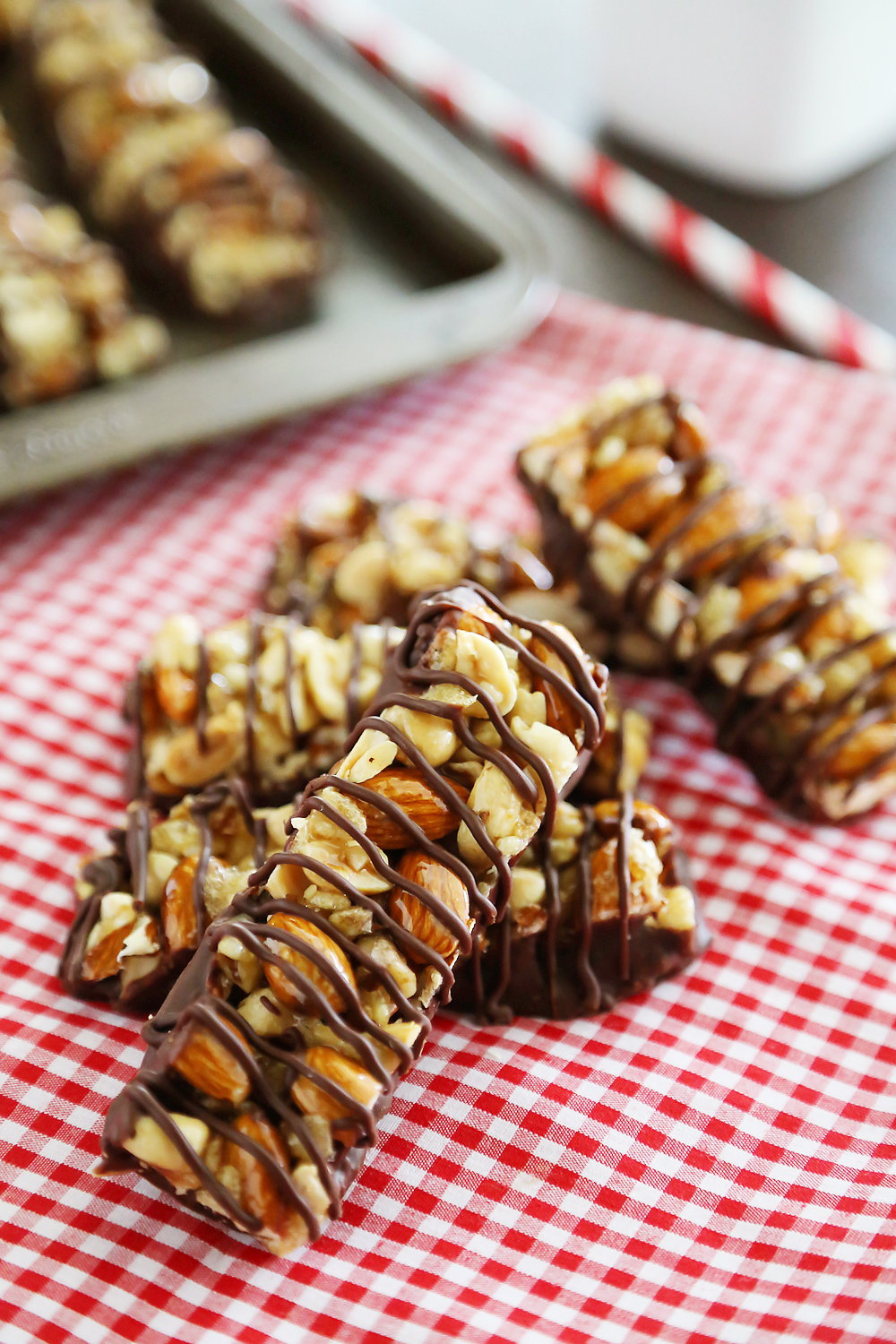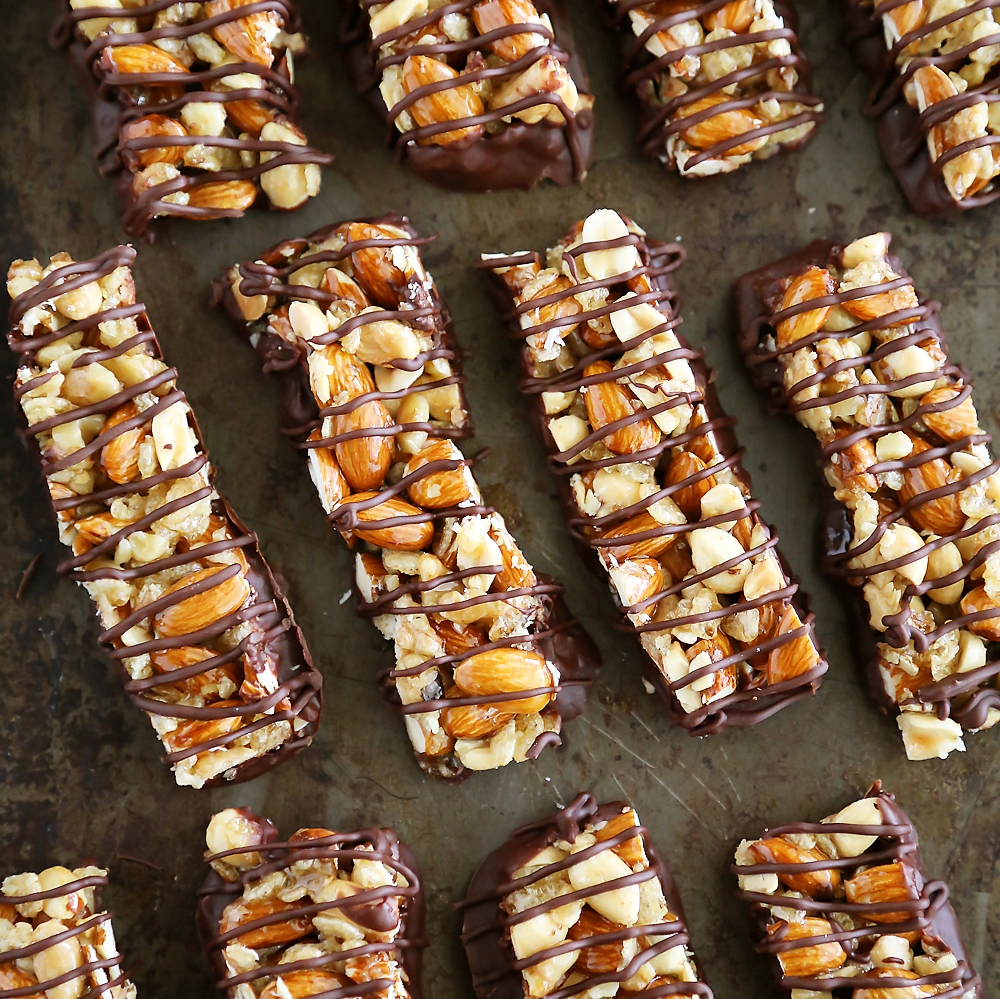 No-Bake Dark Chocolate & Sea Salt Nut Bars
Ingredients
2 cups whole toasted unsalted almonds
3/4 cup whole roasted unsalted peanuts
3/4 cup toasted walnuts, chopped
1/2 cup crispy rice cereal
1 Tablespoon flaxseed meal
1/2 cup honey
1/3 cup light corn syrup
3/4 teaspoon sea salt
1 teaspoon vanilla
1 cup dark chocolate chips
1 Tablespoon vegetable oil
Instructions
Generously grease a 13 x 9-inch pan.
In a large bowl, combine almonds, peanuts, walnuts, cereal and flaxseed; set aside.
In a medium saucepan set to medium-high heat, combine honey, corn syrup, salt and vanilla. Stir frequently, until mixture reaches 260 degrees F on a candy thermometer (hard ball stage).
Immediately pour syrup over nut mixture. Stir until all ingredients are well incorporated. Pour mixture into prepared pan and spread evenly. Refrigerate for 20 minutes to harden.
Once hardened, cut into 20 bars. Melt chocolate and oil in your microwave, in 30 second increments, stirring until smooth. Dip and/or drizzle bars with melted chocolate. Refrigerate to let chocolate set.
Enjoy!