Sizzle up a skillet full of healthy, delicious goodness with summer vegetables, potatoes and chicken sausage! It's one of our favorite easy weeknight meals.
Last week was all about making freezer meals to prep for our little one's arrival. As much as I wish I had a cavernous freezer, space is limited. So, instead of king-size casseroles, big bags of marinated meats and vegetables are prepped and ready for tossing in the slow cooker! Space saving, and certainly time saving. I hope to share some of those one-bag, one-pot meals with you soon!
Even though I see our time to cook tightening at first, I also see the summer bringing meals like this healthy, scrumptious skillet to the table.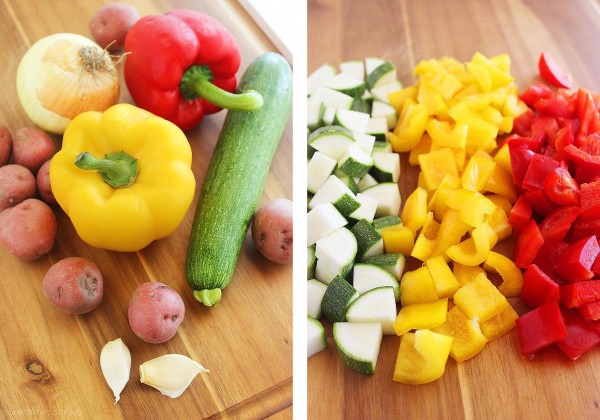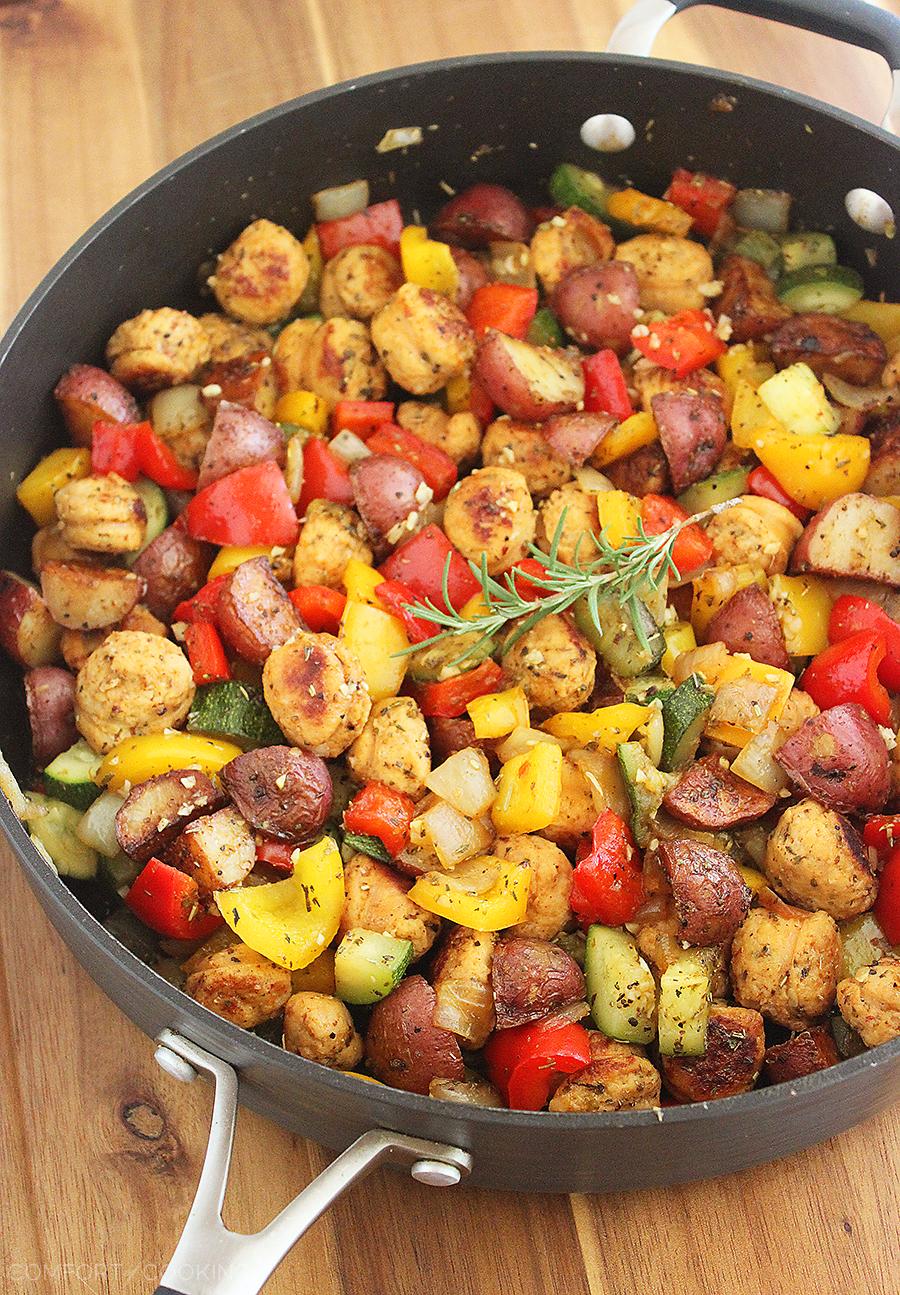 Who can resist cooking with all the season's beautiful produce, after all?
There's nothing better than a full meal in one pan, and this skillet definitely delivers. It's full of colorful, hearty and healthy goodness that's simple enough for weeknights, or weekend guests over for dinner. Just scoot a green salad alongside (and maybe add a cold glass of rosé), and your summertime dream skillet is served! It tastes oh-so fresh and fabulous with a homemade tzatziki sauce, too.
Grab the ingredients and try it tonight!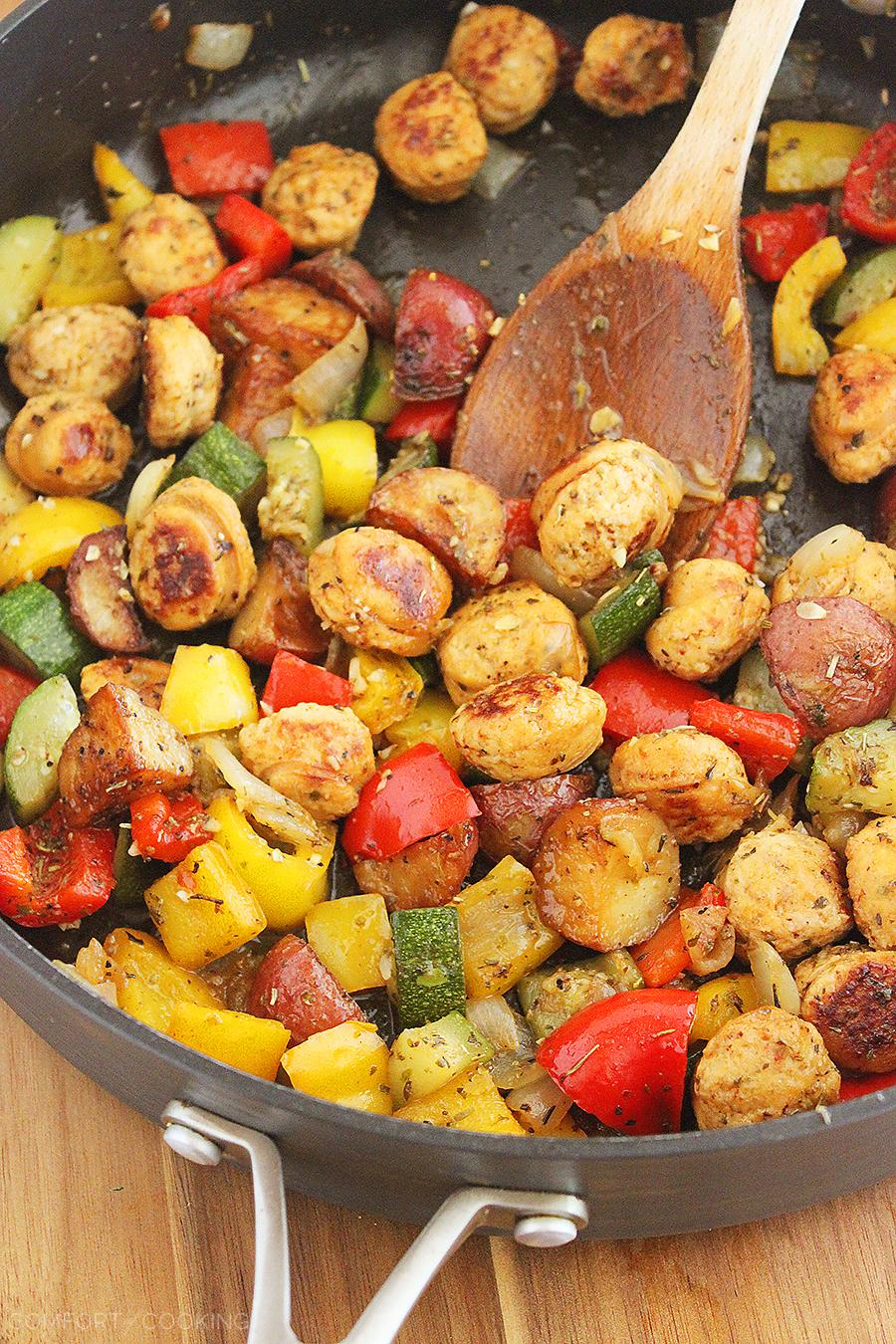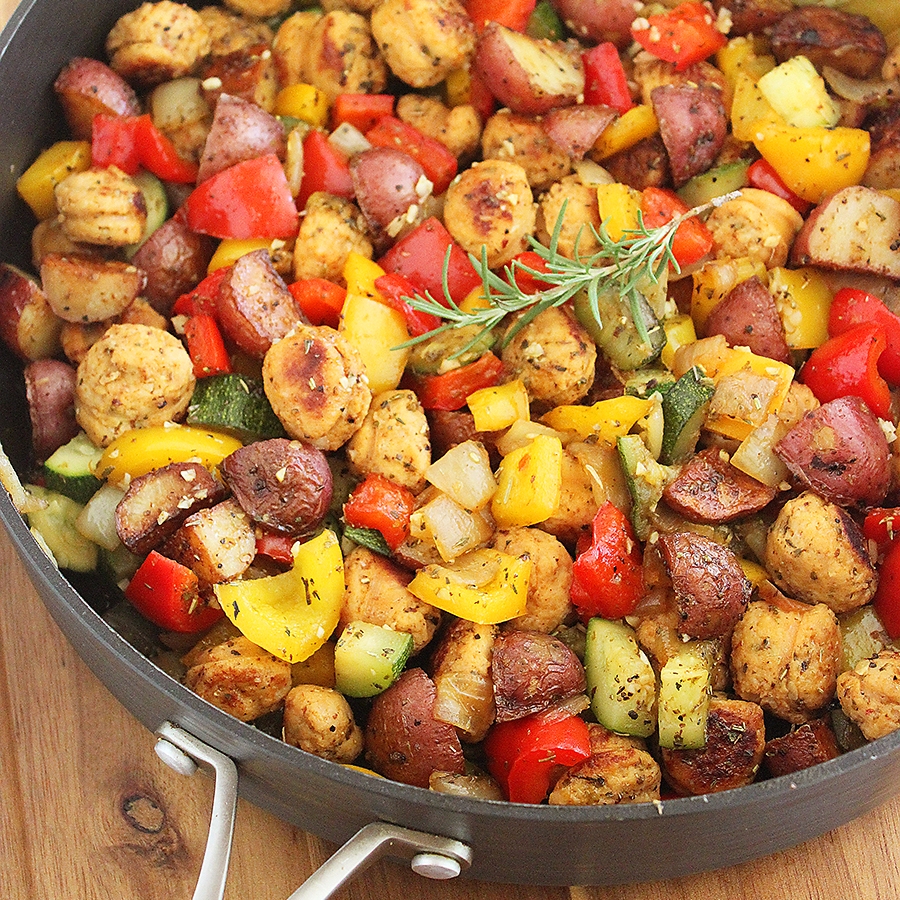 Summer Vegetable, Sausage and Potato Skillet
Ingredients
2 teaspoons olive oil
2 cups baby red potatoes, halved
1/2 teaspoon garlic powder
1 teaspoon kosher salt
Freshly cracked black pepper
14 oz. Italian chicken sausage*, cut into 1-inch thick slices
1 yellow bell pepper, diced
1 red bell pepper, diced
1 large zucchini, diced
1 large onion, chopped
1 Tablespoon Italian seasoning
3 cloves garlic, minced
Instructions
Add oil to a large, deep nonstick skillet set to high heat. Add potatoes and season with garlic powder, salt and pepper. Once skillet gets hot and starts to sizzle, reduce heat to low and cover with a tight lid. Cook for 20 minutes, shaking the pan occasionally to prevent the potatoes from burning. Remove potatoes to a plate, cover with foil and set aside.
Set skillet to medium heat and add sausage. Sauté until browned but not fully cooked, about 5 minutes, stirring occasionally. Add bell peppers, zucchini, onion and Italian seasoning. Continue cooking for 15 minutes, stirring occasionally, until vegetables have softened and sausage is cooked through.
Add potatoes back to the skillet, along with minced garlic, and cook 5 more minutes. Adjust seasonings as desired.
Enjoy!