Super easy, crispy buttermilk popcorn chicken bites can be quickly homemade with few ingredients! Serve with hot sauce, honey or Ranch dressing. A scrumptious, fun spin on your typical weeknight meals!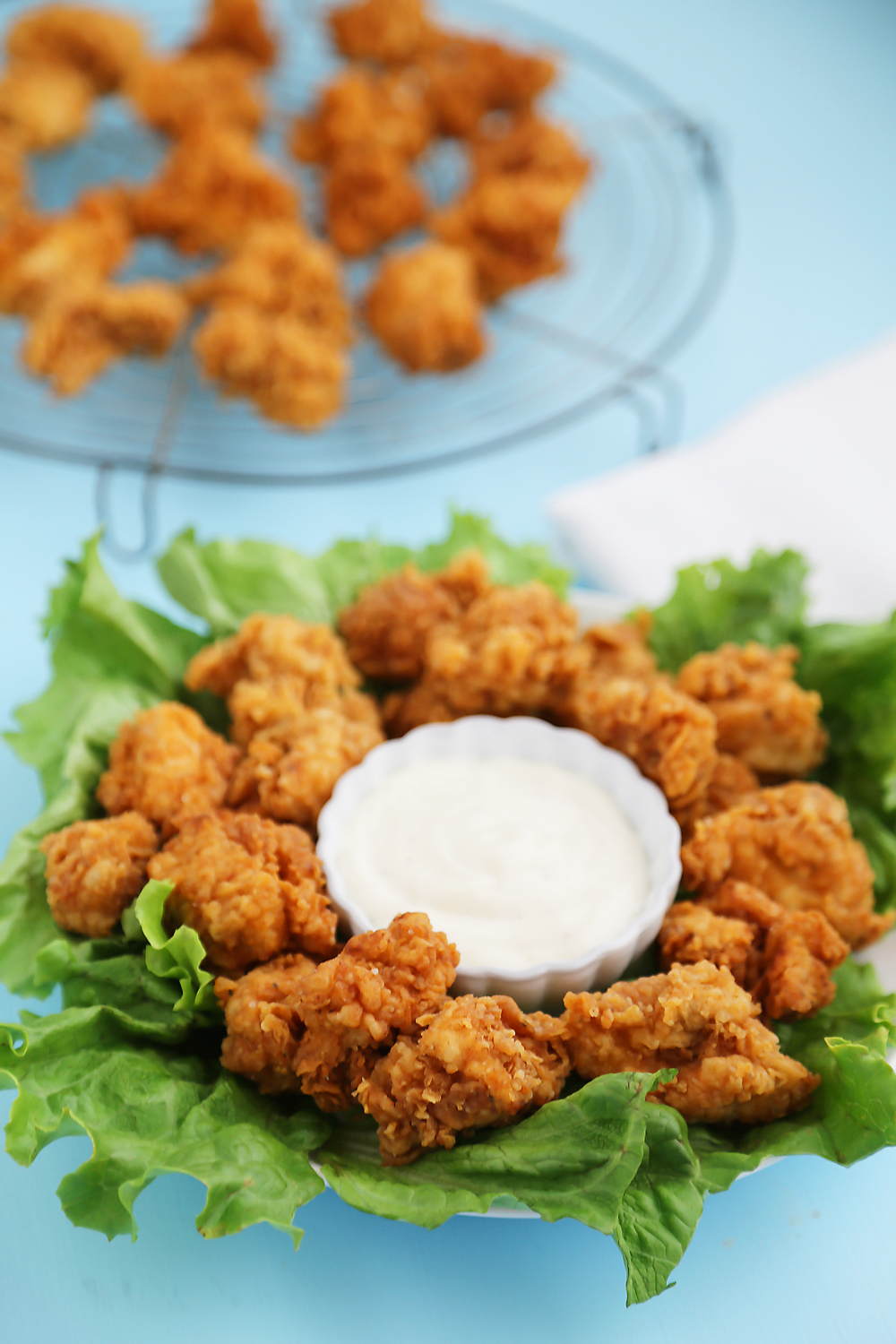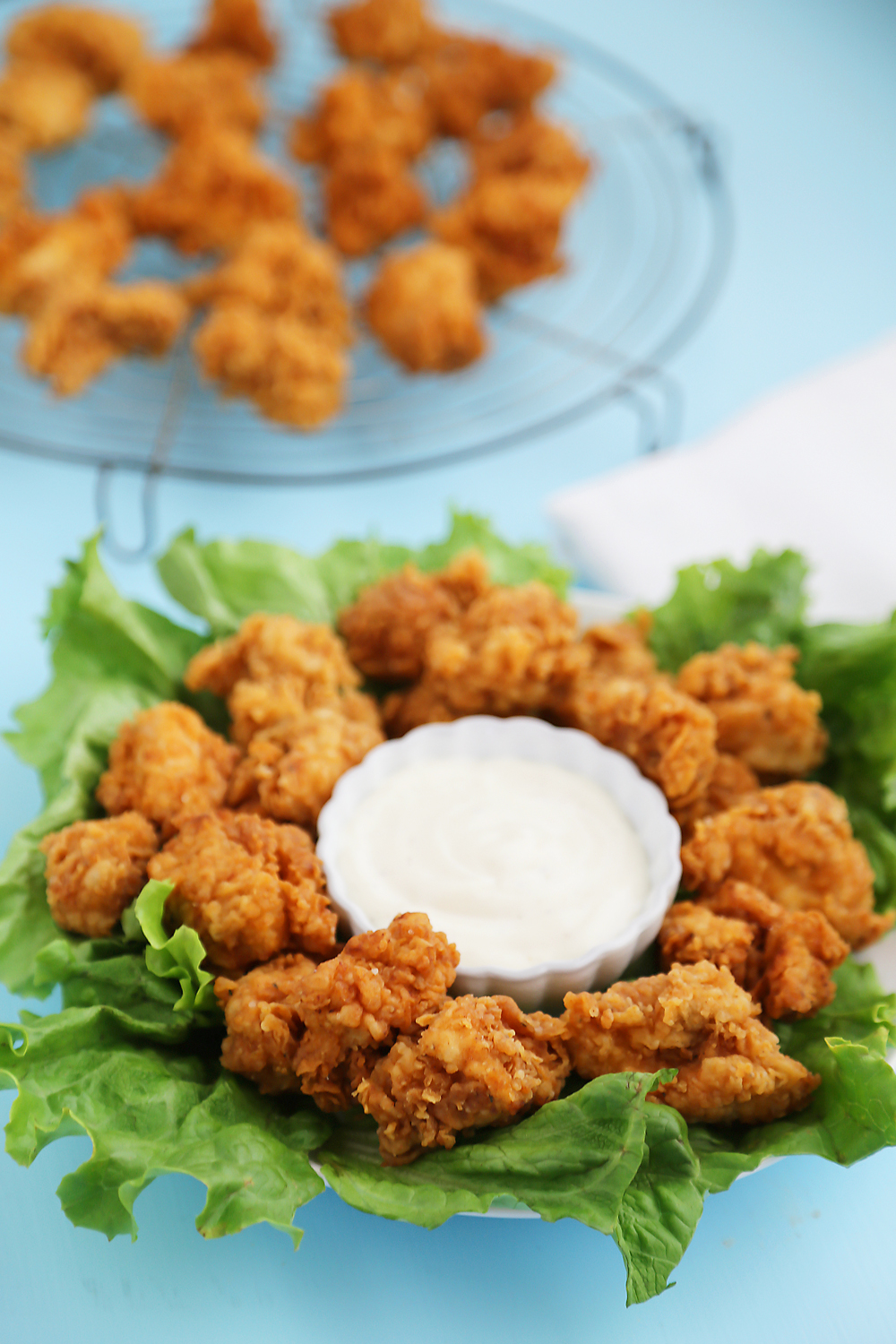 Guilty pleasure time! I don't know about you, but when my naughty cravings come calling, nothing else will do. So, I like to stop that nagging feeling once and for all by just INDULGING once in a while. These crazy crispy, tender popcorn chicken bites totally hit the spot, especially with a delicious dipping sauce (or you can use honey, hot sauce, even a cool cucumber tzatziki). Just the thing on a hot summer day, but these chicken bites would make a perfectly delicious weeknight meal or party food anytime of the year.
I can't wait to share with you how easy they are to make at home! All you need are seven ingredients, about 30 minutes, and some willing taste testers. I guarantee you'll get their stamp of approval on this simple, scrumptious chicken!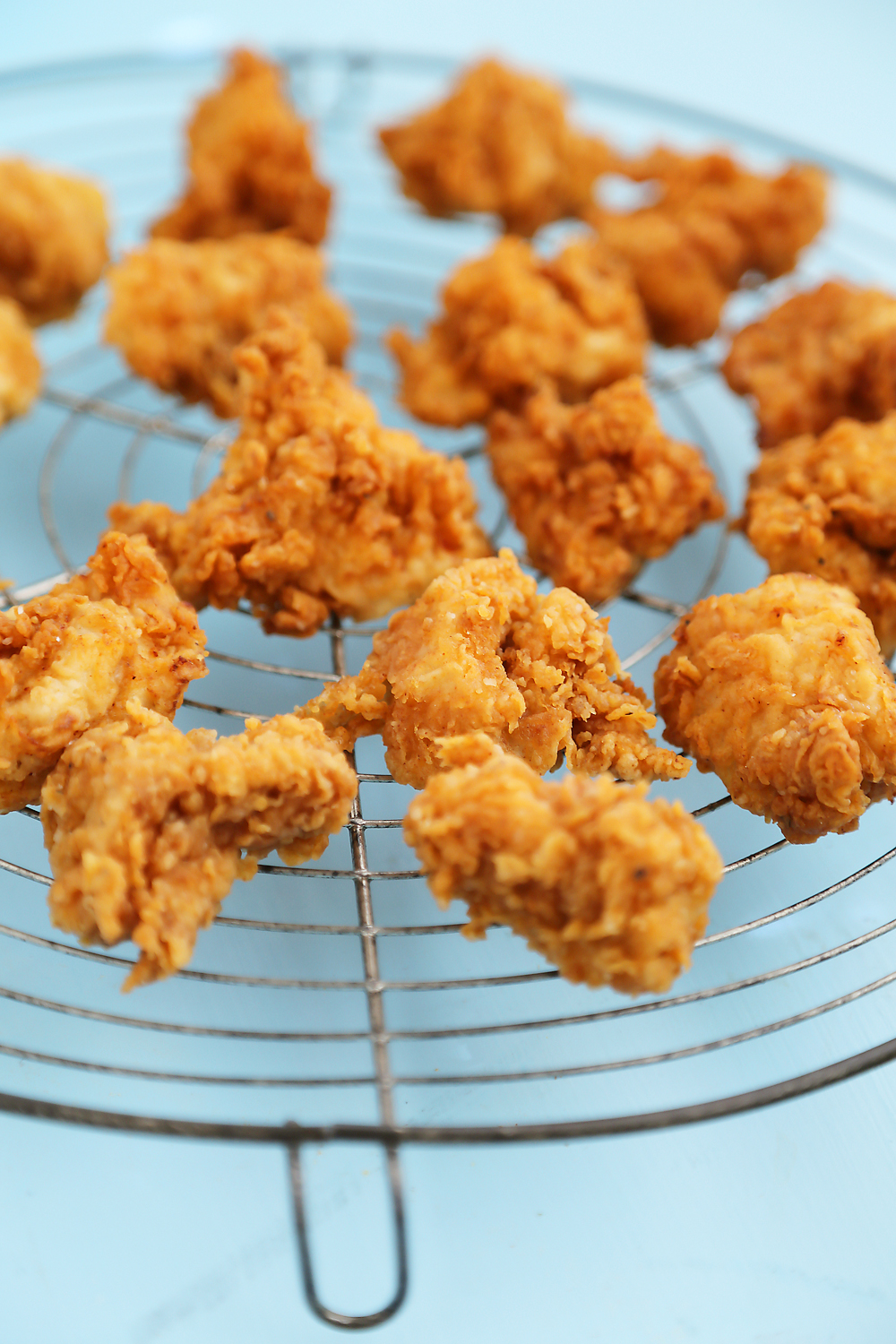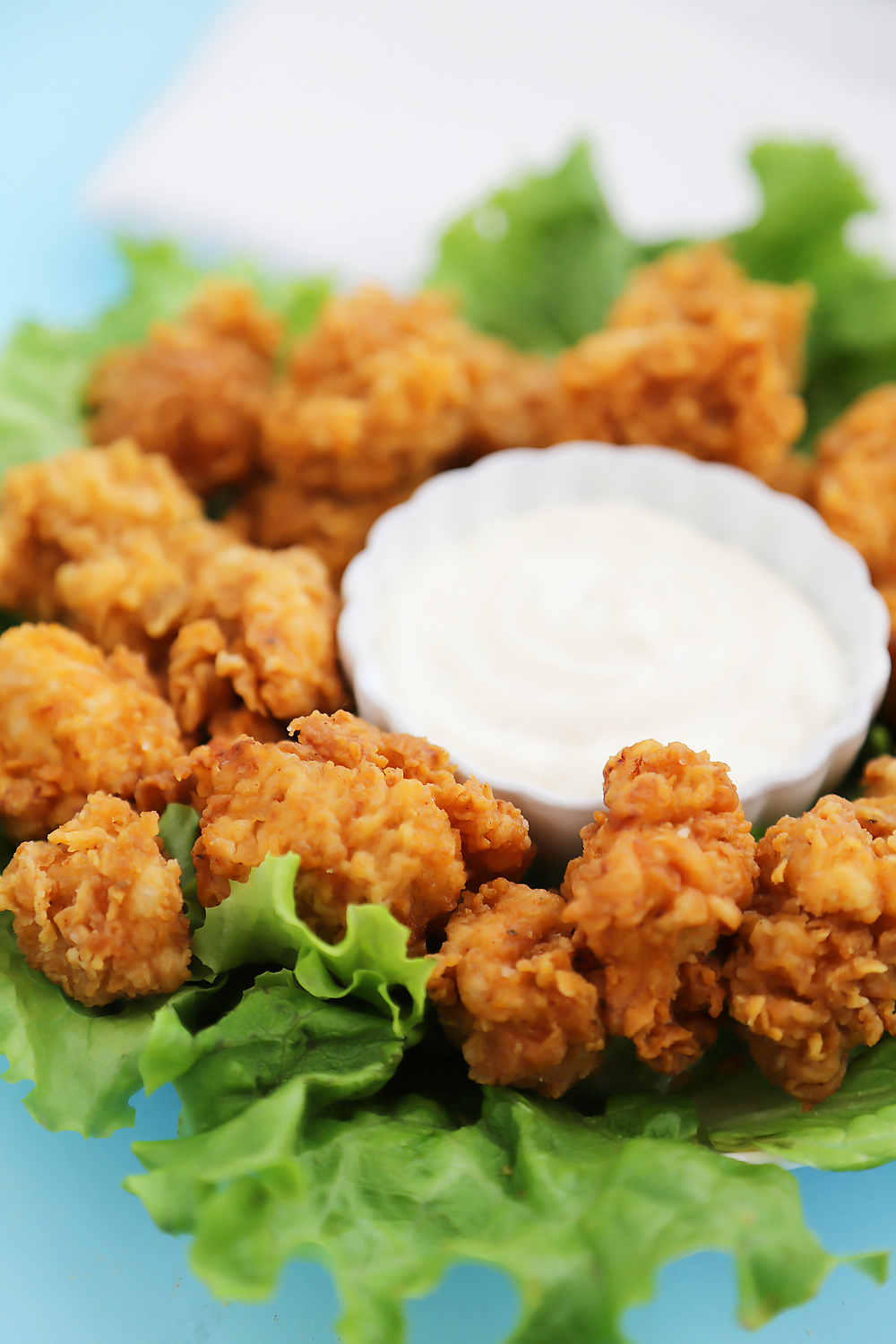 For your own perfectly golden, crunchy popcorn chicken, the steps are simple!
Just combine your chicken breast pieces, buttermilk, salt and pepper in a resealable plastic bag. Shake it up to coat the chicken well, and refrigerate for 30 minutes, or up to 1 day. Meanwhile, prepare a mixture of flour, garlic powder and paprika in a shallow dish such as a pie pan. Pour your oil into a big pot and let it get sizzlin' hot – about 8-10 minutes until it reaches 375 degrees.
Once it's hot, dredge your chicken pieces in flour, shake off the excess, and pop them in the hot oil. Best to have all your floured chicken pieces prepared at once, placed on a plate, so that you can add them all at once. This way, they will cook evenly!
Remove the pieces to a paper towel lined baking sheet, and continue to fry in batches. Try not to prick a piece off the sheet until they've cooled a little – they are blazing hot! But worth a burned tongue, if I'm honest.
I know you will love this classic, crispy popcorn chicken recipe for your weeknights or party guests. I hope you enjoy it, and let me know how it turns out if you try it!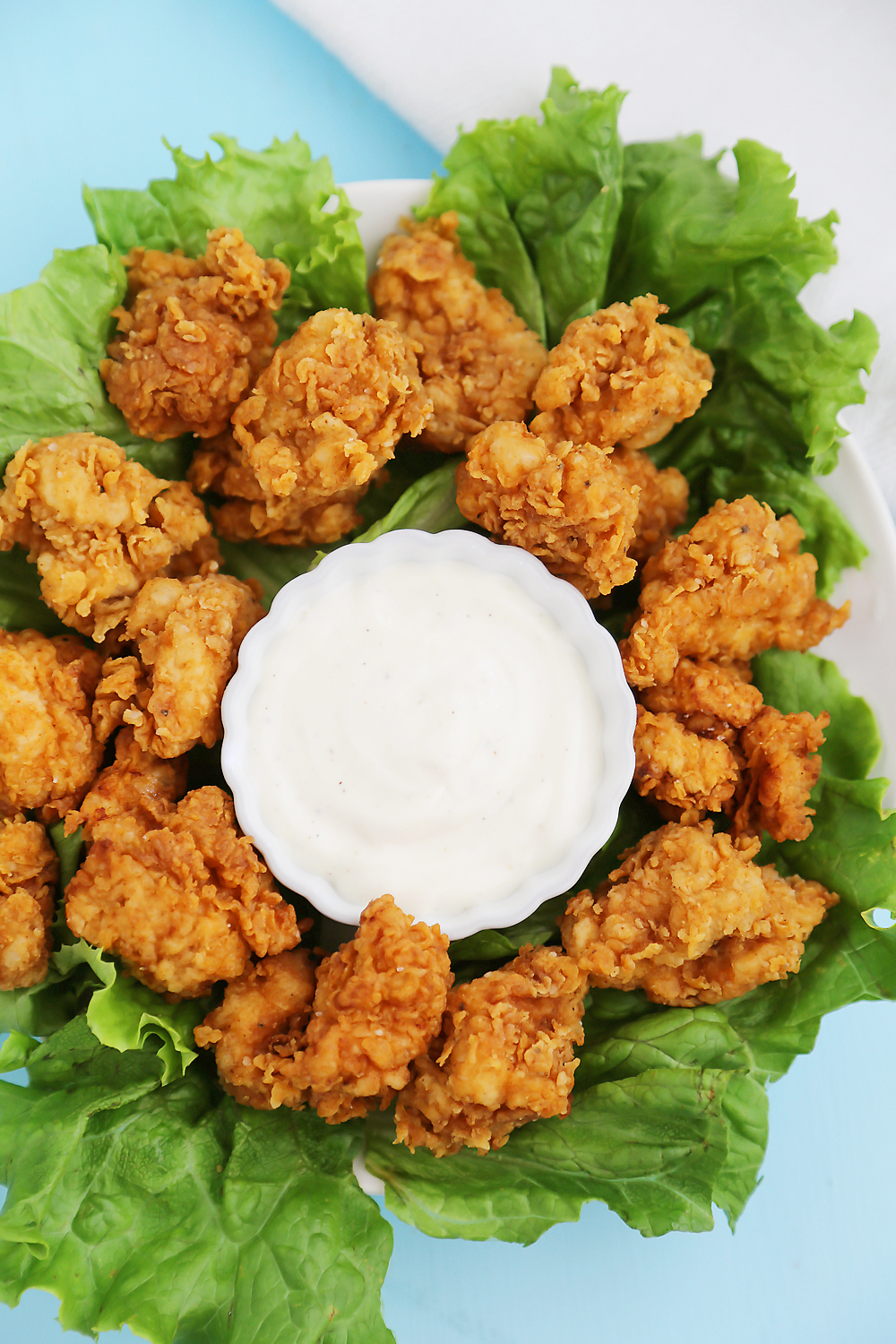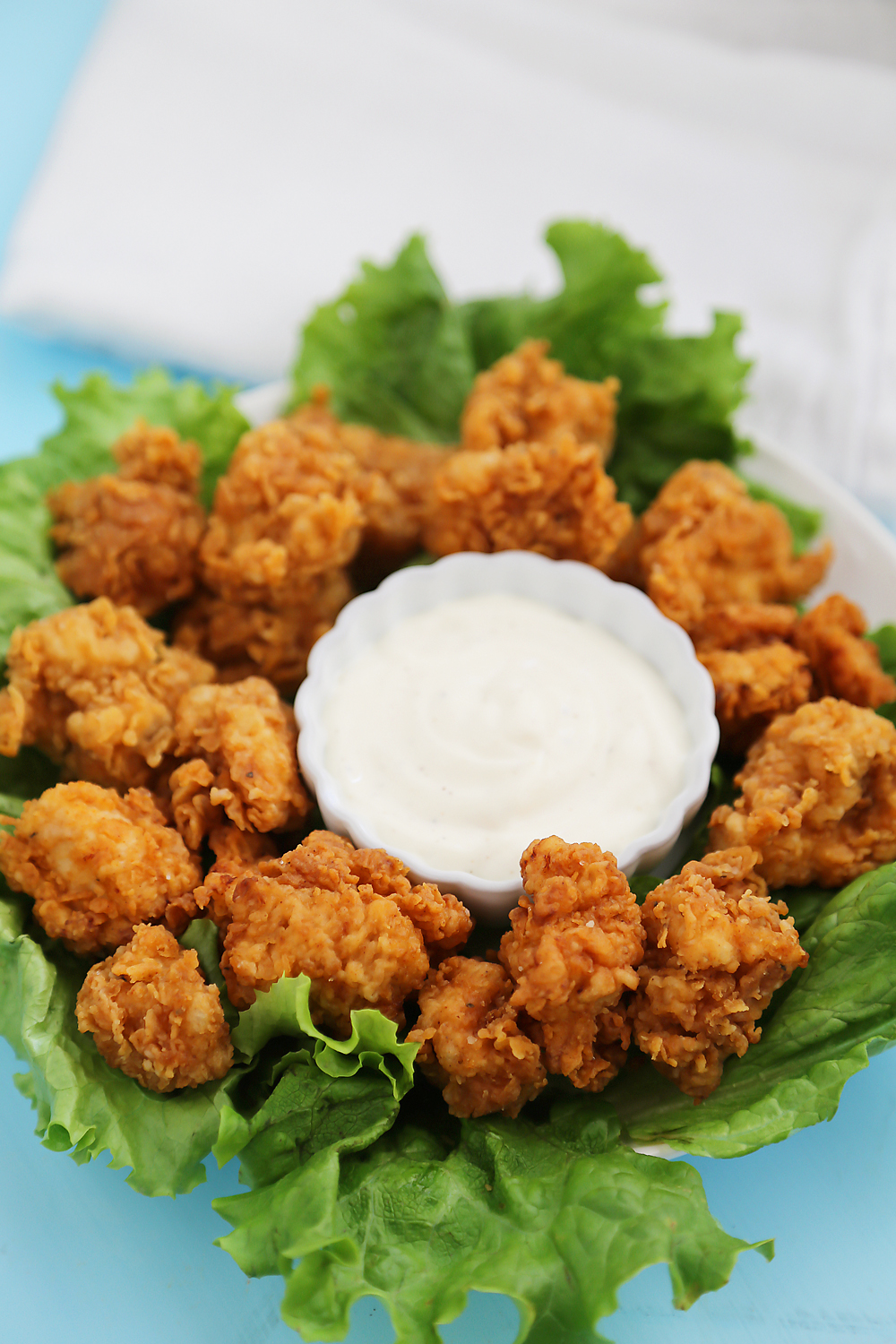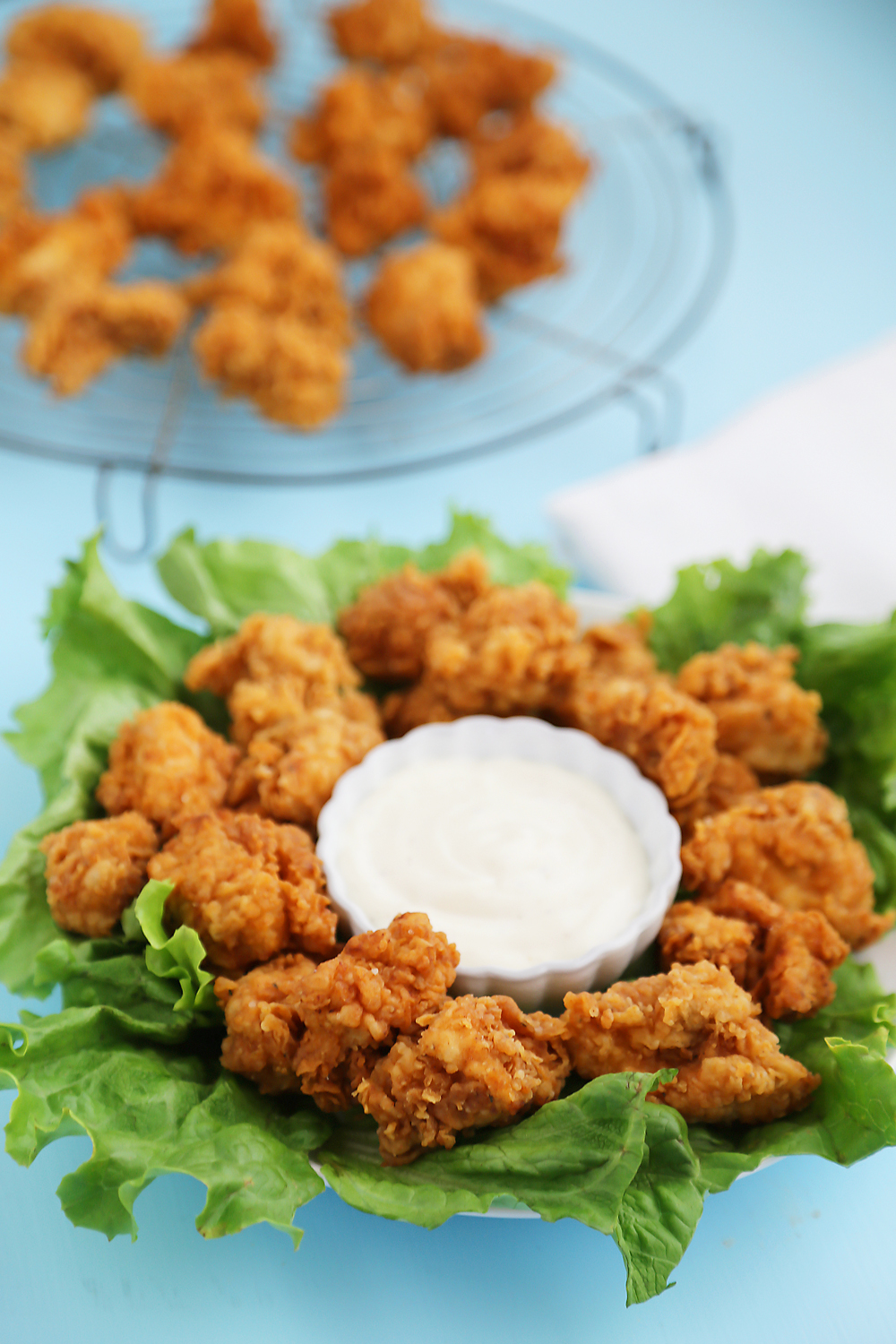 Crispy Buttermilk Popcorn Chicken
Ingredients
1 cup buttermilk
1 teaspoon kosher salt
1/4 teaspoon freshly ground black pepper
1 lb. about 2-3 boneless, skinless chicken breasts, cut into 1-inch pieces
4 cups canola or vegetable oil
1 cup all-purpose flour
1/2 teaspoon garlic powder
1/4 teaspoon ground paprika
Instructions
In a large resealable plastic bag, add buttermilk, salt and pepper. Add chicken pieces. Seal bag, coat chicken pieces in buttermilk, and refrigerate. Let marinade for at least 30 minutes, up to 1 day.
When ready to cook, add oil to a large pot to over medium high heat. Meanwhile, add flour, garlic powder and paprika to a shallow dish, such as a pie pan. Grab chicken pieces from buttermilk, a few a time, shaking off any excess. Coat pieces in flour, shaking off excess, and place into hot oil (about 375 degrees on an instant read thermometer).
Working in batches, fry chicken until golden and cooked through, about 3-4 minutes total. With a slotted spoon, transfer to a paper towel-lined baking sheet.
Serve warm with your choice of dipping sauce.
Enjoy!