Every time I visit Boston, the one restaurant I must visit is Mother Anna's in the North End. For twelve bucks, you can be served the most mouthwatering, scrumptious bowl of saucy steamed mussels fit for a king, and alongside it a hunk of freshly baked Italian bread. Swoooon…. It's this dish that has remained my absolute favorite decadence on a cold winter day in New England, and I've finally learned to recreate it in my own home!
Steaming in a big pot with sautéed garlic, onions, my favorite white wine and a homemade tomato sauce, the aroma of these mussels was just heavenly. Plus, after steaming in the pot for just under 10 minutes, they were ready in a snap!
The same as I've always done at Mother Anna's, I devoured these delicious mussels and scooped up the fragrant, hearty tomato sauce with a hunk of soft Italian bread. It was such a tasty meal that I know you'd enjoy, too, and such a comfort to know that I could replicate one of my favorite Boston dishes in my own kitchen.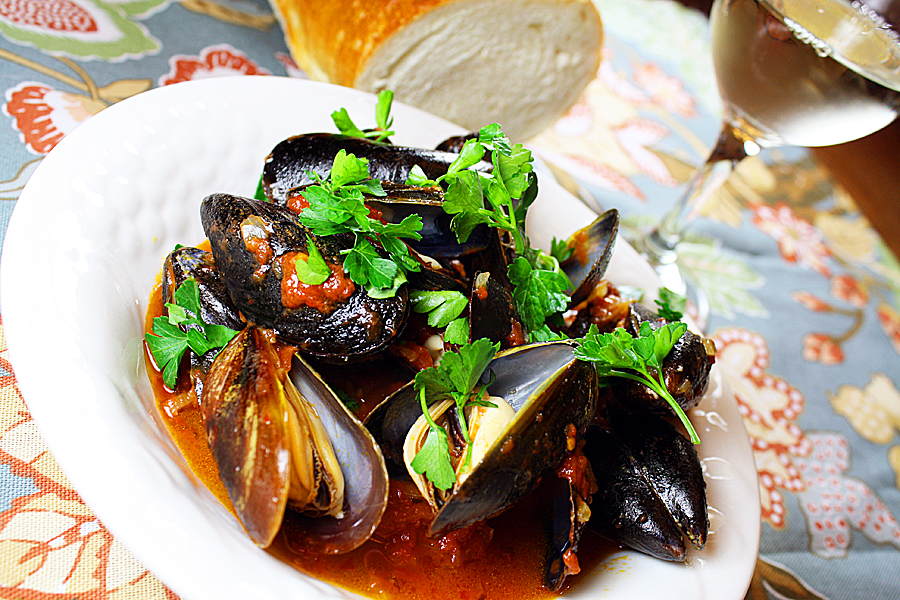 Steamed Mussels in White Wine and Tomato Sauce
Ingredients
For the tomato sauce:
3 Tablespoons extra-virgin olive oil
 1 medium onion, finely chopped
 2 garlic cloves, finely chopped
1 (28- to 32-ounce) can whole tomatoes in juice
1 teaspoon salt, or to taste
1 teaspoon sugar, (optional), or to taste
For the mussels:
1 1/2 Tablespoons extra virgin olive oil
2 garlic cloves, minced
1/4 teaspoon dried hot red pepper flakes
1/2 cup dry white wine
2 cups tomato sauce, (recipe included)
2 pounds mussels, scrubbed
Instructions
For the tomato sauce:Preheat oven to 325 degrees F.
In a large saucepan, heat oil over medium-low. Add onions and garlic, cooking and stirring until softened, about 5 minutes.
Add tomatoes, including juice, and salt. Cover and put in oven for 1 1/2 to 2 hours, stirring and mashing tomatoes with a fork occasionally, until sauce is thickened and reduced to about 3 cups. If sauce tastes too acidic, add sugar and cook 5 minutes more.
For the mussels:In a large, heavy pot (I used a 5.5 quart Le Creuset), heat oil over medium-low. Add garlic and red pepper flakes, cooking and stirring for 2 minutes. Increase heat to medium high. Add wine and bring to a boil. Add tomato sauce and mussels and cook over moderately high heat, covered, stirring occasionally, until mussels just open wide, 6 to 8 minutes. Discard any mussels that are unopened after 8 minutes. Serve immediately.
Enjoy!