My favorite, easiest-ever roasted chicken recipe! No butter or oil necessary, just a good quality chicken, salt and pepper. I like to serve this incredibly crispy, juicy chicken with a simple green salad and potatoes, or slices of my no-knead crusty artisan bread.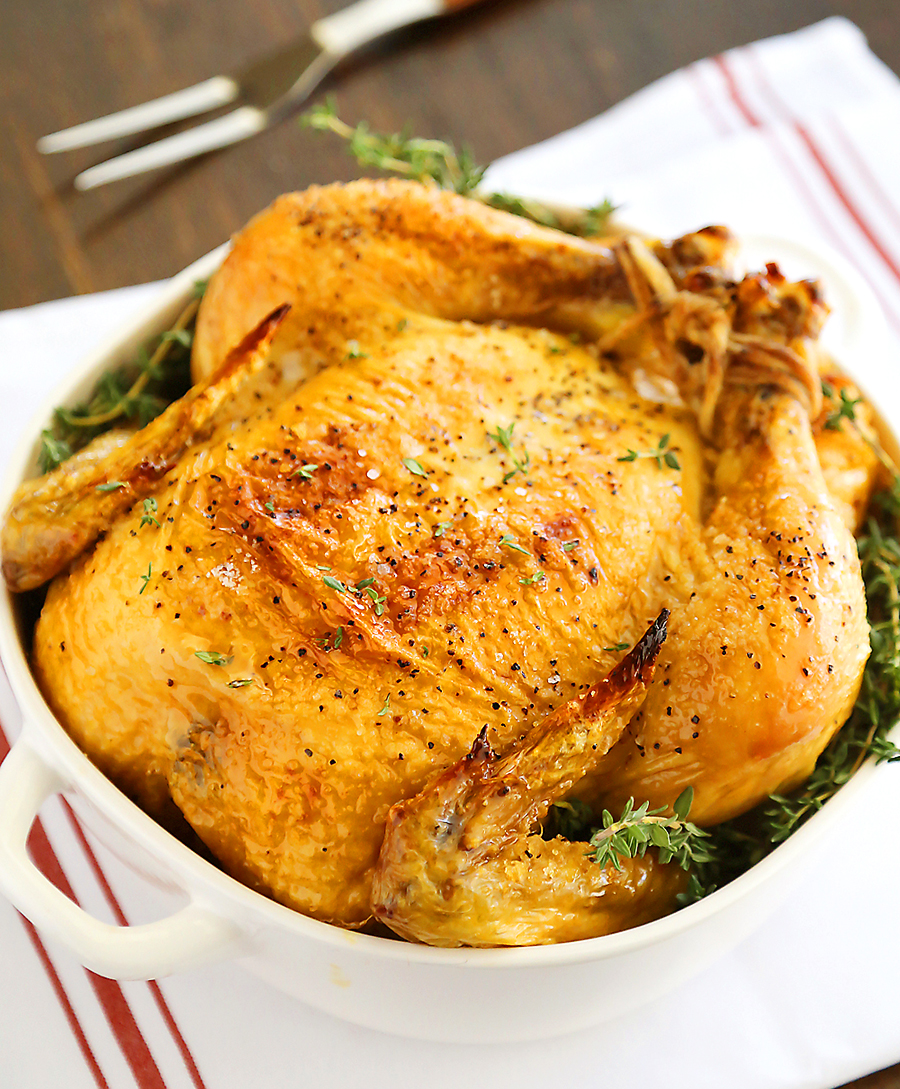 If you've poked around The Comfort of Cooking for more than 5 minutes, you've probably run into some kind of roasted chicken recipe.
The classic crispy, tender roasted chicken a staple in my house, since I can often get several meals from roasting one bird. However, I'm always looking for ways to change up my traditional methods (lemon, sriracha or pesto-and-potato chickens, anyone?). This time, instead of adding more fuss and flavorings, I wanted to try famed chef Thomas Keller's minimalist approach. No butter, no oil, and no basting. Just stick it in the oven and LEAVE IT.
And it was unlike any chicken I've ever made before. In the best way!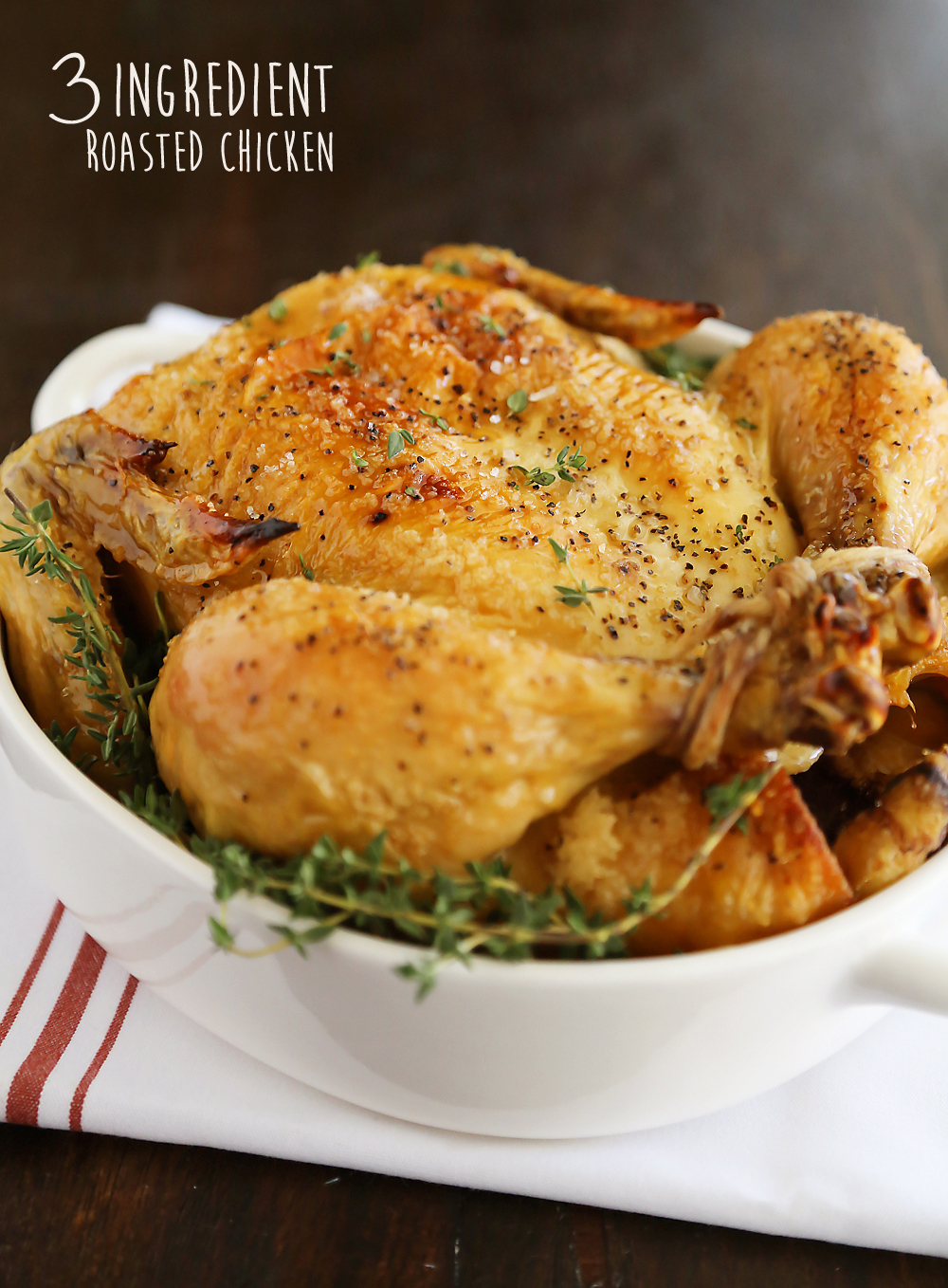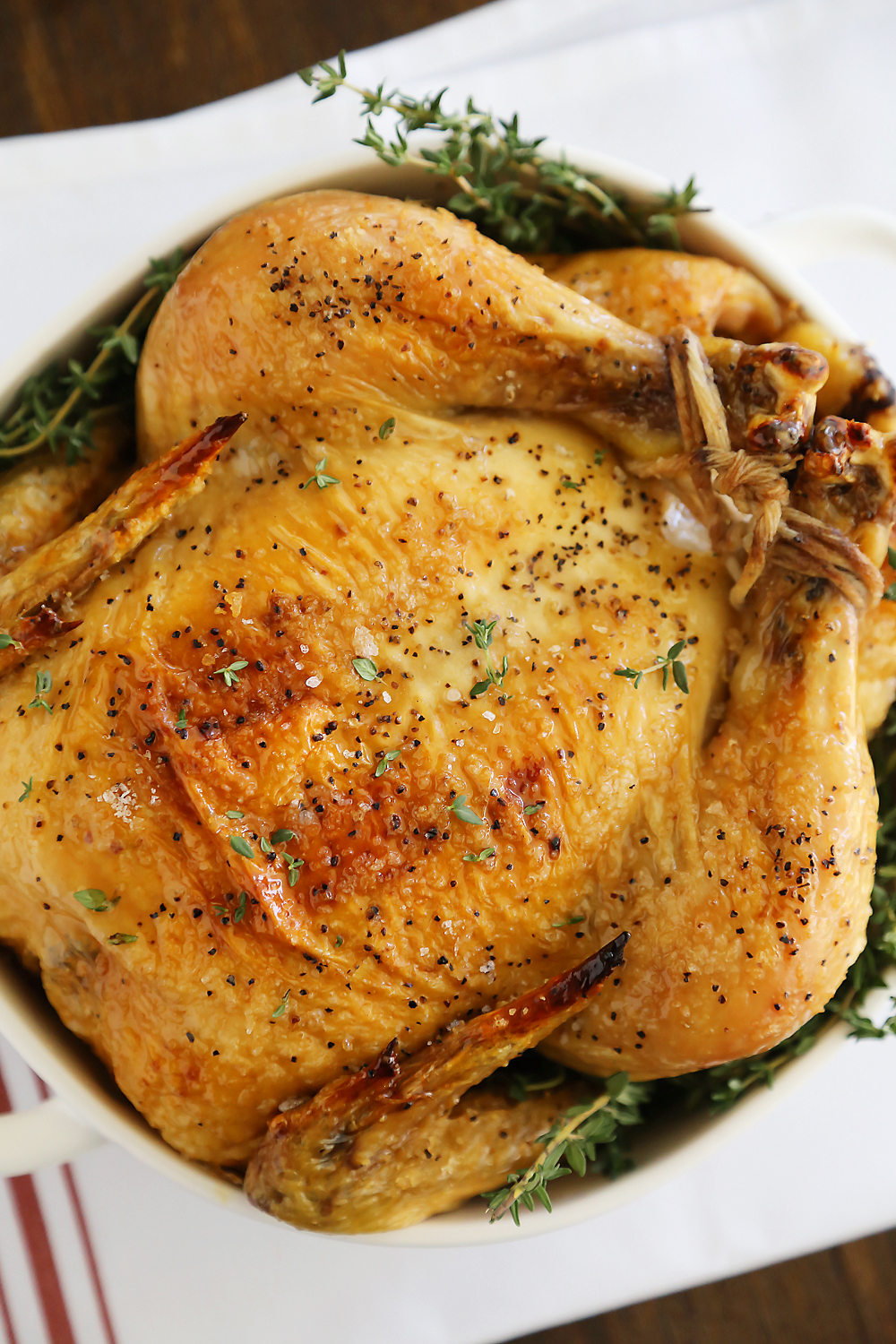 So, what do you need? A chicken, salt and pepper, a roasting pan, and some kitchen twine to tie up the legs. Trussing the bird helps it cook more evenly, and makes for a more beautiful roasted bird. I have no particular method, I just kind of go with whatever gets the job done. My method changes every time. But, if you're so inclined to not be like me and learn how to do it correctly, here is a quick video. (Which I should probably watch.)
I make sure the chicken is nice and dry – no water, no oil – and place it in a roasting pan. Keller's theory is that adding oil creates moisture/steam, which inhibits a crispy bird. I rain salt and pepper all over the bird, and stick it in the oven. Set a timer. Clean up. Go about my business.
About an hour and a half later, the bird is crispy and beautiful! And the house smells AMAZING. I slide it out of the oven, let it rest for 10 minutes and sprinkle with fresh thyme. Carve it up and serve it with a big green salad and roasted potatoes or crusty bread.
So delicious, simple and mouthwateringly tender! I guarantee you will love this one.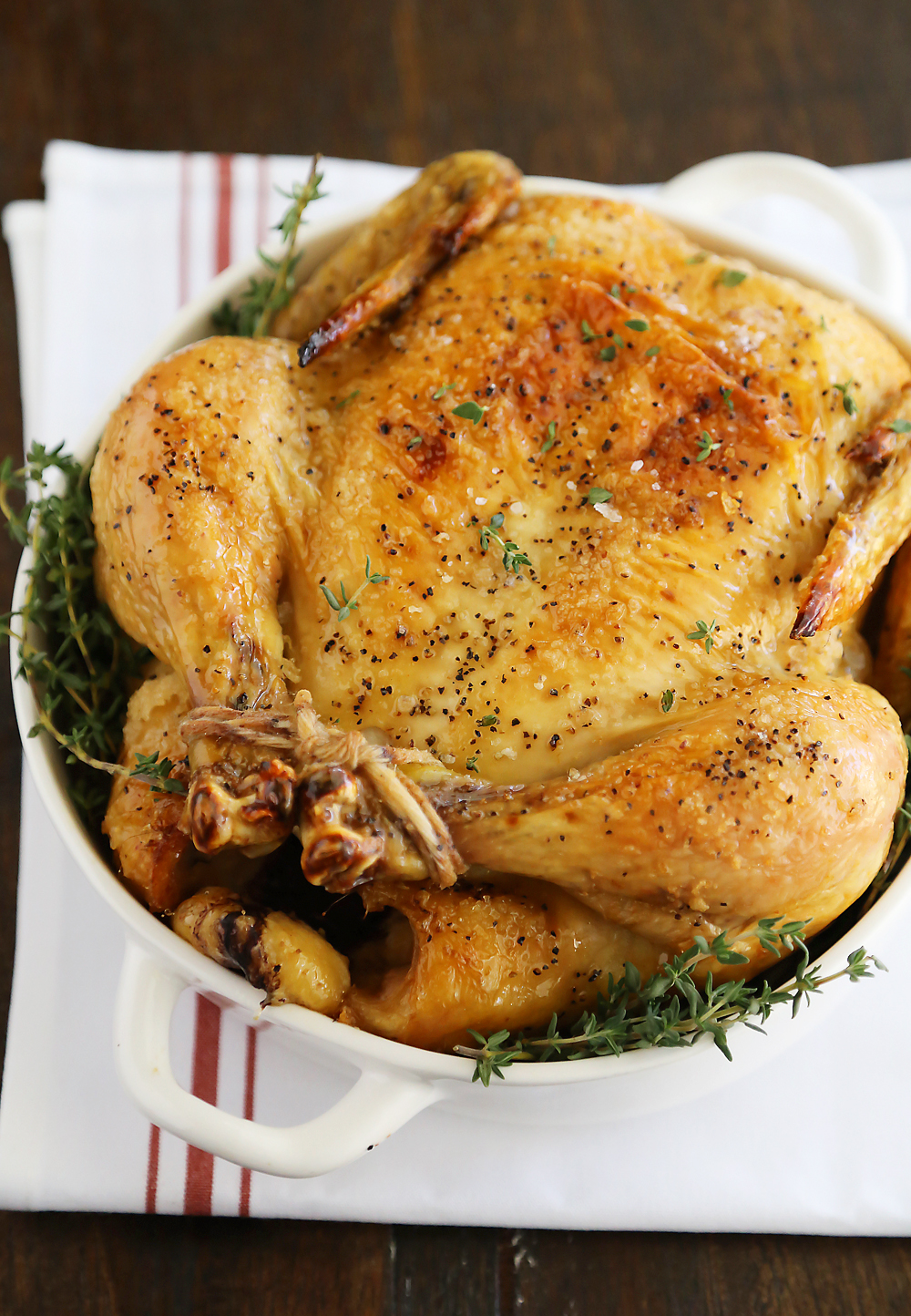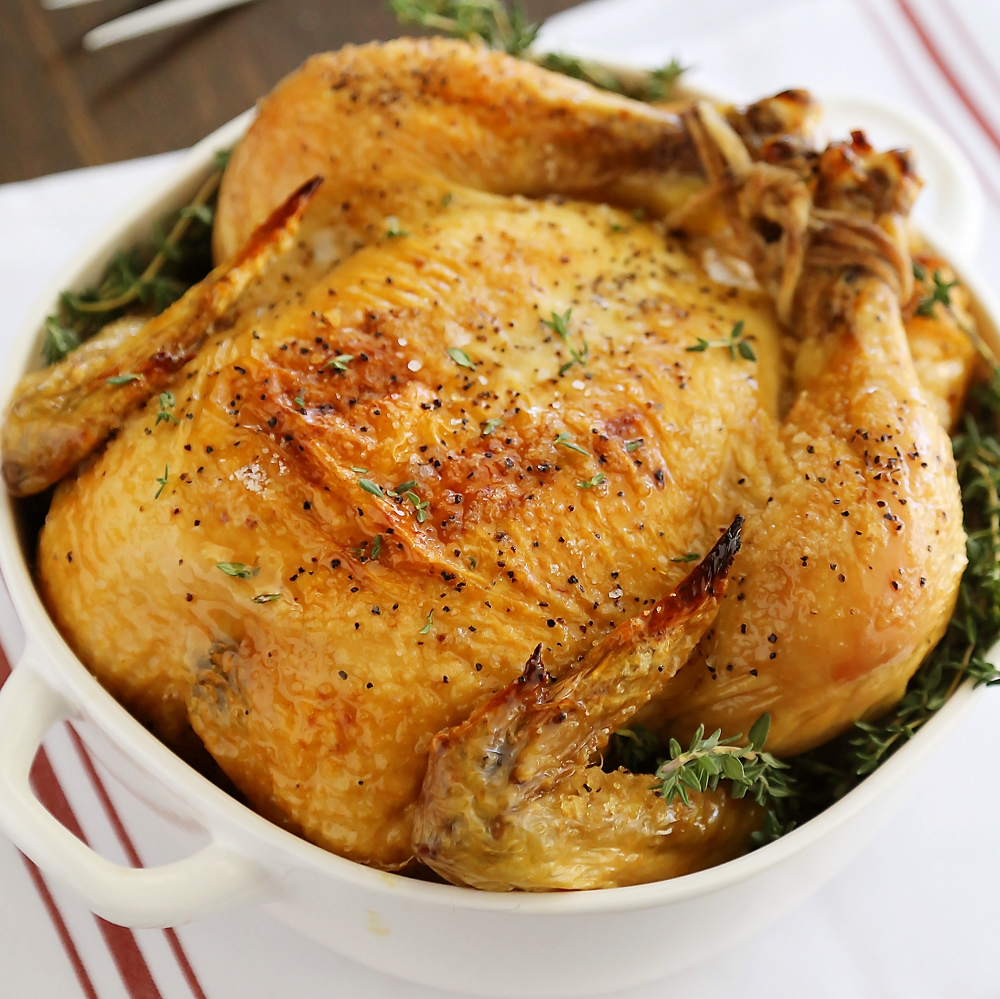 Thomas Keller's [3-Ingredient] Roasted Chicken
Ingredients
1 whole 5- to 6-pound chicken
Kosher salt and freshly ground black pepper
1 teaspoon thyme leaves, optional
Instructions
Preheat oven to 425 degrees F. Arrange oven rack on bottom third.
Place chicken in a large roasting pan (with or without a wire rack underneath). Truss the bird, tying the legs together and close to the body of the chicken. (This helps the chicken cook evenly and results in a more beautiful roasted bird.)
Sprinkle all over with kosher salt (about 1 Tablespoon). Season to taste with pepper.
Roast for 1 1/2 to 2 hours, depending on size*. Do not baste or add butter or oil. (Keller's theory is that this creates steam, which inhibits the crispness and tenderness of the chicken). If chicken is browning too quickly, cover loosely with aluminum foil.
To measure temperature, place a meat thermometer into the thickest part of the thigh without touching the bone. It should reach 165 degrees F.
Remove chicken from oven and baste with pan juices. Sprinkle with fresh thyme, if desired. Let rest for at least 10 minutes before carving.
Enjoy!