These luscious, sunny lemon bars are simply made from scratch with all-natural ingredients. So easy, perfectly tangy, and best eaten topped with fresh berries!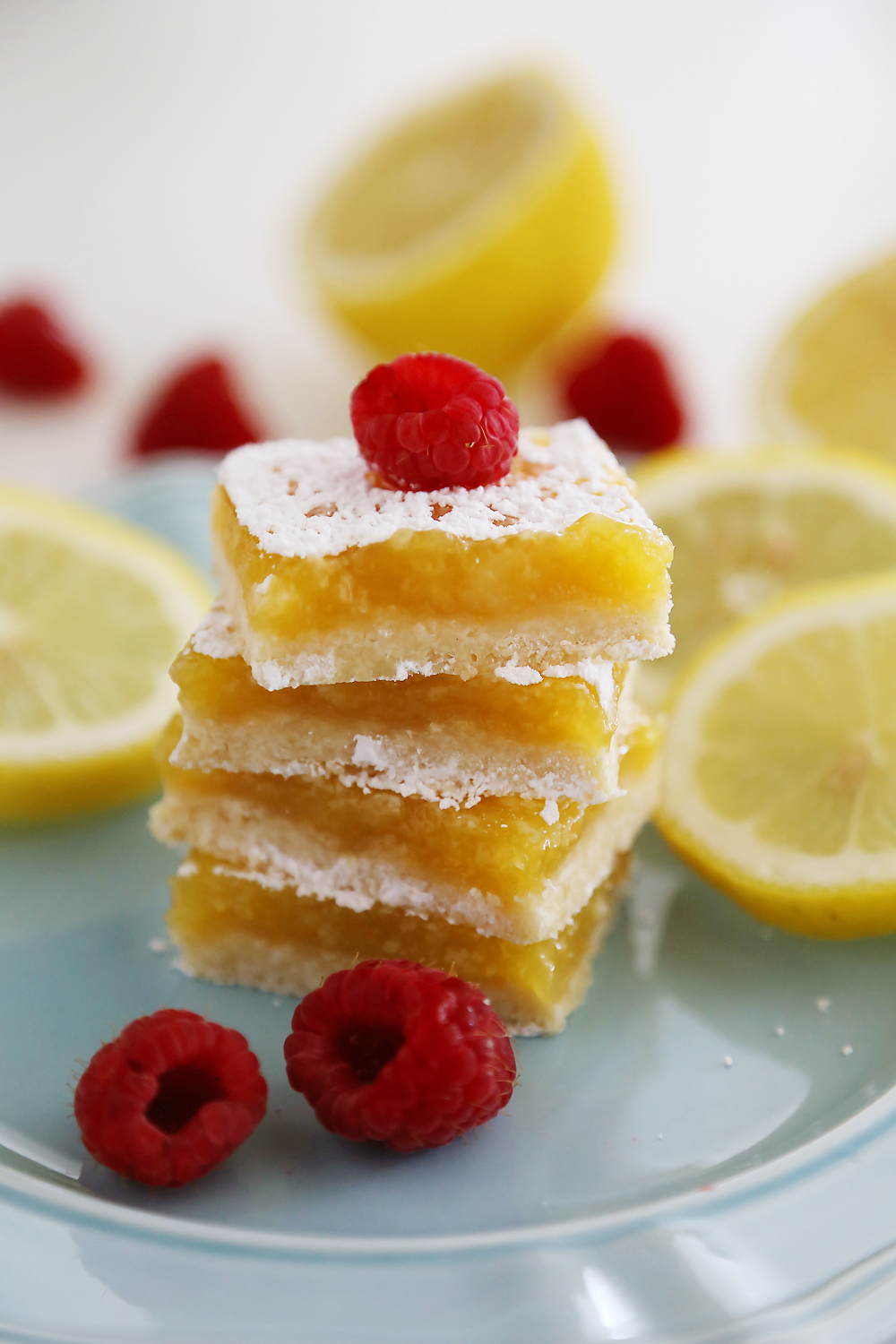 I've loved lemon bars for as long as I can remember, but never thought to make them from scratch until recently. I've baked a handful of boxed mixes, but they always fell short for what I was truly craving – a super tangy, gooey bar bursting with citrus flavor, sitting atop a buttery shortbread crust.
When I started experimenting with lemon bars from scratch, I created a few failures and almost-successes. But, after further testing (and much sampling), I've finally come upon THE ONE. Combing a simple butter-flour-sugar shortbread with my easy 5-Minute Microwave Lemon Curd has yielded the best bars ever. And I'm tickled pink (or, er, yellow) to share them with you today!
Grab a bag of the freshest lemons you can find and some good butter (the secrets to your best-ever lemon bar), and let's get bakin'!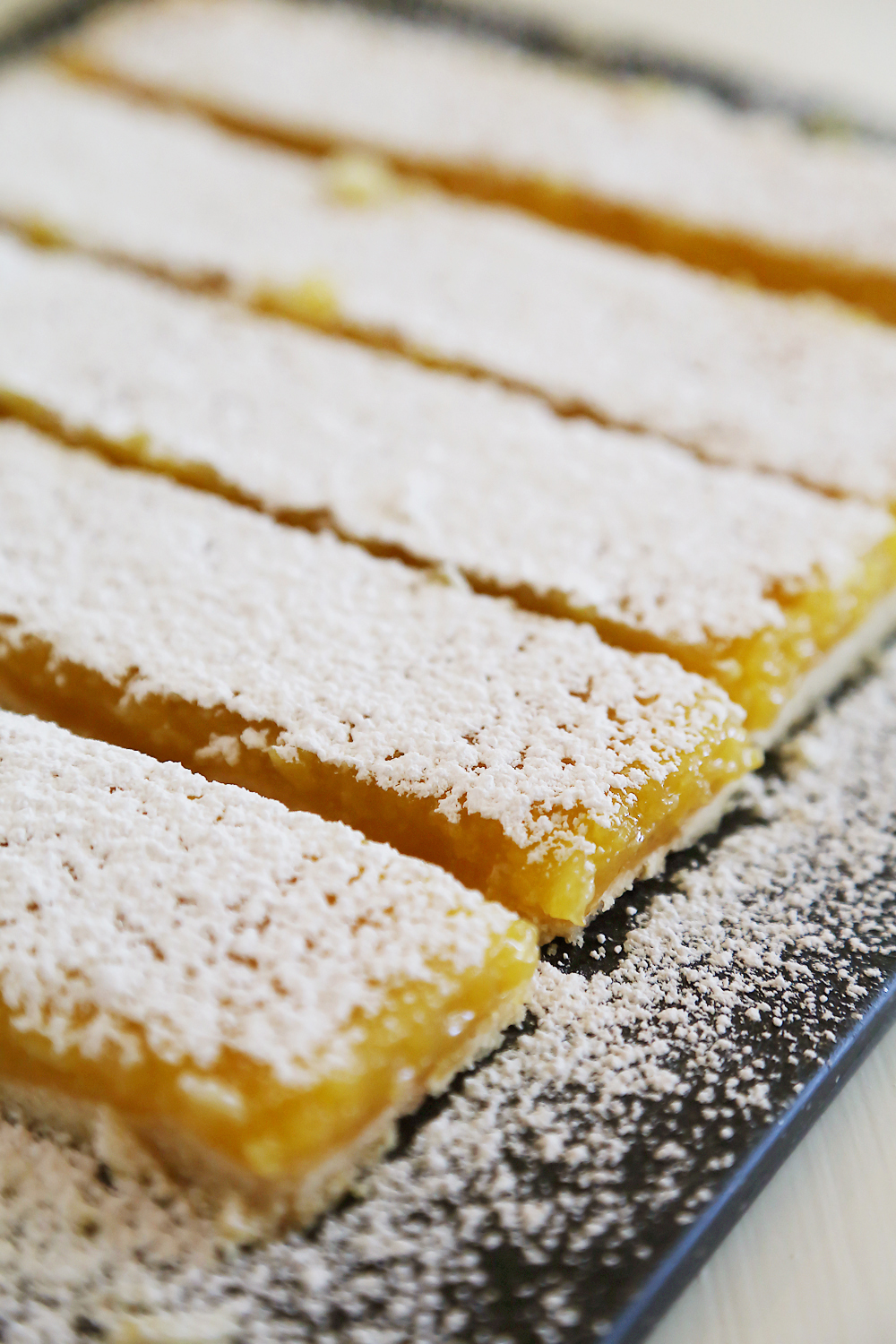 This recipe starts with a lemon curd. You might be asking, "What is that?" and I'm here to tell you it's easy and it's wonderful. Lemon curd is a mixture of lemon juice, zest, butter, sugar and eggs. It's satiny smooth and sweet, full of cheek-puckering tang, and only takes 5 minutes to make in your microwave. I not only use it for these lemon bars, but it makes a scrumptious spread and adds something special to lots of desserts! Make it homemade (cheaper and more delicious), or find a jar in most grocery stores.
So, first step! Combine butter, sugar and flour for your shortbread crust. Pat it into a 9 x 9-inch pan and bake it for 30 minutes. When it's puffy and pale golden, remove it from the oven and pour your lemon curd over top. Back in the oven for 30 more minutes.
When your lemon-shortbread mixture is bubbly and mostly set in the center, remove it from the oven. Let the pan cool on the counter, then move it to your fridge to let the curd set and firm up. This makes slicing the bars much easier and more appealing-looking!
Sprinkle with powdered sugar, slice and enjoy! I love topping mine with fresh berries for a little pop of color and added sweetness.
These bars are made 100% from scratch and with a whole lotta love (and eggs and lemons and sugar). I know you're gonna absolutely flip for them, and your friends will, too. For your warm weather parties and backyard barbecues, I can't think of any better dessert that would be a bigger hit.
Bake a batch this weekend!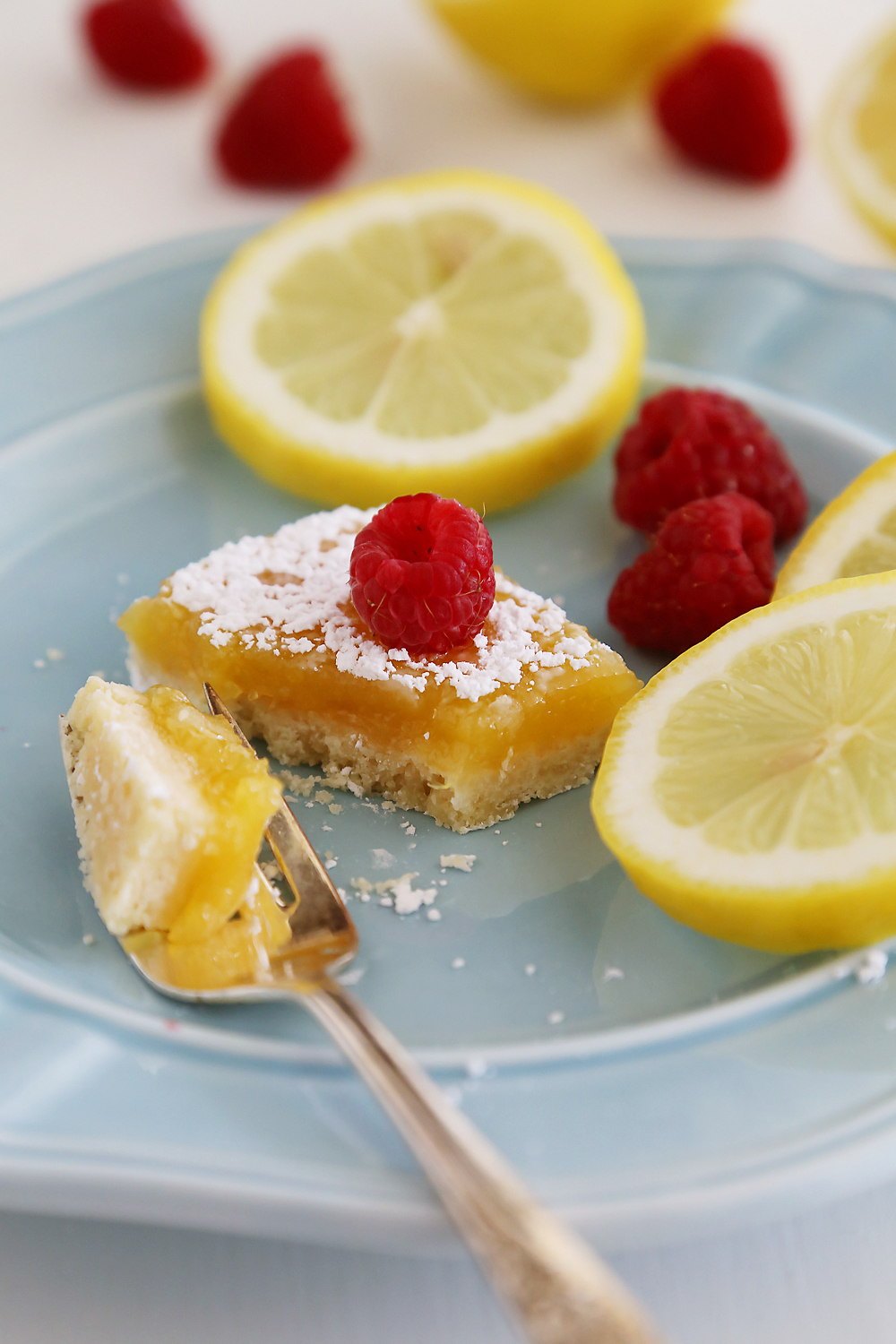 Even my sneaky-fingered photography assistant wanted in on some lemon bar action…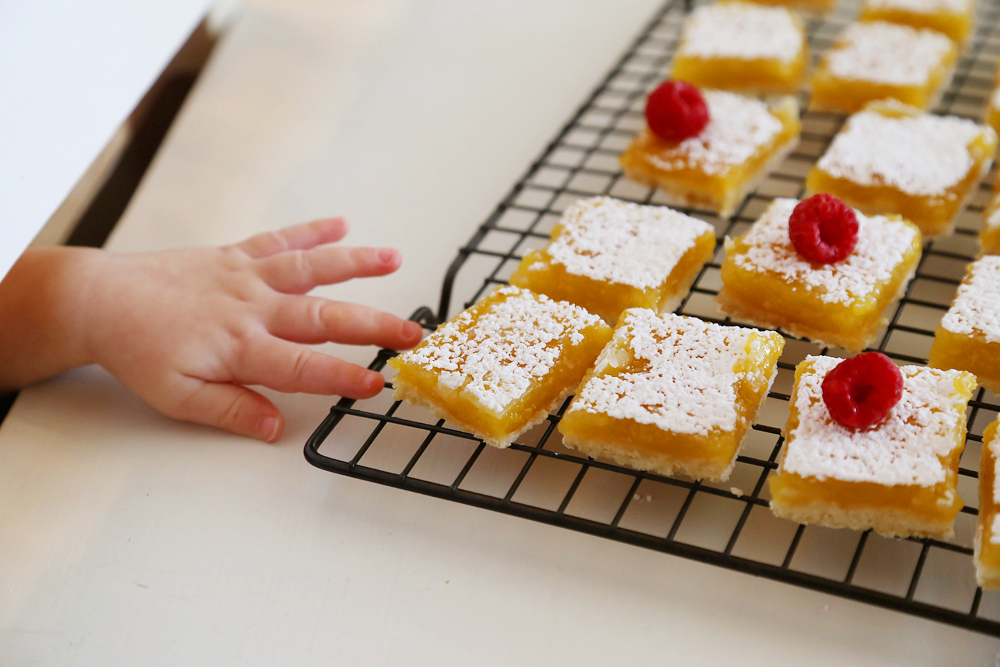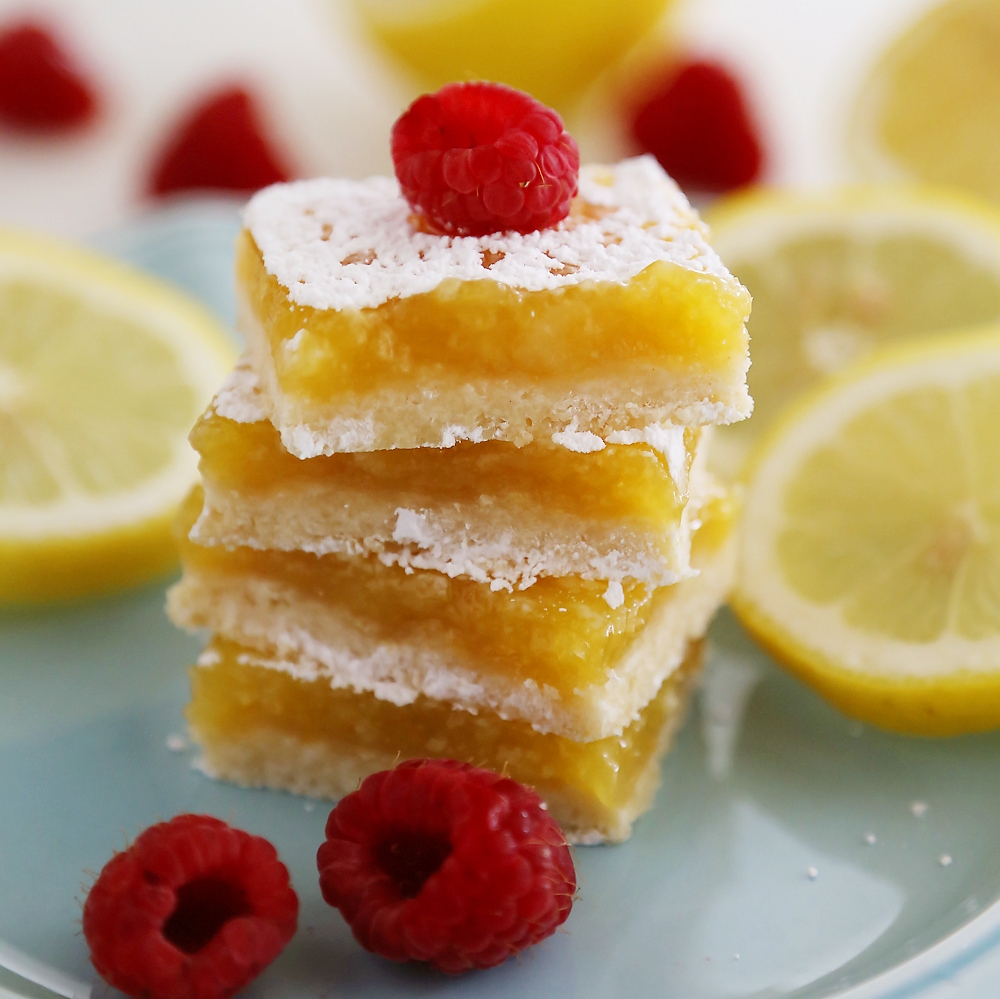 Best Ever Lemon Bars
Ingredients
2 cups lemon curd, homemade or store bought
1 stick (8 Tbsp.) unsalted butter, softened
1 heaping tablespoon powdered sugar
1 heaping tablespoons granulated sugar
1 cup all-purpose flour
For topping, optional:
Powdered sugar, sifted
Fresh berries, strawberries, raspberries, blueberries, etc.
Instructions
Preheat oven to 325 degrees F. Line a 9 x 9-inch baking pan with foil or parchment. Coat lightly with nonstick cooking spray; set aside.
In a large bowl, or in the bowl of an electric mixer fitted with the paddle attachment, beat butter and sugars until light and fluffy. With your fingers, or with the electric mixer, mix in flour until incorporated. If using the mixer, add flour in 2 parts.
Pat dough evenly into prepared pan. Bake for 30 minutes, or until edges are lightly browned and top is pale golden.
Remove shortbread from oven. Lower oven temperature to 300 degrees F. Pour lemon curd on top of shortbread, smooth out, and return to the oven for 30 minutes.
Cool completely in the pan on a wire rack. Refrigerate pan for 30 minutes to set curd completely before cutting into bars.
Once cool, using foil/parchment overhang, lift lemon shortbread from pan. Sprinkle with powdered sugar and cut into bars. Top with fresh berries, if desired.
Enjoy!