Everyone's favorite indulgence made skinny! Ooey gooey mozzarella sticks hot out of the oven = snacking heaven.
Baked mozzarella sticks are easy to make, loved by both adults and kiddos, and not entirely bad for you. At only 43 calories per bite, you can enjoy these cheesy sticks guilt-free and go for seconds… and thirds, and fourths!
In this excellent recipe inspired by Skinnytaste, frozen string cheese sticks are coated in flour, egg and a mixture of Italian breadcrumbs and panko. Pop 'em in the freezer so that the crumbs really stick and cheese keeps it shape… this is a must if you don't want a runny mess all over your oven!
Serve up these hot, delicious mozzarella sticks with a cup of marinara sauce or Ranch dressing for dunking. They're perfect for parties, Superbowl fans, and just for indulging any day of the week!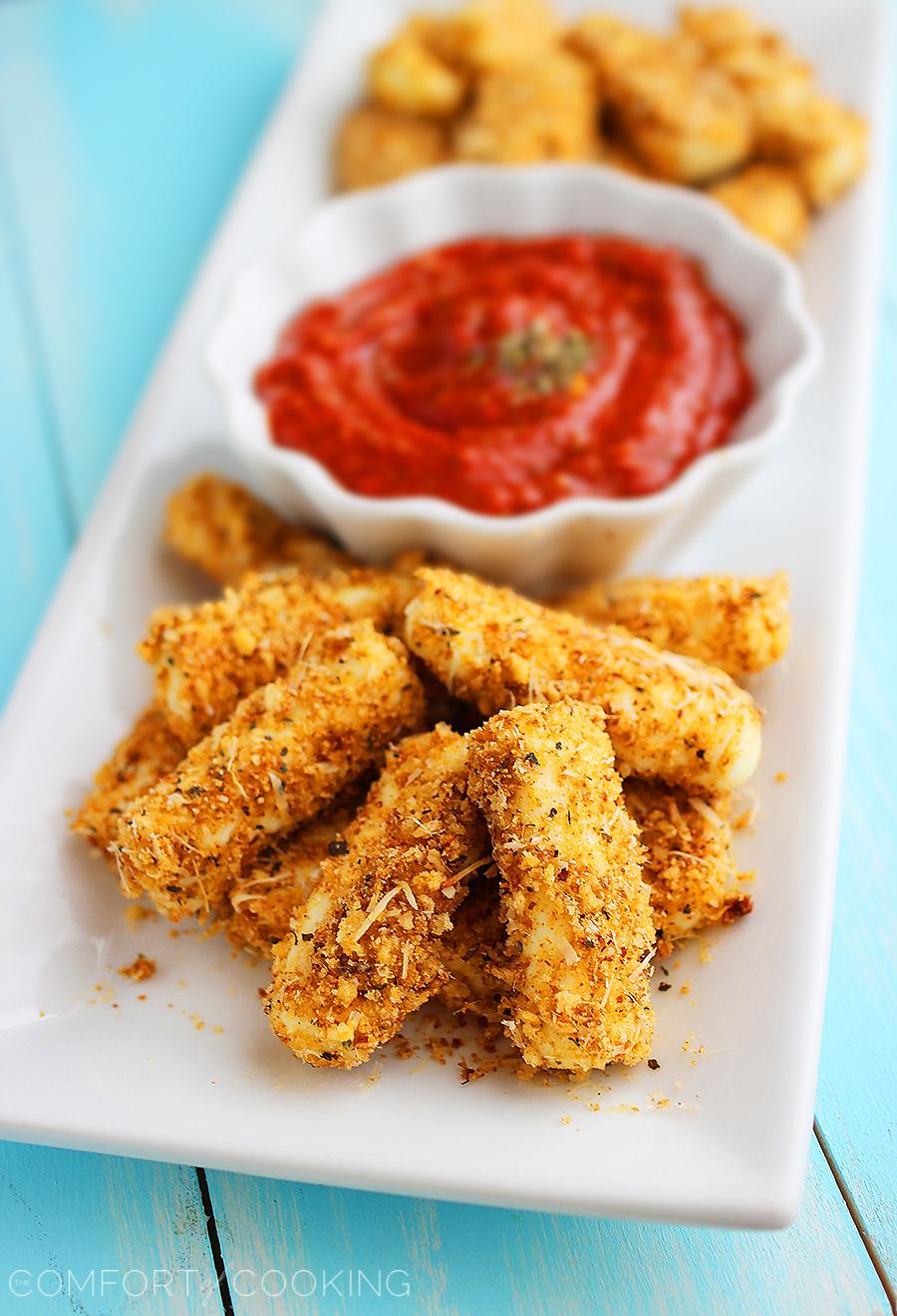 Skinny Baked Mozzarella Sticks
Yield:
24 pieces, 12 servings (2 sticks each)
Ingredients
12 sticks part-skim mozzarella string cheese
1 large egg
1/4 cup flour
1/4 cup Italian seasoned breadcrumbs
1/4 cup panko breadcrumbs
2 teaspoons parmesan cheese
1 Tablespoon dried parsley
Nonstick cooking spray
Marinara sauce and/or Ranch dressing, for serving
Instructions
Remove wrappers and cut cheese in half to give you 24 pieces. Freeze cheese until hard and frozen, about 30 minutes.
In three separate shallow dishes, place egg, flour and breadcrumbs, each in their own dish. Whisk egg. To breadcrumbs dish, add panko, parmesan and parsley.
Line a large baking sheet with aluminum foil and spray with nonstick cooking spray. Dip frozen cheese sticks in flour, shaking off excess, then into the egg, then coat with the crumbs. Repeat for each cheese stick, placing them on the lined baking sheet. Freeze on sheet at least 15 minutes, or until ready to bake (this is a must or they will melt before the crumbs get golden).
When ready to bake, preheat oven to 400 degrees F. Arrange oven rack in the bottom third of your oven.
Bake 4 to 5 minutes, turn sticks over, and bake an additional 4-5 minutes, watching sticks closely so they don't melt. Serve hot with marinara sauce or Ranch dressing for dipping.
Enjoy!