Hello, beautiful and super easy chocolate brownie dessert! Just 3 ingredients and a whole lotta love. Bake it for your next reason to celebrate (or Netflix marathon), and fancy it up with your favorite frosting and berries!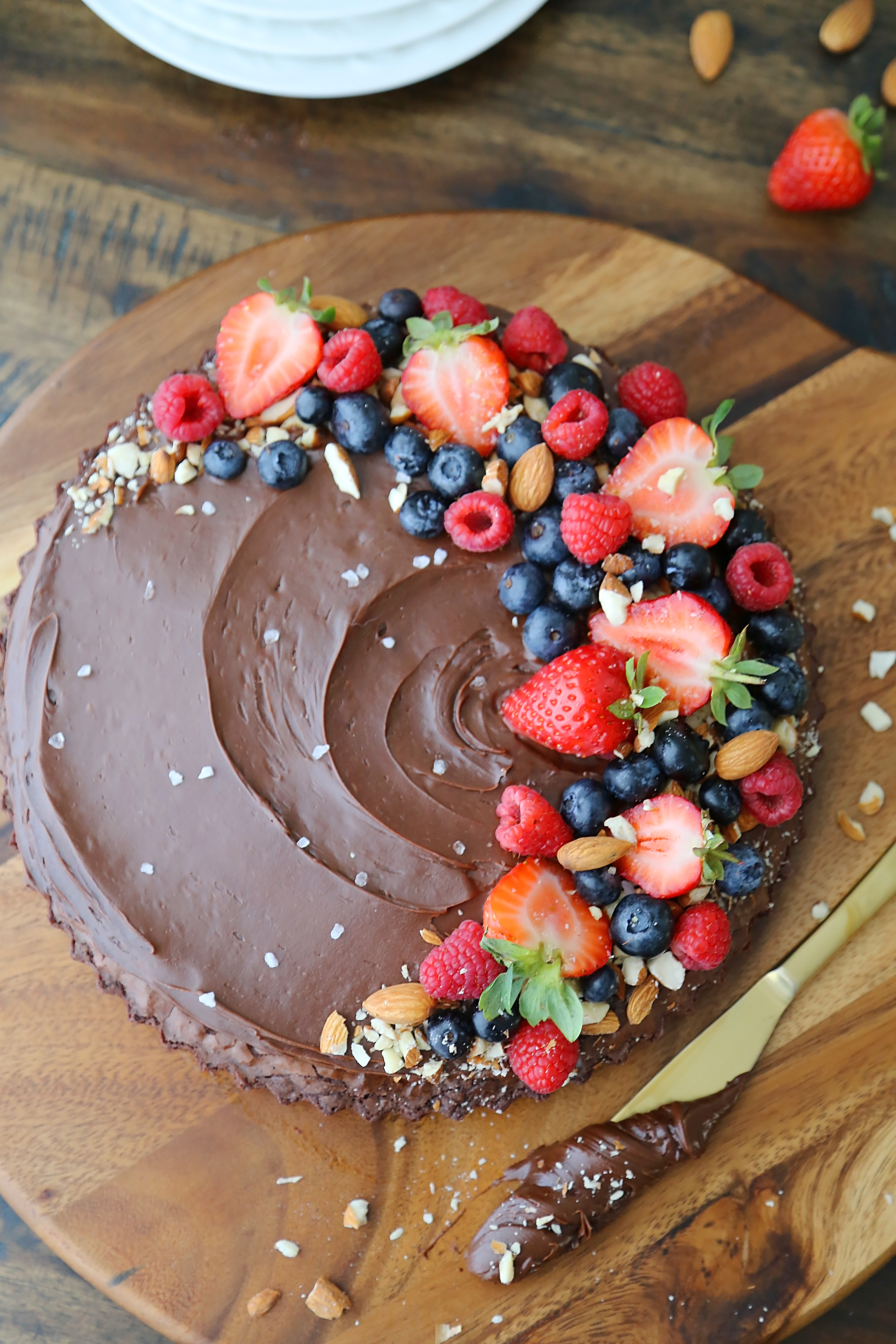 Anyone care for a slice of heaven?
Say hello to our favorite quick and easy dessert when the chocolate craving hits hard. I love elegant tarts like these, but have never claimed to be any kind of expert at baking. So, I like to keep the last course easy and create beautiful, colorful creations with limited ingredients. Consider it the sweet finish and a little edible art for the end of the day.
With a simple brownie base, a swipe of frosting and sprinkle of sea salt, this tart is already drool-worthy! Add a handful of fresh spring berries and chopped almonds, if you wish, to really up the wow factor and richness of this ridiculously easy dessert.
This gorgeous tart is worthy of any occasion and celebration, so save it in your must-try recipes to indulge the chocolate lovers in your life!
Craving more easy, elegant and delicious tarts, without the chocolate? Try my Summer Berry Tart or Creamy Peach and Honey Tart!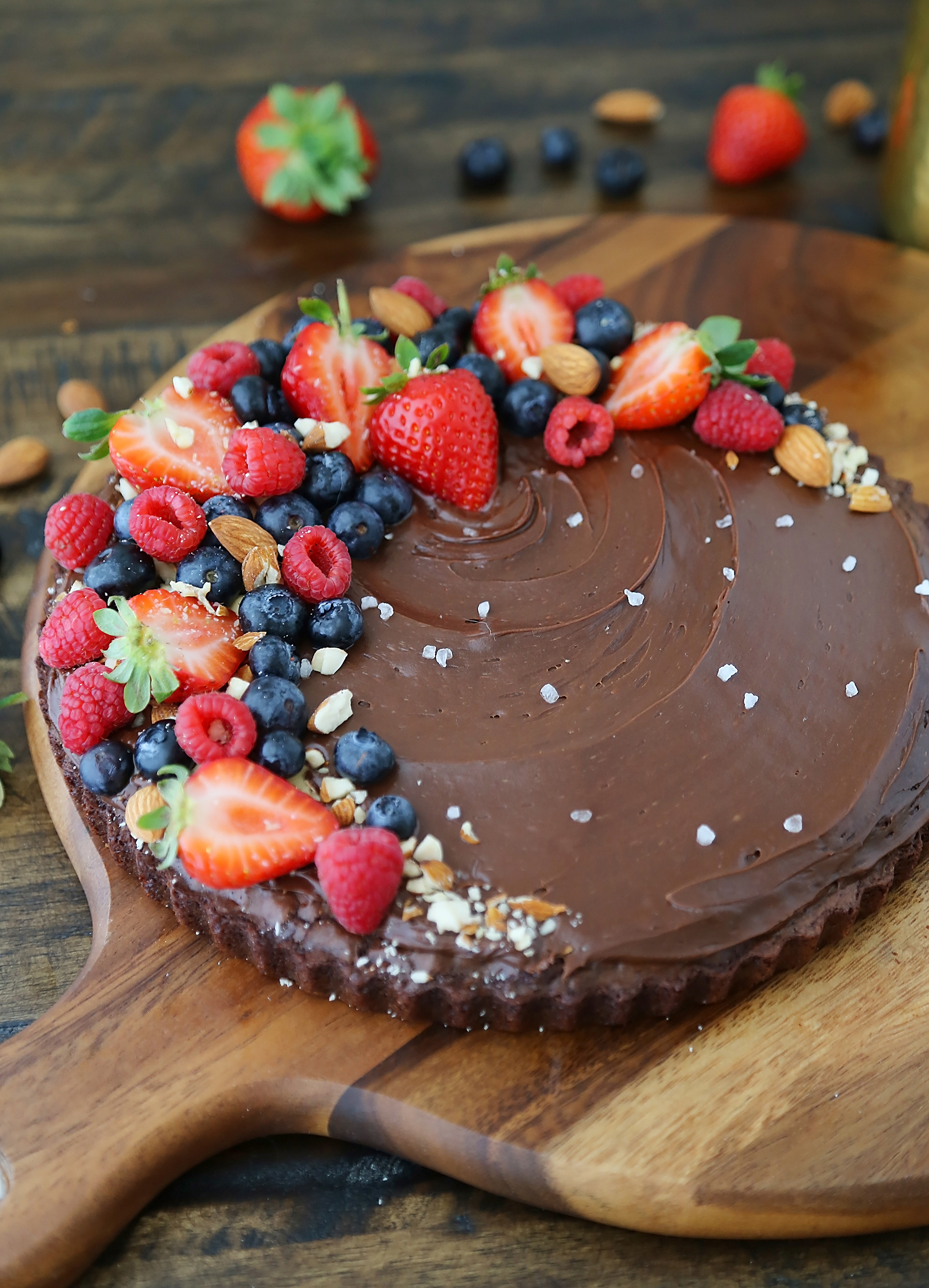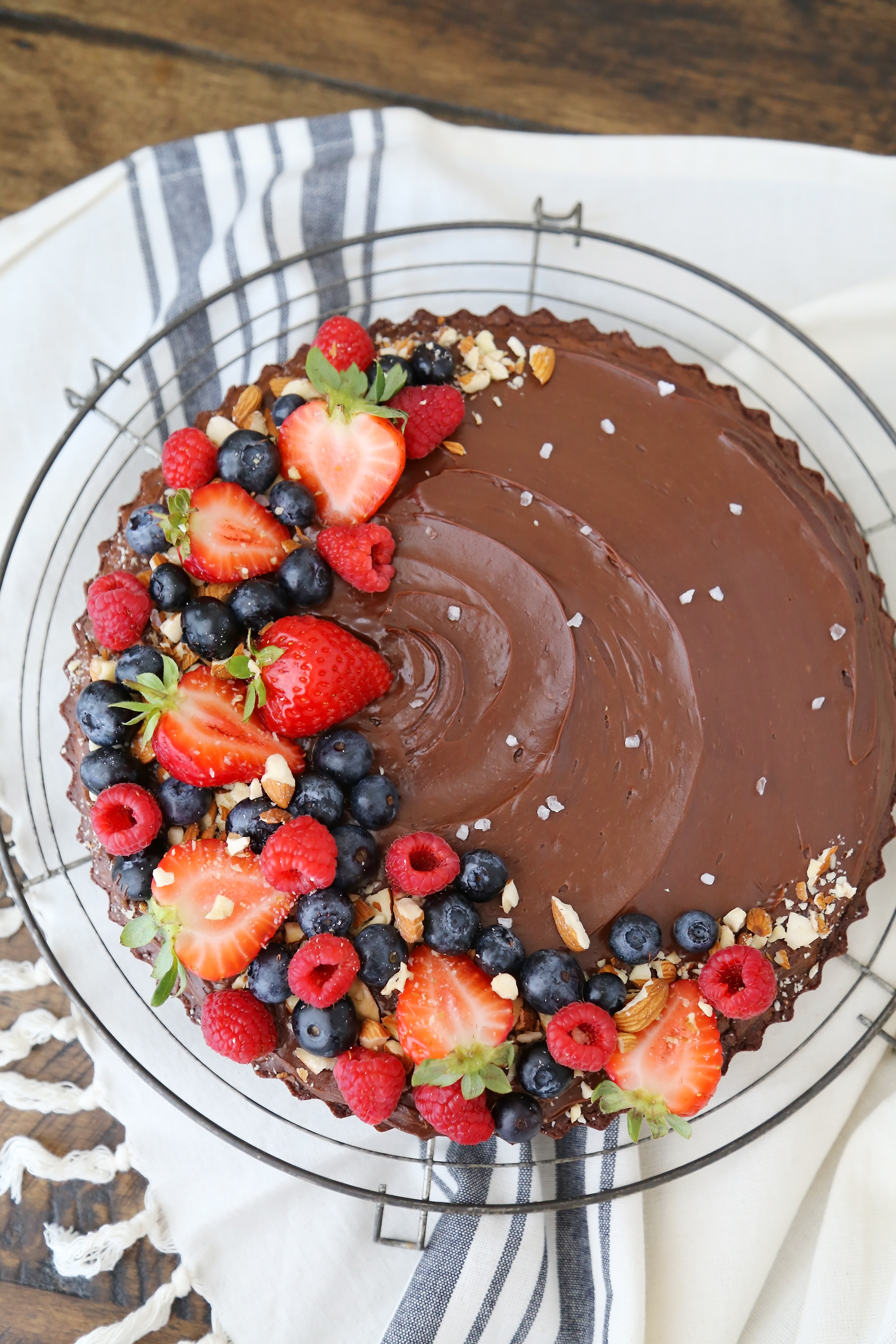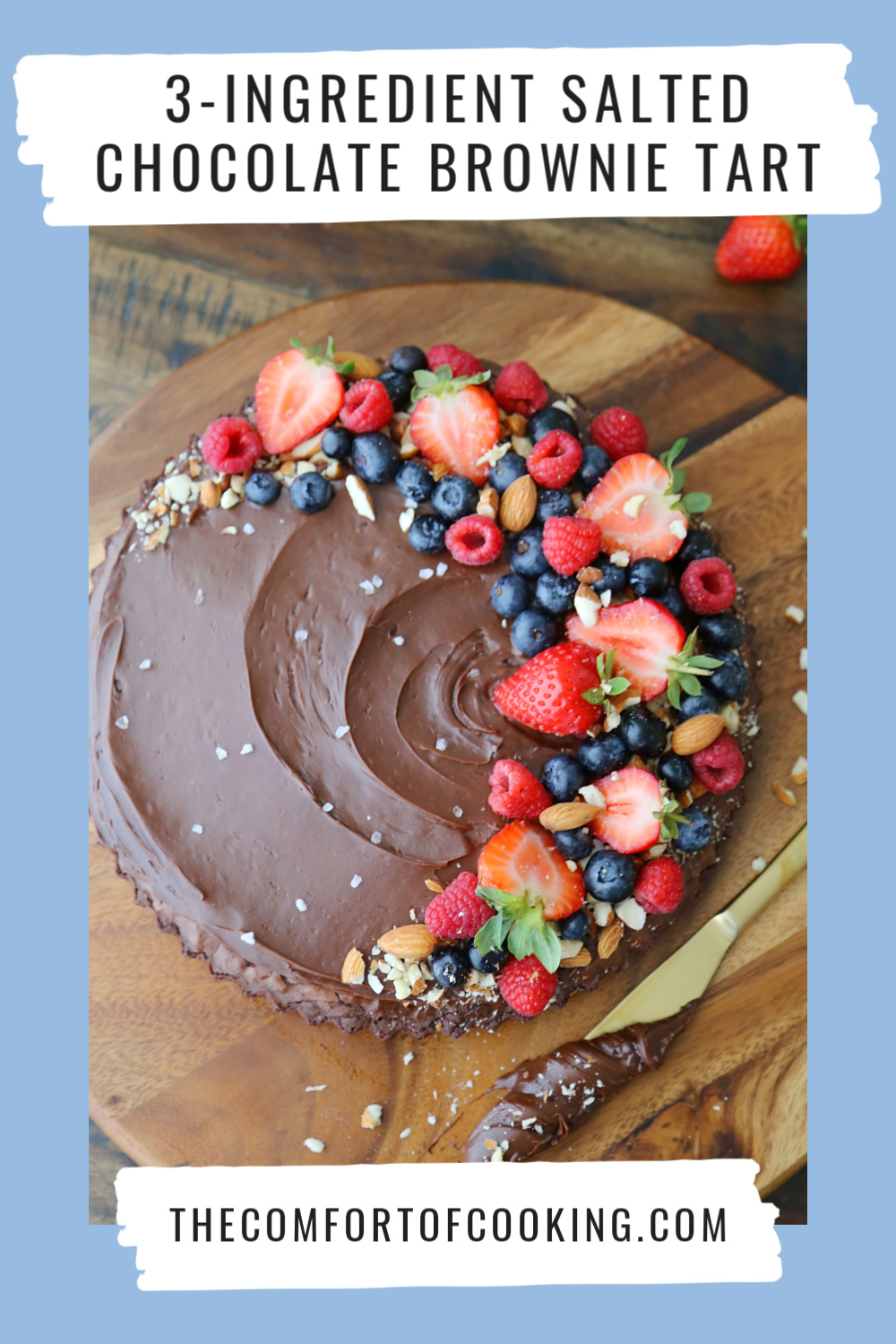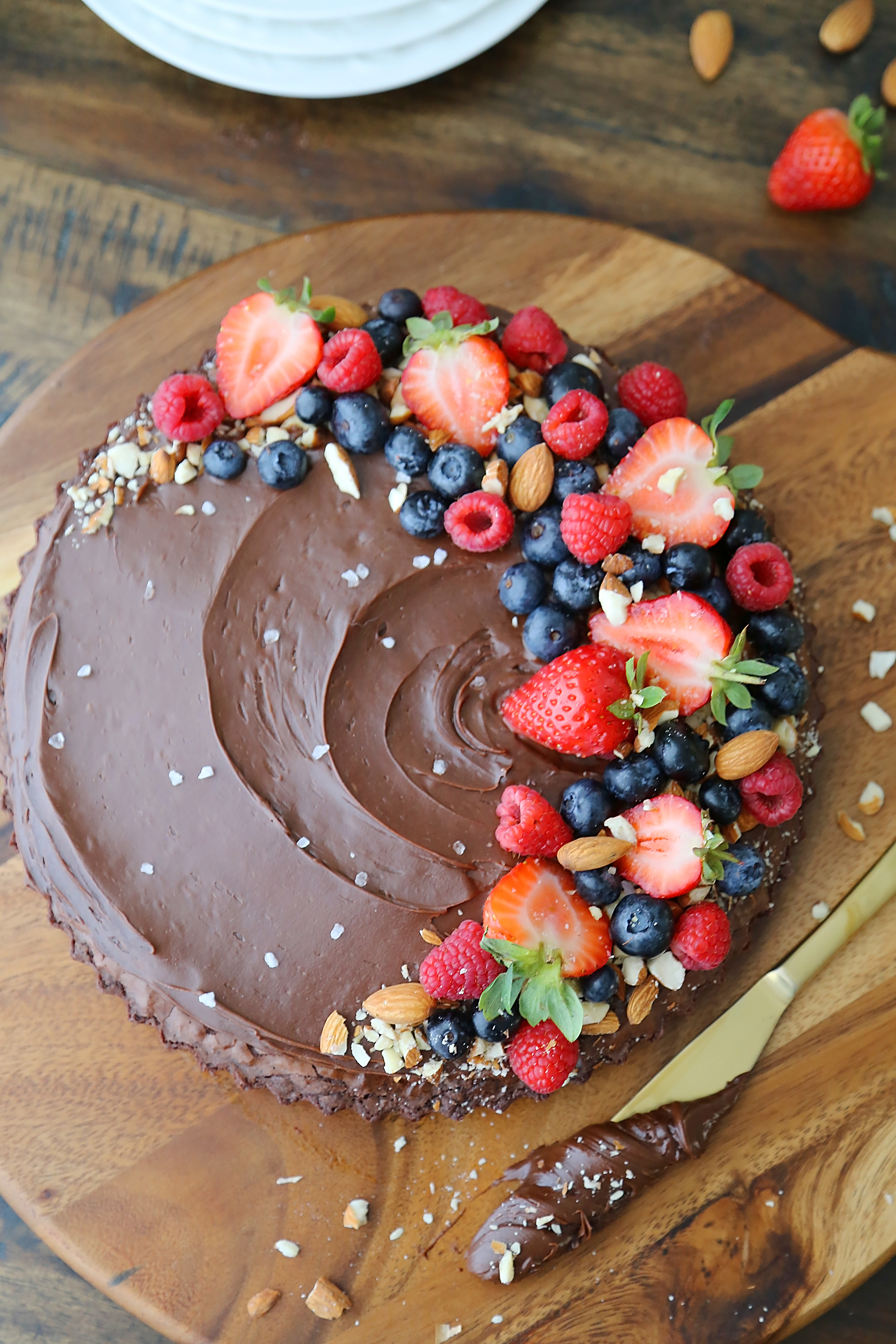 4-Ingredient Salted Chocolate Brownie Fruit Tart
Ingredients
For the tart:
1 pouch brownie mix, 20 oz.
1/4 cup canola oil
2 large eggs
For topping:
1 16 oz. container dark chocolate frosting
1/2 teaspoon sea salt or kosher salt
Optional garnishes:
Fresh strawberries, halved
Fresh raspberries, blueberries and/or blackberries
Coarsley chopped nuts, your choice (I used almonds)
Instructions
Preheat oven to 325 degrees F.
Combine all ingredients for the tart in a large bowl and whisk to combine. Spread brownie batter into a greased 9-inch cake pan or tart pan.
Bake for 30 minutes. Cool completely on a wire rack.
Spread top of brownie with chocolate frosting, just to the edge of the tart. Sprinkle with sea salt and top with desired garnishes.
Store refrigerated until ready to serve.
Enjoy!