Whenever I used to see a recipe for cinnamon rolls, I would look at it with longing and envy. Longing because, well, who does love a piping hot pan of fresh cinnamon rolls staring at them from behind the computer screen (or better yet, on a table in front of them). And envy because, the recipe I was looking at meant that someone, somewhere successfully made something that I didn't think I could.
Well, hallelujah, rejoice, and dig in because dangonnit, I've done it! I've made my first-ever ooey, gooey, fluffy, soft, ridiculously delicious cinnamon rolls. And they're pumpkin spiced and taste like fall and will make you want to snuggle up by a fire with a newspaper and coffee. Mmm, don't you love this season?
I had a lot of fun making these cinnamon rolls and watching a simple combination of ingredients turn into a dough, then little rising rolls nestling a mixture of butter, brown sugar and cinnamon. And then, finally, glorious spirals of beautiful, freshly baked goodness slathered with a maple cream cheese glaze and waiting to be torn into for breakfast with friends…
There's no stand mixer or fancy equipment required for this recipe, just your hands, some time and a little patience. For a first effort, I considered this recipe very simple for the good lookin' and scrumptious cinnamon rolls that resulted, and I know that you'll agree, too. The subtle pumpkin flavor combined with the spiced mixture of cinnamon, nutmeg and brown sugar is heaven on earth, and topped with a quick and easy maple cream cheese glaze, these rolls make for one lovely way to liven up your morning!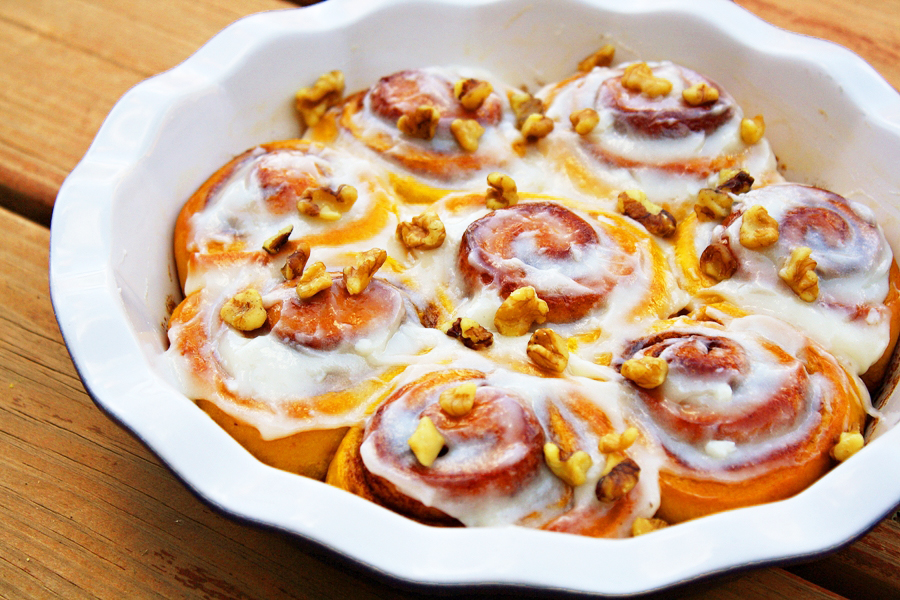 Pumpkin Cinnamon Rolls
Ingredients
Pumpkin Cinnamon Rolls
1/3 cup milk
2 tablespoons butter
1/2 cup canned pumpkin or 1/2 cup mashed cooked pumpkin
2 tablespoons sugar
1/2 teaspoon salt
1 egg, beaten
1 1/4 ounce package dry yeast
1 cup unbleached all-purpose flour
1 cup bread flour
1/3 cup brown sugar, packed
1 1/2 teaspoons ground cinnamon
2 tablespoons melted butter
Maple Cream Cheese Glaze
2 ounces cream cheese, room temperature
1/2 cup powdered sugar
2 tablespoons unsalted butter, room temperature
1/2 teaspoon vanilla extract
1/4 teaspoon pure maple syrup
Instructions
Pumpkin Cinnamon Rolls
In small saucepan, heat milk and 2 tablespoons butter just until warm (120-130 degrees) and butter is almost melted, stirring constantly.
In large mixing bowl, combine pumpkin, sugar and salt. Add milk mixture and beat with electric mixer until well mixed. Beat in egg and yeast.
In a separate mixing bowl, combine flours. Add half of flour mixture to pumpkin mixture. Beat mixture on low speed 5 minutes, scraping sides of bowl frequently. Add remaining flour and mix thoroughly (dough will be very sticky). Turn into lightly greased bowl, then grease surface of dough lightly.
Cover and let rise in warm place until doubled, about 1 hour. Punch dough down. Turn onto floured surface. Knead a few turns to form a smooth dough, sprinkling with enough additional flour to make dough easy to handle. On lightly floured surface, roll dough into 12x10 inch rectangle.
In small bowl, combine brown sugar and cinnamon. Brush surface of dough with melted butter. Sprinkle with brown sugar mixture. Beginning with long side of dough, roll up jellyroll style. Pinch seam to seal. With sharp knife, cut roll into 12 1- inch slices. Place rolls, cut side up, in greased 9 inch round or square baking pan (If using round, there will be a few extra rolls which you can simply place into another small pan). Cover and let rise until nearly doubled, 30 to 45 minutes.
Bake rolls at 350 degrees about 20 minutes or until golden. Using tongs, gently remove rolls from pan to wire rack. Cool 10 to 15 minutes. Drizzle with Maple Cream Cheese Glaze (recipe below) and serve warm.
Maple Cream Cheese Glaze
Combine cream cheese, powdered sugar, butter, vanilla and maple syrup in medium bowl. Whisk until smooth. Spread glaze on rolls. Serve warm or at room temperature.