Sweet, juicy roasted tomatoes are the most versatile summer veggie! Stir them into pasta or rice, serve on crostini, mix into a frittata, use as a pizza topping, spread on sandwiches, purée into a sauce, or store refrigerated up to one week. Endless possibilities and one perfect-every-time recipe you need (below)!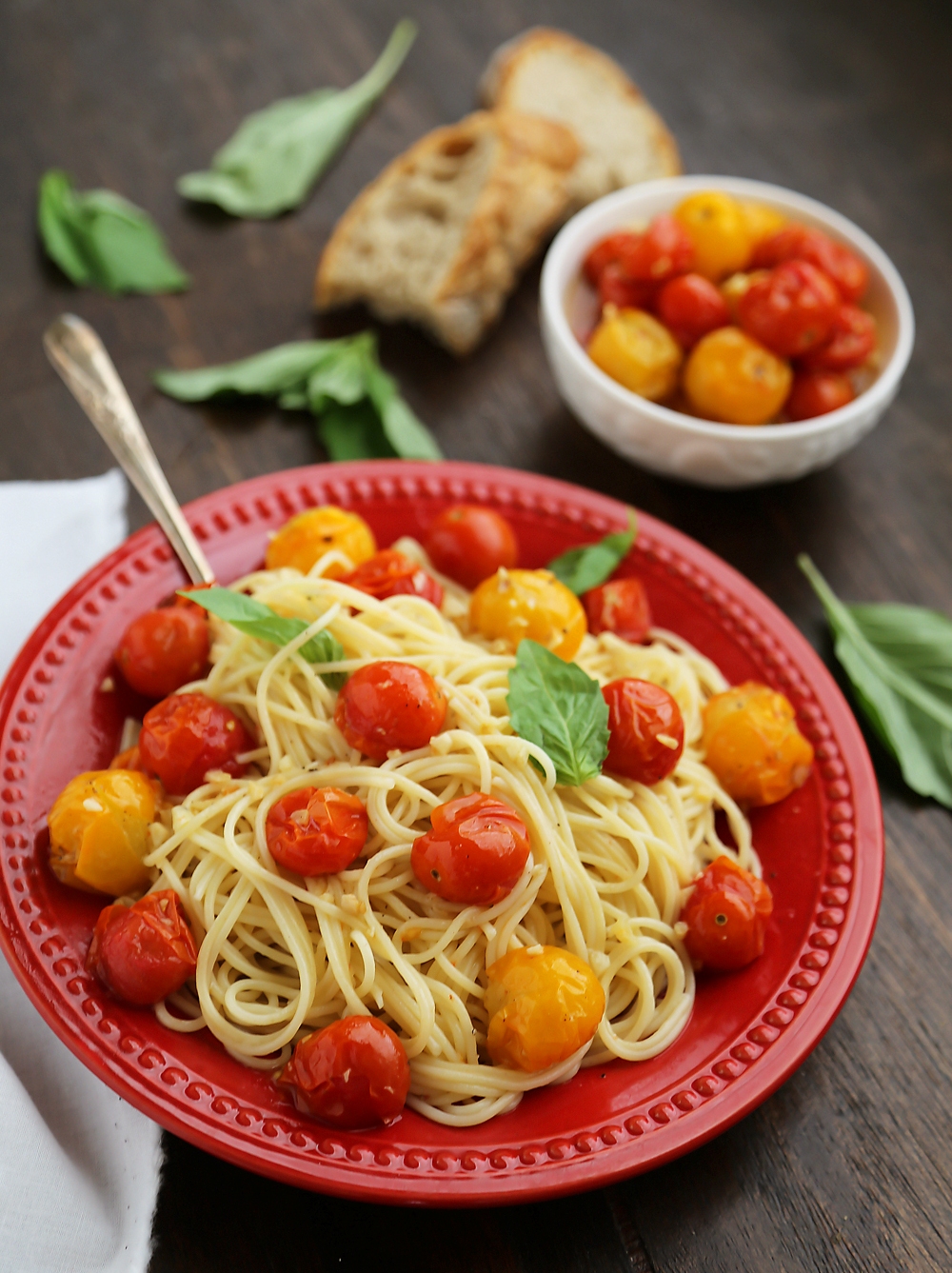 If there's one vegetable recipe, I cannot get enough of in the summer, it's juicy, ripe cherry tomatoes roasted 'til they blister and burst. Those red, orange, yellow, and purplish hues draw me in every time… especially when you can still smell the freshness of the vine they grew on! Roasted with olive oil, vinegar and garlic, they taste like sweet edible jewels. So delectable they're almost candy-like, but better.
Roasted tomatoes are incredibly versatile, too! Top toasted crostini with your roasted tomatoes, mix them into frittatas, or use as a pizza topping, or sandwich spread. You can even cover and refrigerate them in a glass jar, and they will keep for up to one week. I doubt you will have difficulty finding a way to use them before then!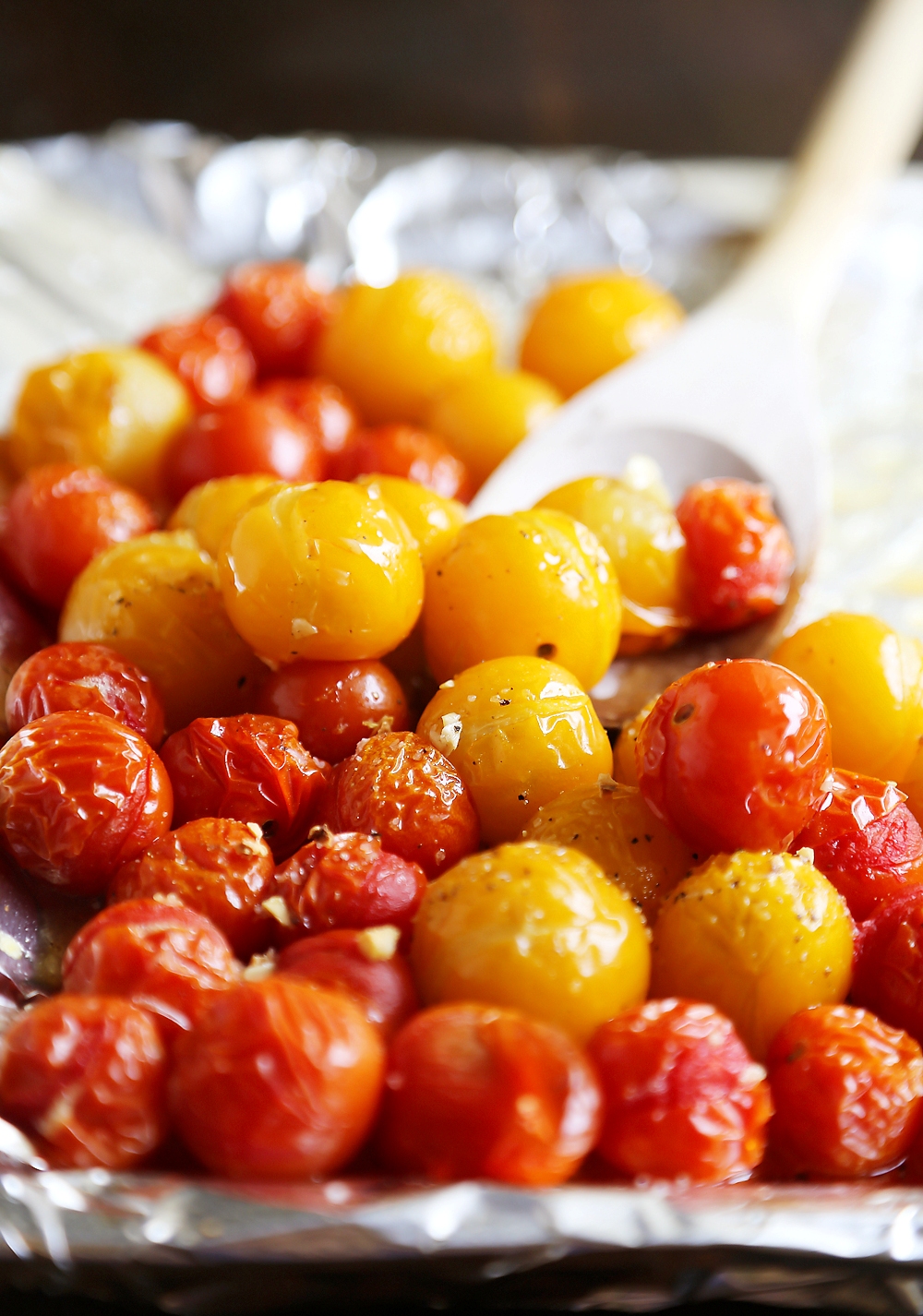 The steps to your own garlic roasted cherry tomatoes couldn't be more simple. Grab several pints of the most scrumptious looking cherry tomatoes you can find, and pop them on a baking sheet. Sprinkle with freshly minced garlic. The more the merrier in my house, but three cloves will do. Pour over a quarter cup of good olive oil and a couple tablespoons of balsamic vinegar. Balsamic really brings out the tang and sweetness of the tomatoes!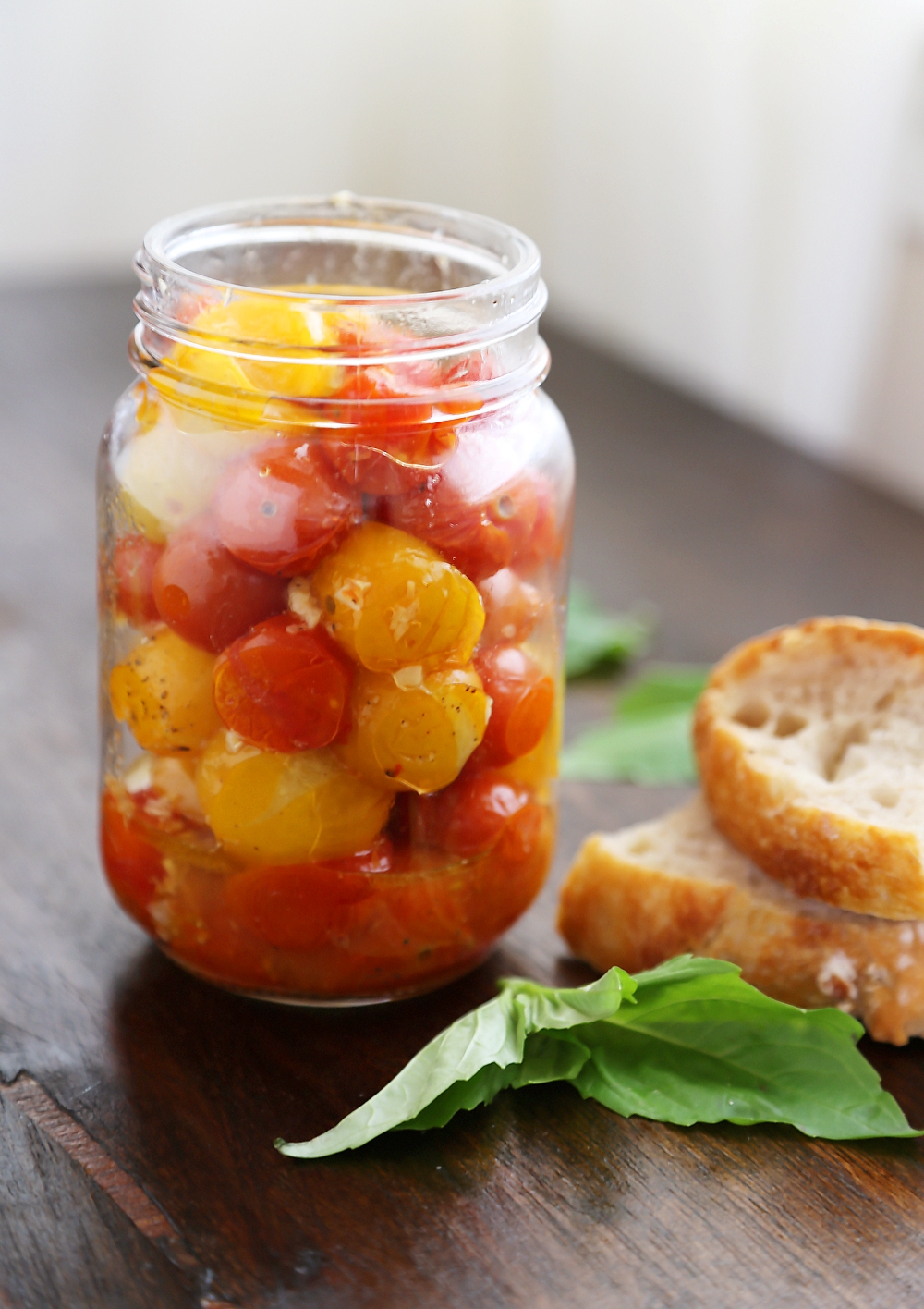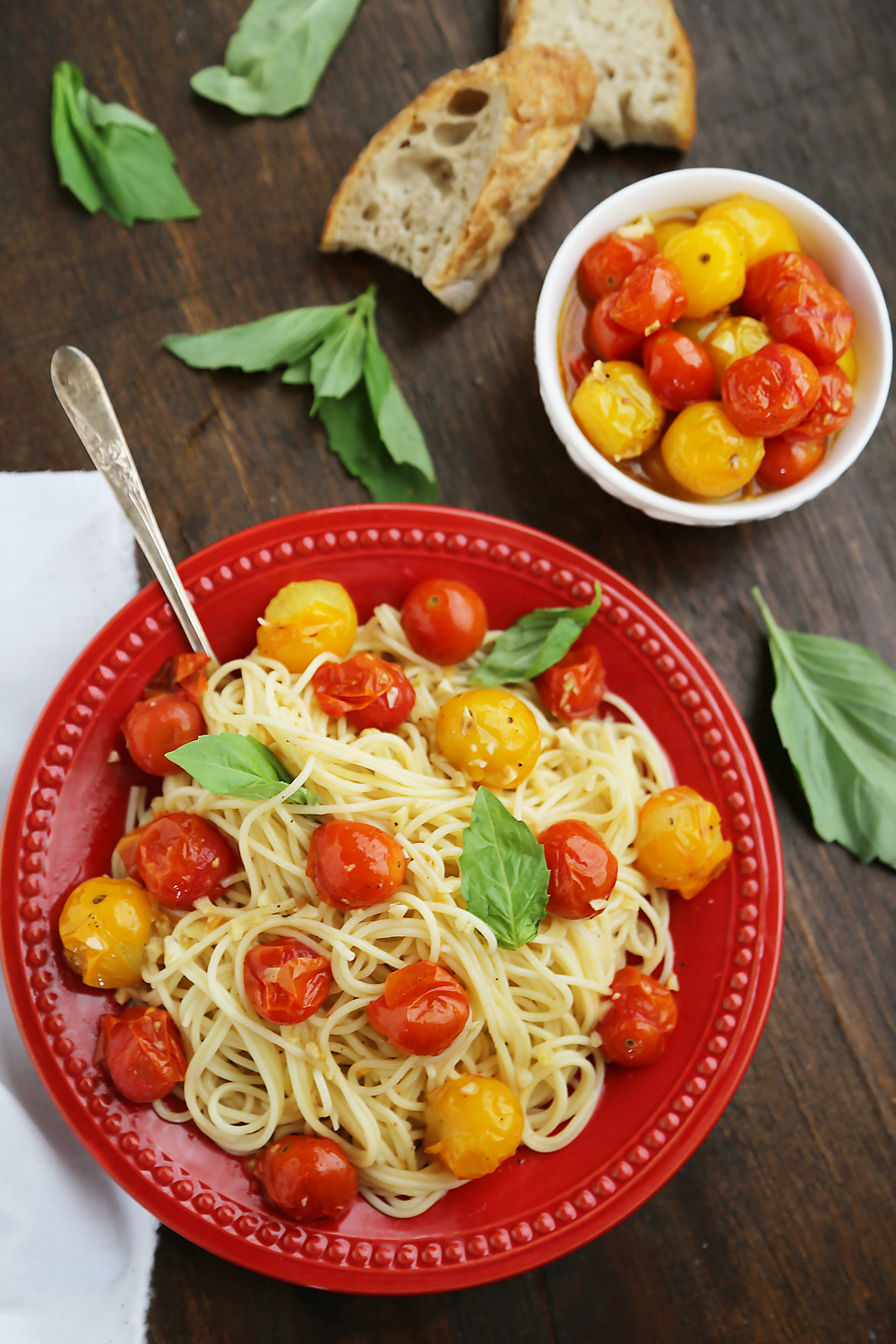 Once your tomatoes have roasted for 15-20 minutes, they are ready for any number of uses! I like to spread them on crostini and sandwiches, mix into frittatas for a lazy weekend brunch, and stir into warm pasta with a sprinkle of Parmesan and fresh basil. You simply cannot go wrong with blistered, sweet roasted cherry tomatoes – they're bursting with natural flavor and versatility!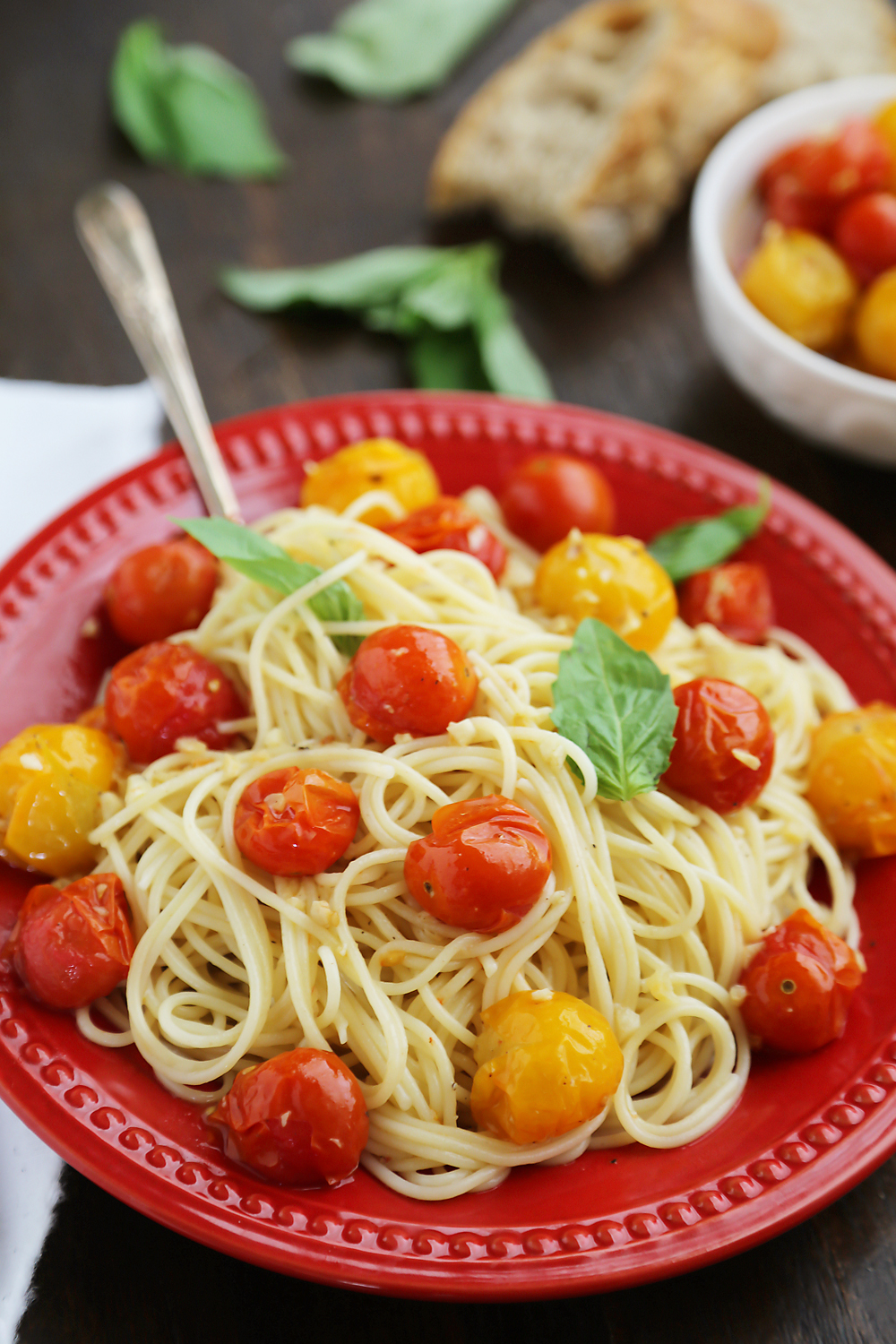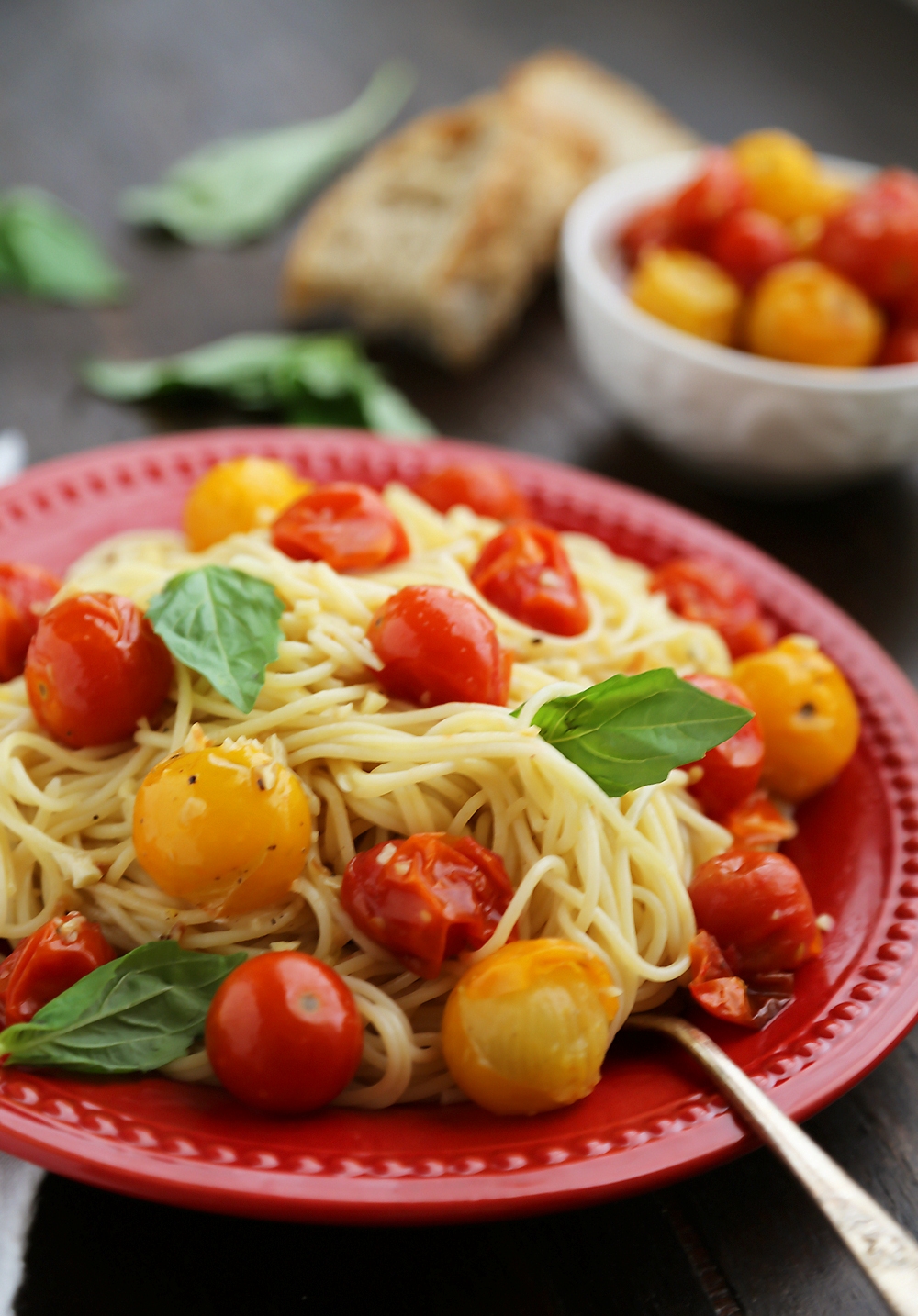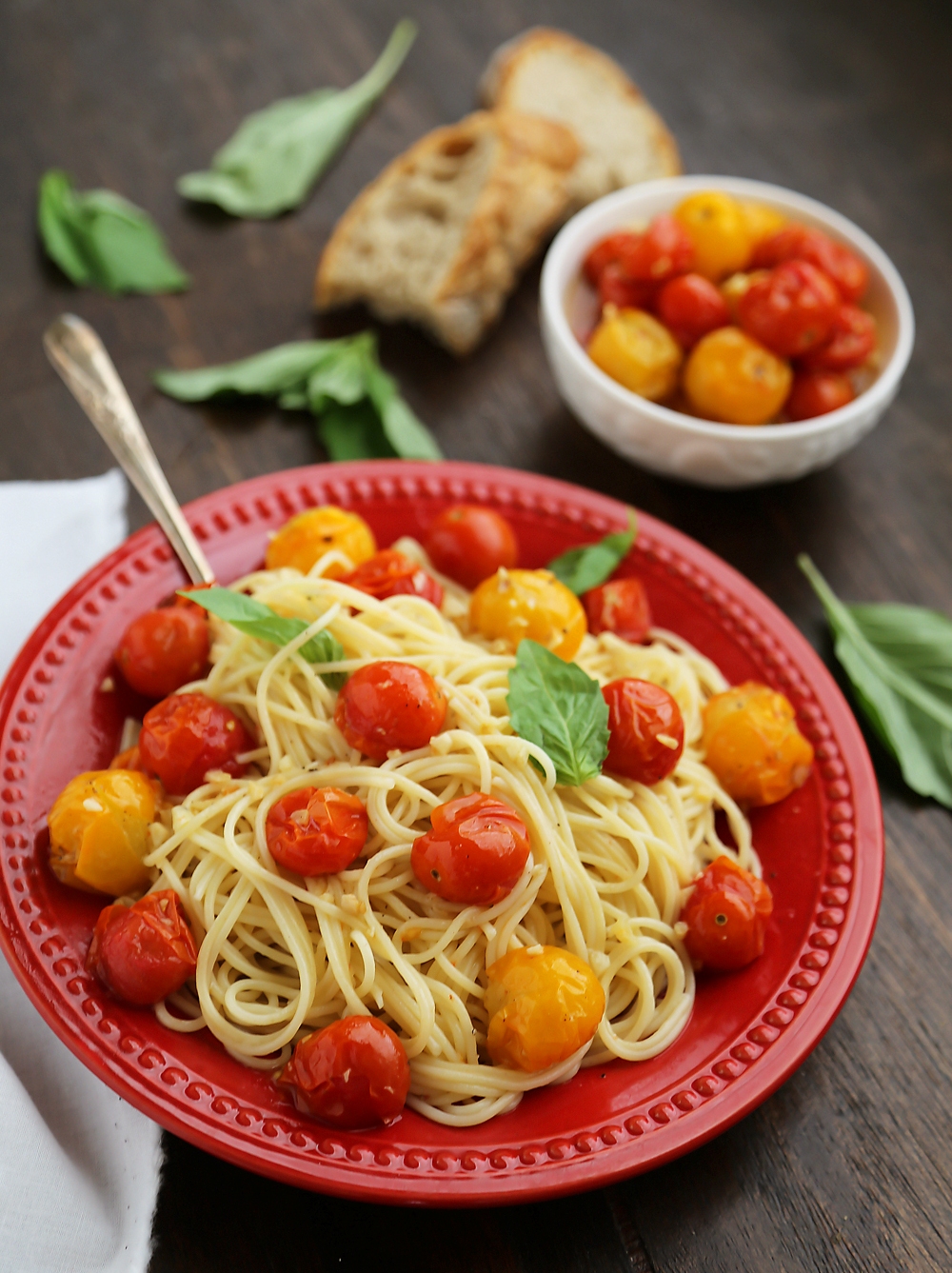 Garlic Roasted Cherry Tomatoes
Ingredients
For the Garlic-Roasted Cherry Tomatoes:
4 pints cherry or grape tomatoes
4 garlic cloves, minced
1/4 cup extra virgin olive oil
2 Tablespoons balsamic vinegar
1/2 teaspoon kosher salt
1/4 teaspoon freshly ground black pepper
20 fresh basil leaves, chopped
4 medium-sized resealable glass jars
For the Tomato-Basil Pasta:
2 cups dry pasta, your favorite
3 cups Garlic Roasted Cherry Tomatoes
1/2 cup grated Parmesan cheese
4-5 fresh basil leaves
Instructions
For the Garlic-Roasted Cherry Tomatoes:
Preheat the oven to 400 degrees F. On a large baking sheet lined with parchment paper, add tomatoes and minced garlic. Drizzle over olive oil and vinegar, and toss until evenly coated. Sprinkle generously with salt and pepper. Roast for 15 to 20 minutes, until tomatoes are soft. Let cool to room temperature, then sprinkle with fresh basil. Transfer to resealable glass jars, cover and refrigerate up to 2 weeks.
For the Tomato-Basil Pasta:
Set a medium pot of hot water to boil. Cook pasta according to package directions. Drain well, return to pot and toss with Garlic Roasted Cherry Tomatoes. Set pot to medium-low heat to warm through. Once warm, serve pasta on individual plates. Top with Parmesan cheese and basil leaves.
Enjoy!