This warm, comforting dish is easily made for a delicious stovetop dinner. Gather your ingredients and your family for this simple spiced Cajun stew with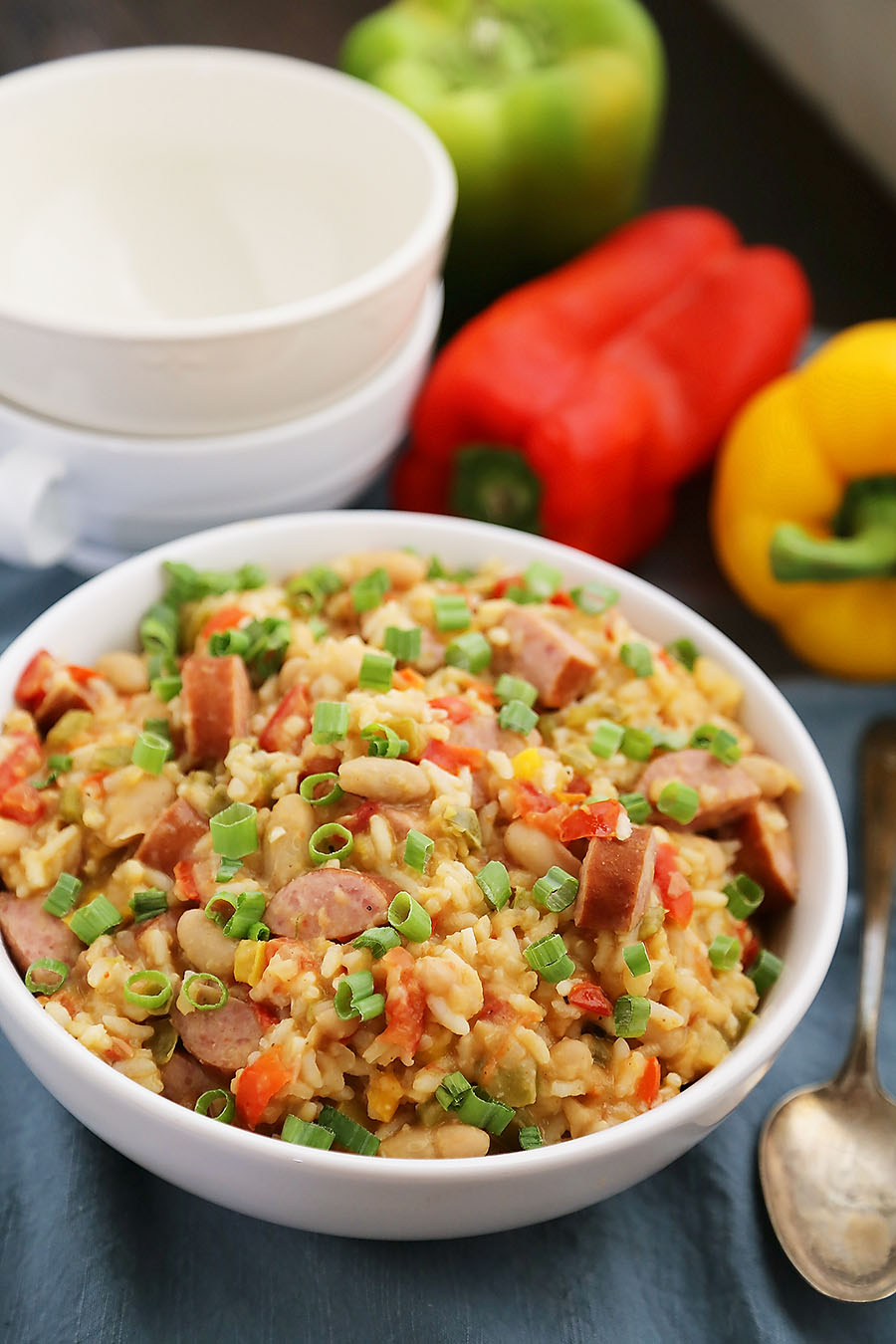 With the soaring summer temperatures in Texas, the last thing on my mind has been turning up my toasty oven. However, a girl still needs to eat! So, even though my guy and I have been busy traveling and moving, we recently found the time to create this scrumptious Cajun-Italian mash up dish on the stovetop. It is easily made with smoked sausage (or andouille), bell peppers, onions, garlic, tomatoes, white beans and UNCLE BEN'S® Boil-In-Bag Long Grain Rice. These quick and easy rice packets have been a longtime favorite of mine for simple side dishes and additions to casseroles, soups, and stews like this! It always cooks so fluffy and tender, and only takes 10 minutes to prepare on your stovetop.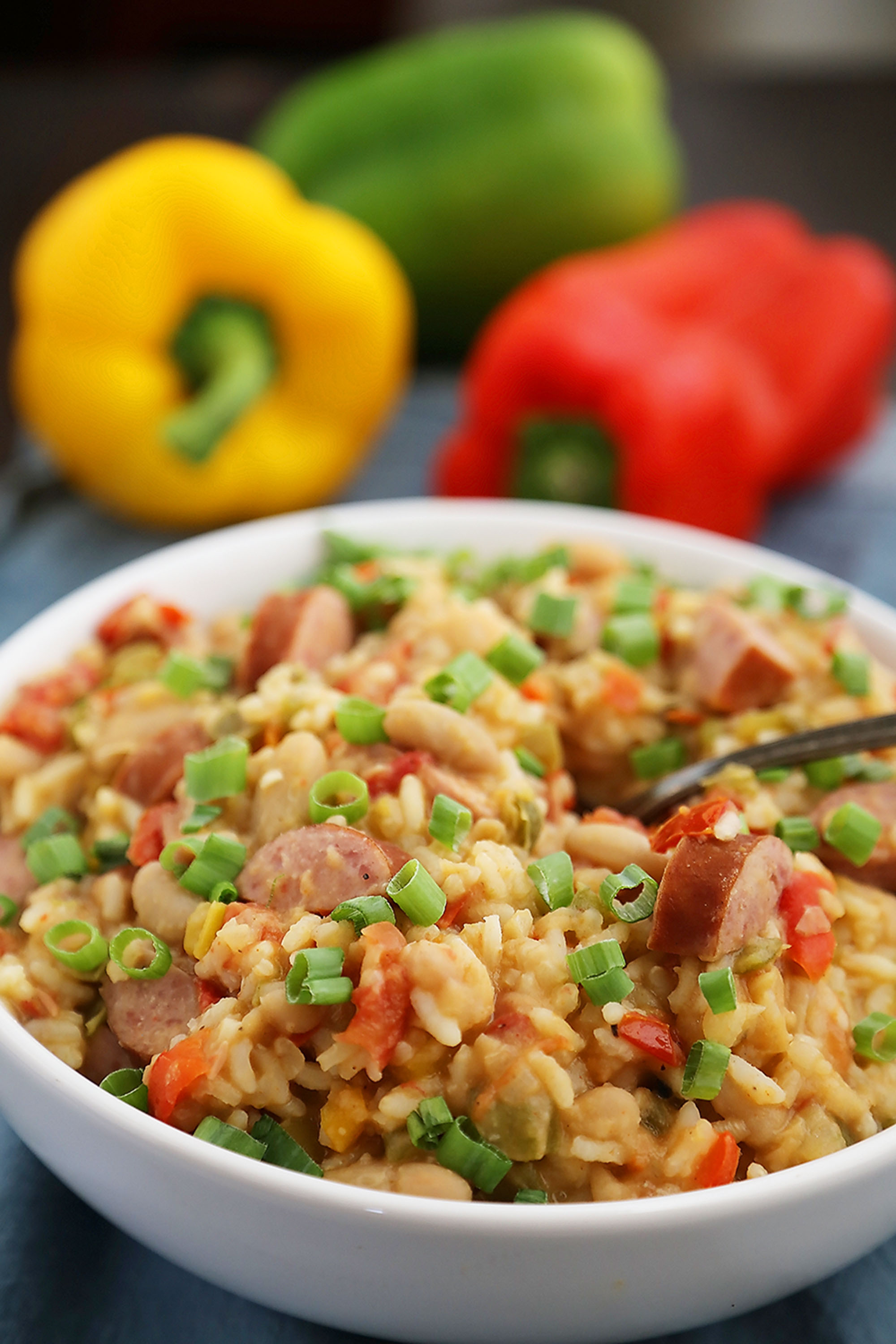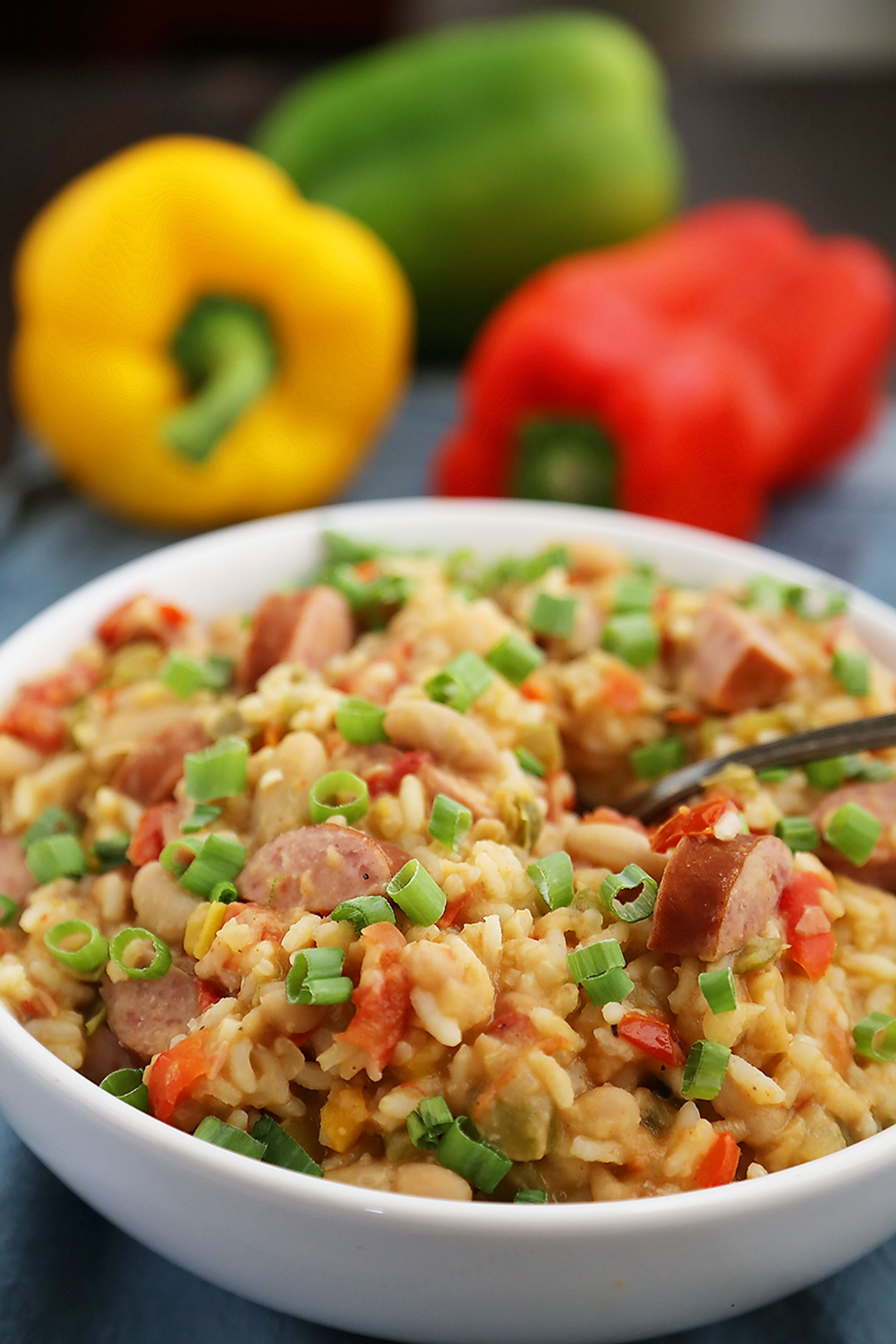 This dish was originally just a let's-see-what-we-have kind of dinner. Cleaning out the cabinets is the name of the game when you're moving, after all! As it turns out, I had my favorite fresh veggies on hand, as well as some pantry staples like rice and beans, that made for a hearty yet healthy weeknight meal in just 30 minutes. With his Cajun cooking background and my Italian passion for cannellini beans and fresh summer tomatoes, it was a hit all around the table… even with my picky two-year-old daughter!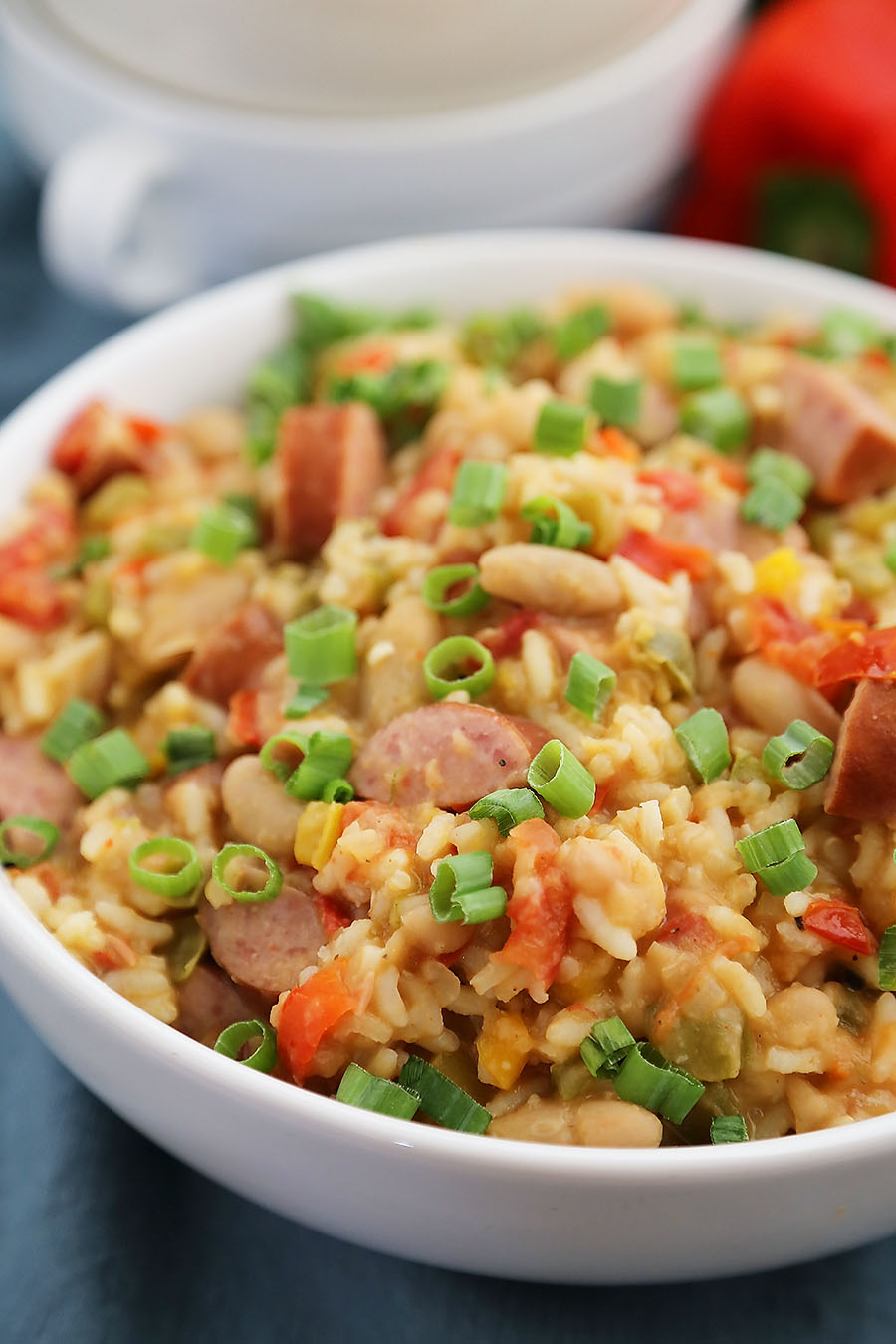 Ready to cook up your own sausage and white bean stew? The steps are simple! Even kiddos can join in on the fun by helping wash vegetables, stirring and seasoning. I feel like this encourages them to enjoy their homemade dinner and try new tastes, too!
Just bring a small pot of water to a boil, and add one rice packet. Cook uncovered for about 8 minutes, and in the meantime, get your veggies sizzling on the stovetop. Pour some olive oil into a big, heavy-bottomed pot. Once it's hot, add your onions, garlic and bell peppers, and let them sizzle until softened. Then add your sausage slices, cooking until warmed through, following by your chopped tomatoes and white beans. Cover your pot and let the mixture simmer for at least 20 minutes, stirring occasionally. If you'd like a thinner, soup-like texture, stir in some warm water or chicken broth (a little at a time) until you reach your desired consistency. If you think you added too much, no worries, just let it simmer for a bit longer until more of the liquid has evaporated. Your result will be scrumptious nonetheless… there really is no going wrong with this hearty, satisfying sausage stew!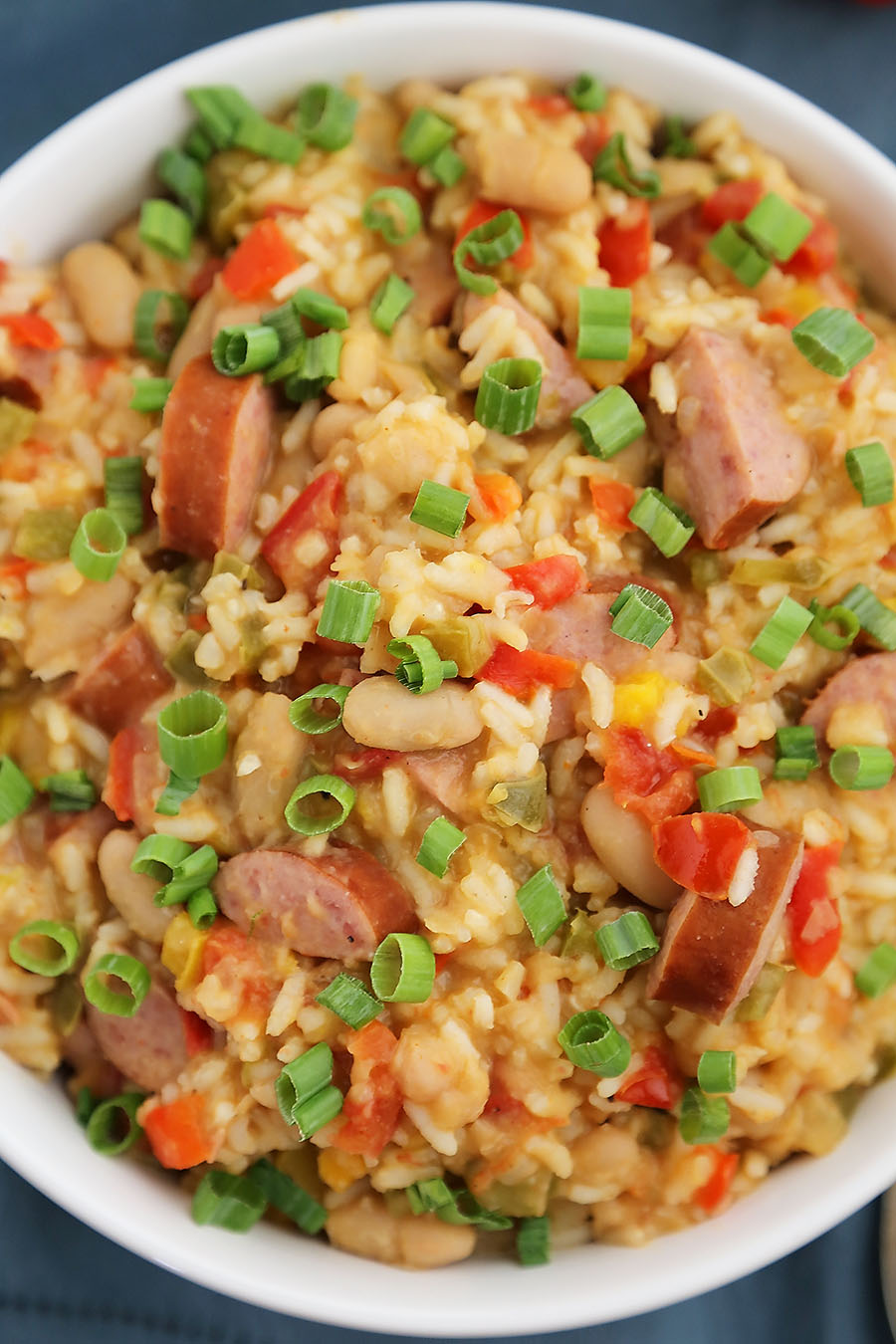 Now, for something really exciting!
In collaboration with the UNCLE BEN'S® Brand, I am encouraging parents and kids to cook together. Our shared philosophy is that families that eat and cook together have children who make smarter meal choices! For this reason, the UNCLE BEN'S® Brand is hosting the fifth annual Ben's Beginners™ Cooking Contest to help motivate children's interest in cooking. Ben's Beginners™ provides a platform for parents to connect with their children one meal at a time, and makes cooking an enjoyable activity for every member of the family. To help families get meals to the dinner table quickly, UNCLE BEN'S® READY RICE® offers a wide variety of white, whole grain brown, specialty and flavored rice products that cook in just 90 seconds.
To enter the Ben's Beginners™ Cooking Contest, parents with children in kindergarten through eighth grade can submit photos of their families' preparing a rice-based meal together. More information about Ben's Beginners™ is located at unclebens.com.
Follow UNCLE BEN'S® on Facebook, Twitter, Pinterest and YouTube.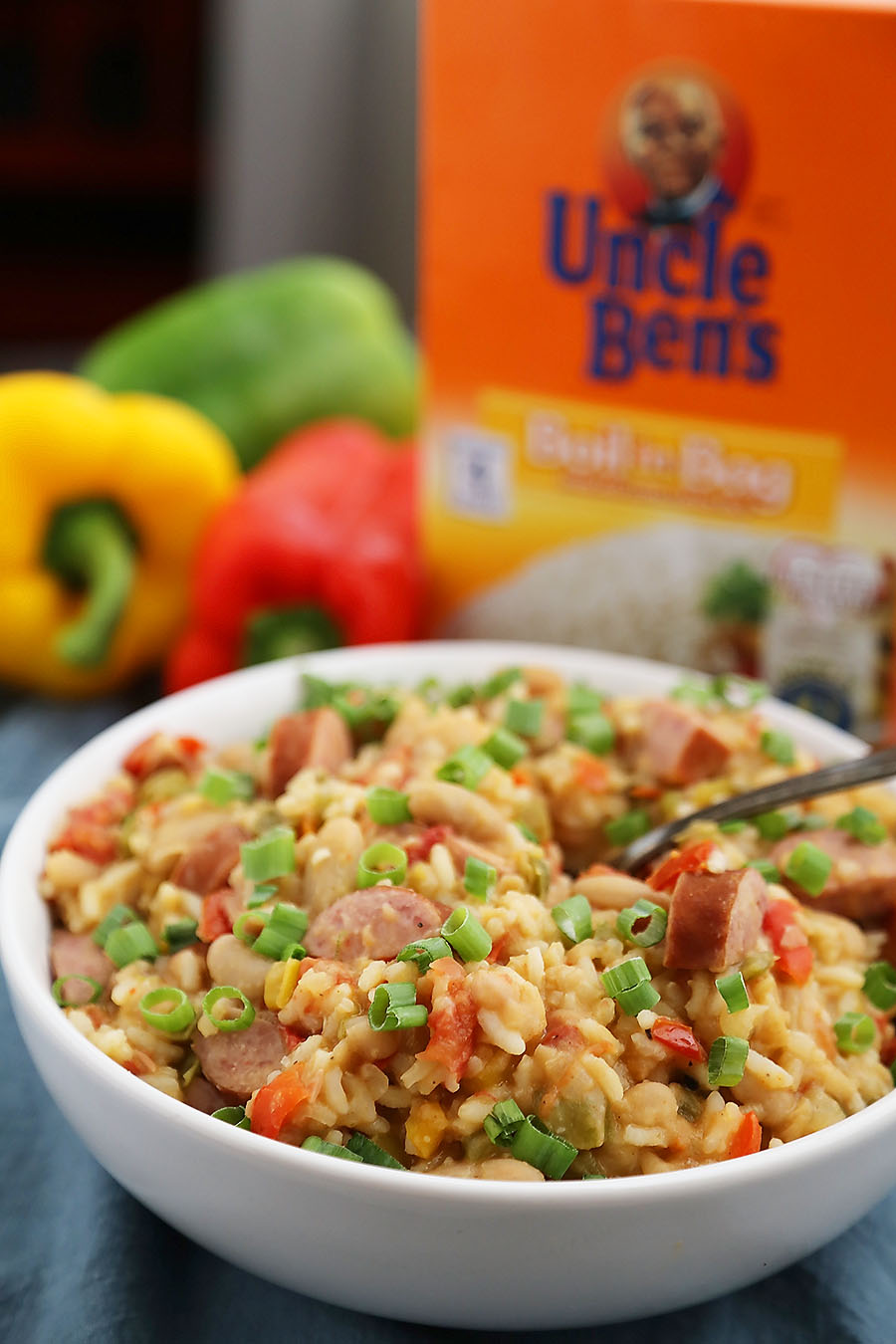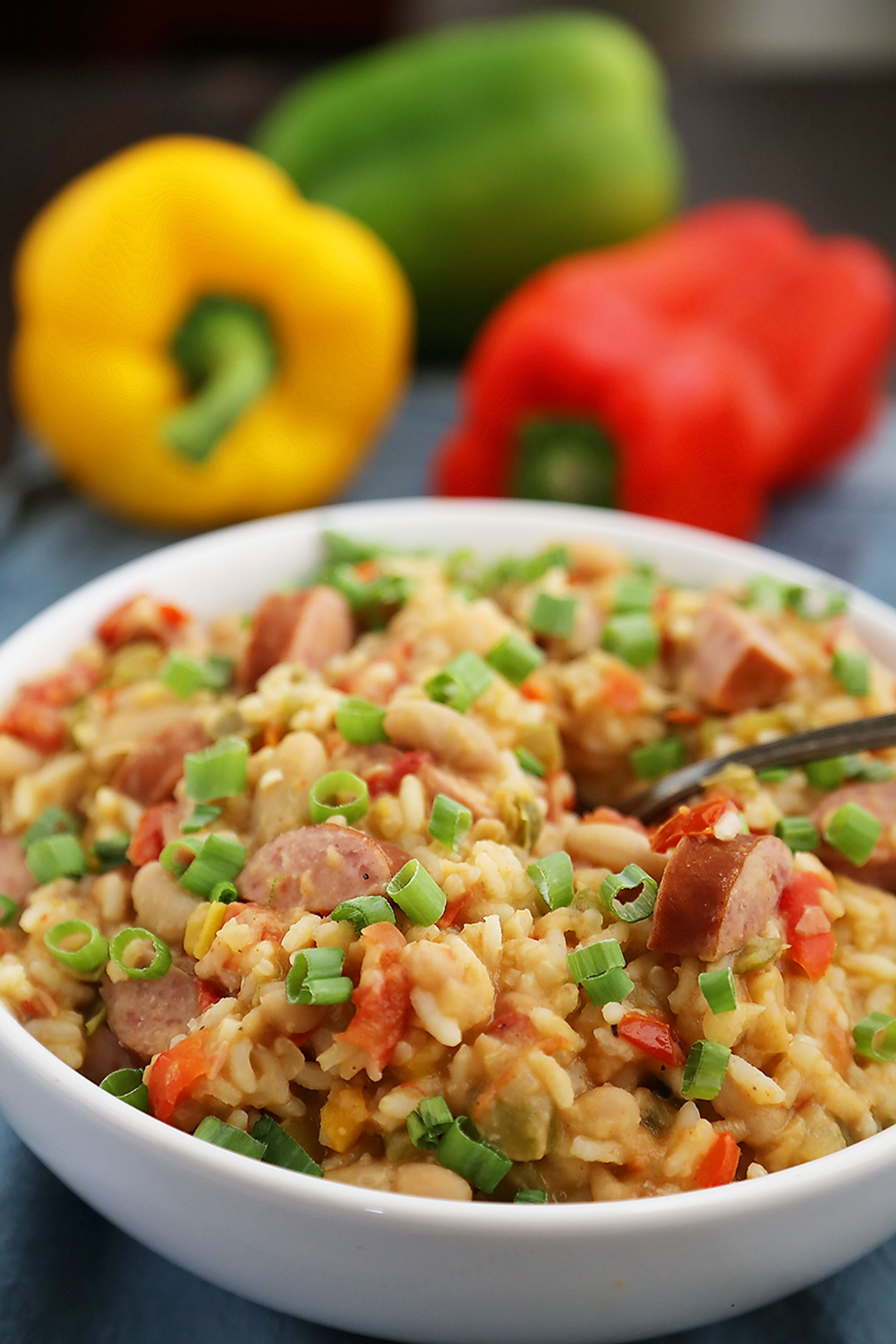 Cajun Sausage, White Bean and Rice Stew
Ingredients
1 bag UNCLE BEN'S® Boil-In-Bag Rice
1/4 cup olive oil
1 small yellow onion, small diced
3 cloves garlic, minced
1/2 medium green bell pepper, diced
1/2 medium red bell pepper, diced
1/2 medium yellow bell pepper, diced
1 1 lb. smoked sausage or andouille sausage, cut into slices
3/4 teaspoons kosher salt
1/4 teaspoon freshly cracked black pepper
1/4 teaspoon cayenne pepper, or more (to taste)
3 Roma tomatoes, deseeded and chopped
2 15 oz. cans cannellini beans, drained and rinsed
3-4 green onions, chopped, optional
Instructions
Cooking with kids? Involve them by letting them wash and dry the vegetables.
Meanwhile, cook rice according to package instructions for stovetop or microwave cooking. Remove bag from water, empty rice into a bowl and set aside.
Set a large, heavy bottomed pot with a lid to medium heat. Add olive oil. Once hot, add onion, garlic and bell peppers. Cook, letting kids carefully stir every few minutes, until softened and fragrant, about 10 minutes. Add sausage slices; continue to cook and stir, until sausage is warmed through, 2-3 minutes. Kids can stir in salt, pepper and cayenne to season vegetables and sausage. Add tomatoes and beans, stirring gently. Cover pot and reduce heat to simmer. Continue to cook, stirring occasionally, for 20 minutes.
Stir in cooked rice and simmer until warmed through, about 5 minutes. Show your little cook how to add small amounts at a time of water or broth to thin the stew, if desired.
Spoon into individual serving bowls and serve warm. Let your kid top each bowl with chopped green onions, if desired.
Enjoy!