Colorful, delicious and refreshing! This Mediterranean-inspired medley only needs 5 ingredients + 10 minutes to create. Fresh flavors of juicy-sweet cantaloupe and honeydew melon combine with creamy mozzarella and salty prosciutto. So elegant and easy for summer gatherings!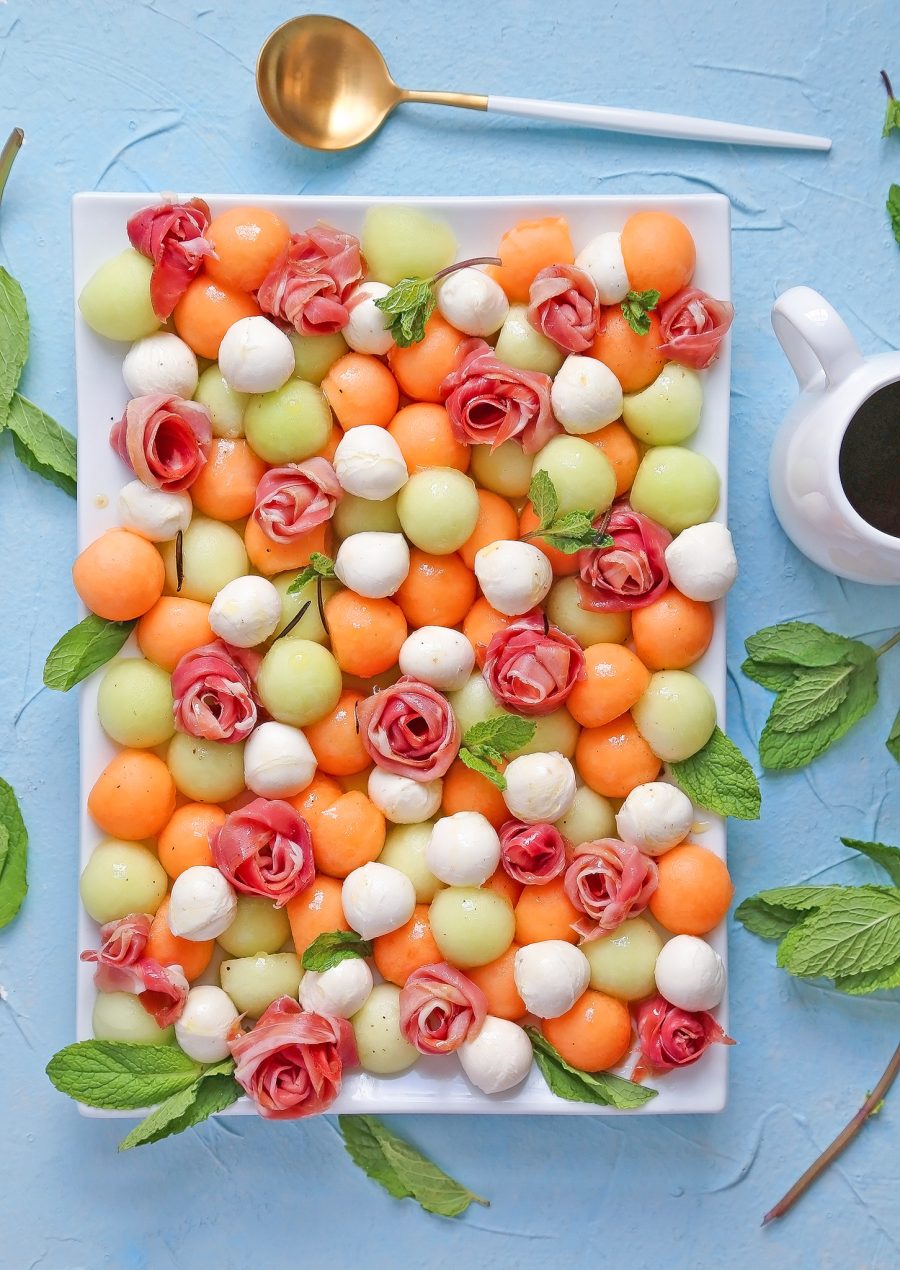 Summer Melon and Prosciutto Salad
There is nothing I love to eat more than colorful food, especially when it's popping with fresh mozzarella!
This right here is my Lazy Girl Dinner solution in the summers. Which works out especially well, since I don't need to fire up the oven. Made with only five ingredients, plus a little salt and pepper, and a minty (or basil) garnish, if you wish! Ready in just 15 minutes, this easy heaven-in-a-dish is just perfect for busy nights or a backyard summer bash. So easy, and absolutely gorgeous on a pretty platter.
Run, don't walk, for the easy ingredient list! It's the perfect time of year for cantaloupe, honeydew, fresh mozz, and a sprinkle of mint.
This sweet-and-salty salad is perfect for celebrating at home in style. Think birthdays, Easter, baby showers, barbecues, Mother's Day, July 4th, you name it! Drizzled with a good quality olive oil, a medley of melon, prosciutto and mozzarella is so easy to create – and always satisfies a crowd.
Let's get you to the recipe and eat Italian-style!
Ingredients for Summer Melon and Prosciutto Salad
• fresh honeydew melon
• fresh cantaloupe
• mozzarella balls
• thinly sliced prosciutto
• extra-virgin olive oil
• coarse salt + pepper
• fresh mint or basil, for garnish, optional
Keep reading for full ingredient list + recipe, below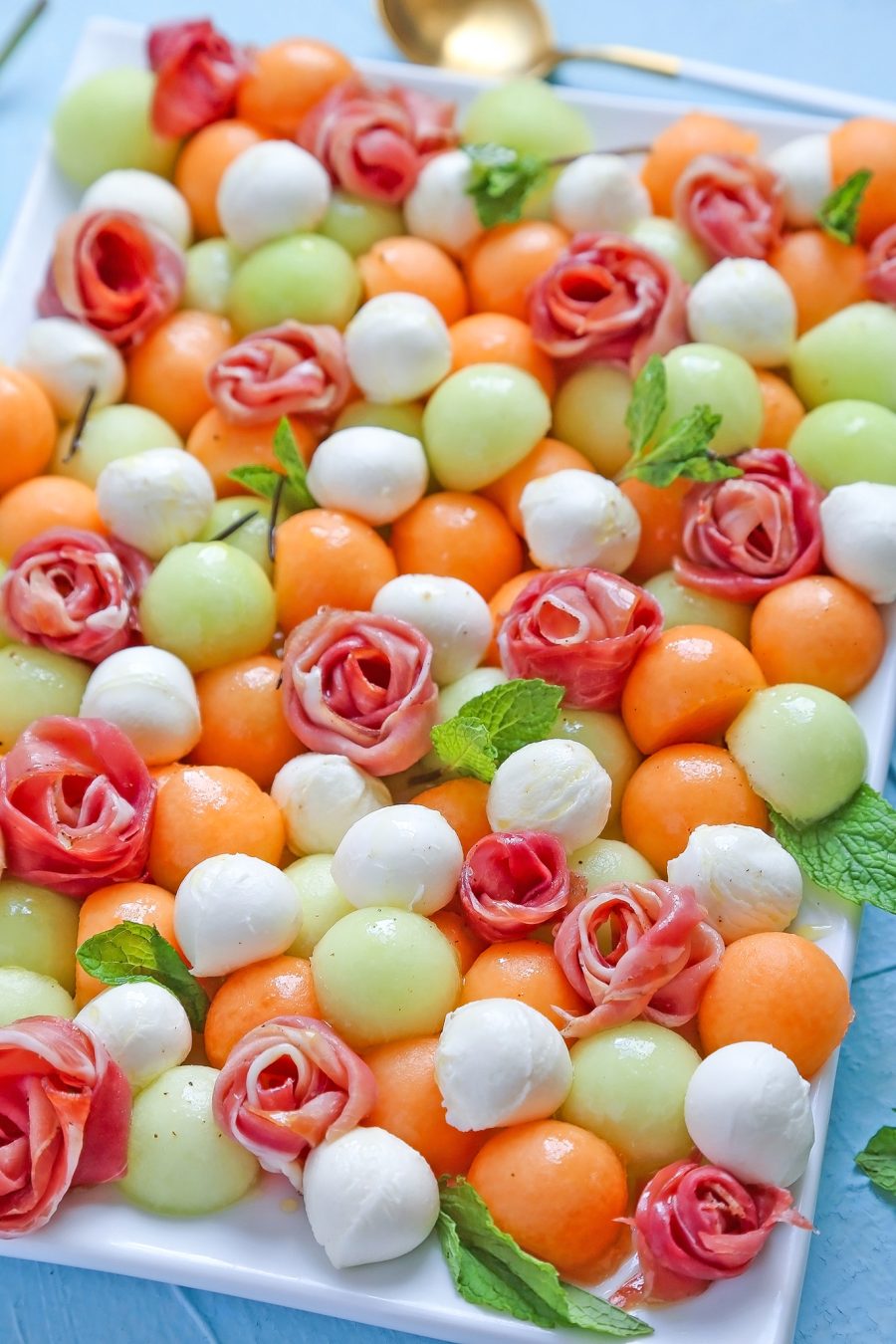 What makes this salad so good?
This summery salad only needs five ingredients (plus salt, pepper, and mint – or basil!) and 15-ish minutes. The salty prosciutto, sweet melon and creamy mozz just melt in your mouth. It is the perfect party pleaser and light appetizer. Also makes the loveliest, light no-cook lunch or dinner. Add some crusty bread, a glass of wine and mangia!
What kind of dressing or vinaigrette can I serve with this?
Try a drizzle of good quality olive oil and balsamic vinegar. Or, your favorite vinaigrette. So tasty! Since the natural flavors in these ingredients are so vibrant, I find you don't need much more.
Can I make these into bite-sized skewers?
Yes, absolutely! I have a recipe for Melon, Proscuitto and Mozzarella Skewers. These are a longtime favorite, especially cute on bamboo cocktail picks, and perfectly sized for parties. I love bite-sized skewers, since it avoids guests having to dip the same spoon into the salad. Just grab and go!
Can I make this salad ahead?
Yes! Of course, this salad is best served fresh. But, you can prepare up to 2 days ahead of serving. Cover prepared salad in plastic wrap and refrigerate until ready to serve.
How do I store this salad?
Cover prepared salad in plastic wrap and refrigerate before serving. Or, store leftovers in a resealable container for up to 2 days.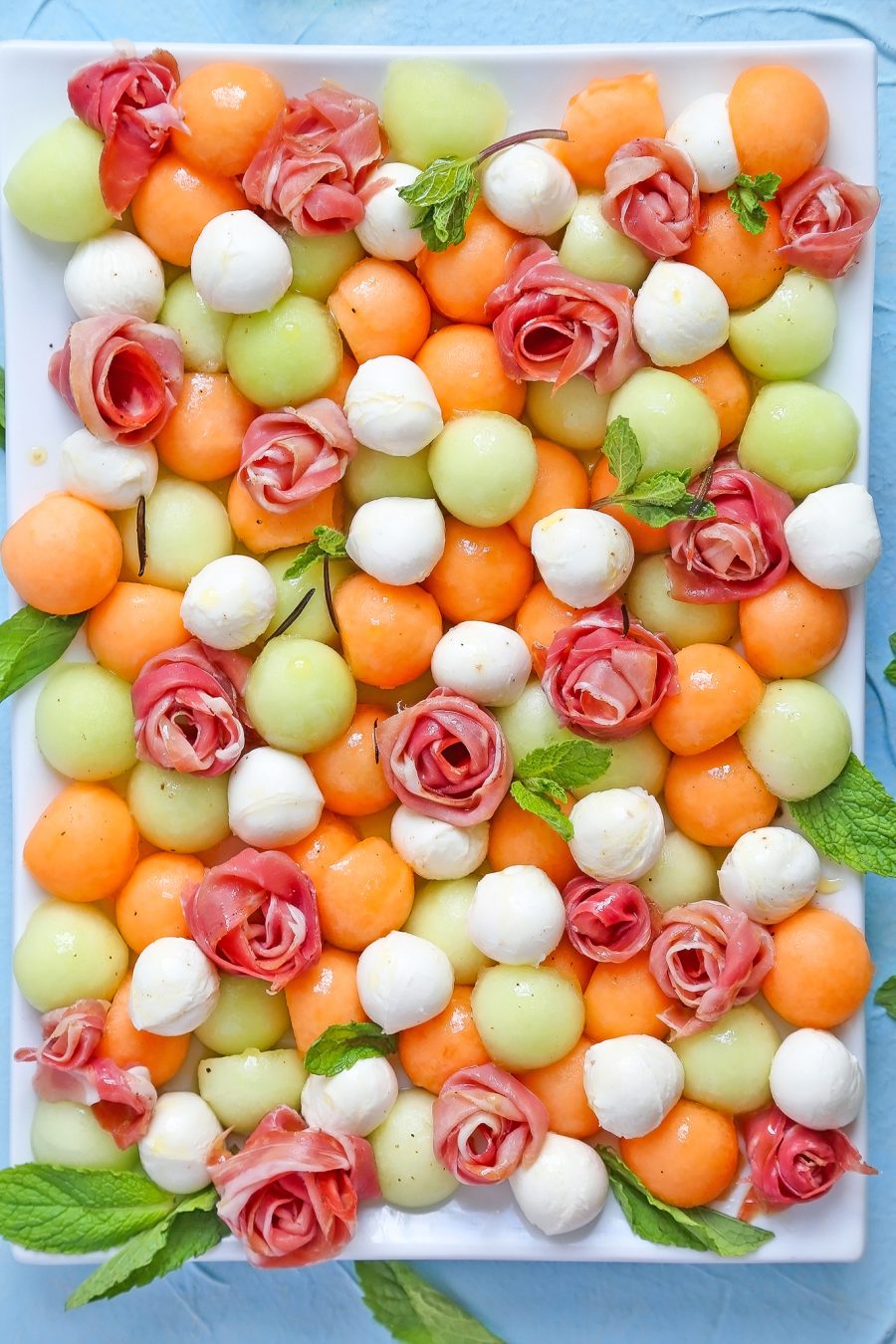 More easy spring and summer appetizers:
• Firecracker Chicken Meatballs
• Burrata Caprese Salad with Peach and Proscuitto
• 3 Ingredient Mini Queso Cheese Balls
---
I hope you enjoy this easy Summer Melon and Prosciutto Salad recipe! We just love this medley for a light summer appetizer, dinner, or side dish to change it up. The bright colors, flavors and textures are so tempting – everyone always grabs a double scoop!
If you're serving a crowd, double this recipe and keep extra olive oil and balsamic vinegar for drizzling. We love sliding some fluffy crusty bread on the side for mopping up the flavorful oil, too!
Please feel free to leave a comment and a star rating, if you give it a go. I would love to know if you serve this salad for your family and friends.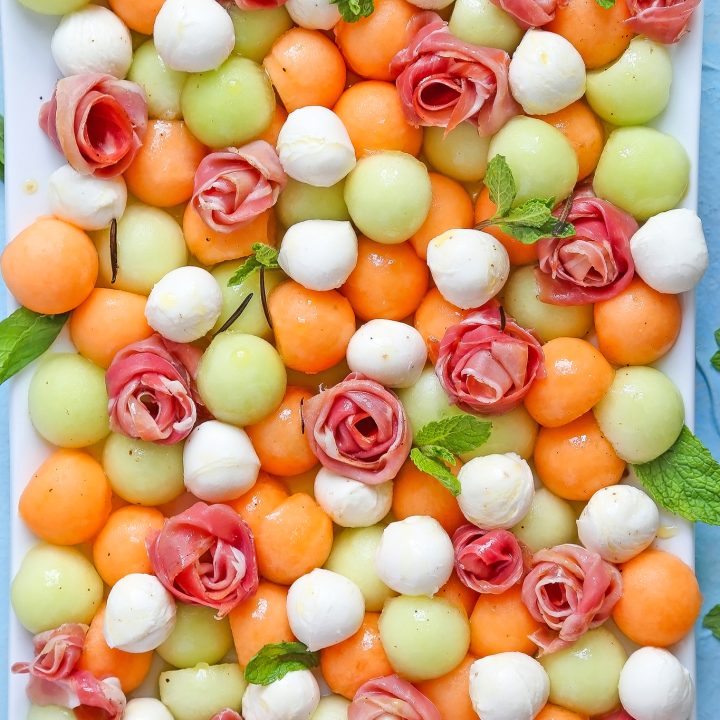 Summer Melon and Prosciutto Salad
Ingredients
1 ripe cantaloupe melon
1 ripe honeydew melon
1 (8 oz.) container mozzarella balls
1/2 lb. prosciutto (about 12 slices)
2 Tbsp. extra-virgin olive oil
Coarse ground salt and pepper, to taste
For garnish (optional):
Instructions
Use a melon baller to scoop melon balls from the cantaloupe
and honeydew. Place melon balls on a large platter. Add mozzarella balls and prosciutto.
Drizzle with olive oil, and tuck in pieces of fresh mint or
basil, if desired. Sprinkle with salt and pepper, to taste.
Serve and enjoy!
Want to receive our latest recipes straight to your email inbox? Click here to subscribe!