This super easy, cheesy spinach-artichoke dip is perfect with toasty baguette slices, crackers and pretzels… whether you're enjoying at a party or cozied up on the couch!
Well, hello there! I hope you had a very happy holiday season and are looking forward to a fun New Year celebration… whether that means partying it up or puttering around in pajamas, trying to stay awake. I'll be doing a little bit of both this year. Pajama party, here I come!
Hubby and I have lots of celebrate in the coming year, including our sweet little Junebug and a sizzlin' Caribbean getaway to relax in preparation. We're also looking forward to sharing many more of our favorite healthy, easy and deeee-lish recipes with you!
Nothing like starting the year off right with a little indulgence, though, right?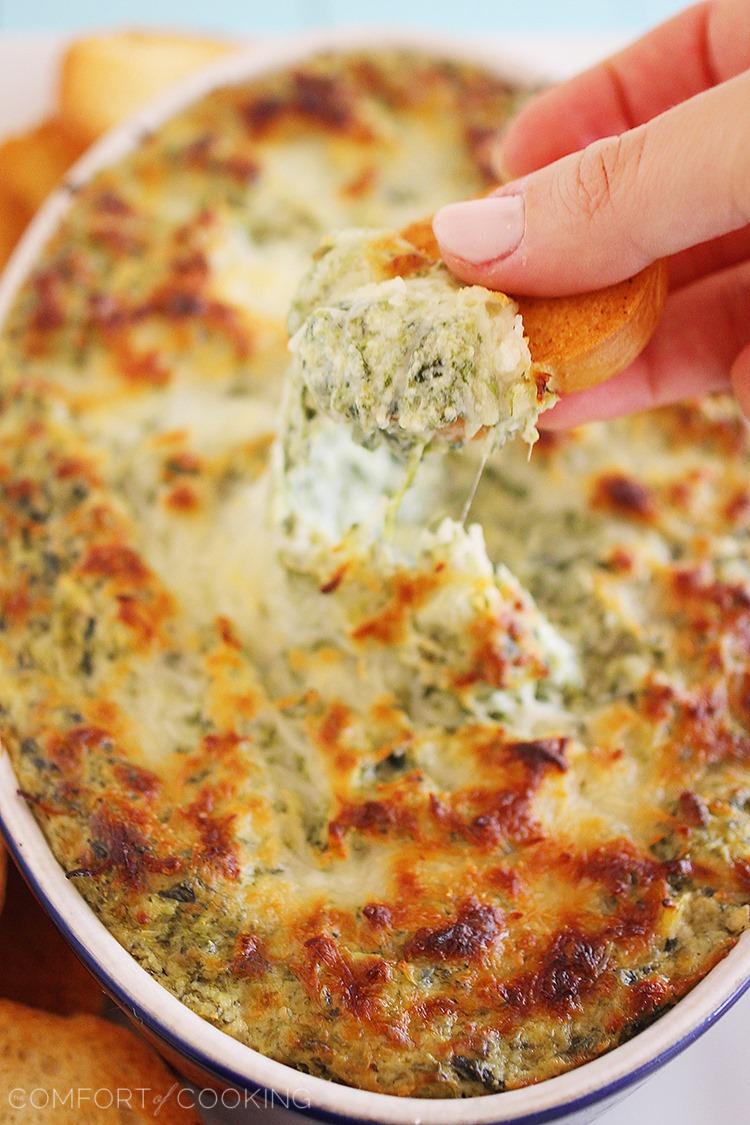 My cravings lately have ranged from grapes to cheddar to Golden Grahams cereal, but one "want" I can always count on is this cheesy spinach-artichoke dip! This stuff is dreamy, creamy delicious GOLD. So incredibly easy, too!
Just whiz together a mixture of mozzarella-parmesan cheese, frozen spinach and artichoke hearts, then toss in cream cheese and a bit of light mayo. Blend it all together, top with more cheese (obviously), and whammo-bammo, you've got a simple, scrumptious party pleaser to bring to your New Year festivities… even if they're just on the couch.
I like mine served with toasty baguette slices. Just lay them out on a baking sheet, coat with nonstick cooking spray, and sprinkle with a little garlic powder. Broil or bake at a high temp for just a few minutes, and arrange them on a big serving platter with your delicious dip! Each bite is like enjoying a mini garlic bread topped with gooey, melty mozzarella-spinach-artichoke bliss. Pretty much my food happy place.
You can also serve with hearty crackers, pretzels, or my super easy homemade Whole Wheat Pita Chips!
Enjoy this appetizer and have a wonderful New Year, foodie friends. Wishing you lots of love, laughter and good fortune in 2014 from Austin!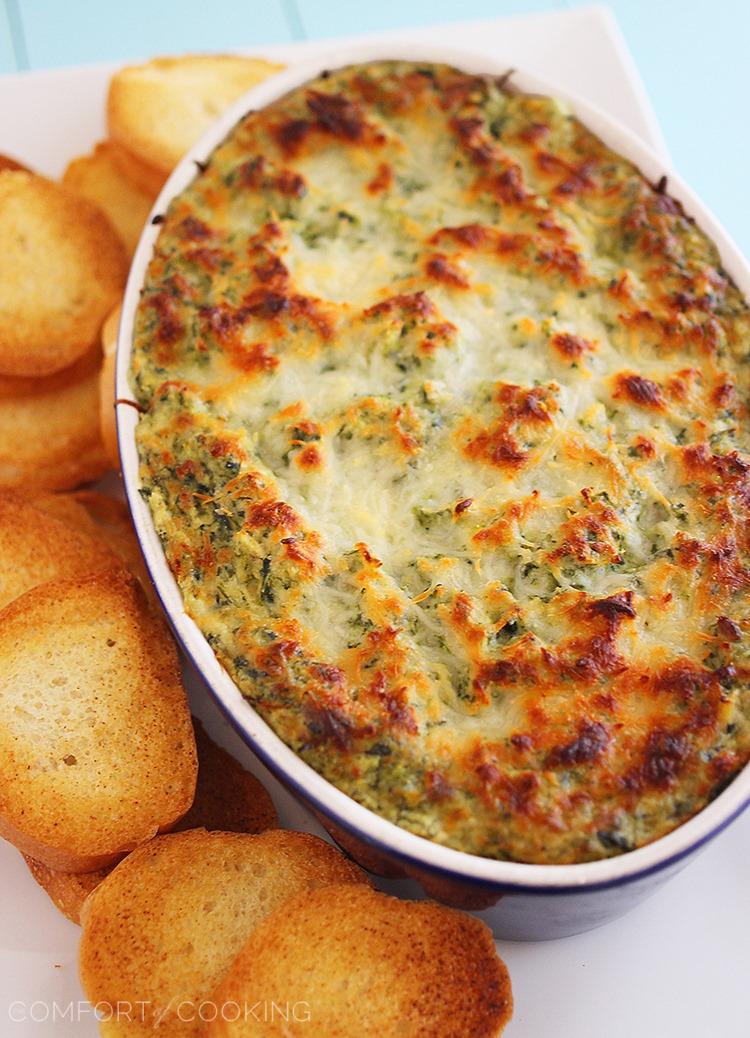 Hot Cheesy Spinach-Artichoke Dip
Ingredients
1 (8 ounce) package cream cheese, softened
1/2 cup sour cream
1/2 cup shredded mozzarella cheese, divided
1/2 cup grated Parmesan cheese
1/4 cup mayonnaise
2 cloves garlic, minced
Salt and pepper, to taste
1 (14 ounce) can artichoke hearts, drained and chopped
1/2 cup frozen chopped spinach, thawed and drained
Instructions
Preheat oven to 350 degrees F. Lightly grease a small baking dish.
In a medium bowl, mix together cream cheese, sour cream, 1/4 cup mozzarella, Parmesan, mayonnaise, garlic, salt and pepper. Stir in artichoke hearts and spinach until well combined. Pour into a baking dish and top with remaining 1/4 cup mozzarella.
Cover and bake for 20 minutes. Remove cover and bake 5-10 remaining minutes.
Serve hot with crackers, tortilla chips or toasted baguette slices.
Enjoy!