Keep it easy for your parties with an assortment of no-fuss, no-bake (incredibly addictive) Oreo truffles for dessert! They taste like cake and are a breeze to make.


… And you thought Oreos couldn't get any better?! Holy Moses.
Three ingredients, under an hour of time, and a teensy bit of self control is all you need. Whether you go nuts with sprinkles like I did is up to you. I'm telling you, the more colorful they are, the better they taste! Why is that?
I mean, whatever. I don't need you, sprinkles.
All you need to know: These little Oreo truffles are out-ray-jus. And insanely addictive, and all my friends' favorite, and basically impossible to keep my preggo paws off. The tray never makes it to parties. *Shame*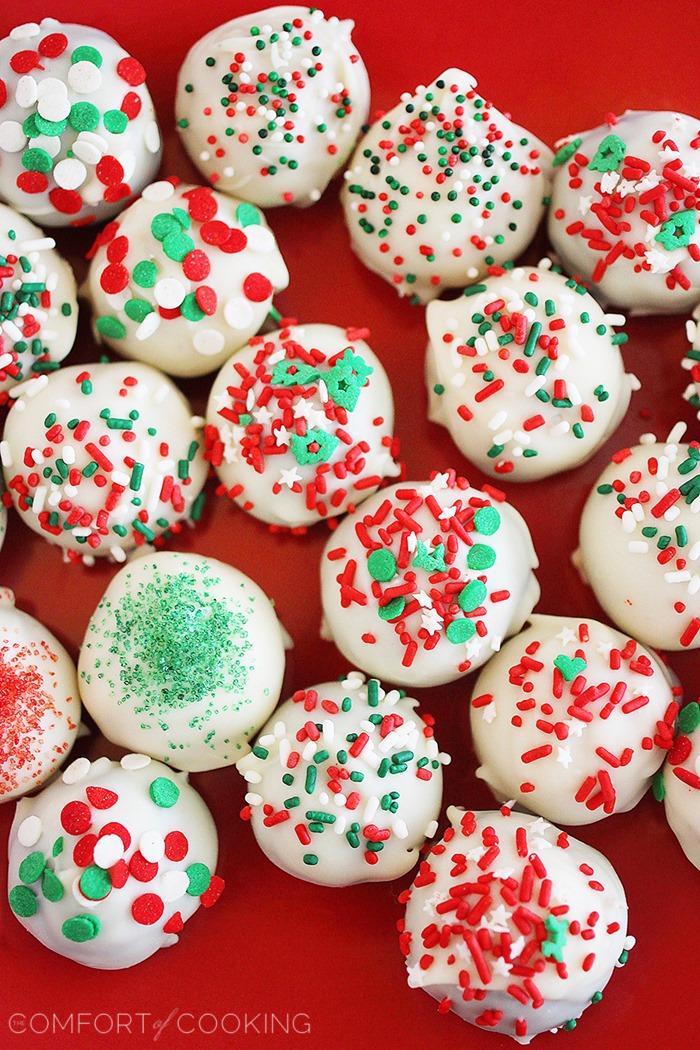 Do you suddenly have a vision of me in a party dress, covered in Oreo truffle crumbs? If you answered yes, you wouldn't be far off from the truth. Or exactly right. I'll never tell.
What is true is that these are my absolute weakness. If you've never tried these incredible truffles, ya just gotta. Serve them on a pretty platter, or pop them on a lollipop stick for a fun holiday treat! Either way, I can guarantee they'll be gone before your eyes. Lesson here: sneak one before the party – but stop at one!
Don't be me. I know you can do it.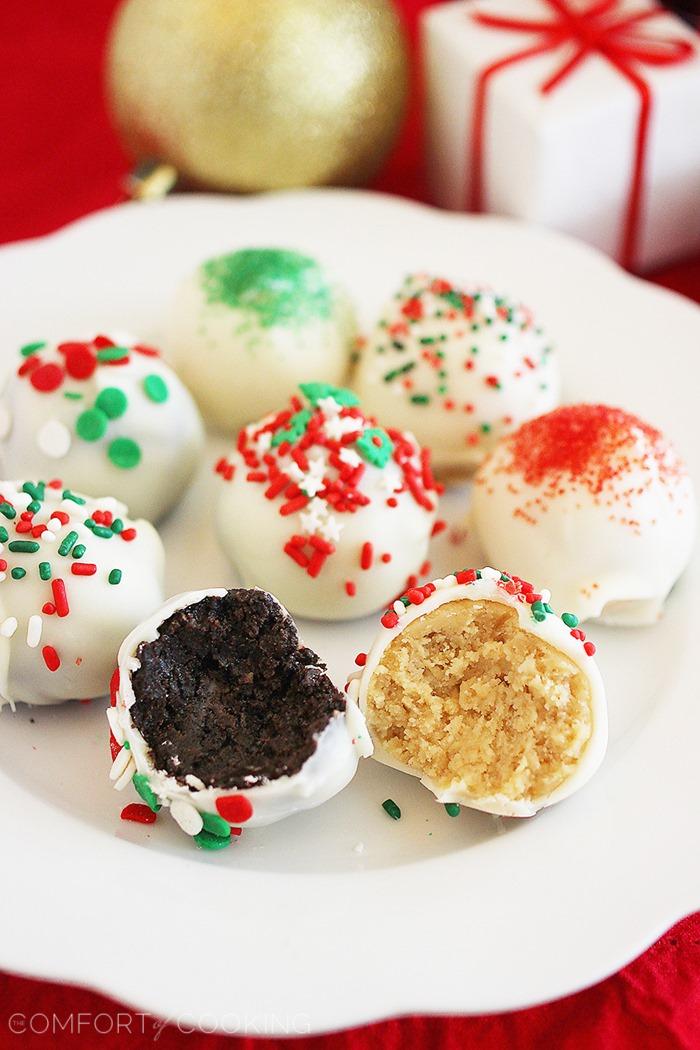 Cake truffles can be a pain – messy, crumbly and a heck of a lotta work. These, though? Easy peasy, and they roll like a dream. All you need are Oreo cookies, cream cheese and white candy melts, or good quality white chocolate for coating. Use both regular and Golden Oreos if you'd like, or just one variety. Mixed with the cream cheese, the Golden Oreos have a delicious birthday cake-like flavor!
I'm a classic kind of girl myself – it's all about the deep, dark chocolaty Oreo over here!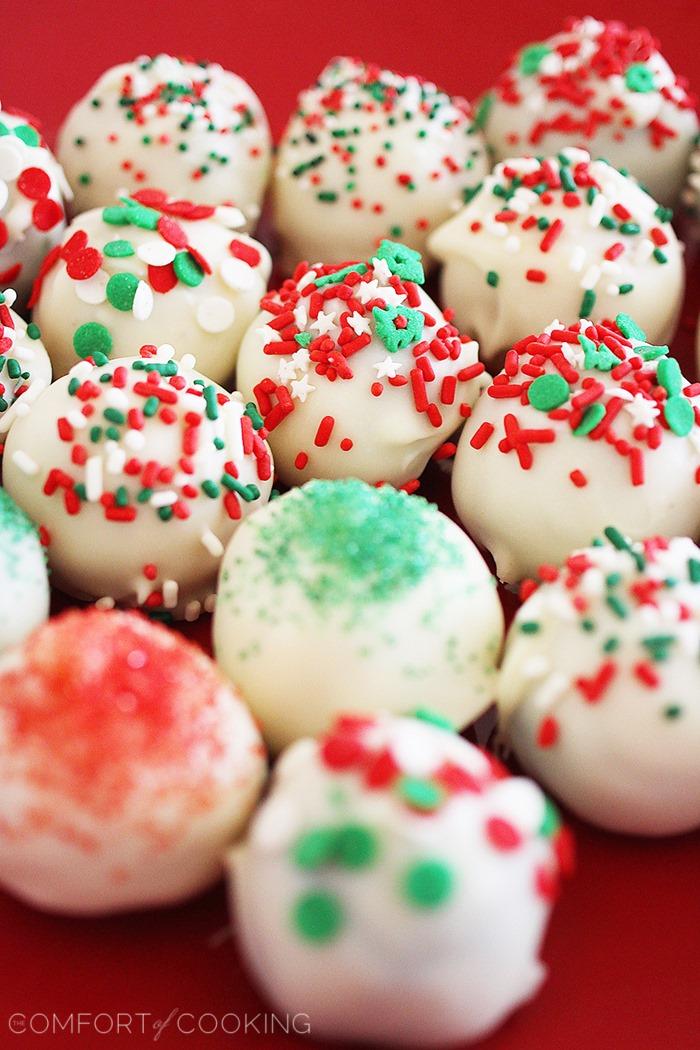 For holiday celebrations or last-minute gifts from the heart, these soft and sweet Oreo truffles are terrific! Just don't even attempt to hide them in the back of the freezer. Been there. They're even better frozen, sorry.
I hope you all have a very merry Christmas and enjoy good food in the company of your nearest and dearest! My mom and stepfather are flying in to Austin today, so I'm bidding you a festive "farewell" for the week. We're so excited for a fun, relaxing visit and lots of chilly Christmas cheer while they're here. I'll be back with a delicious dip on Monday for your New Year's party!
Let the merriment commence!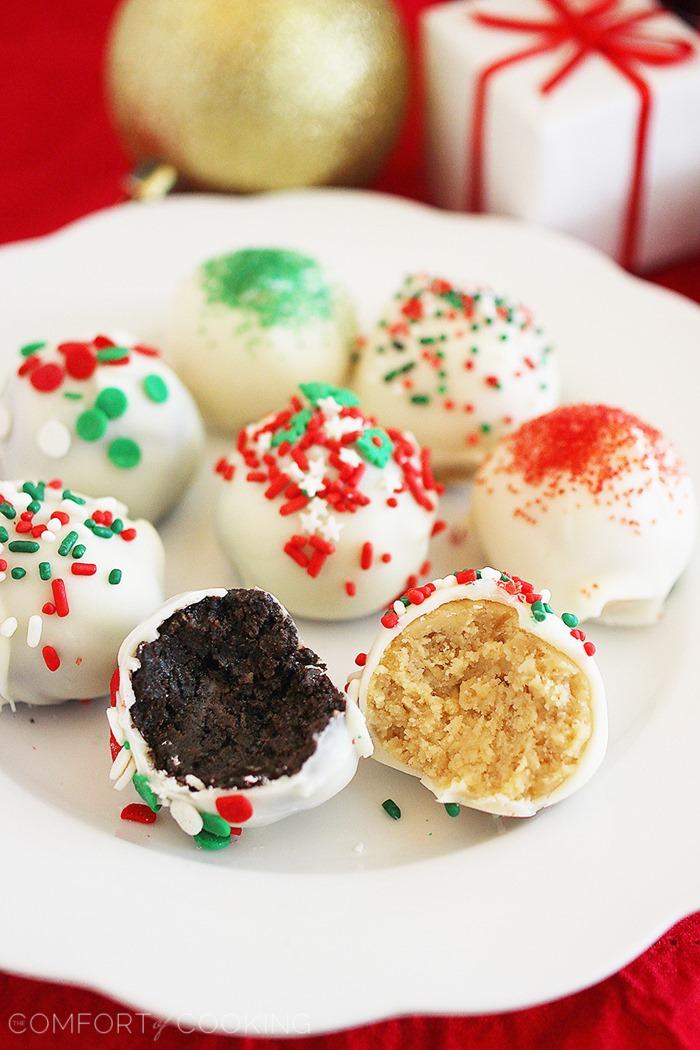 No-Bake Oreo Truffles
Yield:
24 (1-inch) truffles
Ingredients
1/2 package Golden Oreos, 12 cookies, finely crushed
1/2 package regular Oreos, 12 cookies, finely crushed
1 8 oz. package cream cheese, halved and softened
White chocolate candy melts*, melted
Sprinkles, nonpareils and/or sanding sugar, for decoration
Instructions
Line a large baking sheet with parchment paper; set aside.
In a food processor or blender, separately grind both flavors of Oreos into fine crumbs. Transfer crumbs to two separate large bowls. Mix both bowls of crumbs with half the cream cheese (4 oz. each), until well combined.
Shape into 24 (1-inch) balls and place onto prepared baking sheet. Freeze for 30 minutes.*
Melt white chocolate according to package directions. Dip the balls into chocolate, place on the baking sheet, and immediately top with sprinkles or desired decorations. (I find a wooden skewer helps with the dipping! Just stick into the truffle, swirl in the chocolate, and place on the sheet).
Refrigerate for at least 20 minutes to allow chocolate to set. Keep refrigerated before serving, and store chilled for up to 5 days.
Enjoy!