Our best-ever coffee cake! Buttery soft, moist and full of warm cinnamon sugar goodness and tender apples. Quick, easy and always a hit for a special breakfast, or as an easy after-school snack. You won't believe how simple and delicious this is, especially with a hot cup of coffee.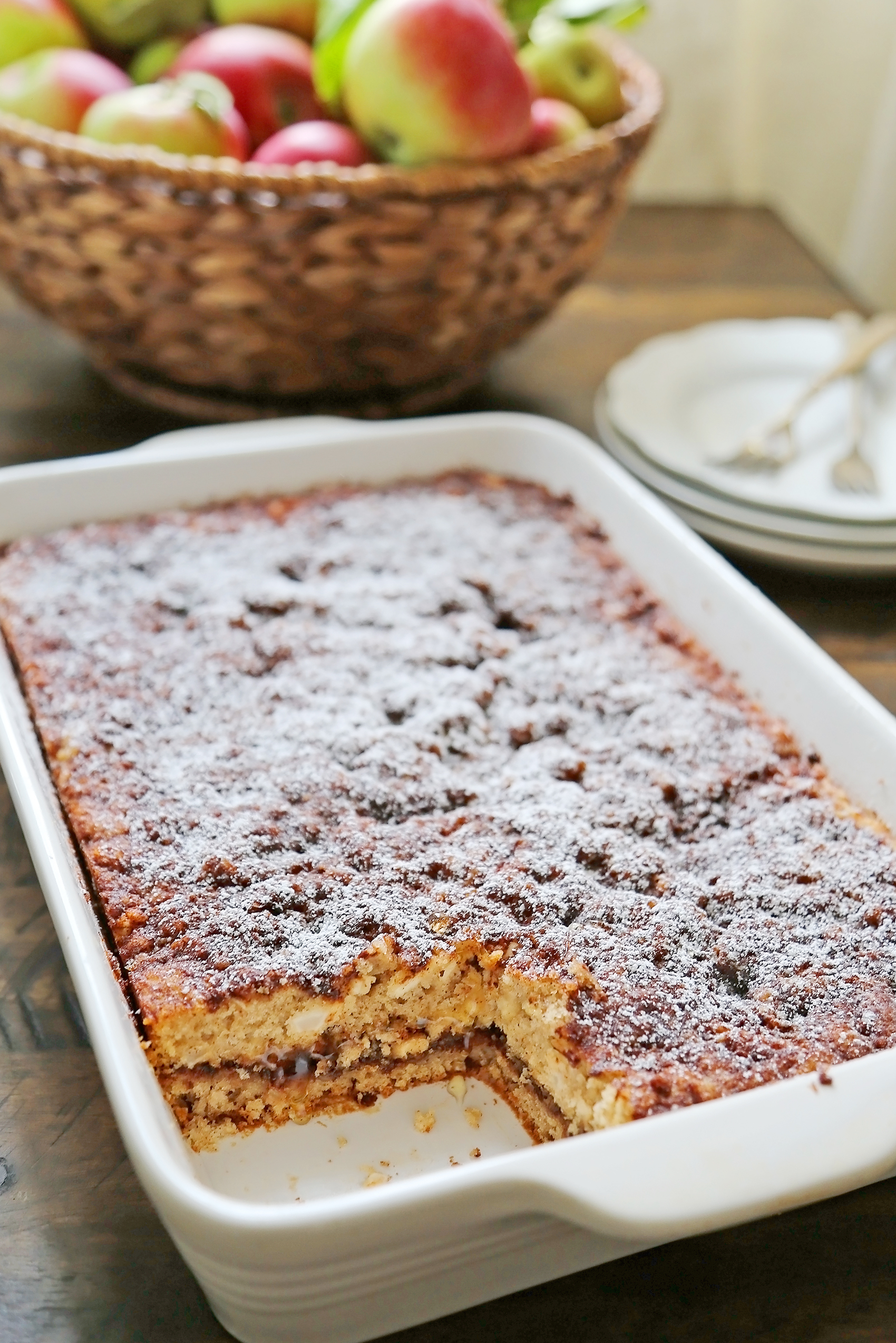 Craving that comfy, cozy fall feeling? I have just the thing to fill your home with warmth and spread a little cheer. Not to mention, something to help use up those apples if you've been picking local orchards, like my daughter and I have been!
I have tried so many coffee cake recipes throughout the years, and this one is absolutely my favorite. It comes together so easily and results in a perfectly spiced, buttery soft and moist, melt-in-your-mouth cake. So good you will feel naughty enjoying it for breakfast.
This cake is irresistible for enjoying with a warm cup of coffee and the ones you love. Also, it makes a wonderful holiday gift or for serving during a special brunch.
Wanna reach out and grab a piece? I bet you do!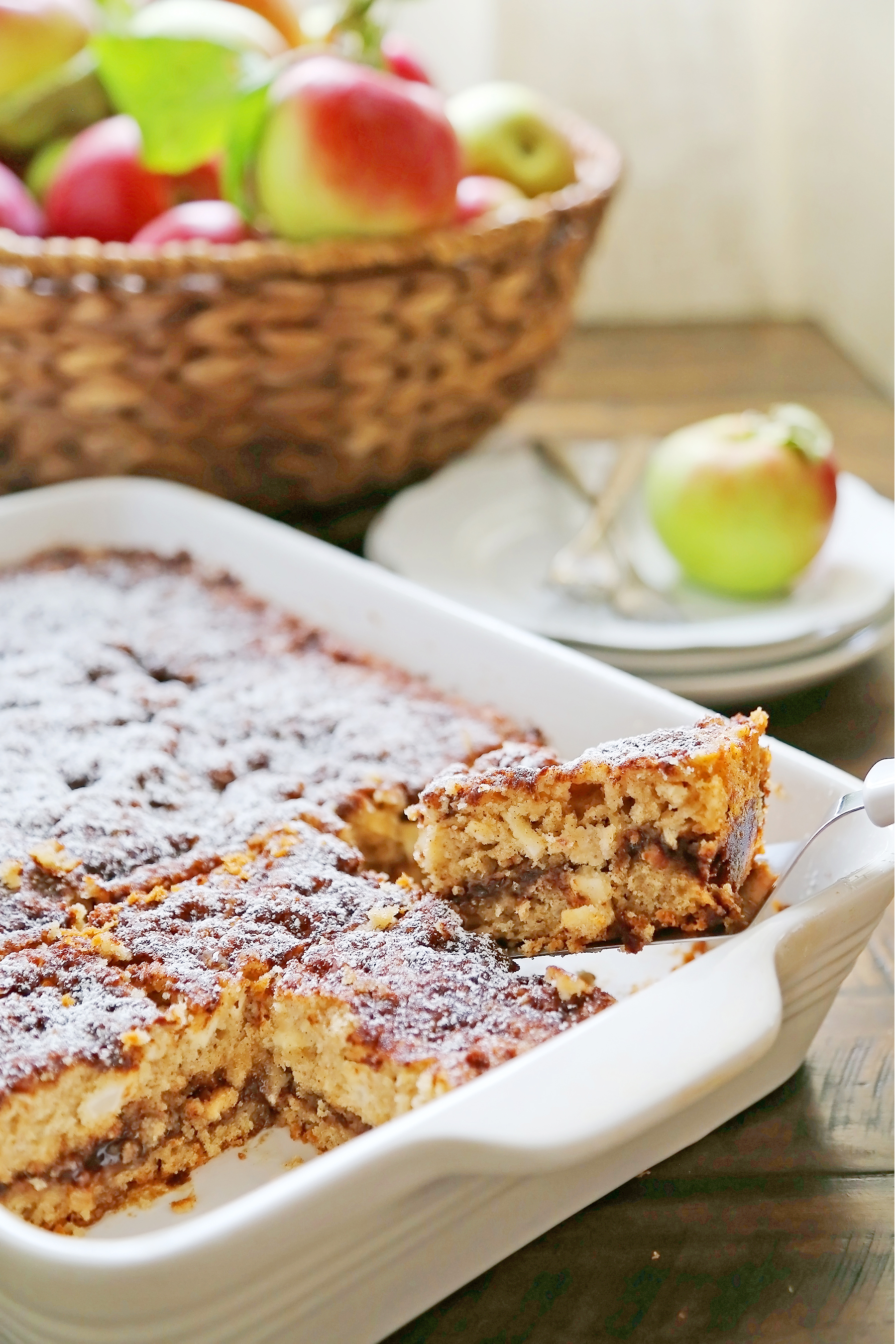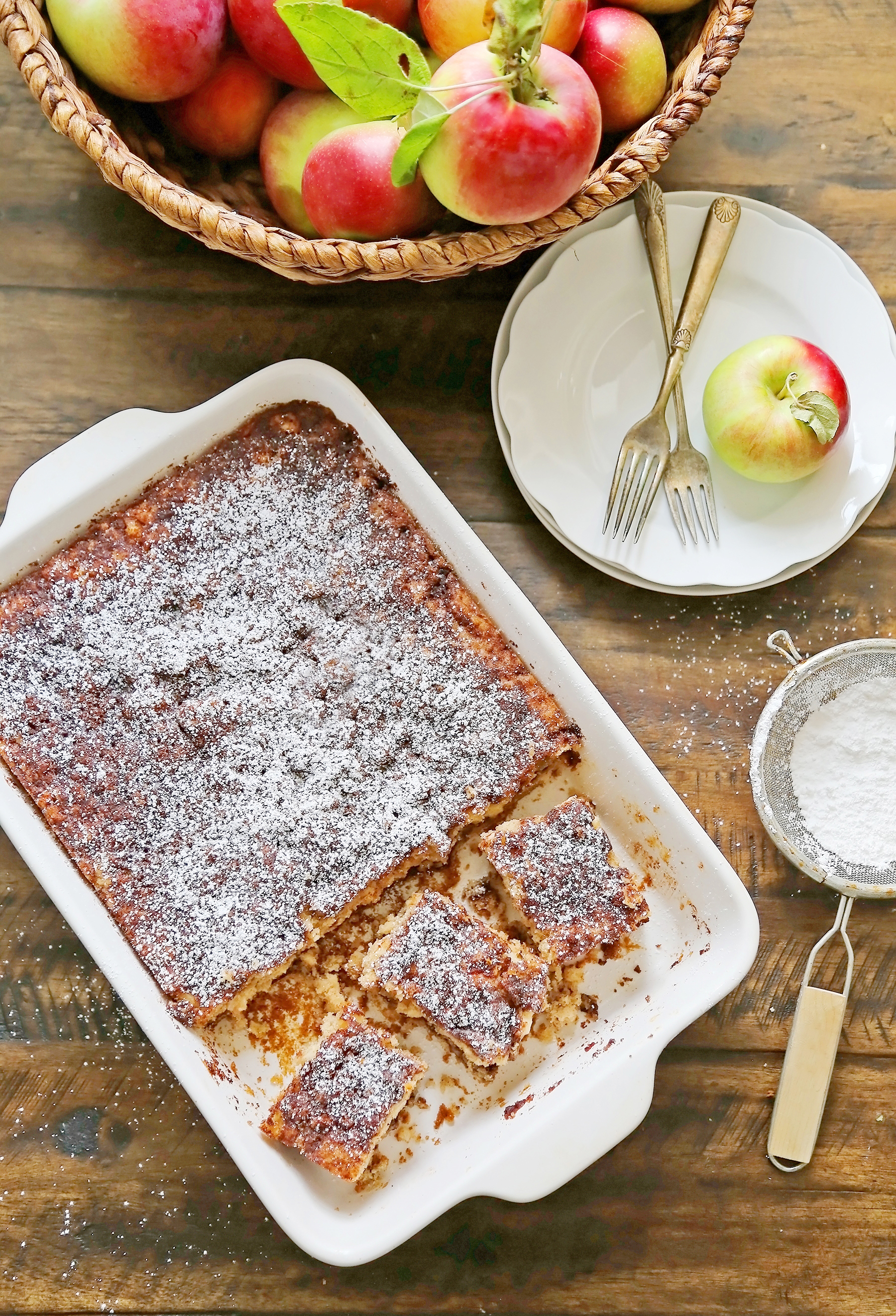 This lovely cake makes a large serving in a 13×9-inch pan (about 12 slices), so enjoy with a crowd. Or, you can freeze and reheat it later.
Even if you don't consider yourself a baker, this cake is just as easy as any boxed mix. Except, the ingredients are wholesome and you can proudly say you perfected a comfort food classic on the first try! You've got this.
The batter is dotted with fresh apple bits and warm spices. As it bubbles away, the aroma is pure autumnal heaven. Topped with a crumbly, buttery cinnamon streusel topping, this cake is bliss in every bite.
Try it as a fun, foolproof weekend project. Please let me know how it turns out, if you do!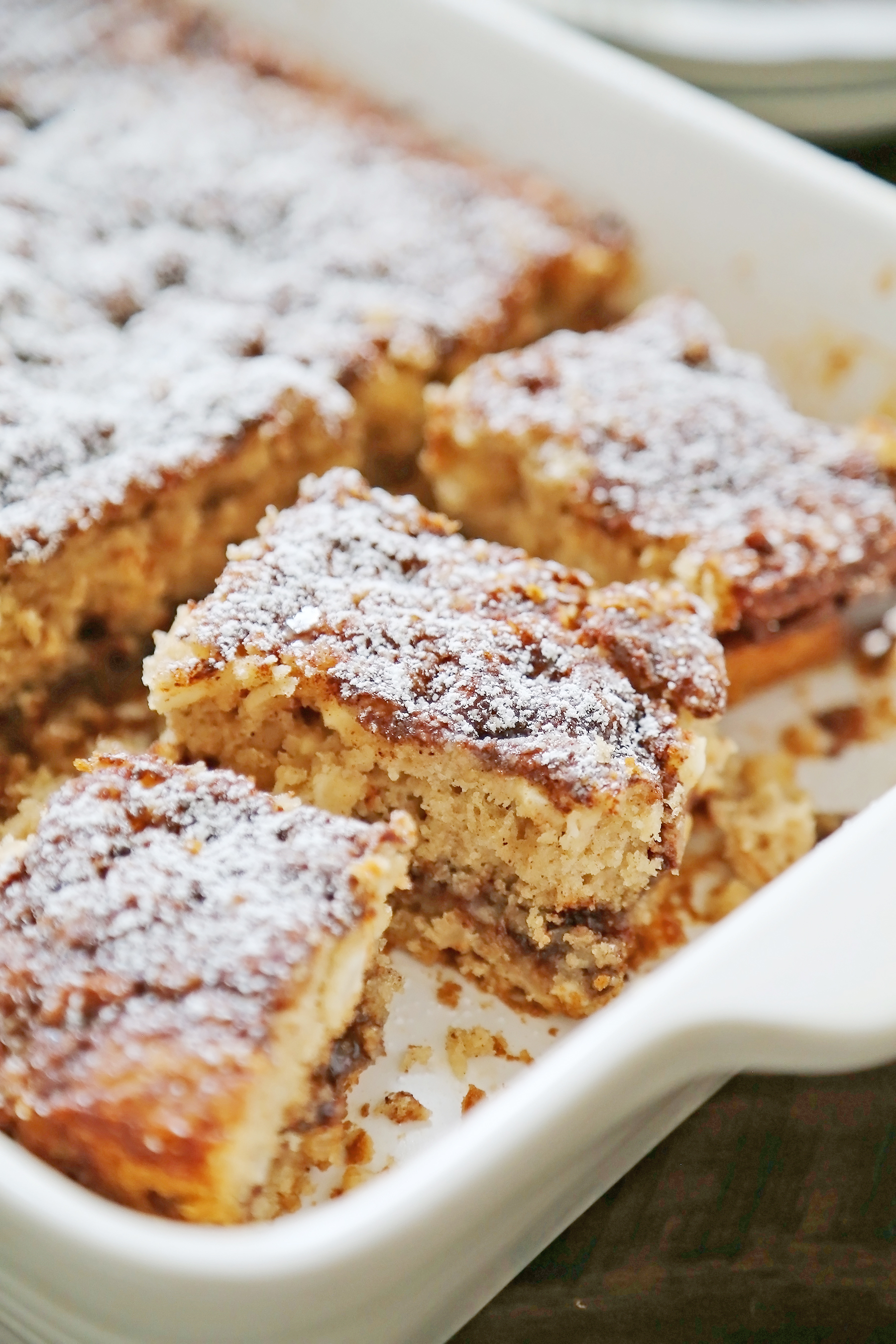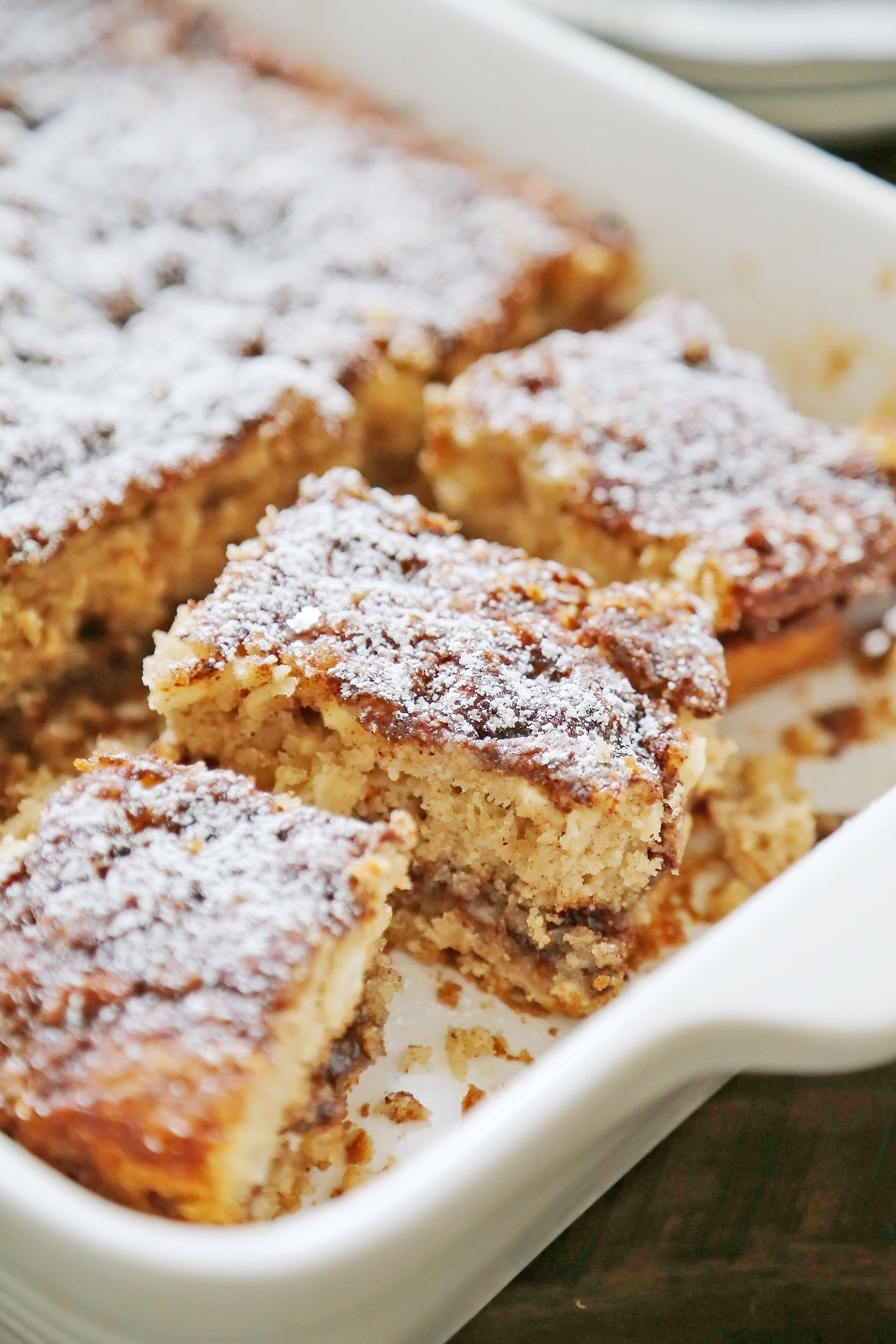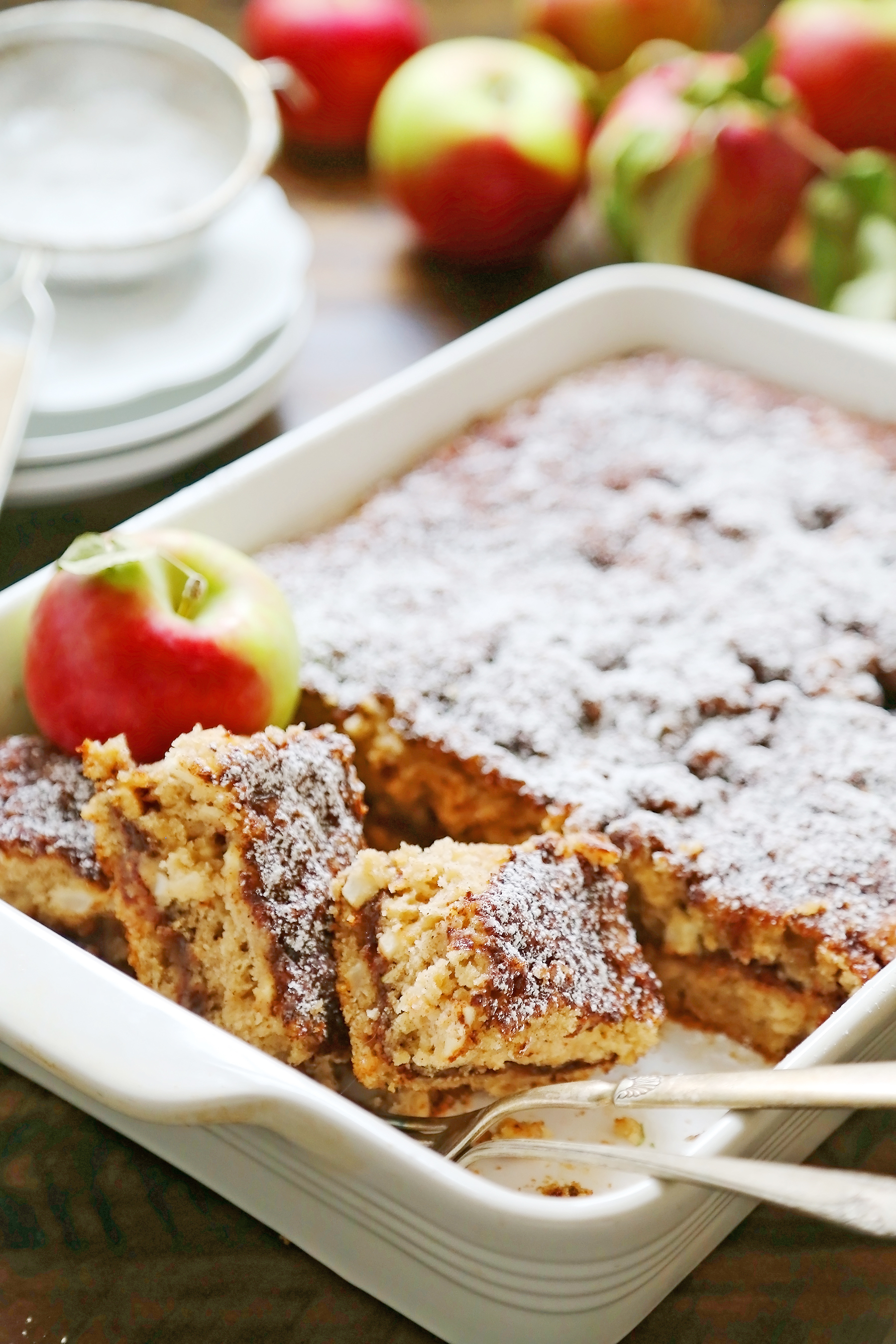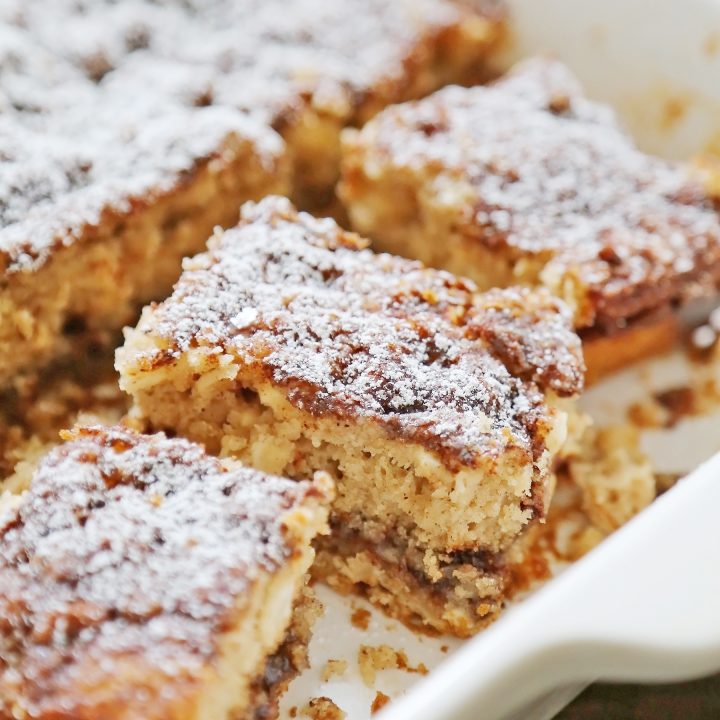 Apple Cinnamon Coffee Cake
Ingredients
Nonstick cooking spray
1 cup canola oil
1 cup milk
2 large eggs, beaten
1 teaspoon vanilla
3 cups all-purpose flour
1 cup granulated sugar
3 teaspoons baking powder
1 teaspoon cinnamon
1/2 teaspoon kosher salt
3-4 apples, peeled and small chopped
For topping:
1 1/2 cup brown sugar
2 teaspoons ground cinnamon
1/2 cup (1 stick) butter, melted
2 Tablespoons powdered sugar, optional
Instructions
Preheat oven to 350 degrees F. Coat a 13x9-inch baking pan with nonstick cooking spray.
In a large mixing bowl, whisk together oil, milk, eggs and vanilla.
In a separate large bowl, whisk flour, sugar, baking powder and salt. Stir in chopped apples.
Pour egg mixture into flour mixture. Pour half of the batter into prepared pan.
For the topping:
In a medium bowl, prepare streusel by combining brown sugar and cinnamon. Sprinkle half of streusel on top of the batter. Top with remaining batter. Sprinkle remaining streusel on top. Drizzle with melted butter.
Cover dish with aluminum foil. Bake for 40-50 minutes, until set. Remove foil and bake an additional 10 minutes.
Dust with sifted powdered sugar, if desired.
Enjoy!
Notes
Here are our top tips for storing coffee cake:
Store in an airtight container at room temperature for up to 2 days.
Store in an airtight container in the refrigerator for up to a week.
Wrap tightly with plastic wrap and store in an airtight container for up to 3 months.
We like our coffee cake warm. To reheat: Warm in microwave for 10 second increments until warm. To heat in the oven remove any plastic wrap, then wrap in aluminum foil. Preheat oven to 350 degrees F and heat for 6-8 minutes or until warm.
Adapted from Lil Luna
Want to receive our latest recipes straight to your email inbox? Click here to subscribe!