For a fun, flavorful weeknight meal try these tender, sticky orange glazed chicken thighs!
I love cooking chicken for dinner, but it can easily get boring if you don't jazz it up! These sticky sweet, tender chicken thighs with a simple orange glaze are super easy and so scrumptious… especially if you love bright, citrusy flavors!
A splash of hot sauce gives the orange glaze a little spice, and coated over the chicken makes for a fun, flavorful mid-week meal. Sprinkle it with cilantro to bring out the citrusy tangy in the glaze, and wrap 'em up for lunch leftovers. They're even better next-day!
I hope you enjoy this recipe and the rest of your week, friends! Make your Monday through Friday meals more delicious and fun with many more of my favorite weeknight meals, which you can find here.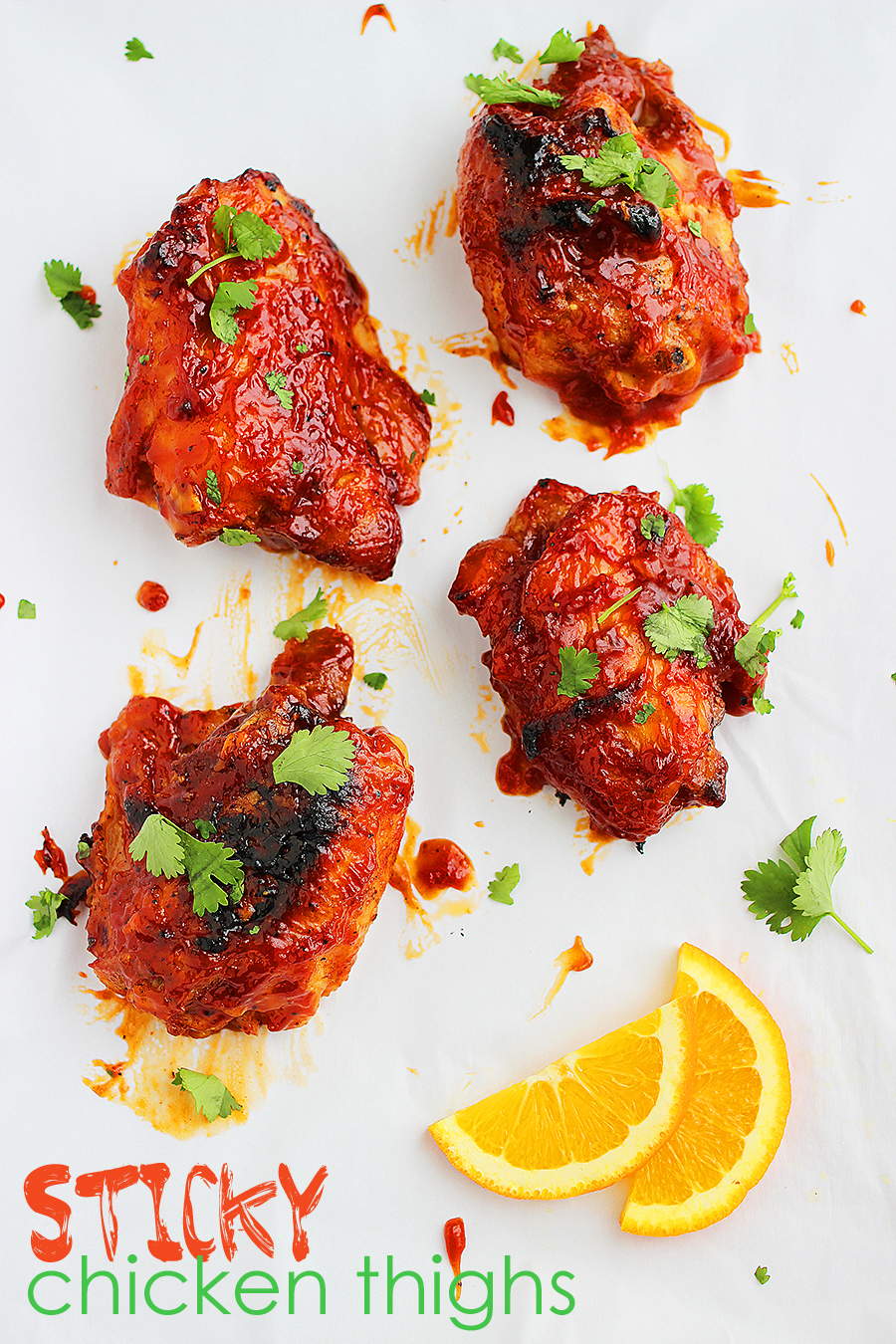 Sticky Orange Glazed Chicken Thighs
Ingredients
8 bone-in, skin-on chicken thighs
Coarse salt and ground pepper
1 cup thawed orange juice concentrate or orange juice
1 cup ketchup
2 tablespoons light brown sugar
4 teaspoons white wine vinegar
4 teaspoons Worcestershire sauce
2 teaspoons hot sauce
1/4 cup chopped fresh cilantro, optional
Instructions
Preheat oven to 450 degrees F. Position oven rack in upper third.
Season chicken thighs with salt and pepper and arrange skin side down on a rimmed, foil lined baking sheet. Bake chicken until cooked through, 45 to 50 minutes, flipping halfway through.
Meanwhile, in a medium saucepan, combine 1 teaspoon salt, juice concentrate, ketchup, brown sugar, vinegar, Worcestershire sauce and hot sauce. Bring to a boil then simmer on low until mixture thickens, 18 to 20 minutes.
Preheat broiler. Transfer chicken to a large bowl, add glaze, and toss to coat. Drain off fat from sheet. Return chicken to sheet and broil until sauce is bubbling and chicken is dark brown in spots, 2 to 3 minutes. Sprinkle with cilantro, if desired, and serve.
Enjoy!