Bake up a loaf of this soft, sweet lemon poppy seed bread for a scrumptious breakfast, snack or dessert. It's so easy and super moist!
Three years ago on Sunday, I started this blog with a loaf of bread and absolutely no idea what I was doing. To say I had a handle on anything from photo takin' to cake bakin' would have been a lie. But, while I still have no clue how to create a perfect layer cake, I have learned plenty about photography, writing, and cooking and baking in general. I've also learned that there are lots of really nice people out there, and that I'm lucky enough to have a handful stop by every day to say nice things.
So, thank you. From the bottom of my butter loving heart, thank you for reading, commenting, inspiring and encouraging. You make the wheels go 'round on this big ole blogging bus. Who knows if it has a stop in sight, but I'm having tremendous fun trucking right along. :)
Now onto the lemony, poppy seedy deliciousness! This bread is super delish, and you won't believe how simple it is, too. Using a cake mix and pudding mix, it's quick, extra easy and mouthwateringly moist. Use this recipe from scratch if you'd rather. It's just as yummy!
Slather over a smooth glaze made with powdered sugar and lemon juice, and this bread goes from good to NOM NOM NOM… That's the sound of me eating your slice.
This delicious, easy lemon poppy seed bread makes for a sunny, citrusy breakfast, dessert or homemade gift from the heart. They freeze well, too.
Bake up a loaf some lazy day for yourself and someone lucky enough to enjoy it with you!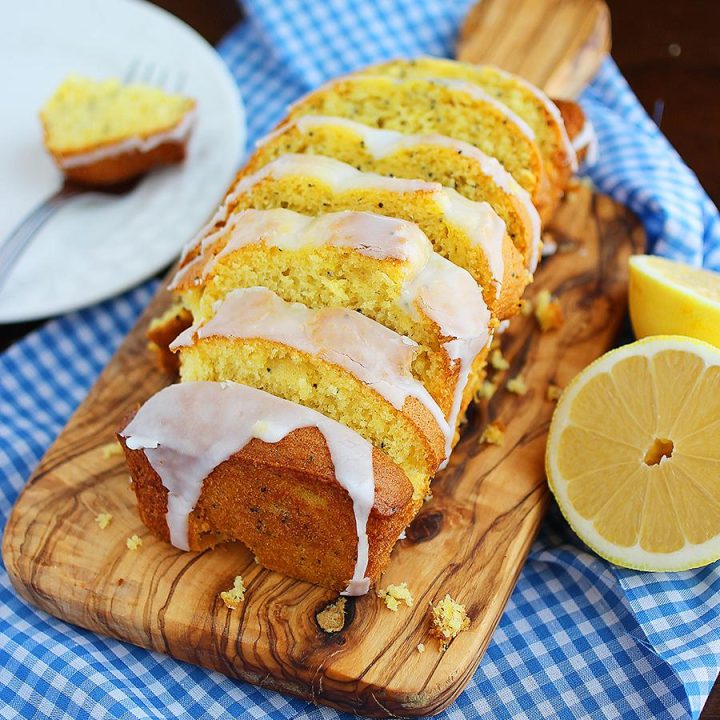 Lemon Poppy Seed Bread
Yield:
2 loaves or 4 mini loaves
Ingredients
1 package (18.25 oz.) white or yellow cake mix
1 package (3.4 oz.) instant lemon pudding mix
1 cup water
4 large eggs
1/2 cup canola oil
Zest from 1 lemon
3 teaspoons poppy seeds
1 1/2 cups powdered confectioners' sugar
Juice from 1 lemon
Instructions
Preheat oven to 350 degrees F.
In a large bowl, combine the cake mix, pudding mix, water, eggs and oil. With a hand or stand mixer, beat on low speed for 30 seconds. Beat on medium speed for 2 minutes. Gently stir in lemon zest and poppy seeds.
Pour into two greased 9-in. x 5-in. loaf pans, or four mini loaf pans. Bake whole loaves for 35-40 minutes, or mini loaves for 28-30 minutes, or until a toothpick inserted in the center comes out clean. Meanwhile prepare lemon glaze, if desired.
Cool in pans for 3 minutes before removing to a wire rack. Once on wire rack, place wax paper beneath rack and brush loaves with lemon glaze.
Enjoy!