Just like your favorite restaurant pancakes! Soft, fluffy and stacked high, these easy buttermilk pancakes are the perfect way to kick off your weekend. They're my best-ever batch!
Basic as this recipe may seem, it marks the end of my search for the ultimate buttermilk pancakes to end all pancakes. Sounds like a tall order to fill, and it has been! But these, my friends, are IT.
They're the absolute best to ever hit my breakfast table – so fluffy and soft, and perfect with a pad of butter and drizzle of maple syrup!
See, I used to be horrible at pancakes. Something about such a simple bunch of ingredients slapped onto a griddle was just WAY beyond me. Still can't explain it, but maybe it's because when I cook I often multitask. Pancakes, you gotta watch closely!
Enough years spent with the pancake master himself (my handsome hubby), and I've finally got it down. The patience, that is! A stack of these could make you weak in the knees, baby!
You know how those breakfast diner pancakes are always just right – soft, fluffy and stacked high? Now you can have them at home!
Whip up a batch some lazy weekend morning and you'll thank me. If you don't have buttermilk on hand, use the same amount of milk and a teaspoon of white vinegar or lemon juice – let sit for a few minutes. Voila, buttermilk!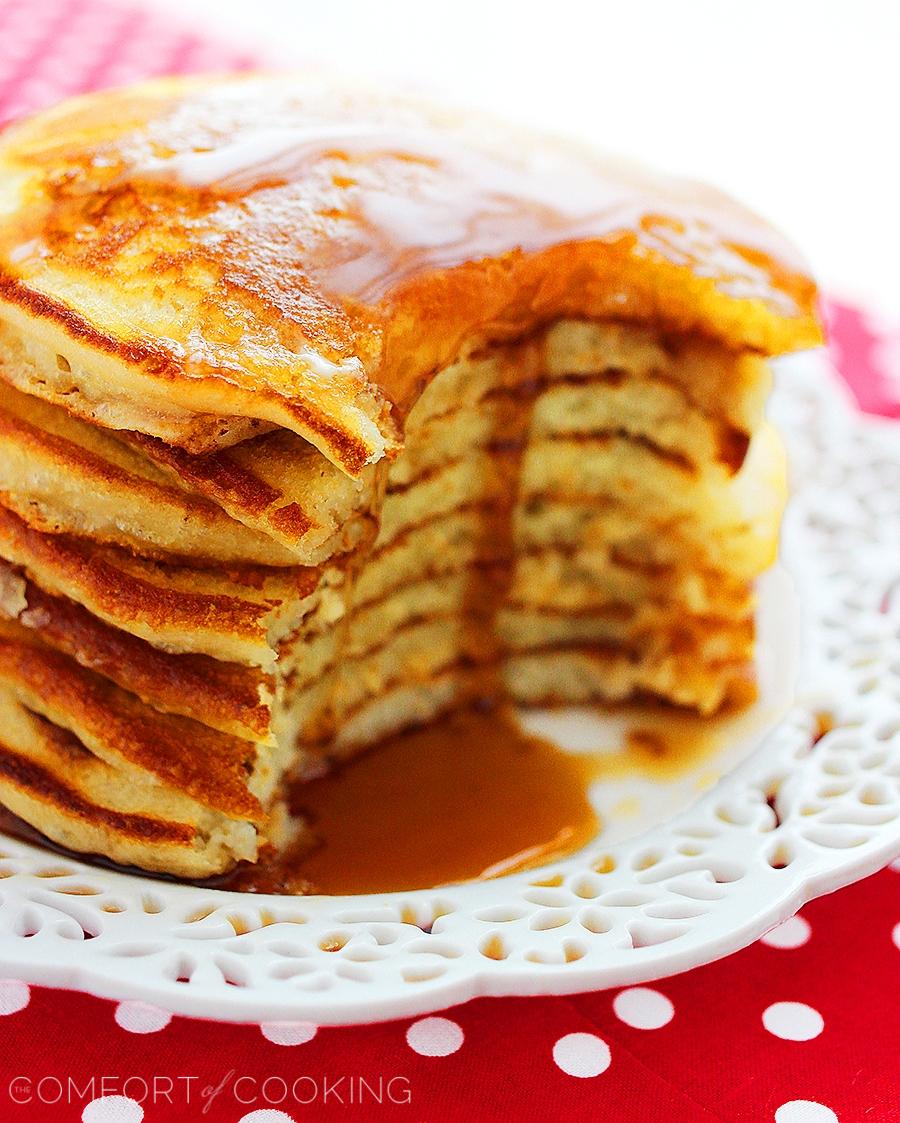 Fluffy Buttermilk Pancakes
Ingredients
1 1/4 cups all purpose flour
1/4 cup granulated sugar
1 heaping teaspoon baking powder
1 teaspoon baking soda
1 large egg
1/2 tsp. vanilla extract
1 1/4 cups buttermilk
1/4 cup vegetable or canola oil, plus 2 Tbsp. for pan
Instructions
In a large bowl, combine all ingredients and mix until smooth. Set aside.
Preheat a shallow, nonstick pan to medium heat and add 2 Tbsp. oil. Ladle 1/4 cup of pancake batter into the pan, forming 4-inch circles. When the edges begin to bubble after 1-2 minutes, flip the pancakes. They should be golden brown.
Cook pancakes on the other side for 1-2 minutes, or until golden brown.
Enjoy!