Sip on a little summer with a sparkling, citrusy grapefruit cocktail! Oranges, lemons, limes and grapefruits are at their tastiest (and cheapest) this time of year!
It's grapefruit season, dontcha know, and I intend to make every possible use out of this pretty pink citrus! It's packed with vitamin C, sweet yet tart and perfect with a splash of club soda, vodka or tequila, and fresh lime juice. For a sinless yet still delish mock-tail, substitute the liquor with additional club soda or flavored sparkling water!
Here's toasting to you, and also my first day of working with Purr Design on a new look! Times are a changing and it's about time The Comfort of Cooking got a makeover. I'm so excited to share the process with you along the way to a fun, fresh new design set to debut sometime in February. Feel free to let me know if there's anything new you'd like to see around here, too. :)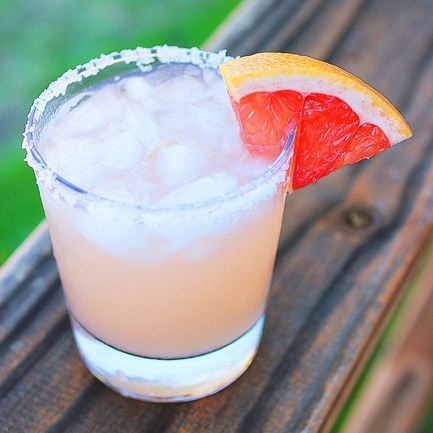 Sparkling Grapefruit Cocktail
Ingredients
Coarse sugar or salt
1/2 cup freshly squeezed grapefruit juice, from 1 grapefruit
1/4 cup freshly squeezed lime juice, from 1-2 limes
1/2 cup vodka or clear tequila
2 tbsp. simple syrup*
3/4 cups club soda, divided
Instructions
Rim 3 cocktail glasses with juice from a grapefruit wedge; dip in coarse sugar or salt, giving a gentle turn in each direction to coat the glasses.
In a liquid measuring cup or cocktail shaker, combine grapefruit and lime juices, liquor and simple syrup. Mix or shake well to blend. Fill glasses with crushed ice.
Pour 1/4 cup club soda into each cocktail glass. Top off each equally with the grapefruit mixture. Garnish with grapefruit wedges, if desired.
Cheers!
*To make simple syrup, combine equal parts sugar and water in a small saucepan over medium heat. Heat, stirring occasionally, until the sugar is fully dissolved. Chill before using. Use to sweeten coffee, cocktails, etc.