Super easy, fun and delicious hot dogs wrapped in a salty, puffy pretzel bun! Just 5 ingredients (plus seasoning) and 15 minutes to make these mouthwatering all-in-one treats for game nights, work and school lunches, and weeknights in. Perfect for dunking in your favorite sauce!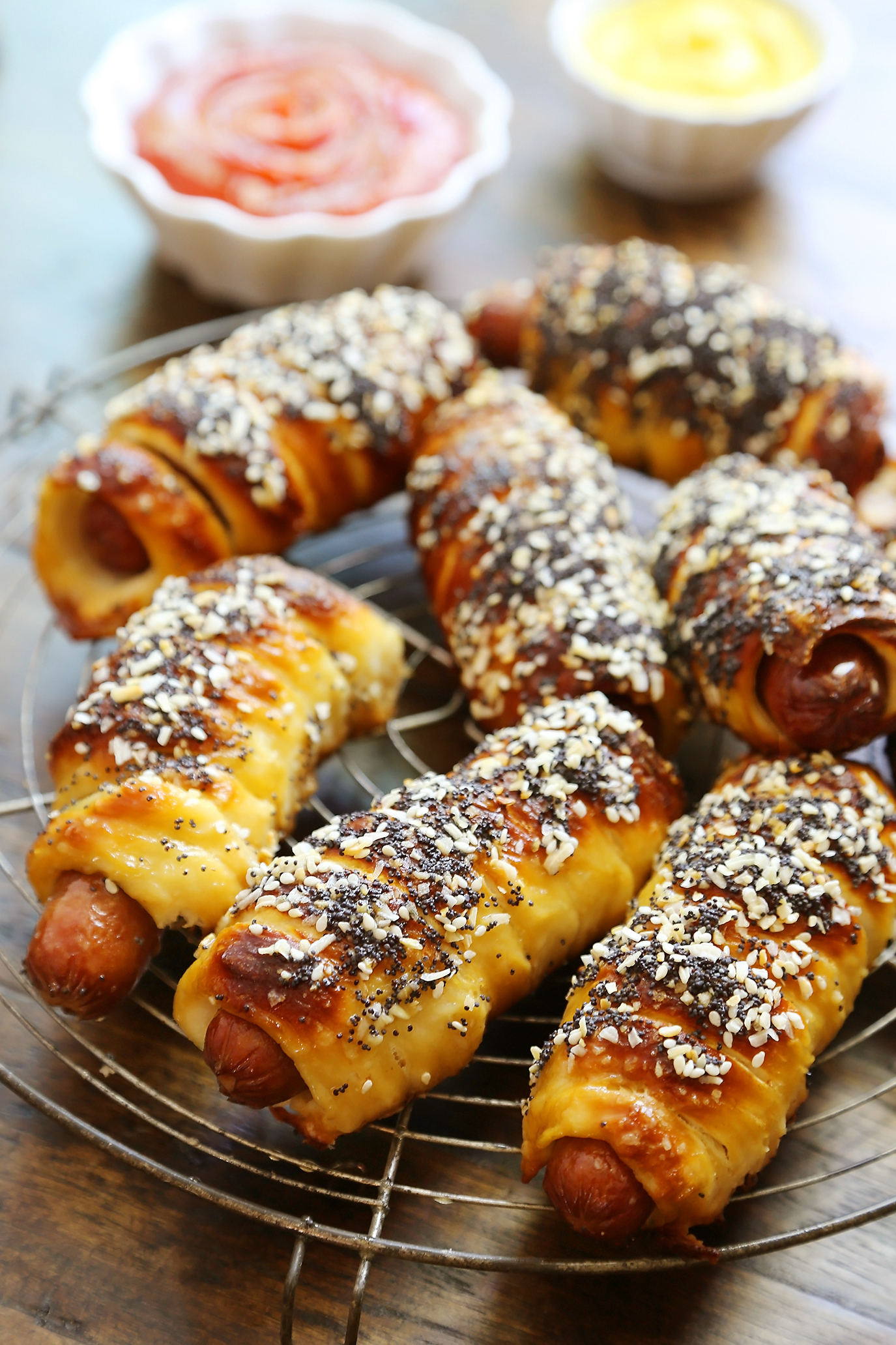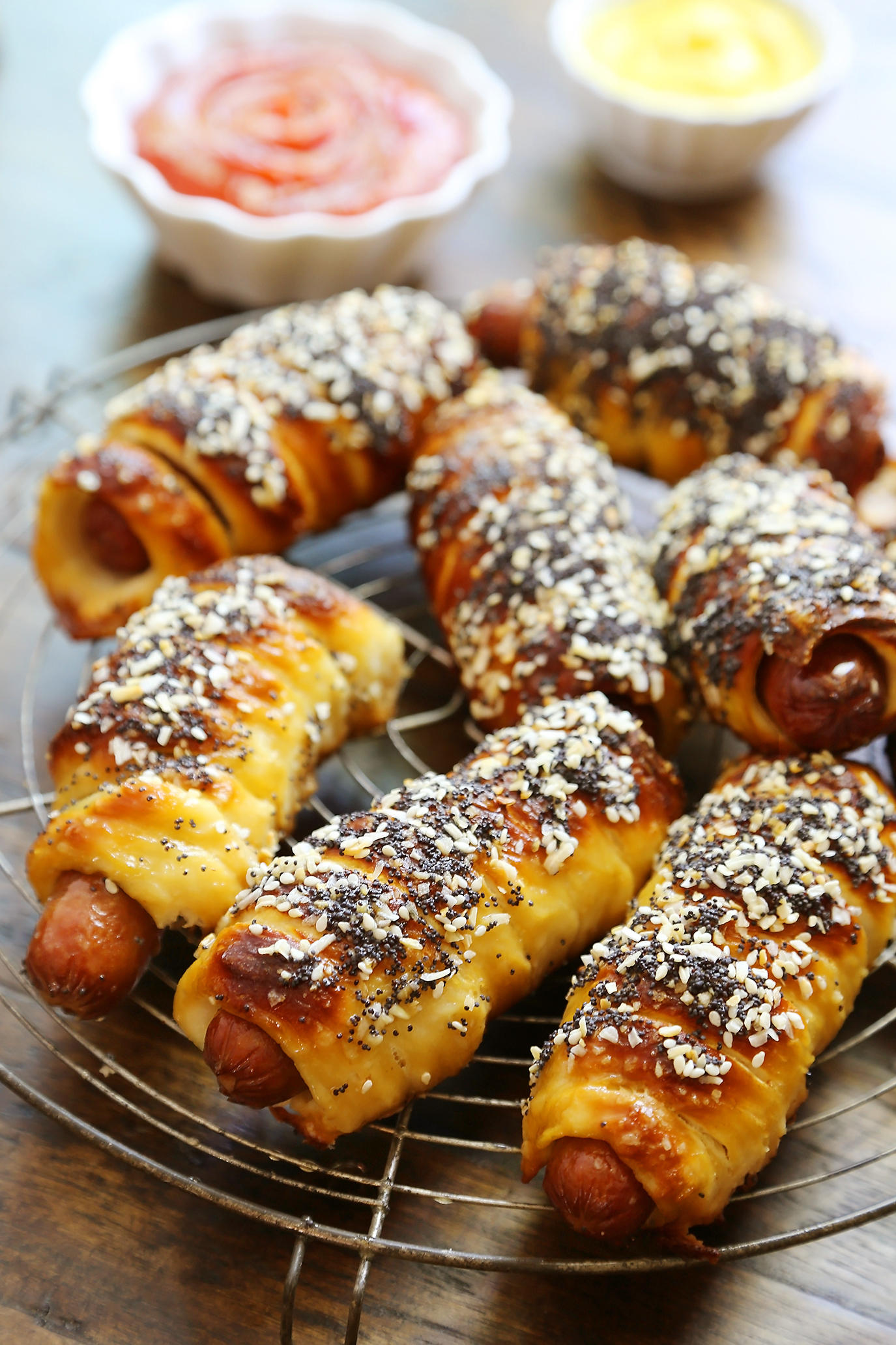 Gather the gang, because these juicy, doughy pretzel wrapped dogs are going to fly off the platter!
Can I think of anything more fun to eat while watching the game? Anything that your kid would be more excited to see in their lunch box? Or an easier weeknight dinner that might inspire your family to cook dinner for YOU? Simple answer: no.
I'm rather obsessed with the everything bagel-style seasoning on top of these delicious dogs. The mixture of onion and garlic flakes, sesame and poppy seeds, and a sprinkle of salt adds a crunchy, perfectly spiced flavor to these handheld "buns" that are easy to grab and go.
No fuss, no mess. Everyone's happy and munching away without complaint. Mama likey.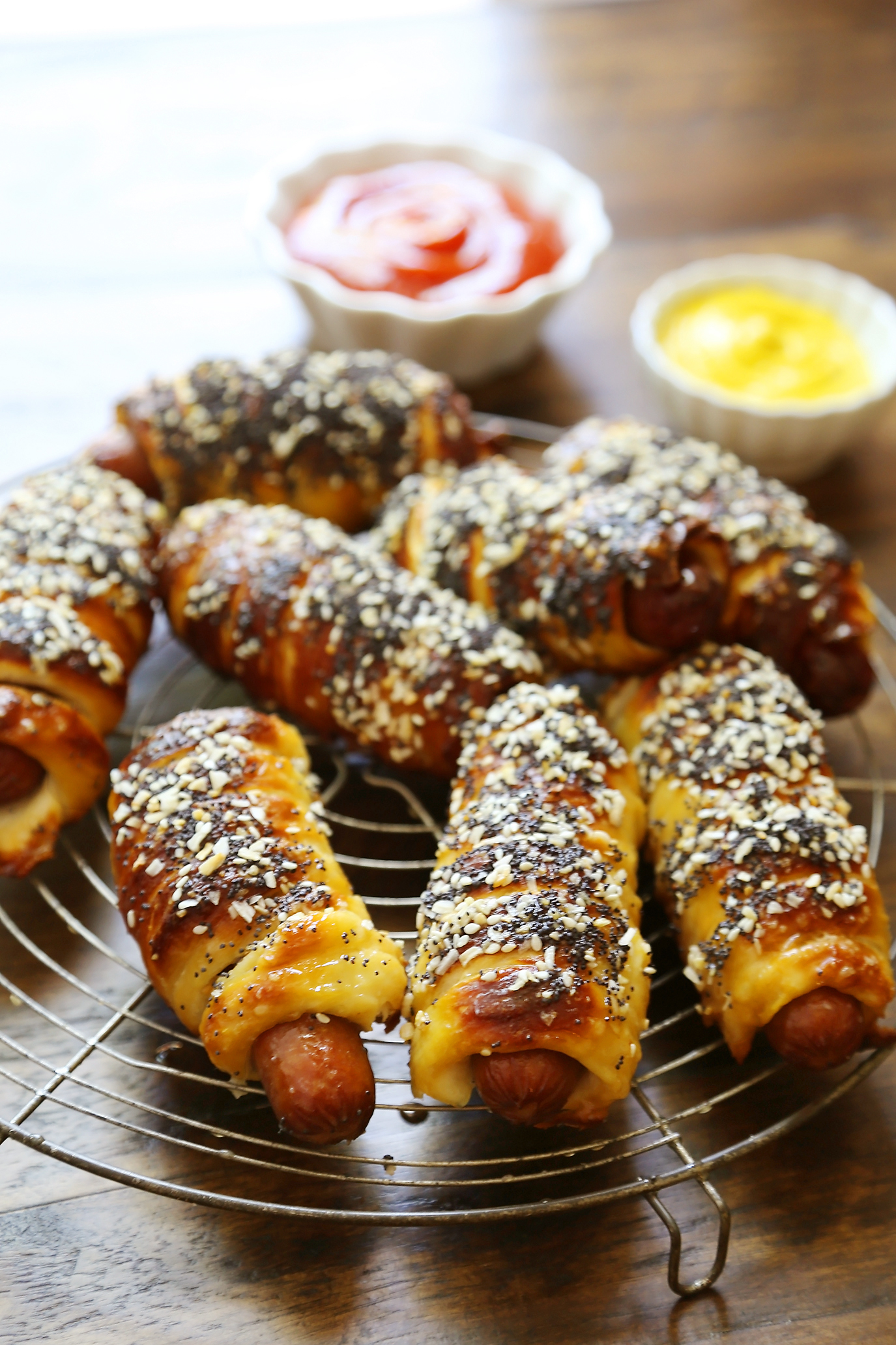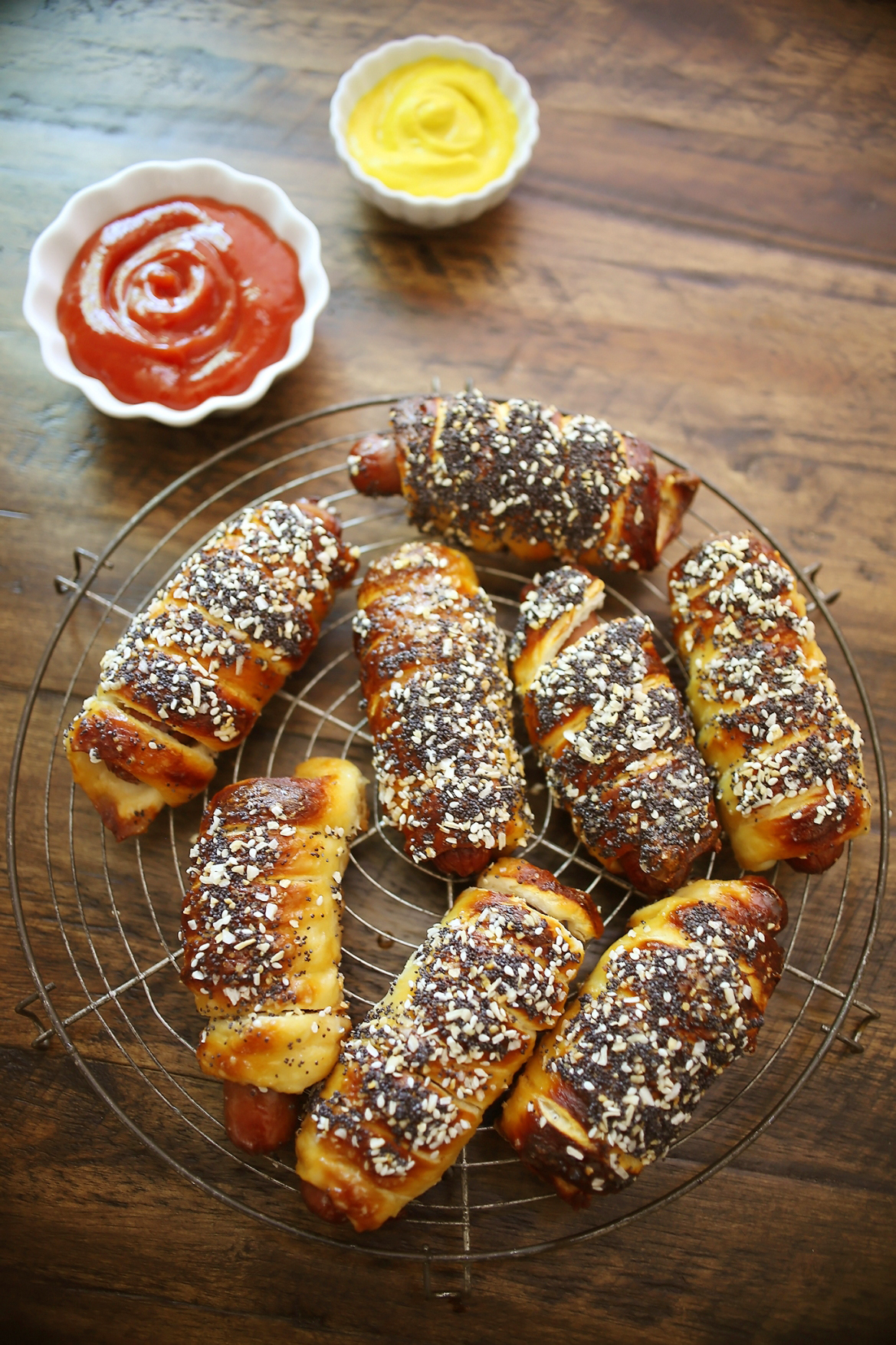 Wanna cook these up in your kitchen? Follow along, why don't ya!
Fire up your oven nice and hot (450 degrees F will do). Roll some biscuit dough into 8 ropes, and wrap the ropes around your hot dogs.
This is where the pretzel magic comes in! Are we ready? Yeah, we're ready.
Boil a bit pot of water and add baking soda. Dunk your tied up hot dogs (stop your dirty mind right now), and boil for about 30 seconds. Remove to a large tray and coat in an egg wash mixture. Roll the dogs around in your everything seasoning blend. Pat it on good! Bake for 10-15 minutes, and you have a perfect handheld hot dog pretzel for delicious dunking.
I like to serve with ketchup, mustard and cheese sauce. You do you. Whatever you like will be just fine, because these will not last long!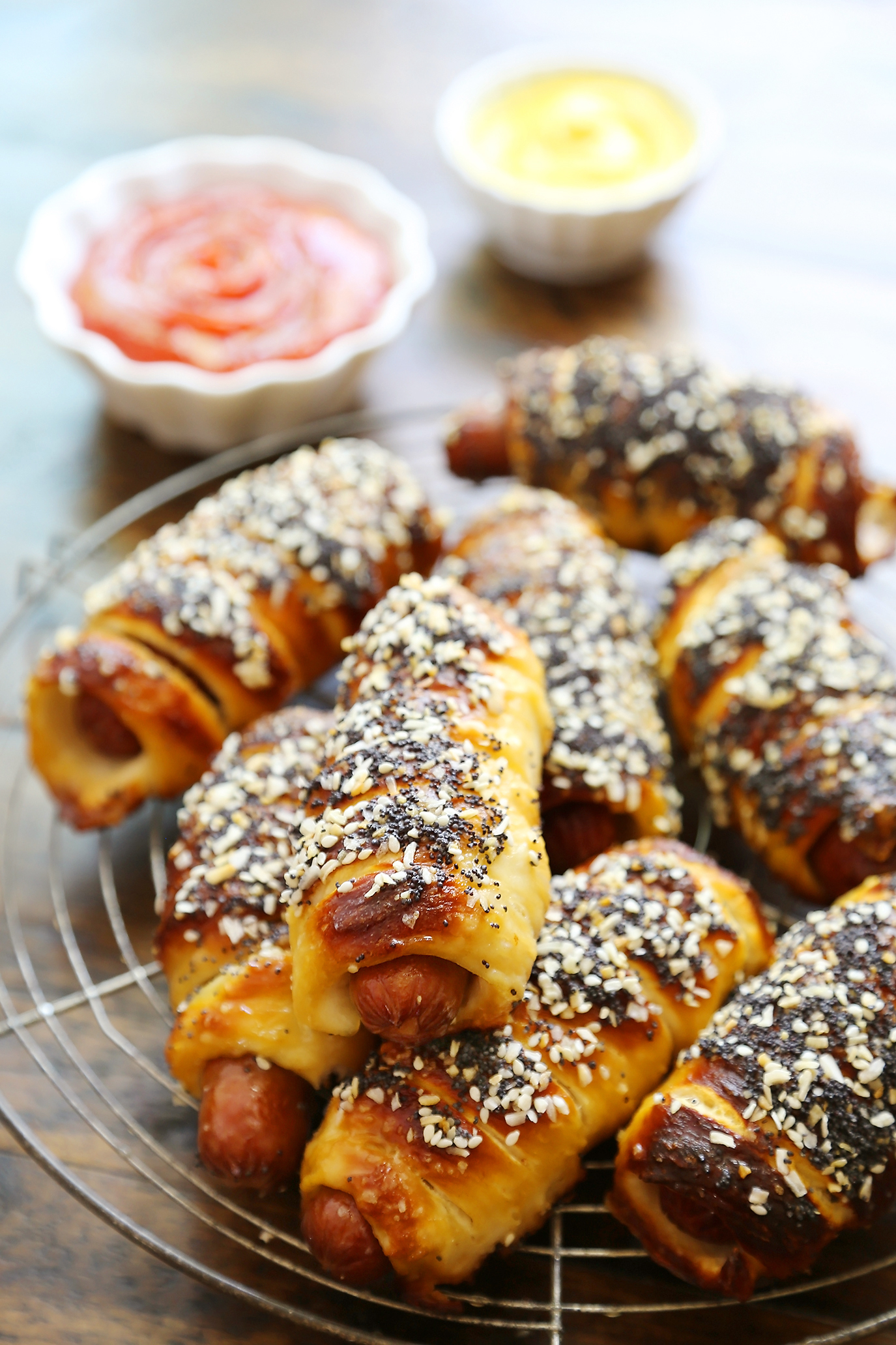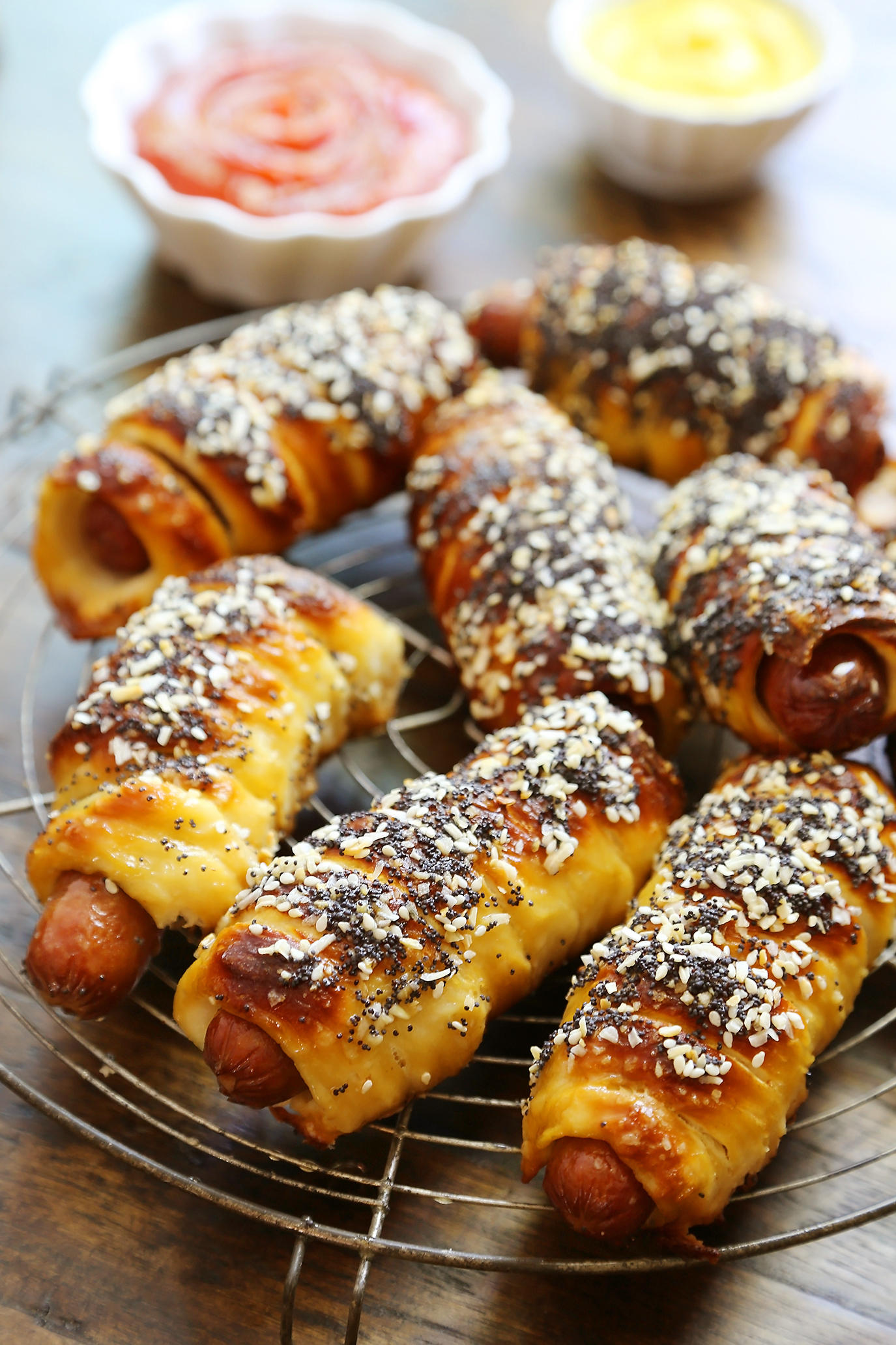 Easy Everything Pretzel Dogs
Ingredients
1 8-count tube biscuit dough
8 hot dogs, pat dry
1/4 cup baking soda
1 large egg
2 Tablespoons water
For 'everything' seasoning:
2 tablespoons sesame seeds
2 tablespoons poppy seeds
1 tablespoon dried minced onion
2 teaspoons dried minced garlic
1 teaspoon kosher salt
For serving:
Ketchup, mustard and/or cheese sauce, optional
Instructions
Preheat oven to 450 degrees F.
Roll each biscuit into an 18-inch long rope. Wind each rope around 1 hot dog.
In a large pot, boil 3 quarts of water. Whisk in baking soda. Place 2 wrapped hot dogs into water for 30 seconds. Remove with slotted spoon to a cooling rack. Repeat until all pretzel dogs are boiled. Place on a large baking sheet coated with nonstick cooking spray.
Meanwhile, combine everything seasoning in a small bowl.
Whisk egg and water in a small bowl. Brush with egg wash and roll in everything seasoning. Bake for 10-15 minutes, or until golden brown. Serve with ketchup, mustard, and/or cheese sauce.
Enjoy!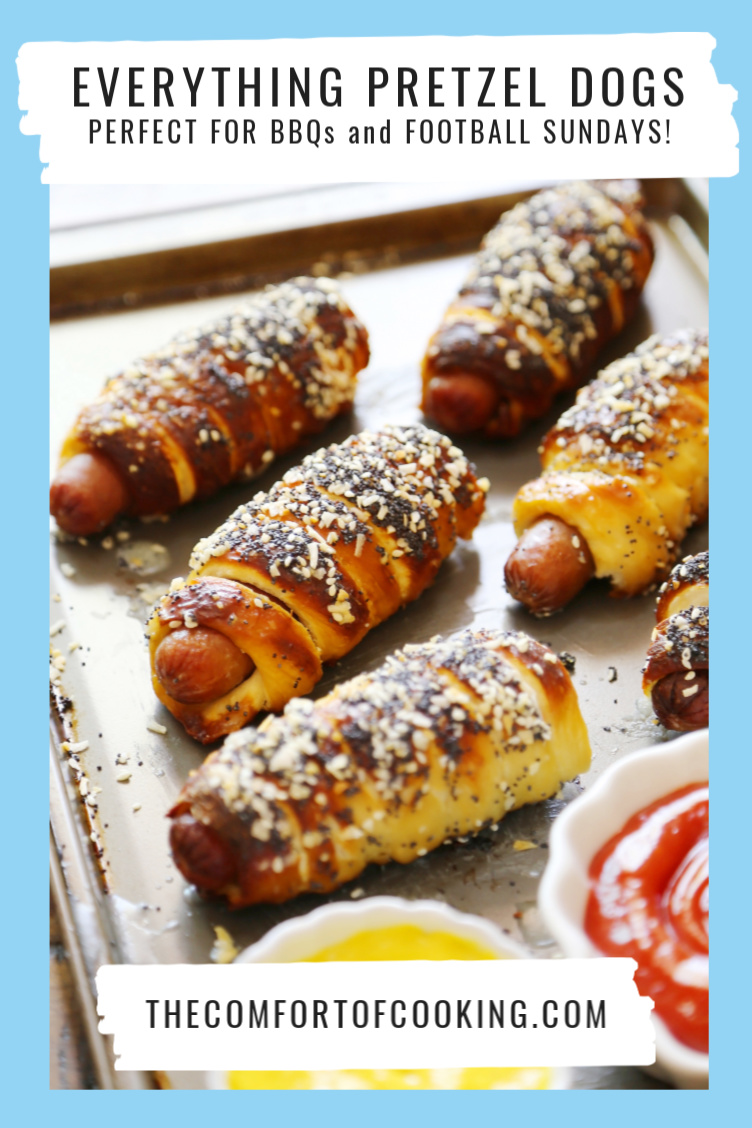 Want to receive our latest recipes straight to your email inbox? Click here to subscribe!