When it comes to summer side dishes, some have affection for pasta salad, salsas and corn on the cob, but my heart lies with potato salad. Ahh, potato salad. If you were a river, I'd swim in you. If you were a love song, I'd sing you. If – is this getting weird? Yea, sorry about that.
Point being: I love potato salad.
I've eaten plenty of varieties but only ever made it one way, so I decided it was time to mix it up with a vibrant new flavor. Enter: basil pesto. Gotta love that colorful, fragrant green mix of fresh basil, garlic, pine nuts and Parmesan… beautiful and basil-icious!
I've tossed pesto with pasta, slathered it on garlic bread, and even stuffed it into cream puffs, but never thought to use it to spruce up a potato salad. As opposed to the usual, Southern style mustard-celery-egg mixture that is my go-to during the warmer months, this combination of grape tomatoes, fresh mozzarella, potatoes and fresh pesto made for an absolutely delicious, long overdue change in routine.
The recipe couldn't be easier, either – Just boil your potatoes for about 8 minutes and rinse them under cold water to stop further cooking. Place them in a serving bowl and toss with the pesto, then throw in your grape tomatoes and fresh mozzarella. Add a dash of salt and pepper, serve, and it will just be a matter of time 'til the whole bowl is empty!
This is a fun, very flavorful side dish to bring to a summer party, or just to serve alongside your favorite Mediterranean meal and grilled meats. I'll be giving you a delicious dinner idea for this pesto potato salad later in the week, so keep an eye out!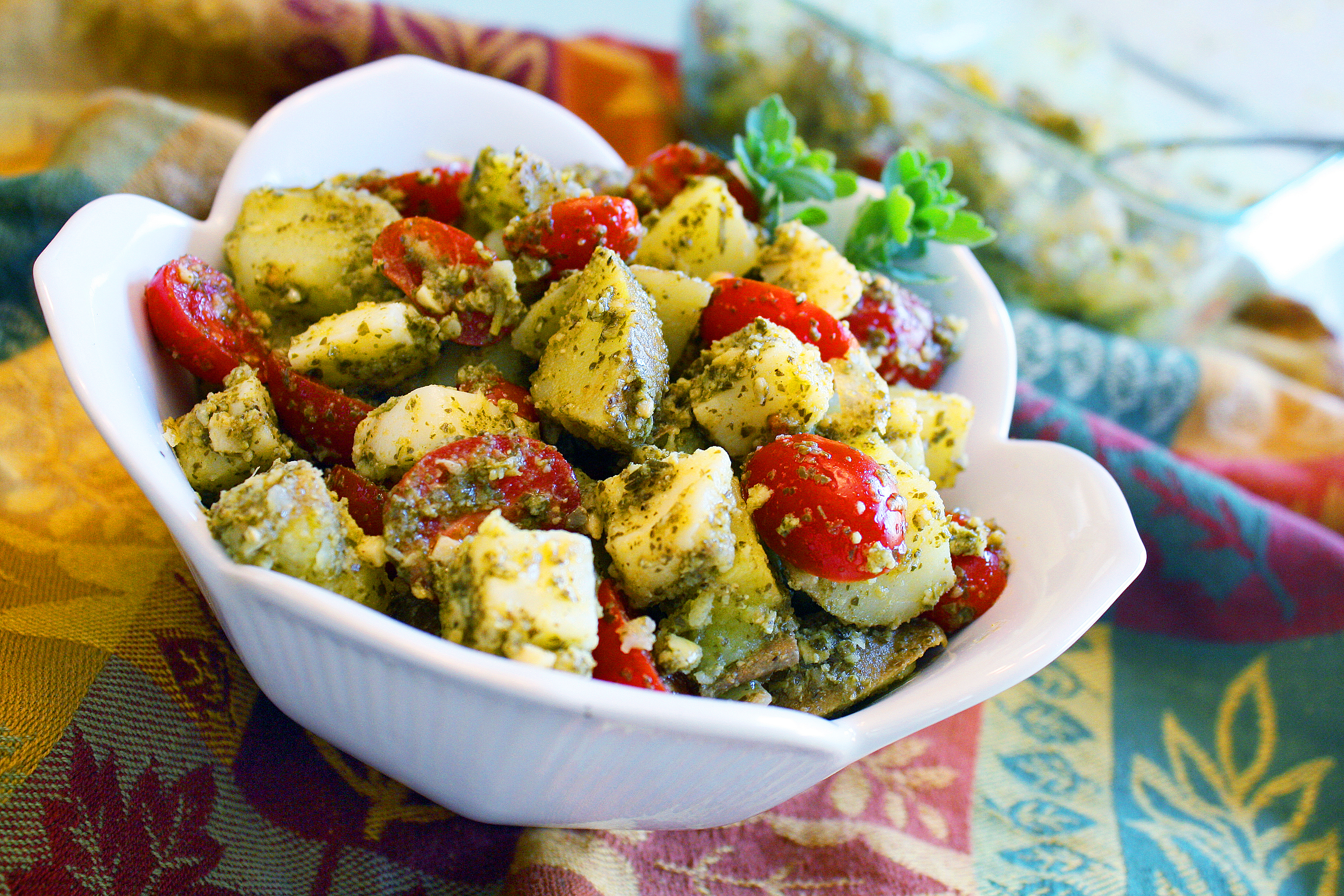 Basil Pesto Potato Salad with Tomatoes and Mozzarella
Ingredients
2 lbs. potatoes, scrubbed and cut in bite-sized pieces
1/3 cup basil pesto, or your favorite pesto
6 oz. grape or cherry tomatoes, cut in half lengthwise
3 oz. fresh mozzarella, cut into chunks
1/2 tsp. kosher salt
1/2 tsp. freshly ground pepper
Instructions
Boil the potato chunks in a large pot of water until they are tender when pierced with a fork, but not falling apart, 8-10 minutes. Drain and rinse under cold water to stop further cooking.
Place the potatoes in a serving bowl and gently toss with pesto until well combined. Gently toss with tomatoes and mozzarella. Season with salt and pepper, to taste.
Serve or refrigerate, covered, until ready to serve.
Enjoy!