When you're sick of sticking to salads, sucking yourself into figure-hugging summer dresses and just overall being a good girl and watching your weight, eat THIS. If you still want to maintain a fraction of the good girl, eat a small portion, but have some nonetheless. Lord knows you worked for it!
Oh, you want to know what this is before I force feed it to you? Well, alright. This is creamy, decadent and delicious comfort food at its best. All of the rich, fresh flavors combined – red pepper, zucchini, yellow squash, onion, cream cheese, garlic and butter-sautéed chicken – melt. in. your. mouth. Eating this is a divine experience, and it was Tuesday night's dinner. But wait, it can be yours, too!
It's simple, really. Just boil some penne, sauté your chicken and vegetables together, then make an easy cream sauce from butter, flour, and cream cheese. Stir 'em all together and what have you got? Scrumptious, sinful and ooey-gooey perfection on a plate with an amazing aroma and even better taste. Just don't expect to squeeze into a swimsuit the next day…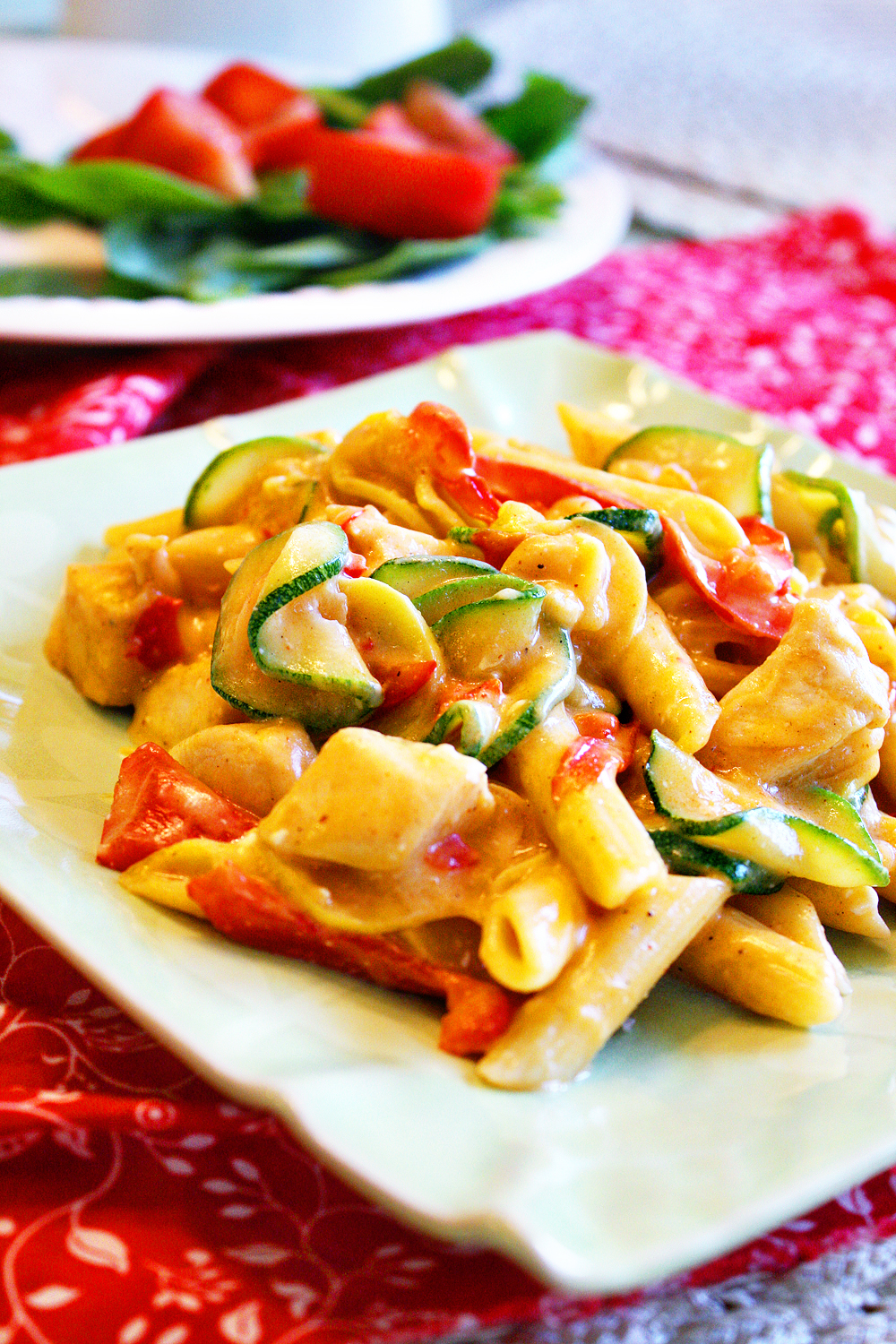 Chicken, Penne and Vegetables in a Garlic Cream Sauce
Ingredients
Salt
Olive oil
1 ¼ cups penne
2 tablespoons butter
3 boneless skinless chicken breasts, cubed
1/3 cup chopped onion
2 cups zucchini, sliced 1/8-inch thick
2 cups yellow squash, sliced 1/8-inch thick
1 red bell pepper, sliced 1/8-inch thick
4 tablespoons butter
2 large cloves garlic, minced
3 tablespoons flour
1 15 oz. can chicken broth
3 oz. cream cheese
1/2 tsp. pepper
1/4 tsp. garlic powder
1 tsp. salt
1/4 cup grated Parmigiano-Reggiano
Instructions
Bring a 4-quart pot of water to boil. Add a pinch of salt and a little olive oil to the water. Add pasta and cook according to package instructions. Drain and set aside in a colander. Rinse pot and reserve for later use.
In a large skillet melt 2 tablespoons butter over medium-high heat. Add chicken. Cook until chicken is browned and fork tender, about 5 minutes. Add onion, zucchini, yellow squash and bell pepper. Continue cooking, stirring, until vegetables soften.
In the 4 quart pot, melt 4 tablespoons butter over medium heat; add garlic. Cook for 1 minute, then whisk in flour and stir until smooth. Add chicken broth, cream cheese, pepper and garlic powder. Continue cooking, stirring occasionally, until sauce is smooth and thickened. Remove from heat and gently stir sauce into chicken and vegetables. Add salt.
Return skillet to medium heat and cover. Cook, stirring occasionally, for 5 minutes or until mixture is hot and bubbly. Sprinkle with grated Parmigiano-Reggiano and serve immediately.
Serve with garlic bread and salad, if desired.
Enjoy!