When my husband goes on long business trips, I eat cereal for dinner. Other times, it's peanut butter and jelly. But, after the third night of sitting down to a cold meal alone, I start craving something warm and usually rush out to the store for a Marie Callender chicken pot pie… Which is probably the most chock-full-o-calories frozen meal imaginable, but hey. I get lonesome.
Though Mark isn't planning on leaving anytime soon, I know for sure that the next time he does, I'm making a big homemade chicken pot pie so I can heat up the leftovers and have a toasty hot meal, even if my only company is the TV screen. Because a dinner of cereal is seriously depressing night after night, don't you agree?
This pot pie is sensationally good, you've got to trust me. If you don't want to, maybe you can trust these people who've made it, too?
It's been one of our favorite comfort foods for years, and since we travel often, it's easy to freeze and come back to. You can make it large, make 'em mini, make it with homemade pie crust or store-bought (I'm sure you can tell which is which from my pictures!). However you make it, this pot pie is always delicious and never easy to mess up.
Plus, eating pot pie is like getting a big, warm squeezed-to-death hug from your Grandma. And who doesn't love those?
I've never been a good air-hugger. I always go for the big hugs.
I'm 100% certain that you will love this creamy, full-of-flavor pot pie and be planning to make it again and again after you make it the first time. The crust is crisp and buttery, the filling oozes flavorful chunks of carrots, celery, chicken and peas, and the whole thing goes great with a glass of wine and some good conversation. That is, if your significant other is in town.
Please enjoy this recipe as a gift from me to you, and if you do try it, I'd love to hear how it turned out for you!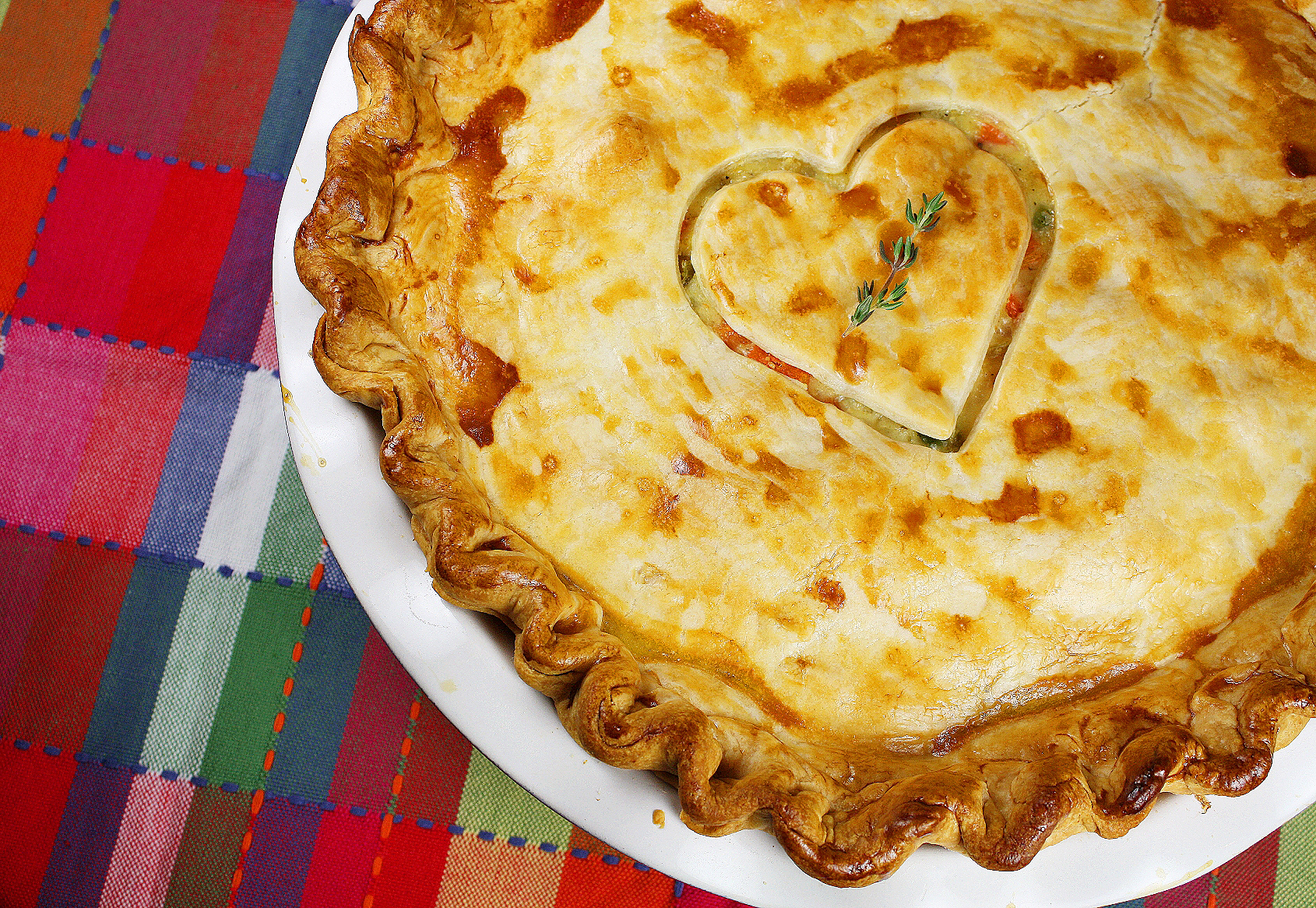 Best Chicken Pot Pie
Yield:
1 Large pie serves 4-5, mini pies serve 6
Ingredients
2 homemade or store-bought pie crusts, about 9-inch each
2 cups water
1 lb. boneless skinless chicken breast, cut into 1/2-inch pieces
2 carrots, peeled and cubed
2 ribs celery, sliced
1 medium onion, chopped
2 tablespoons chicken bouillon granules
1/4 teaspoon black pepper
1/4 cup butter
4 tablespoons cornstarch
1 tablespoon flour
1 cup heavy whipping cream
1 cup frozen peas
1 egg
1 tbsp. water
Instructions
In 4-quart saucepot combine water, chicken, carrots, celery and onion. Bring to a boil. Reduce to a simmer and cook 10 minutes, stirring occasionally. Add chicken bouillon, pepper and butter. Dissolve cornstarch and flour into whipping cream and stir into chicken mixture. Simmer 3 minutes, stirring frequently until thickened. Add peas and set aside.
Roll out two 9-inch pie crusts. Place bottom crust into six ramekins or one 9-inch pie plate, and shape with your fingers. Pour filling into bottom crust. Roll out top crust; cut slits for steam to escape. Cover filling with top crust. Seal crusts and wave edge with your fingers. Whisk egg with water, and brush top crust with egg wash.
Bake in a 400 degree oven for 35-40 minutes, or until the crust is golden brown and filling is bubbling. If top crust is browning too quickly, cover loosely with aluminium foil. Let stand 15-20 minutes before serving.
Enjoy!