Shake up your dinner routine with this fun, flavorful Thai chicken pizza with easy to find ingredients and savory spicy-sweet flavors!
Though I'm itching to really learn how, I hardly ever cook Asian dishes at home. Sure, I'll whip up a stir fry here and a rice dish there, but I always play it safe. As far as Asian cooking goes, eh, I've gotten my feet wet. But I want to be dunked in head first!
Pizza is a great, wide open canvas for learning to cook new cuisines. You can mix up all different spices, textures and flavors. If you've made a splash, yippee!! If the flavors aren't quite for you, well, it's pizza. Someone will like it!
Asian cuisine, particularly Thai, encompasses some of our favorite flavors, so when my husband's friend shared this recipe I didn't hesitate to heat up my oven and get crackin'. The list of ingredients sounded mouthwatering and not intimidating (or hard to find) at all, which is always a plus in my eyes.
Chunks of chicken breast are tossed with peanut butter, soy sauce and hot sauce while sliced cucumber marinates in a mixture of sweet honey and tangy vinegar. Pizza dough is topped with cheese and bell peppers along with the chicken and cucumbers. After baking, a sprinkling of peanuts, fresh cilantro and alfalfa sprouts top off this terrific pizza for slightly sweet, spicy and surprisingly yummy flavor combo.
Hopefully you'll love this recipe just as much as we did, and maybe it will inspire you to experiment more with Asian cooking, too!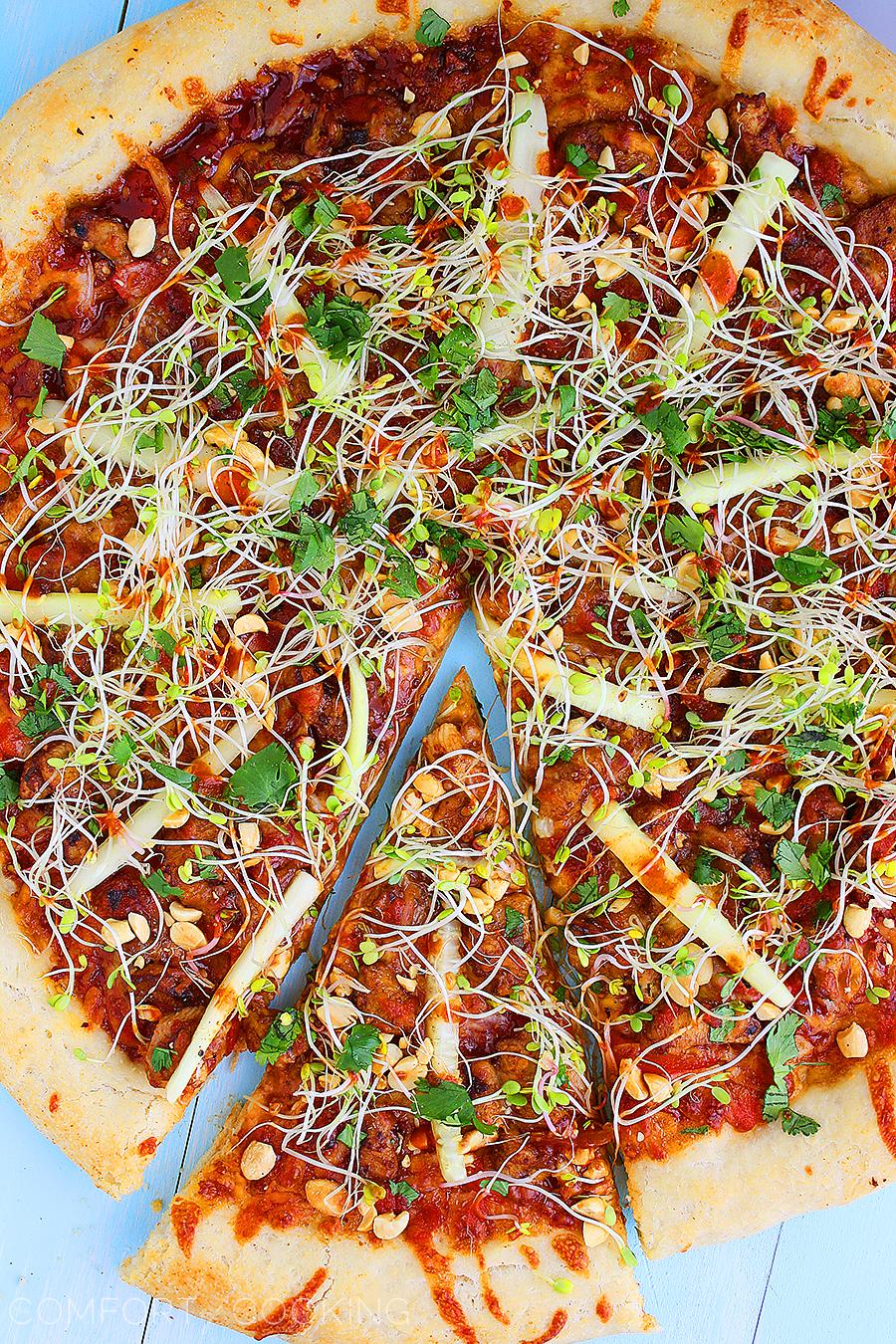 Thai Chicken Pizza
Ingredients
1 lb. boneless skinless chicken breasts, cut into 1-inch chunks
1 tablespoon vegetable oil
2 tablespoons soy sauce
1 rounded tablespoonful peanut butter
2 teaspoons hot sauce
2 teaspoons grill seasoning, recommended: Montreal Steak Seasoning
2 tablespoons honey
2 tablespoons rice wine vinegar or cider vinegar
1/2 cucumber, peeled and cut into matchsticks
1 ball refrigerated pizza dough, homemade or store bought
1/2 cup duck sauce or plum sauce
1/2 teaspoon crushed red pepper flakes
2 cups shredded cheese, Mozzarella, Monterey Jack, or any mixture of cheeses are fine
1/2 red bell pepper, thinly sliced
1 cup alfalfa sprouts, a couple of handfuls
Palm full cilantro leaves, chopped
1/4 cup chopped peanuts, 2 ounces
Instructions
Preheat oven to 425 degrees F.
Preheat a large nonstick pan, or grill pan, over medium-high heat. In a medium bowl, combine vegetable oil, soy sauce, peanut butter, hot sauce and grill seasoning. Add chicken chunks and coat evenly with mixture. Toss chicken into the pan and cook until no longer pink, about 5 minutes.
While chicken cooks, mix honey and vinegar in a small bowl. Add the cucumber. Turn to coat evenly; set aside.
Form pizza dough on pizza pan or cookie sheet. Spread with duck or plum sauce, up to 1 inch from the edge. Sprinkle with crushed red pepper flakes. Top with cheese, chicken and bell peppers.
Bake until hot and golden brown, 15 to 17 minutes.
Top cooked pizza with sprouts, cilantro and peanuts. Drain cucumbers and scatter over the pizza. Cut into wedges and serve.
Enjoy!