Crispy chicken with a tangy kick! Try this not-so-traditional twist on classic roasted chicken with a super easy, creamy Sriracha gravy on the side… totally mouthwatering.
One thing I've made very clear in my years of blogging here has been my love of roasted chicken. But, hot sauce? I don't talk nearly enough about how I loooovvvveee me some hot sauce. That's right, my three musketeers are Franks Red Hot, Sriracha and Cholula. It's surprising that I don't keep a bottle of each in my handbag! You know, for emergency situations.
As I discussed last week, this baby that makes up my growing bump has only intensified my desire for lemons. But, the craving/need/insatiable desire ranges to all foods with a tangy twist! Spicy, tongue scorchin' hot sauce included.
But, I never thought to combine my two loves into one… until now!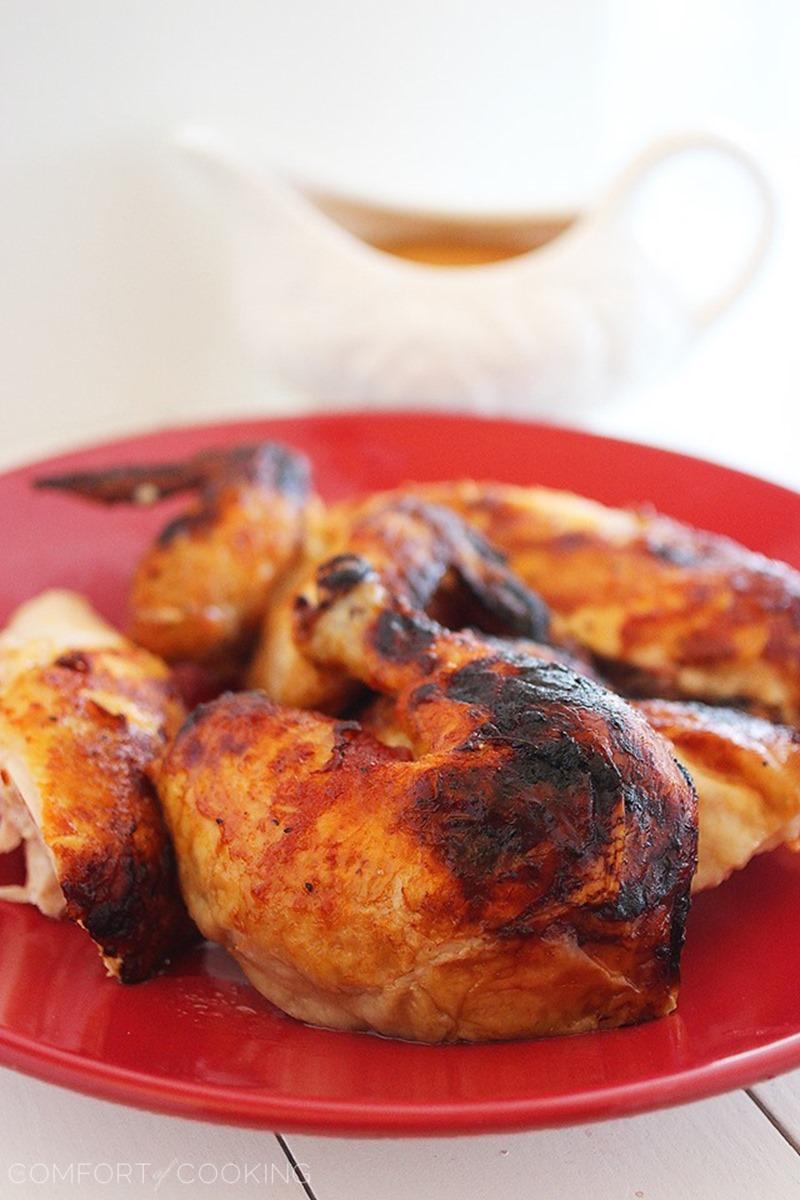 I knew I wanted to cook up a crisp, juicy roasted chicken for dinner last week, but needed something more unique than the usual lemons-and-herbs medley. And then, like a shining beacon, this killer recipe from White on Rice Couple popped up during my search. I had the Sriracha. I had the ketchup and vinegar. I even had the fish sauce (though optional, in my opinion). Dinner was decided.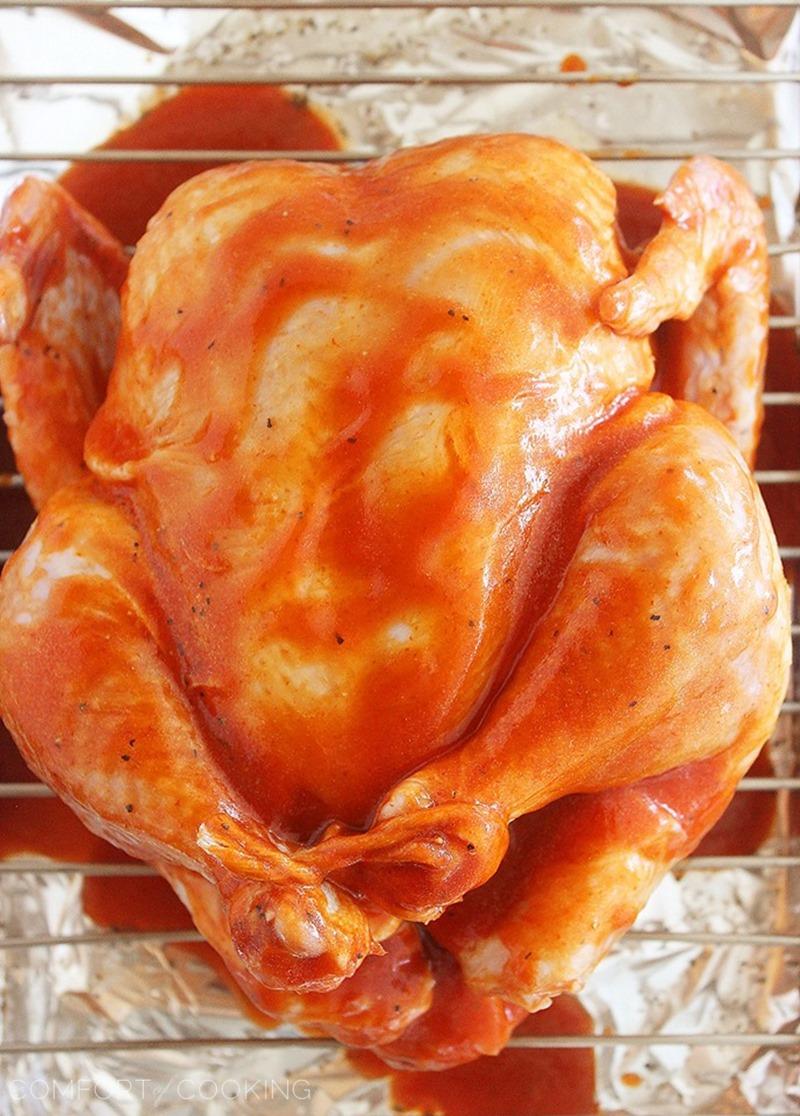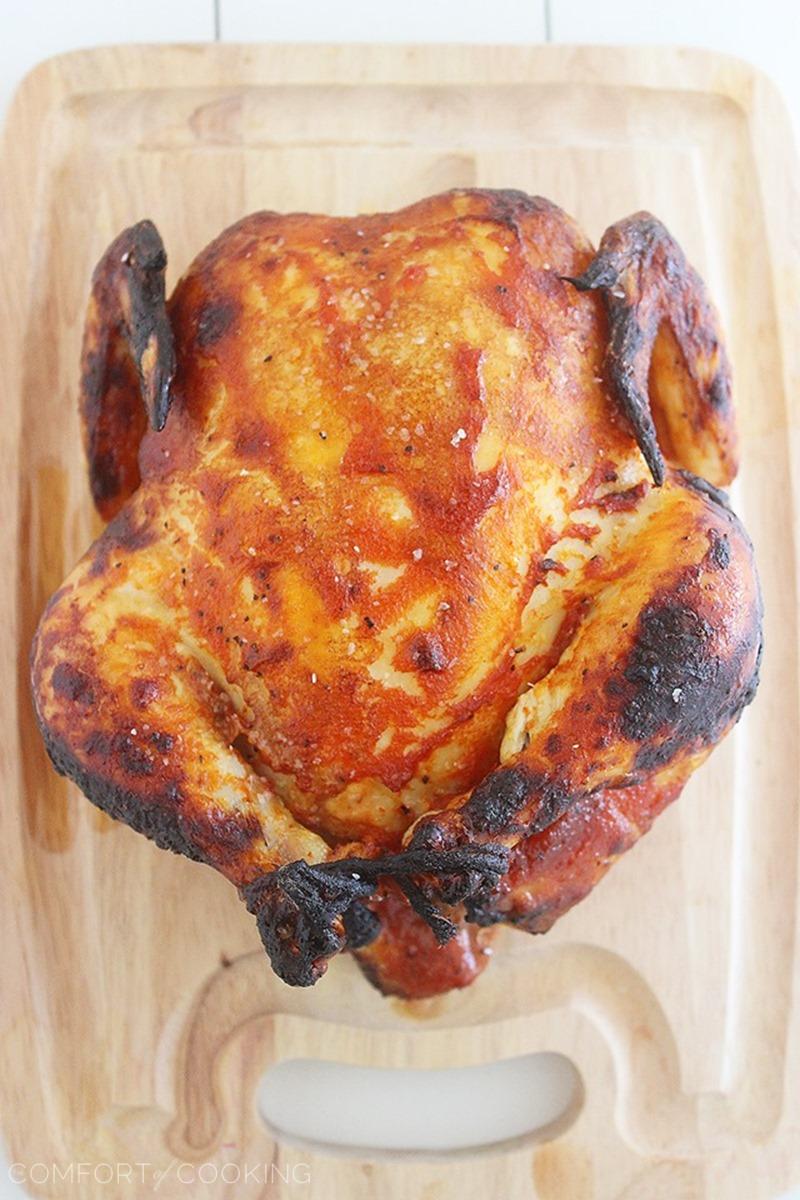 Once I slathered the spicy mixture on my big, beautiful bird, it was time to get roastin'! Covering the chicken with foil was something I wasn't particularly sure of, at first. But, I had read somewhere that this method (combined with uncovered roasting later in cooking) yields an incredibly tender chicken.
Well, whoever said that definitely knew what they were talking about!
This bird was the MOTHA of all mouthwatering chickens. I found that tenting the chicken while roasting traps in the heat and moisture, almost "steaming" the meat underneath the skin. It only takes 30 minutes more of roasting uncovered to crisp up the skin to a deep golden-amber, with a little char. Just how I like it!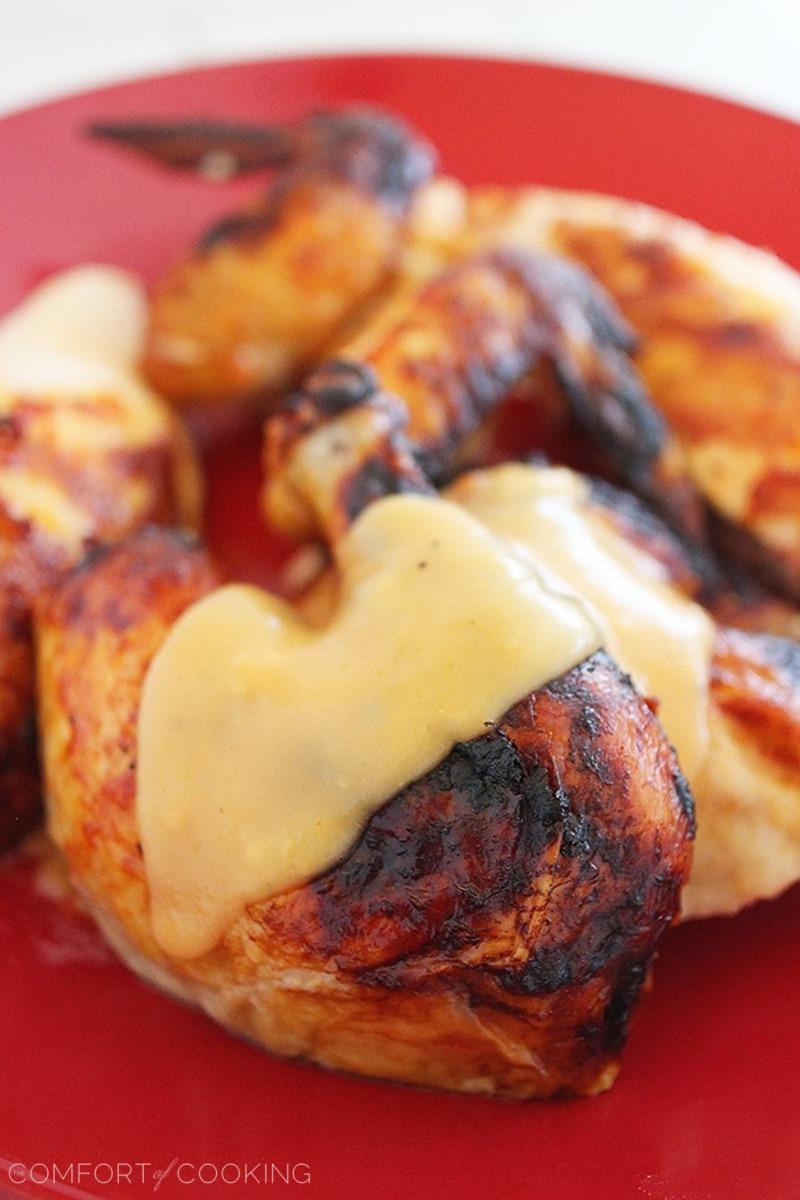 And, while I wasn't certain I'd have luck with the Sriracha gravy either (never been great at gravies), this one was the absolute best. Along with the chicken, the silky, creamy gravy has only a slight kick from the Sriracha hot sauce, and they pair perfectly. Served with a side of roasted potatoes, this meal just about put this spice-lovin' preggo on cloud nine! My Simple Asian Soy-Peanut Noodles would also make a delicious side.
For a fun and unique twist on your usual roasted chicken, try this recipe tonight! It has a little zip, but nothing too overbearing for spice novices and scaredy cats. Fear not, I was once you!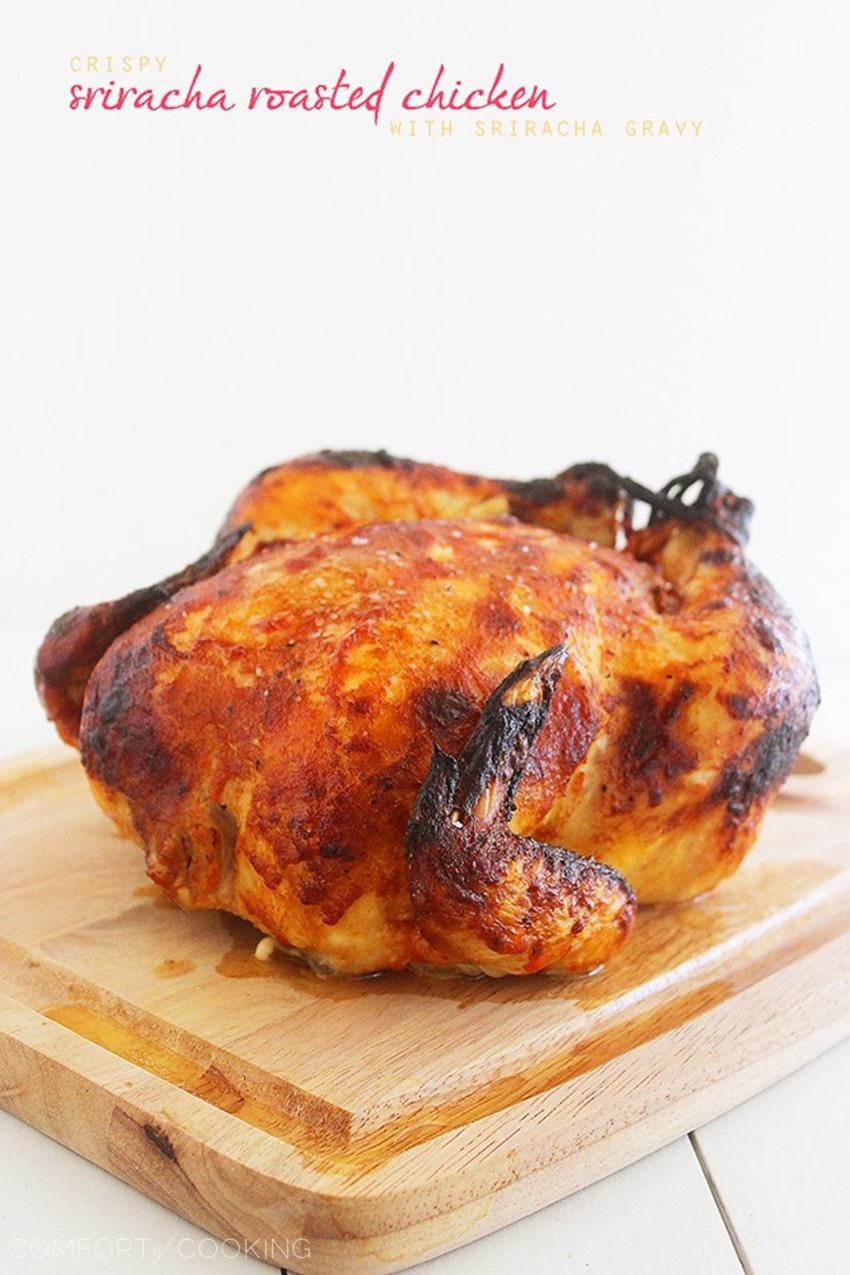 Crispy Sriracha Roasted Chicken with Sriracha Gravy
Ingredients
1 whole, 3-4 lb. chicken, rinsed and pat dry
Kosher salt and freshly cracked black pepper
1/4 cup olive oil or vegetable oil
1/4 cup ketchup
1/4 cup Sriracha or other hot sauce
2 Tablespoons rice wine vinegar or white vinegar
2 Tablespoons fish sauce, optional
For the gravy:
1/4 cup all-purpose flour
1 1/2 cups low-sodium chicken broth
Instructions
Preheat your oven to 425 degrees F.
Place chicken in roasting pan, or a 13x9 pan with a cooling rack rested on top. Season chicken with salt and pepper.
In a small bowl, combine oil, ketchup, vinegar, Sriracha, and fish sauce. Mix well and slather sauce all over chicken. Cover chicken loosely with aluminum foil and roast for 40 minutes.
Remove foil and baste chicken with sauce from pan. Return chicken to oven, uncovered, and roast for another 30 minutes, or until juices run clear and the temperature in the thickest part of the thigh reads 165°F when probed with an instant read thermometer. Once cooked, transfer chicken to a cutting board, tent with foil and let rest for 10 minutes.
Pour juices from the baking dish into a medium saucepan set to medium-high heat. Whisk in flour until well blended. Whisk in chicken broth and simmer until gravy thickens, 3-4 minutes.
Carve and serve the chicken with the Sriracha gravy.
Enjoy!