This cheesy, saucy ravioli skillet with Italian sausage makes for one scrumptious weeknight meal with salad and garlic bread. Try it tonight!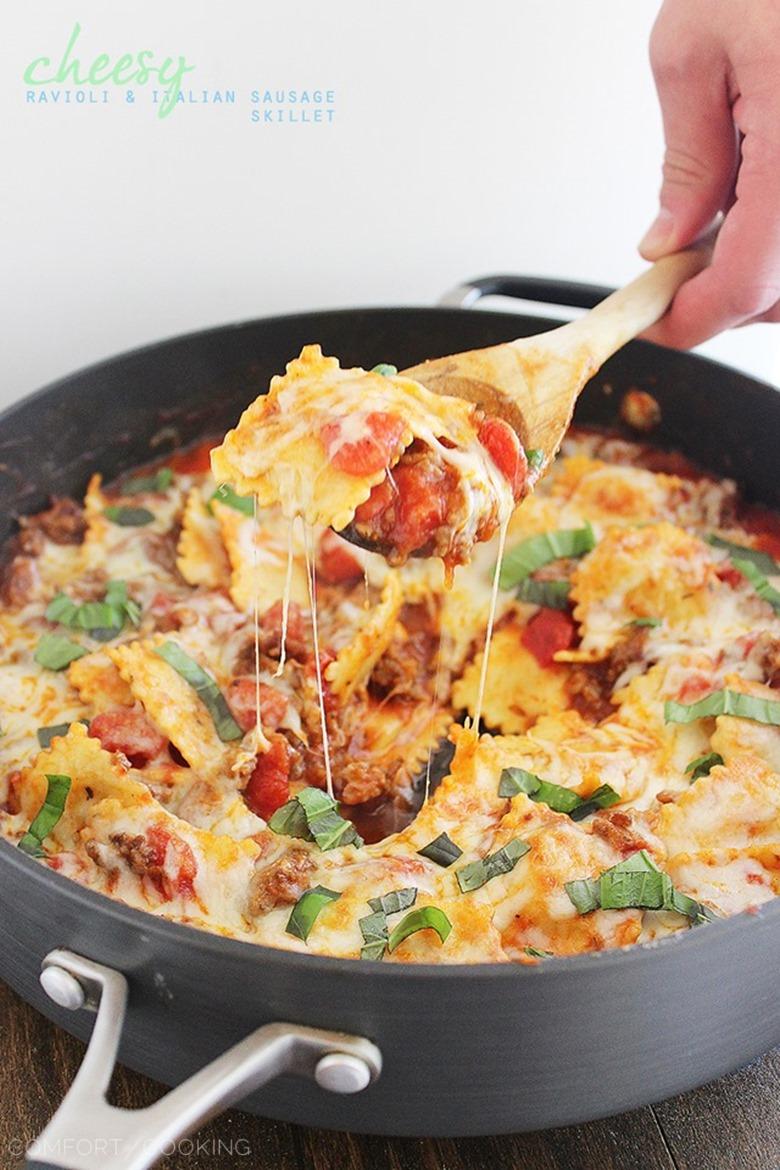 Yesterday, our little lady turned one month old! I can hardly believe a month has already passed, though it was certainly a full one – full of laughs and tears, joy and stress, and lots of learning. Learning to be more patient and calm. Learning to cling to the good days and ride out the rough ones. Learning how to do everything one-handed. (The girl loves to be held, what can I say!)
Though I haven't gotten back into the kitchen for any creative cooking yet, I am able to mix up easy weeknight meals like this ravioli skillet. And sometimes, I have baby wrapped up against my chest for hands-free cooking! After all, gotta keep baby happy while I prepare to make my belly happy with cheesy, carb-ilicious goodness.
With a big green salad on the side, this was one saucy, scrumptious one-pan meal! Just sizzle some Italian sausage in your skillet and add tomato sauce, diced tomatoes and Italian seasonings to make a quick and easy sauce. Toss your ravioli right in and let them bubble away 'til they're big and fat, then sprinkle on the shredded cheese. Under the broiler it goes to melt that gooey mozzarella, and onto your plate with a bit of fresh basil for garnish!
This mouthwatering ravioli skillet is definitely going to be part of our regular rotation. It's super simple and full of hearty home cooked goodness – perfect for busy weeknights and delicious as leftovers!
… If you're lucky enough to have any.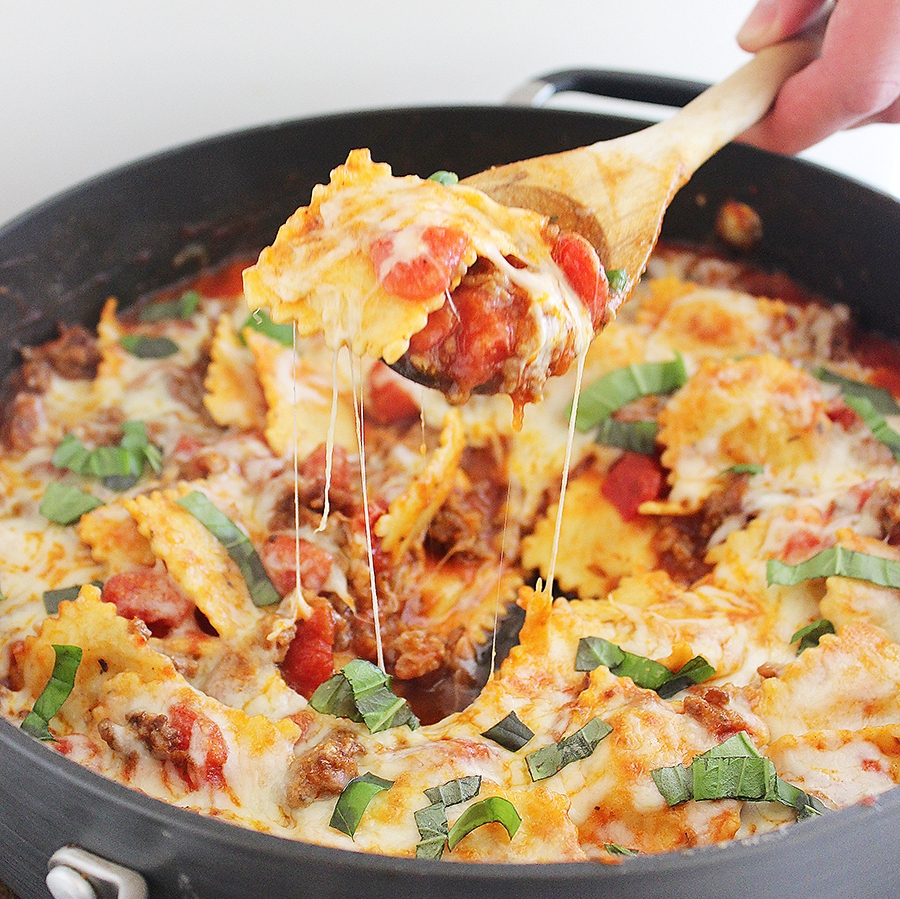 Cheesy Ravioli and Italian Sausage Skillet
Ingredients
1 Tablespoon olive oil
1 lb. 16 oz. Italian sausage, casing removed
1 14.5 oz. can diced tomatoes
1 8 oz. can tomato sauce
1 Tablespoon tomato paste
1 1/2 teaspoons Italian seasoning
1 teaspoon garlic powder
1 teaspoon onion powder
Kosher salt and freshly ground black pepper, to taste
1 16-ounce package cheese ravioli
1 1/4 cups water
1 cup shredded mozzarella cheese
1/2 cup grated Parmesan cheese
5-6 fresh basil leaves, chopped, optional
Instructions
In a large skillet, heat olive oil over medium high heat. Add Italian sausage and cook until browned, 3-5 minutes, crumbling sausage as it cooks.
Stir in tomatoes, tomato sauce, tomato paste, Italian seasoning, garlic powder, onion powder, and salt and pepper, to taste. Stir in ravioli and water. Bring to a boil; cover, reduce heat and simmer until ravioli is tender, about 10 minutes.
Remove from heat. Sprinkle with mozzarella and Parmesan. Place under your broiler and cook until melted and golden brown, 2-4 minutes.
Serve immediately and garnish with fresh basil, if desired.
Enjoy!