Just as good as your favorite takeout noodles, but healthier! All you need are noodles (or spaghetti), fresh veggies and a handful of pantry staples. You won't believe how delicious this is!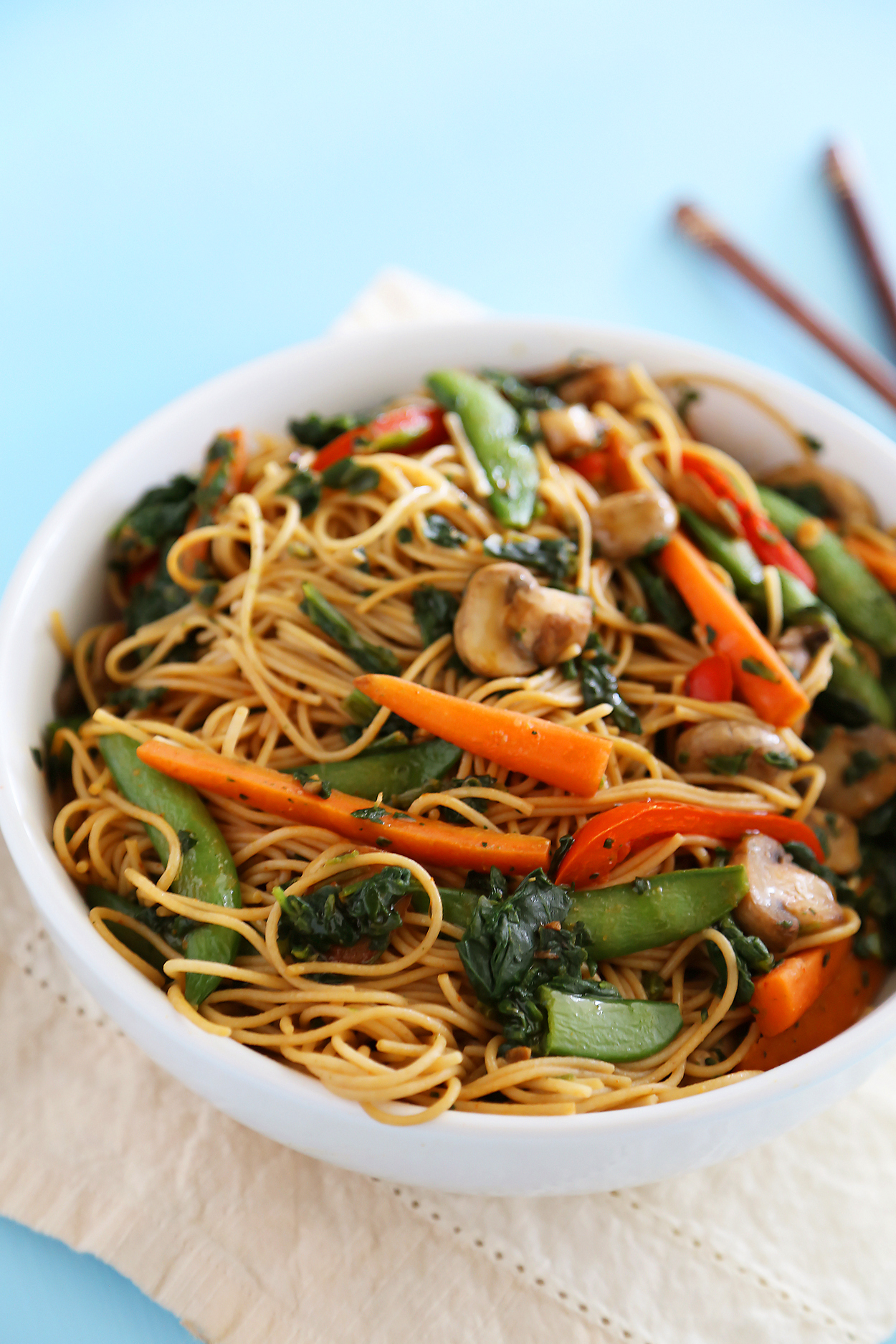 When my wallet tightens, my first indulgence to hit the curb is usually dining out. Which is not such a bad thing, because it forces me to get creative with homespun spins on my favorite restaurant meals! I don't dine out often, but when I do, it is usually something I don't cook at home frequently – and that is almost always Asian cuisine.
In this super easy, health-ified and hearty vegetable lo mein, I have found a winner of a side dish! It is so simple to make, and delicious with grilled chicken, steak or pork. However, you can also serve it as a main dish for a meatless meal.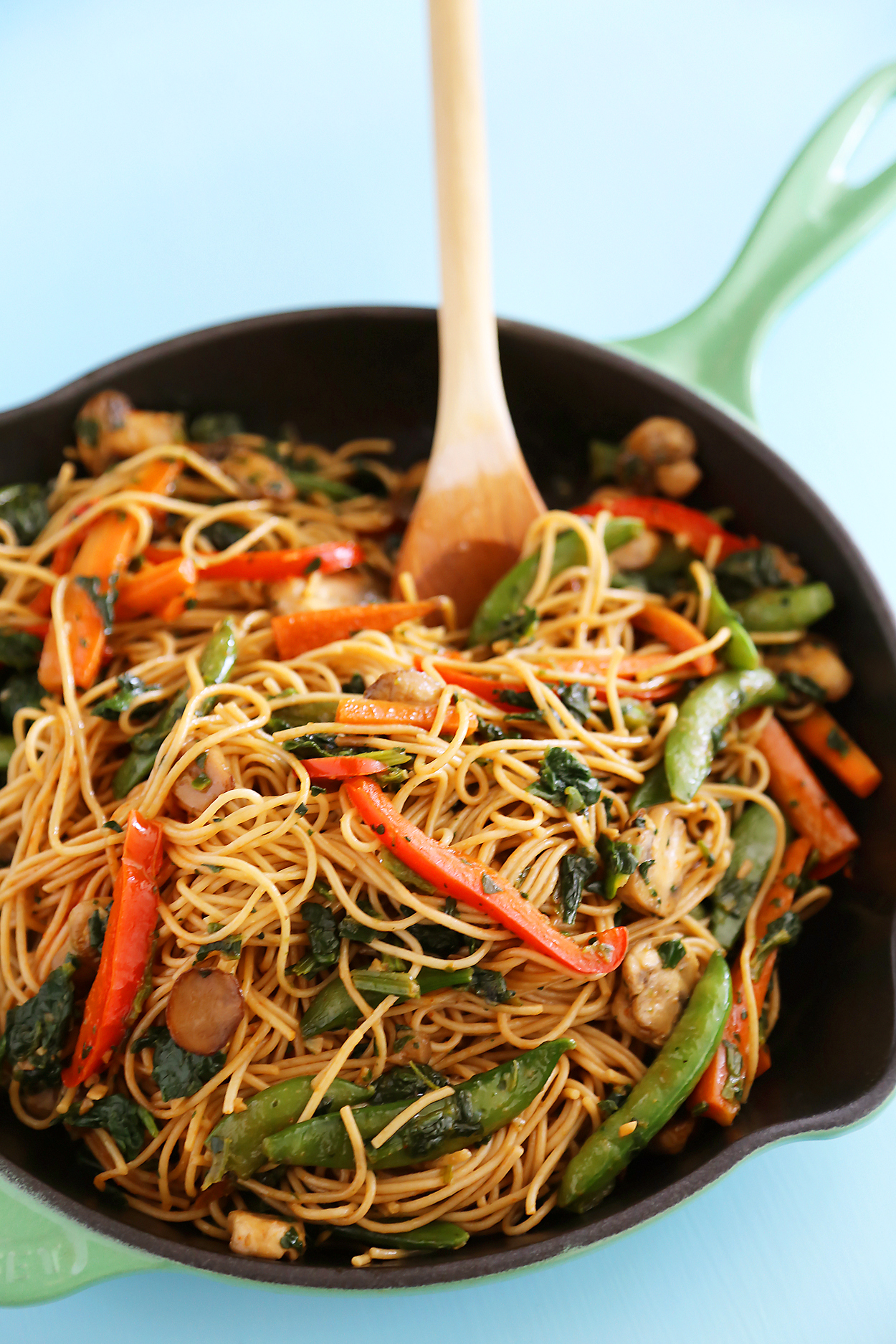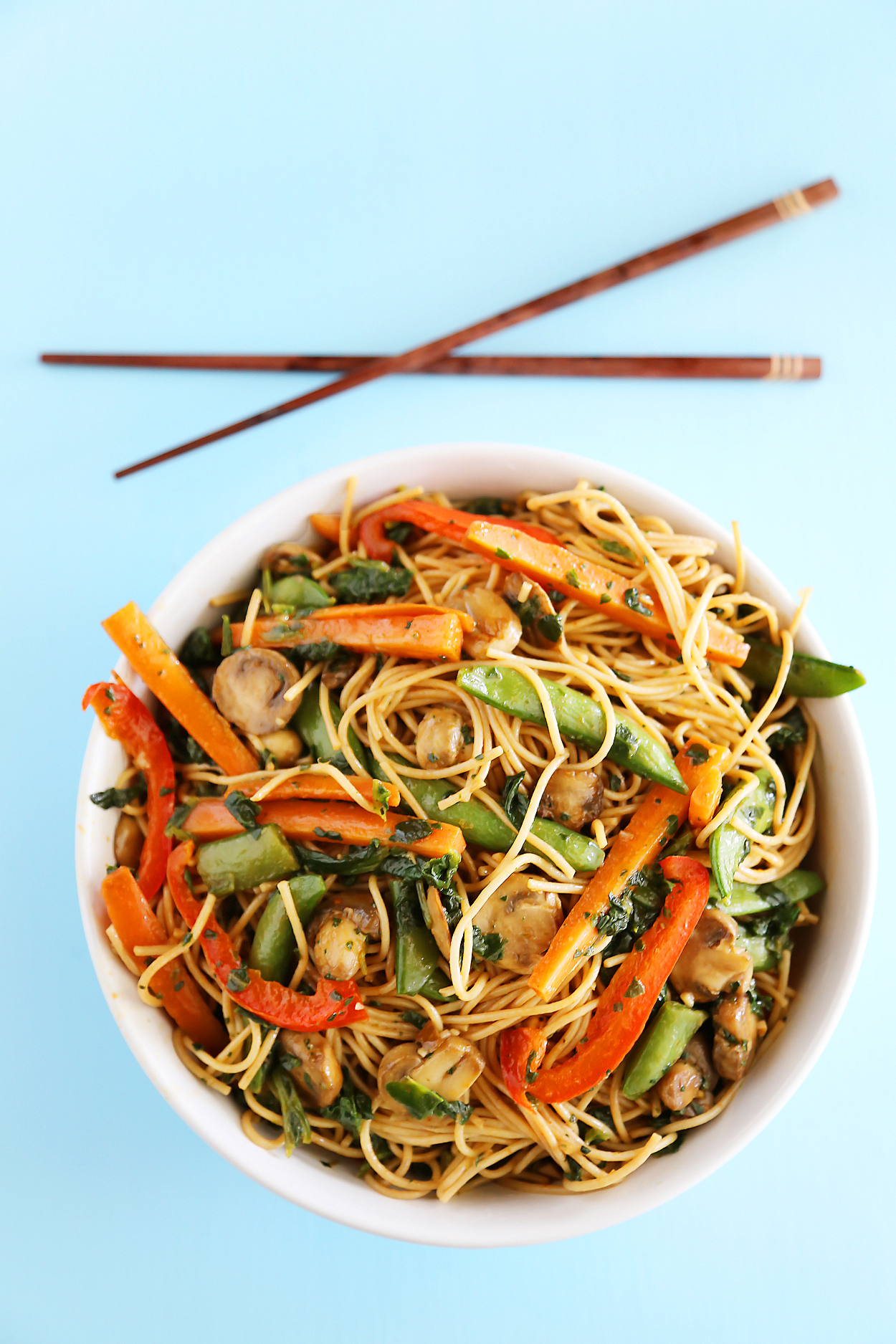 This homemade lo mein is colorful, nutritious and only requires easy-to-find ingredients. Instead of the traditional noodles, I used what I had on hand, which was whole wheat spaghetti. Perfect in a pinch!
The real flavor is in the sauce that you toss your noodles with. A tangy, sweet and savory blend of sesame oil, ginger, Sriracha and soy makes the most delicious dressing for your noodles. It really sets up the intense and vibrant flavors of this dish!
A medley of mushrooms, snow peas, bell peppers, carrots and spinach sizzle in your skillet while your noodles bubble. When everything is done, just toss it all together and enjoy on the side of your favorite protein, or as a creative, scrumptious vegetarian meal!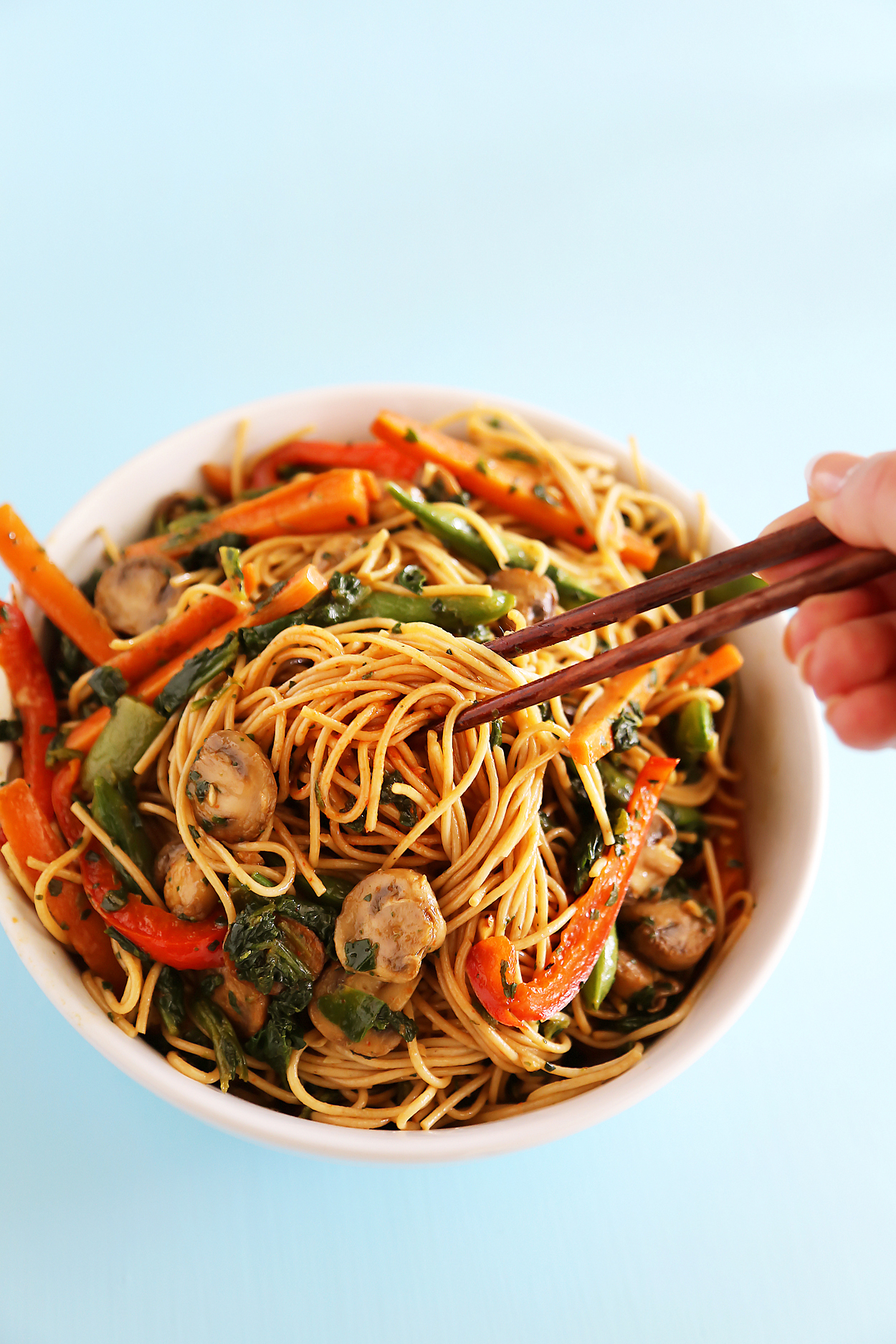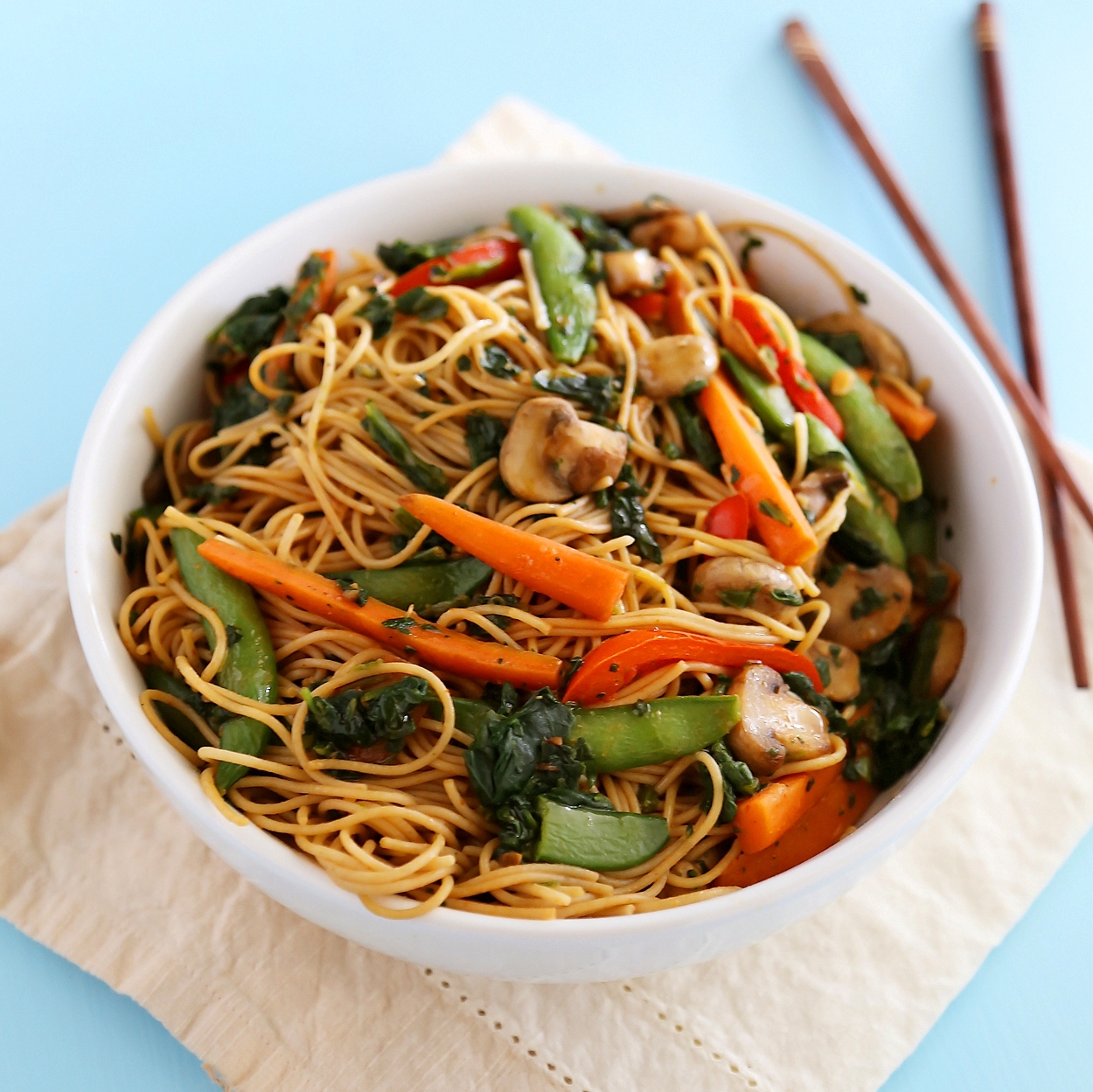 Easy Vegetable Lo Mein
Ingredients
8 oz. lo mein egg noodles, or spaghetti
1 Tablespoon olive oil
2 cloves garlic, minced
2 cups sliced mushrooms
1 red bell pepper, julienned
1 carrot, peeled and julienned
1/2 cup snow/snap peas
3 cups fresh baby spinach, or 1 cup frozen
For the sauce:
1/4 cup low-sodium soy sauce
3 teaspoons granulated sugar
2 teaspoons sesame oil
1/2 teaspoon ground ginger
1 teaspoon Sriracha, hot chile sauce
Instructions
In a small bowl, whisk together soy sauce, sugar, sesame oil, ginger and Sriracha. Set aside.
Set a medium pot of water to boil. Add lo mein egg noodles (or spaghetti) and cook according to package directions. Drain well.
In a large skillet, heat olive oil over medium-high heat. Add garlic, mushrooms, bell pepper and carrot. Cook until tender, stirring frequently, about 5 minutes. Stir in snow peas and spinach. Cook until spinach has wilted, about 2 minutes. Stir in noodles and soy sauce mixture, gently tossing to combine. Serve immediately.
Enjoy!